Welcome to the Trove marketplace recap. This will be a bi-weekly post breaking down all the actions happening in the Treasure ecosystem. Each summary will feature price movement on projects, upcoming events, and potential catalysts
---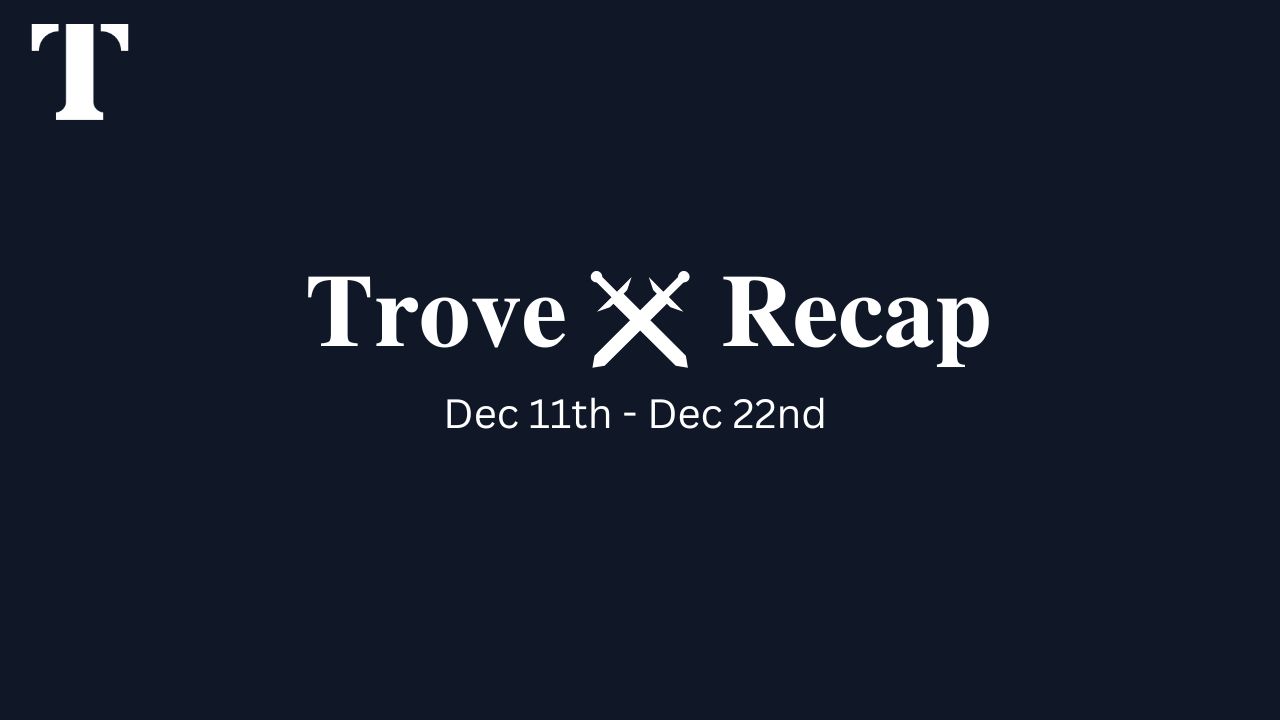 We hope you all are having an amazing holiday season so far. $Magic has seen some good price action recently as the token was listed on every major exchange right after the Coinbase listing. $Magic is currently trading around $0.60 cents

Happy Holidays and have a Magical 2023!!!
Upcoming events happening in the $Magic ecosystem:
Smolidays Event - Runs for 7 Days

Beacon Trilight Festival - Starts on Dec 23rd and runs for 3 days

Ruffion Reborn Public Mint - Dec 23rd

Beacon Egg Hatch - Jan 20th

Beacon Founding Character Trading - Jan 31st

KOTE Closed Beta - Jan

Beacon KaijuKingz Event - Feb

Magic AMM - Early 2023
---
The Beacon:
Writer - Exor (@ExorTreasure)
The Settlement Launch has now come to an end and we all already miss the daily dungeons and tavern quests! The event was an immense success, with over 45,200 Founding Characters minted by over 24,900 unique players.
The major recent highlight was the Gen-0 Pet Egg mint, strongly anticipated by the community. Around ~2.5k of the 4,096 eggs were minted by WL members and the remaining ~1.5k eggs were minted in less than 1 minute when mint opened to Waiting List members.
The floor price of eggs instantly rose and reached highs of >800 $MAGIC a few days after the mint. Notably, the egg with ID #1 sold for a whooping…. 12,111 $MAGIC
Currently, the floor sits at ~650 $MAGIC, as players wait for the hatching on the 20th of January. One thing is certain, many people in the Treasure ecosystem and outside of the ecosystem will keep a close eye on these rare eggs!
Tales of Elleria:
Writer - Gerguny (@Gerguny)
TLDR:
First 250 Machinists were all minted, another batch of 250 this week

New minting mechanism (Cashback system in ELM shard; instantly obtain heroes and extra reward for 100 $ELM max bidders)

New slime dungeons (weak slime and slime foes)

Batch questing is live, send all of your heroes all at once to save all those clicks

New level revamp

Price action of $ELM and all staking pools
Price of $ELM held around $1.0 over the past week and ELM:MAGIC was gradually going down from 1.87 to 1.52. Single-sided ELM emission pool has seen its lowest since Oct at ~68k $ELM on 13 Dec but the pool is coming back up to ~75k $ELM as of writing. On the other hand, ELM/MAGIC staking pool is shrinking from almost ATH ~91k LP ($1.19 per LP) on 15 Dec to ~83k LP ($1.08 per LP) as of writing. 
Heroes:
The floor of heroes were at the ~70 $MAGIC range in the past week but has slowly crawled back to 94 $MAGIC (0.05 ETH). Newly minted Machinist, despite on average having lower overall stat than genesis heroes, are well above floor price - currently sitting at 115 $MAGIC. 
Prices of CS heroes are still holding very strong at ~2000 $MAGIC over the last week. Exceptions are two 1000 $MAGIC CS (Hero 6489 and 212) being sniped; an 259 overall stat, 86 main stat machinist (Hero 10044) was sold at 800 $MAGIC and a stink bid of 230 $MAGIC was accepted for Hero 2452. 
Most of the newly minted epic Machinists were not listed on Trove, and there are only 7 machinists listed now and 17 sold over the past week.
Supply for legendary and CS heroes remained very low. Only 1/347 legendary heroes is listed and 8/983 CS heroes are listed.
Relics:
Most of the relic prices have dropped significantly over last week. Among all basic crafting components, vial of mysterious blood and wood chips remained the most sought after ones. There are about 200 bids at ~0.35 $MAGIC for blood and over 200 bids at ~0.6 $MAGIC for wood chips. 
All scrolls are also selling at discounted prices now. Whales are constantly accepting low bids all over trove (Number in parenthesis is the lowest bid accepted over the past week).
Cursed Scroll (50 $MAGIC), Chaos Scroll (60 $MAGIC), Blessing/Exalted Scroll (225 $MAGIC).
Two new drops for slime, namely Slime Drop and Blue Slime Doll were also listed in Trove. Only 1 slime drop was sold at 10 $MAGIC.
Weekly Recap and Perspective:
1) Machinist Mint:
First batch of 250 Machinist were all minted. There are 16 max bids (50 $USDC + 100 $ELM), and the lowest bids were a batch of 42 heroes with 11 $ELM each. The next batch of 250 Machinists will be minted by the end of this weekend (please check discord for exact snapshot period, noted that snapshot will be randomly taken during that specified 1-hour window). 13 CS heroes and 0 legendary heroes were minted for the first 250. 
The following feature is not live yet
The team has also announced a new minting mechanism for which players will instantly receive their machinist if they bid $100 ELM + 50 $USDC. Max bids will also receive an unrevealed extra reward. There is also going to be a cashback system for ELM shards based on individual's total amount of ELM burnt during secondary mint. More details will be announced in the coming days. All of these rewards and cashback will also be applied to the first wave of 250 machinists.
2) Slime Dungeon:
Two new quests are now available, namely Slime Road - Slime Friend and Slime Road - Slime Foe. There is no ELM drop for both quests.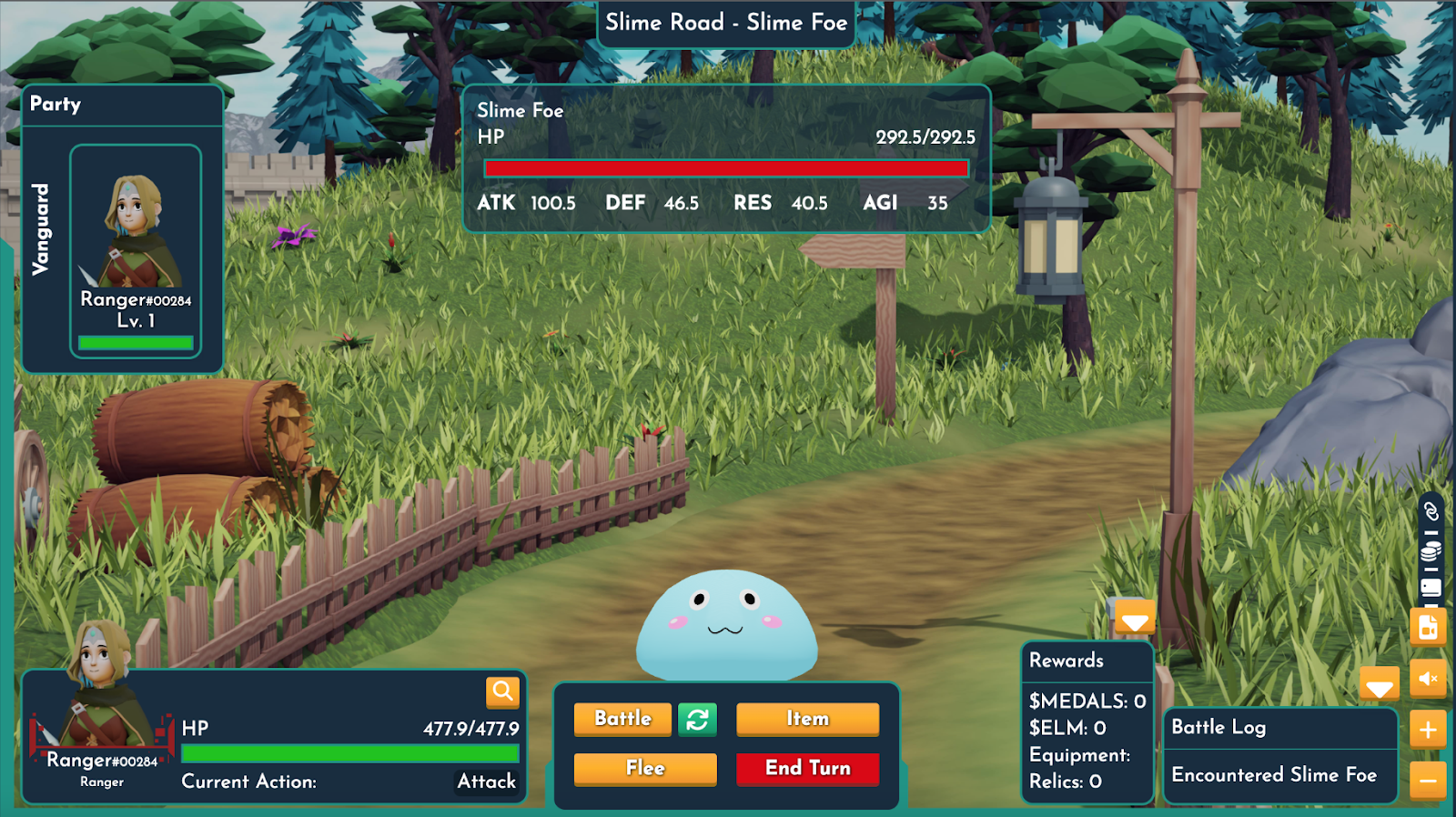 Slime Friend quest is exclusive for machinists and costs 250 $MEDALS.
Slime Foe quest is available for all heroes and costs 750 $MEDALS. (imo slime foes are slightly stronger than goblin warriors)
With limited data as of now, the community (mostly me) believes that the range of MEDALS return for Slime Foe is 850-1150 (EV = 250 $MEDALS), and very occasionally they drop Slime Drop and Blue Slime Doll. Drop rate of them seems to be relatively high on the first day of launch and has declined tremendously since then.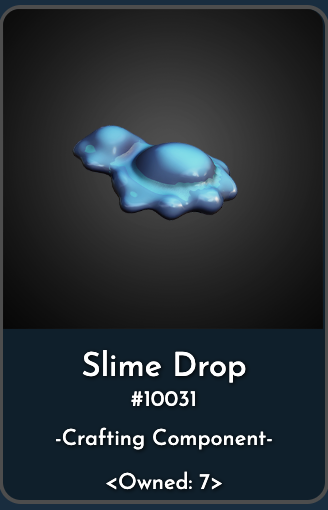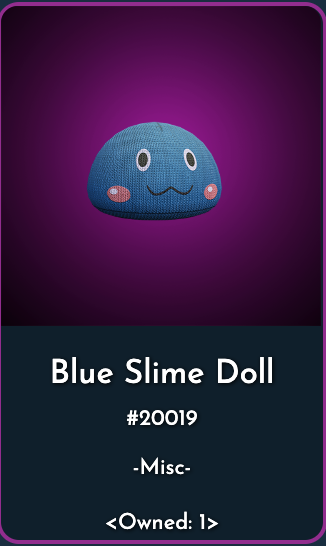 Currently these new drops cannot be dismantled/crafted into anything yet, but it was announced that they can only be dismantled into "same base components that we are all familiar with". New crafting recipes will be released later on.

3) Batch Questing
You may now send all your heroes in one signature so you do not have to keep clicking your mouse till you drop. However if your batch quest is interrupted then you would have to manually resume each and every one of them.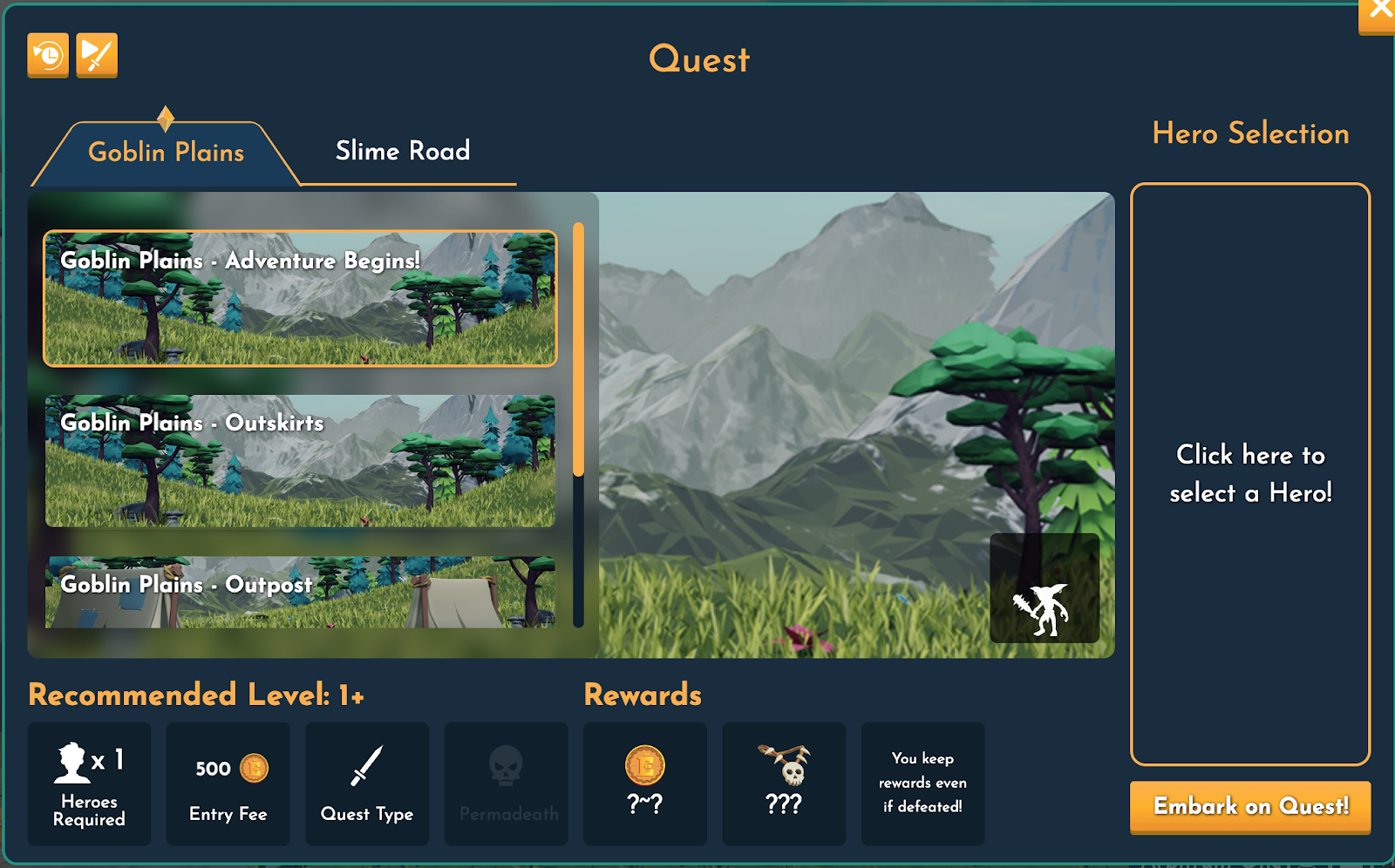 4) New Level Revamp
Instead of the old levelling system, the game has now migrated to a level system with more increments so players can see more hero progression.
Old level 1 is still level 1 now, but old level 2 is level 10, and old level 3 is level 20, etc.
Players will only earn extra MEDALS in assignments once they hit the 10,20,30,etc mark, but combat stats goes up incrementally every level. It also mitigates the risk of losing all $MEDALS and $ELM from the old level 4 to 5. For more details please check the official medium article: https://medium.com/@talesofelleria/december-patchnotes-ef76272ddf81
Realm:
Writer - J (@Dysto1911)
Lately, action in the Realmverse has been largely focused on Adventurers of the Void (AoV)--and there's been a lot of action at that!

Community Activity: Welcoming new members, mints and sales, ROTG hits 1000 AoV
As part of the TreasureDAO campaign associated with The Beacon Settlement period, Realm gave out 350 AoV Starter Packs. The discord community has also welcomed many new members in the last couple of weeks, and the team is offering giveaways specifically for those with the Apprentice role. They've also release a visual Adventurer Quick-Start Guide. 
Welcome Campaigns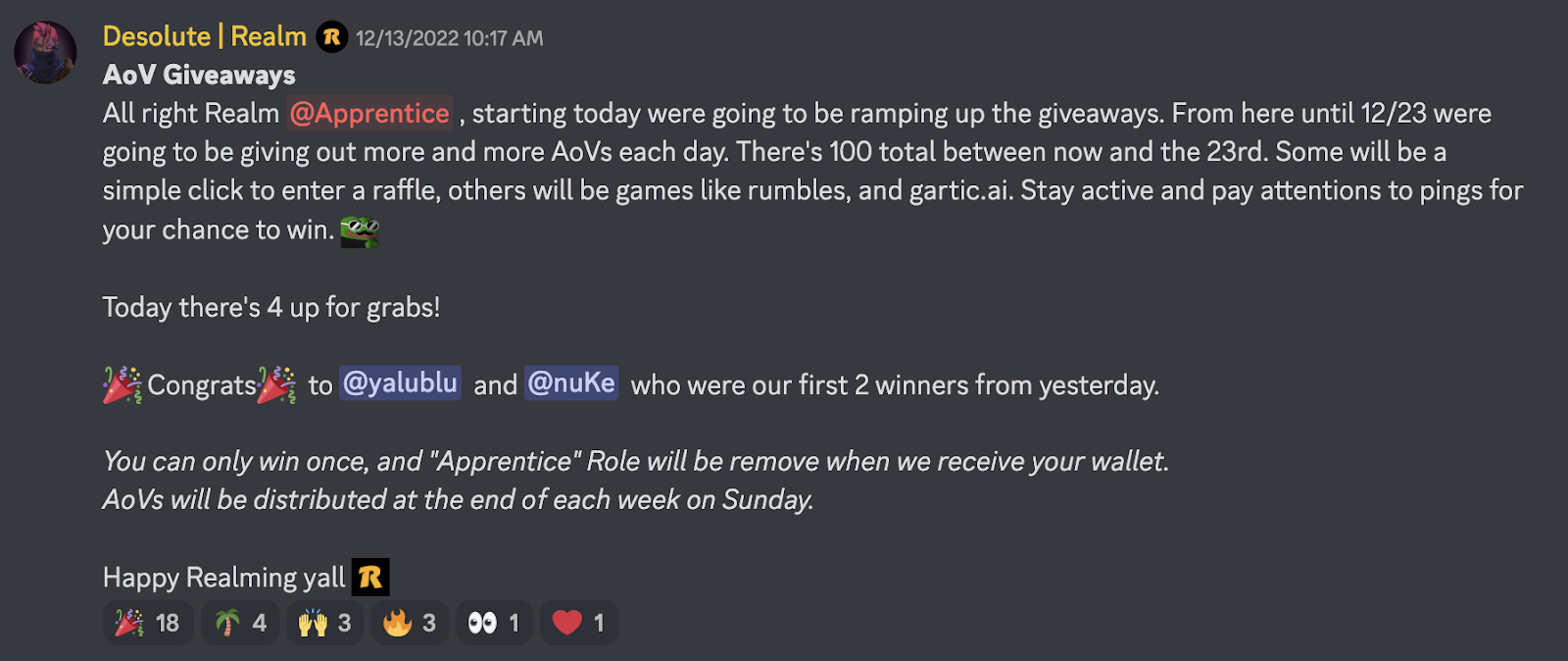 Quick-Start Guide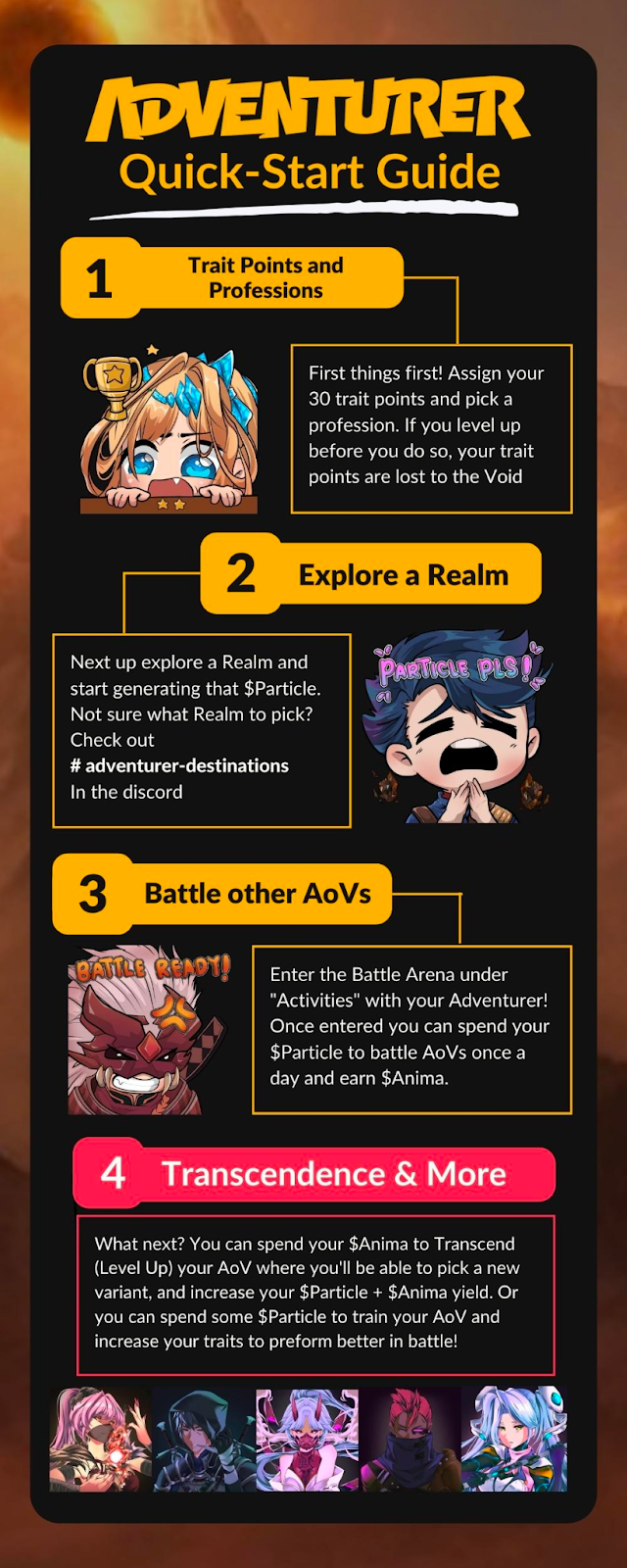 With the increased attention and welcome campaigns, AoV unique ownership has gone up 41% in the last week, now with 1195 unique wallets. Meanwhile, some of the largest holders of AoV continue to mint and accumulate. Some spikes in market activity hint increasing interest in higher level AoVs as well, with some Level 3 and Level 4 selling at a premium.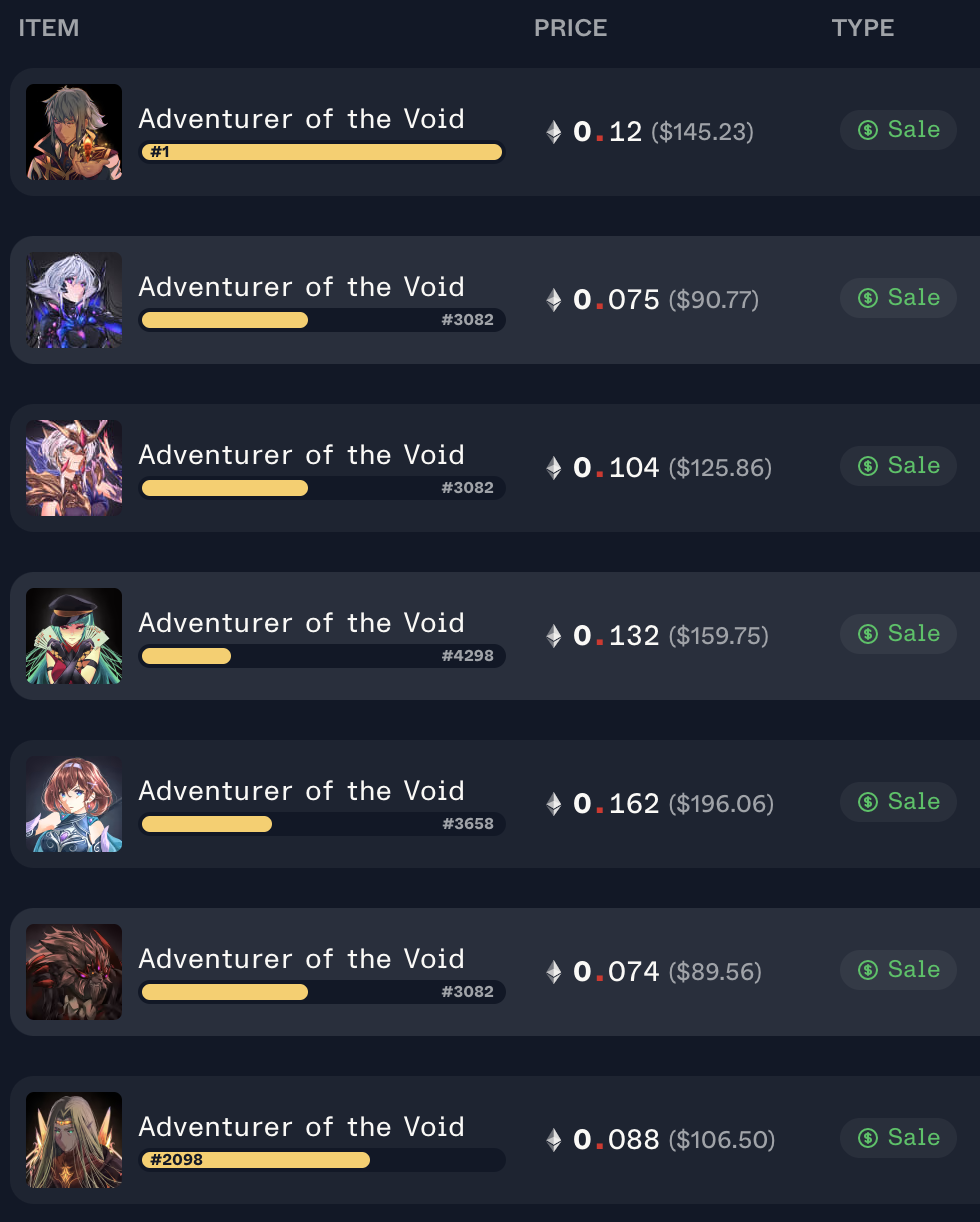 The Realmor and Adventurer community members have been active in supporting each other as well. To celebrate its 1st birthday, Realm Of The Gods ran a campaign offering giveaways of NFT items from various games to owners of AoV. They reached a record total of 1000 AoV exploring a single Realm!




How it started ⬇️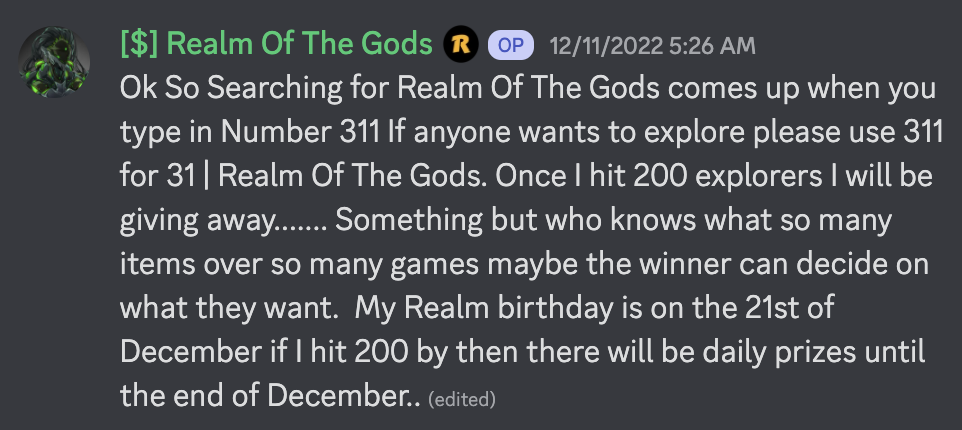 How it's going ⬇️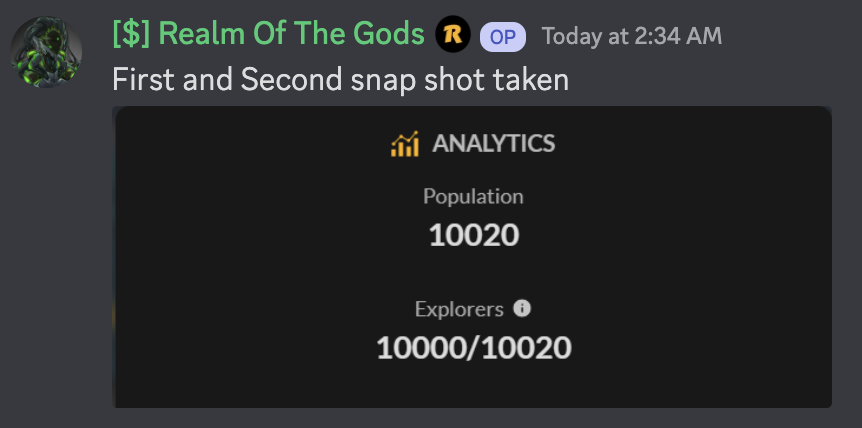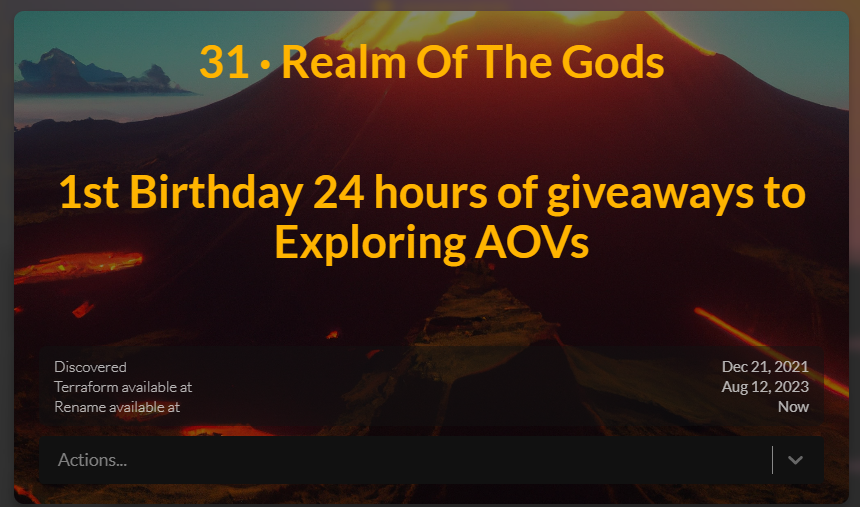 Game Updates: Battles v2, new variants, LootBoxes, 10K supply cap
A major update, Battles v2, released just over a week ago. The update included changes to the Battle matching system, functionality for upcoming Missions, and globally increased $ANIMA production. Adventurers have been celebrating big victories in discord.
Accompanying the update, the Realm team pushed some exciting content as well. The monthly drop of variants came with over a dozen new artworks, and they did not disappoint. In anticipation of upcoming LootBoxes associated with Missions, the team also shared a Medium article with the first glimpse at details of what types of items (& tokens!) they might contain.
Last but not least, the major announcement of a supply cut capping AoVs as a collection 10,000 has helped to stoke the fire of attention and urgency behind minting. They also share the rationale behind the change and emphasized the intent to move toward more integrations with other collections.
Battles v2 Explained
Celebrating Wins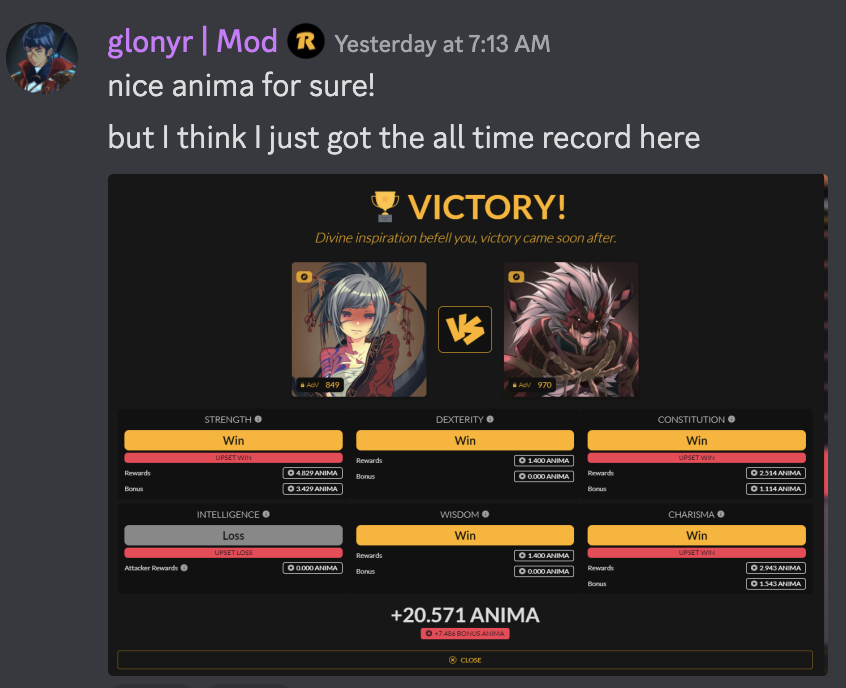 New Mischief Variants

LootBoxes Coming Soon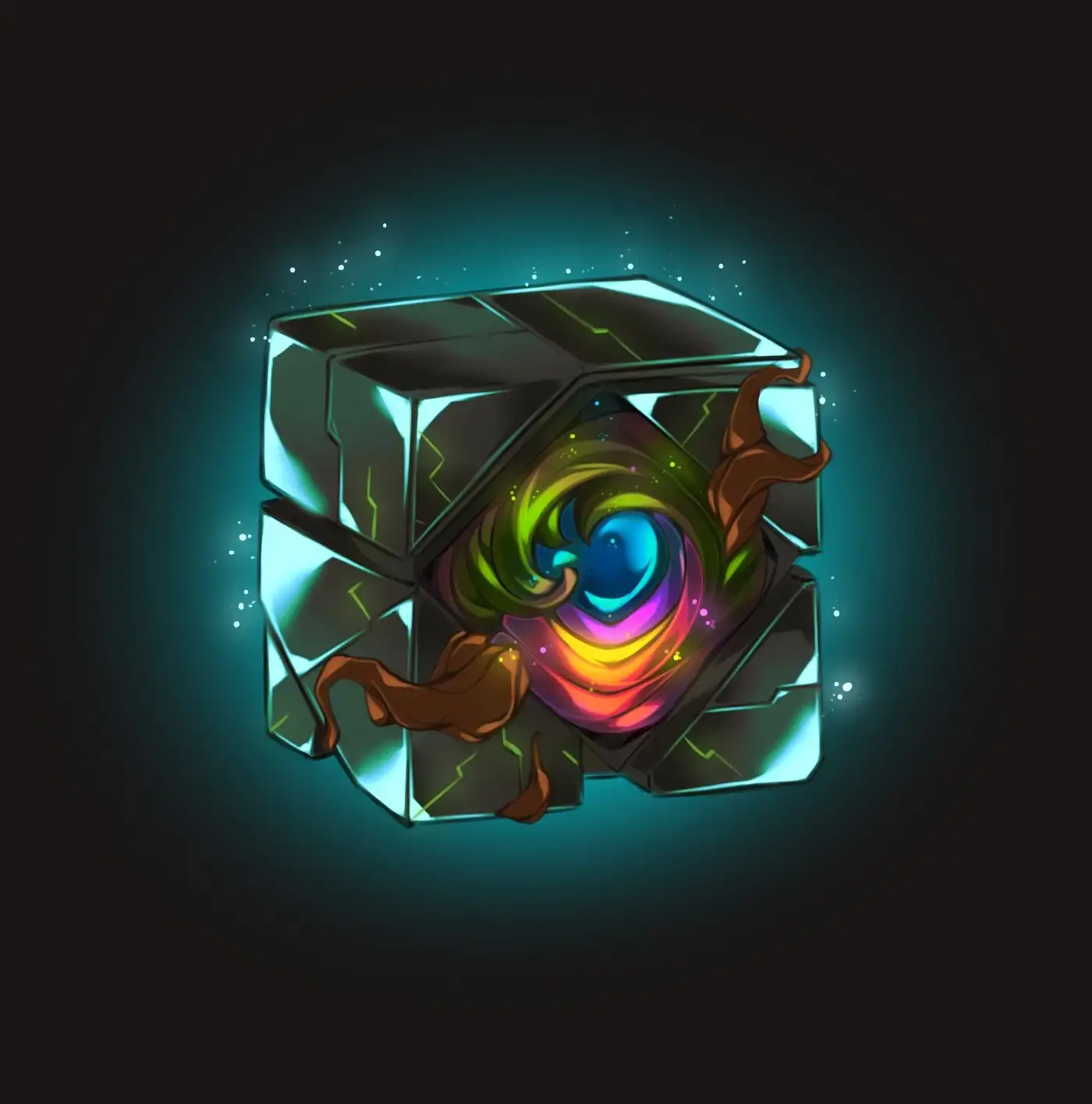 Medium: https://realmverse.medium.com/lootboxes-let-the-loot-flow-3d5f88befc92
Major News!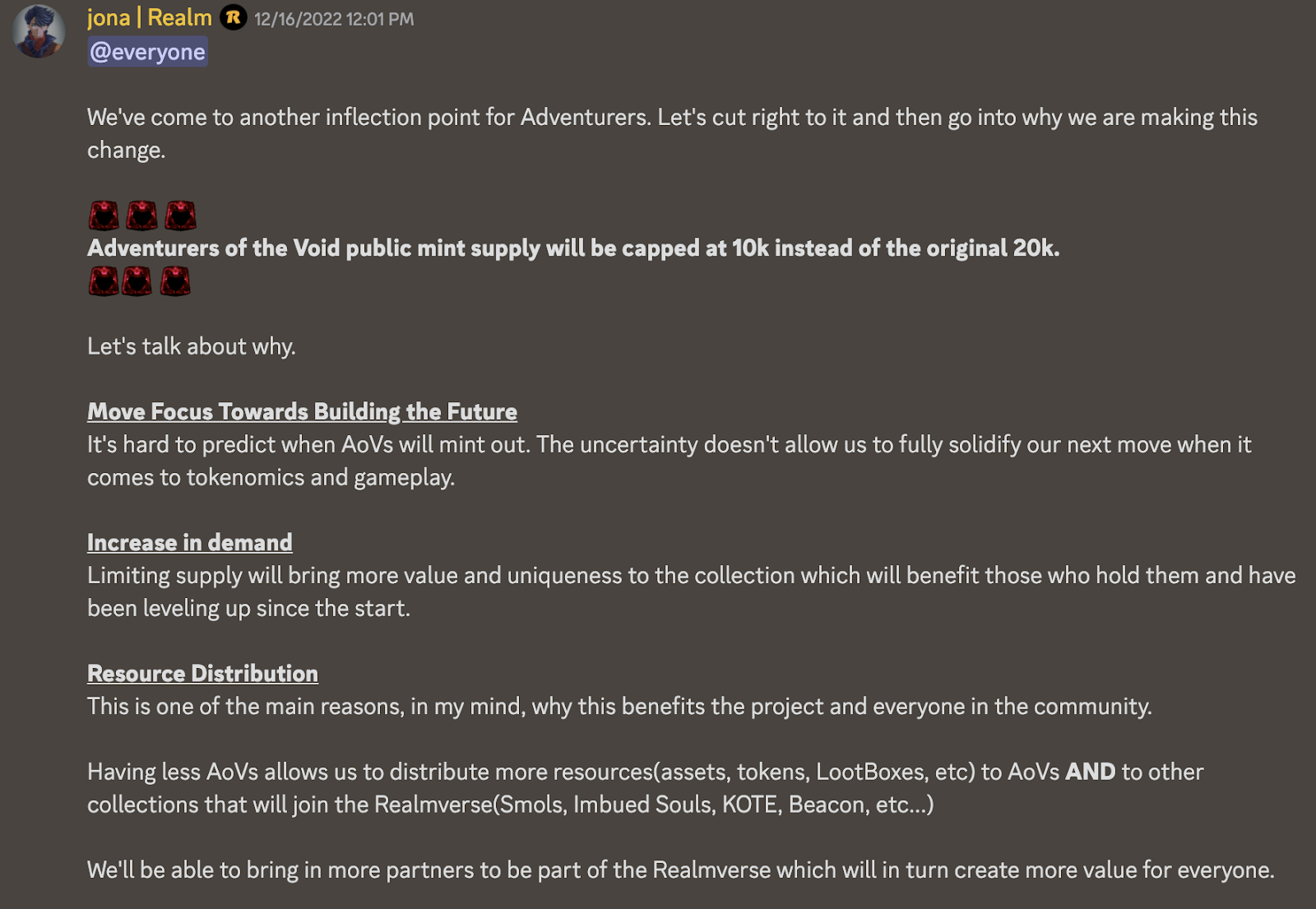 Smolverse:
Writer - Kowl (@kkowll)
No major moves on the Smolverse side of things over these past 2 weeks. The Smolidays event just went live so those that signed up can play the event over the next 7 days. Special Holiday trait gifts will be given out after the event has wrapped up.
In terms of price action:
- Smol Brains have come down and are sitting at a 799 $Magic floor
- Smol Bodies are currently sitting at a 200 $Magic floor
- Smol Brain Pets are at a 28 $Magic floor and Smol Body Pets are at a 19 $Magic floor
- Cars are at a 22 $Magic floor and Swolercycles are at a 15 $Magic floor
- Land is sitting at a 88 $Magic floor
- Smol Treasures are down across the board, Moon Rocks are at 0.4 $Magic floor, Stardust at 0.5 $Magic, and Alien Relics at 350 $Magic
Strider Dao has shifted gears from the Going Bananas mini-game to fully focus on Smolville. There will be a Q&A to kickstart 2023 so the community can ask some questions

There are not really any catalysts for Smolverse till 2023. My plan going into next year is to focus on Smol Treasures and Smol Brains.
Bridgeworld:
Writer - Tempest (@0x_zughead)
Weekly recap/developments
Corruption in tests mode - release in Jan '23 - see you in the new year! 

Some sellers from the delay - worth bidding low for some deals for the center console of all things $MAGIC

Aux legion APR is 112%
Corruption pushed to January
For development stability purposes & testing, Corruption will be in test-phase for rest of December and release in January which may of led to a temporary drop in legion prices.
- High level craftoors can be sniped for those with a budget to craft corruption. 
-T1-2 Treasures to be utilized in corruption crafting loops. 
-Genesis Legions will be able to craft corruption without much penalty as a substitute to the summoning changes. 

Market recap
Aux Legion prices have continued to hold around 230-250 range and likely to remain so given supply is capped. MAU has declined into X'mas and we should expect the coming 1-2 weeks to be quiet as everyone gets drunk and zenned out by Turkey. 
210 has been the key level where absorption of sellers has taken place & a level 6 craftoor cleared for 700 MAGIC 
LG have dropped a bit to 1.8k MAGIC floor this week - albeit floor remains thin back to 2k (basically only 2 below 1,998). Rivermen are 2.1k MAGIC!
APR (Aux questing)
Part 1 = 112% (yup - that's what happens when T5 has 13% drop rate)
Part 2 = 91%
Part 3 = 108% (assuming 1 card flipped & no corruption)
BattleFly:
Writer - Kowl (@kkowll)
Nothing major on the BattleFly side of things. The Wasteland NFT winners have been picked and the main game is still in a Founders only test phase. Main game will be coming out in open beta soon.
BattleFly Founders V1 have dropped to a 4,900 $Magic floor price
BattleFly Founders V2 have come down to a 1,199 $Magic floor price

BattleFlys are sitting at a 27 $Magic floor
$gFLY is currently trading around $3

Knights of the Ether:
Writer - Kowl (@kkowll)
I have been testing out KOTE UnderDark recently and it's been a lot of fun. Closed beta for all knight holders is set to come out in January 2023. Squire update (gasless transactions, opening up the shop, etc) should hopefully be coming out in early 2023 as well.
Prices have been somewhat stable across the board:

Knights are at 0.078 ETH floor
Squires are at 145 $Magic floor

Toadstoolz:
Writer - Tempest (@0x_zughead)
No news over the week on the development front, but clearly still in the mode of house-printing.
Toad prices have been more or less hovering ~85 MAGIC over past 2 weeks. Some nice ones or rarer ones are easy snipes. Part of the reason floor drops as well is due to the houses quota being used up.
Toad houses have also been staying around 35 MAGIC with some rarer ones selling just for 50 (full gold house). Reminder there are no benefits in this case on rarity except looks. 
Speaking of gold…Gold wood sells for 35 MAGIC (wut?!) you can do the math here. Likewise, rarer woods still sell for a decent penny of ~7-20 MAGIC!
Lost Donkey:
Writer - Exor (@ExorTreasure)
The floor price of Lost Donkeys fell again from its November highs, currently sitting at 69 $MAGIC, in large part driven by the appreciation of $MAGIC. However, the floor remains really thin as only ~1.2% of Donkeys are listed. Meanwhile, the price of Barns remains stable, as around ~14 $MAGIC.
Very exciting news came out during the past 2 weeks as some of the Lost Donkey map was revealed!
Moreover, the team is currently looking for map alpha tester, don't forget to apply!
Lifeverse:
Writer - Kowl (@kkowll)
Nothing major on the Lifeverse side of things over these past 2 weeks.

Imbued Souls are at 119 $Magic floor and Rest Potions are at a 6 $Magic floor

Important Snapshot vote for SOL holders: Voting ends January 9th
---
Thank you all for reading. This will be a bi-weekly report so look out for the next one

Follow Treasure Times on Twitter for more $Magic content - https://twitter.com/treasuretimes_
To keep track of upcoming events: Magic Calendar - https://www.treasuretimes.lol/nft-calendar
Check out some amazing game guides by Treasure Hunt:
Check out all our amazing writers and give them a follow:
Kowl - https://twitter.com/kkowll
Tempest - https://twitter.com/0x_zughead
Gerguny - https://twitter.com/Gerguny
Exor - https://twitter.com/ExorTreasure
J - https://twitter.com/Dysto1911
---
Disclaimer: Treasure Times is not affiliated with Treasure, Trove, or any project mentioned in these summaries. These recaps are intended for entertainment purposes. None of the information in this piece is financial advice. Always do your own research and talk to a financial professional when making investment decisions.
Disclaimer: Every project we have talked about we own an NFT or multiple of those NFTs. Always do your own research before making a purchase.
#$magic
#treasuredao
#web3 gaming
#gaming
#arbitrum