Welcome to the Trove marketplace recap. This will be a bi-weekly post breaking down all the actions happening in the Treasure ecosystem. Each summary will feature price movement on projects, upcoming events, and potential catalysts
---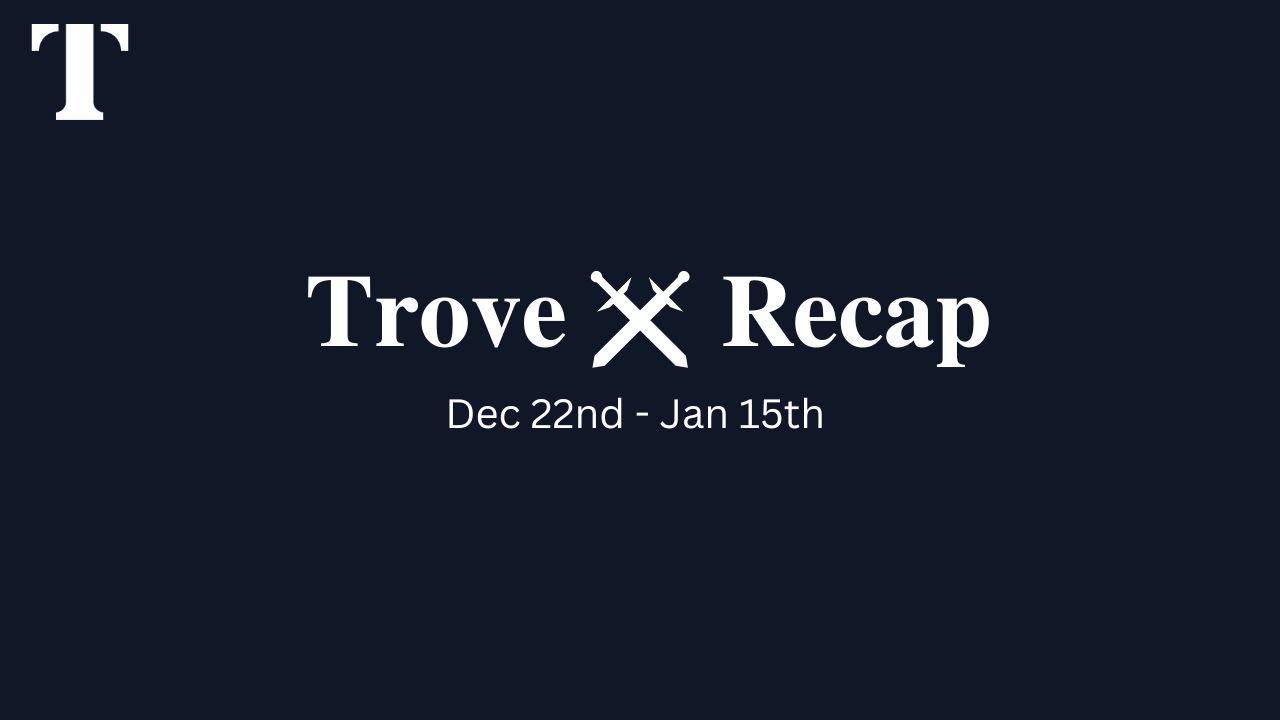 With the Atlas Mine unlock approaching a new TIP has been proposed that would get rid of the vesting and allow all 12-month stakers to get their $Magic on unlock. Now, this TIP is still being discussed so nothing is set in stone yet but it does seem like the community is in favor of eliminating the vesting unlock.

I encourage you all the read the proposal: https://commonwealth.im/treasure-dao/discussion/8902-tip23-atlas-mine-cataclysm-sunset

Also, participate in the conversation (Treasure Discord)


In other news, $Magic has really been pumping recently, starting off the new year around $0.50 cents $Magic has since moved up to around $0.72 cents as of writing this.
Upcoming events happening in the $Magic ecosystem:

Smol Hall - Jan 17th

Beacon Egg Hatching - Jan 20th

New Beacon Dungeons Event - Jan 20th

Atlas Mine Unlock - Jan 25th

Beacon Founding Characters become tradable - Jan 31st

KOTE Closed Beta - Late Jan
---
The Beacon:
Writer - Exor (@ExorTreasure)
While the Beacon team celebrated their Christmas break, players had the awesome opportunity to spend 3 days beating the dungeon. Thank you to the team for feeding our Beacon addiction!
Everyone now has their eyes on the Beacon Eggs ahead of the beginning of the Cobalt Moon Hatching on the 20th of January! The Egg floor currently sits above the 800 $MAGIC mark but we expect high price volatility as we approach the start of the hatching where Moonfae pets will instantly become tradable.
Details: https://shell-whip-bf9.notion.site/Cobalt-Moon-Hatching-4acad4b7c97a40f38ae1c96fb2e994fe
Moreover, it is now confirmed that the Beacon will be actively participating in the Bridgeworld Harvesters. The Beacon will host Bridgeworld-themed events in the months to come and assets from the Beacon game will be of use … more information to be released soon!
Tales of Elleria:
Writer - Gerguny (@Gerguny)
While it was Christmas/New Year holidays for most people, devs in TELL seem to be living in a parallel universe and kept building throughout the entire December. There were a lot of already-implemented updates and a lot to look forward to in 2023. 
TLDR:
- Machinists mint is over, Berserker mint coming up next
- Incentives for minting are now live. You may now receive ELM shards, skill book, cosmetic lootbox and $MEDALS depending on the size of your bid
- New slime dungeons (Slime Ambush, Slime Bandits) are live
- $ELM nerf in Goblin Plains
- Wishing well (Relic recycling) is live
- Big L1 collab coming soon
- Revision of ELM shard emission
- Potential new features in 2023
Price action of $ELM and all staking pools
Price of $ELM held around $0.8 since the beginning of the year and ELM:MAGIC was getting stable at 1.6:1. Single-sided ELM emission pool gradually rises from 76k to 97k $ELM since the end of last year. Similarly, ELM/MAGIC staking pool is also rising from 77k LP ($1.94/MLP) on 23 Dec to 87k LP ($2.07/MLP) as of writing. 
Heroes:
Sales on Trove is a little quiet during the past 2 weeks. The floor for heroes has been ~75 $MAGIC in the past 2 weeks and currently only 0.81% heroes were listed. The floor price of CS heroes are going down to ~1000 $MAGIC, presumably because players think newly minted CS machinists have low overall stat and probably not the best at running quests. However, good CS questors were still highly sought after. The most notable sale in recent months (probably since the launch of this project) has to be the near God-mode level 32 assassin sale (Hero 6103) being sold at 4269 $MAGIC. The assassin was 3 points away from a 445 overall stat hero (445 is the maximum) and only intelligence (currently useless in assassins) is not maxed out. Other notable sales include a level 30, 98 agility assassin (Hero 6570) being sold at 2000 $MAGIC; a level 20, 95 agility assassin (Hero 6812) being sold at 1100 $MAGIC and 2 machinists (Hero 10873, 10975) 86 and 87 intelligence respectively, both being sold at 999 $MAGIC. 
Supply for legendary and CS heroes remained very low. Only 3/353 legendary heroes are listed and 11/1031 CS heroes are listed.
Relics:
With emission of ELM shard being nerfed, crafting was hit hard and most players were dissuaded from it. Most of the relic prices have dropped significantly and sale volume also glooms. Vial of mysterious blood, goblin's hand and foot (which is mainly used to dismantle into blood), and wood chips remained the most sought after ones. Apparently some players (author included) are accumulating a lot of them in anticipation of the upcoming crafting changes.
The only relic that shines in sales in the past few weeks is slime drop. The price of a slime drop has got as high as ~110 $MAGIC to around ~20 MAGIC currently. There are numerous active bids at ~20 $MAGIC for each slime drop as players are longing to craft the slime region key (more details below). On the other hand, slime goo (currently no utility) is selling as low as 10 $MAGIC. 
There is a doll for each of those new slime monsters which only rarely drops from corresponding slimes. Will players want to collect each of them?
Weekly Recap and Perspective:
1) Machinist Mint:
As a quick recap, all 750 machinists were minted out in the first 3 weeks of auctions.
For the first week, there were 16 max bids and lowest bid is 11 $ELM.
For the second week, there were 8 max bids and lowest bid is 6 $ELM.
For the third week, there were 55 max bids and lowest bid is 0 $ELM.
For the fourth and last week, only 128/250 Machinists were minted with 1 max bid.
 Mint was paused for a week and the berserker mint will begin next week!
For all the machinist mints, players have received ELM shards depending on how much $ELM they bid on their heroes (1 $ELM = 1 ELM shard). On top of that, bids greater or equal to 50 $ELM will also receive a skillbook (more details below) upon the launch of the special attack system. Players who max-bid (i.e. 100 $ELM) also instantly received their heroes and 20000 $MEDALS (so they could have brought those heroes to level 10).
All of these incentives will stay in place for the berserker mint as well, except players will now get a cosmetic lootbox instead of skillbook if they bid greater or equal to 50 $ELM per hero.
2) Slime Dungeon:
On top of Slime Friend and Slime Foe, there are now 2 more slime quests (Slime Ambush and Slime Bandits) which are similar in terms of difficulty as compared to Outskirts and Outpost in Goblin Plains. Most slimes do magical damage, with the exception of Lava Slimes (you can encounter them in Slime Ambush) who deal physical damage. 
As the team is shifting most of the $ELM emission to Slime Road, $ELM emission in Goblin Plains is cut 80-90% while relic drop rate remains the same (or maybe even slightly higher). The team's rationale for this change is that $ELM was dumped by most people since it pumped to $6. Therefore the change is necessary to protect the value of $ELM and the long-term sustainability of the project. In order to gain access to these 2 quests, players now need slime keys to access them, 1 for Slime Ambush and 3 for Slime Bandits. These keys are not consumable and are soulbound. The crafting requirement is as such:

(Note: you might also wonder what Goblin Region Keys are for - maybe permadeath? New quest in Goblin Plains?)
This also explains why a lot of players value slime drops a lot as they are the keys to access more $ELM. The community currently thinks slime drop is at ~1% with slime foes.

Thanks to LN7, we now have a better idea on the expected EV in each of those slime quests

Apart from Goblin Plains and Slime Road, there are more new dungeons in the make (Ancient Ruins next?). The team's vision is that each region will be specialized for certain in-game items (i.e. relics, $ELM, etc.). You can find more of these details in the discord channel #forum - Closing Note for 2022 and Prince's Nonsense. Discord: https://discord.com/channels/933280677338701826/1058711675764752416/1058711723638534184
3) Wishing well (relics recycling)
You may now put 3 of your unwanted relics into the wishing well and potentially get something good out of it. Check the discord channel #game-updates for more: https://discord.com/channels/933280677338701826/957870281869893642/1058961078178037770
The loot table can also be found here: https://docs.talesofelleria.com/gameplay-prologue/game-features/wishing-well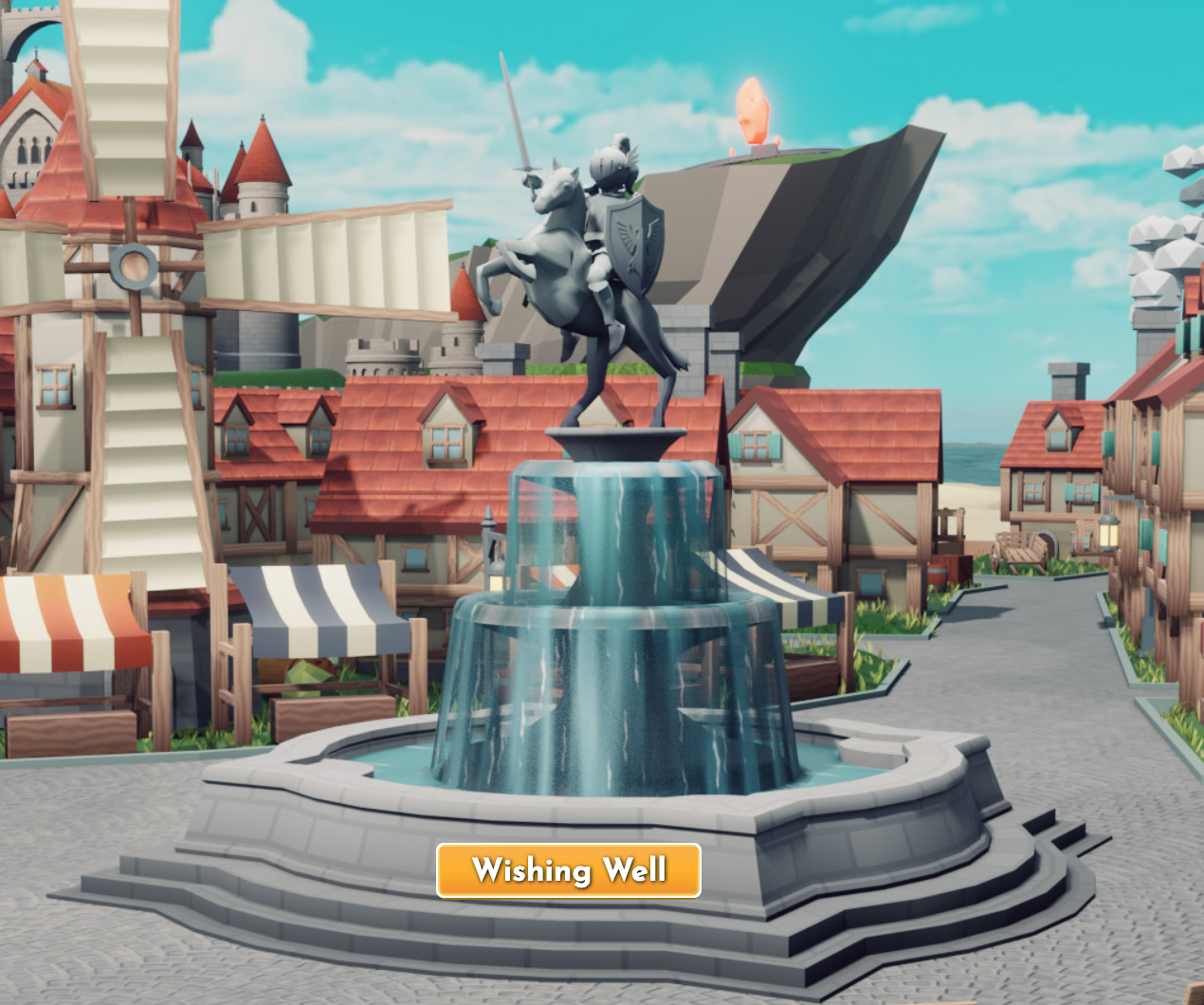 4) Big L1 Collaboration
The team has been teasing a potential big L1 collab. While nothing is set in stone in announcements, community members kept hinting about a "Kevin World Boss". What could that be?

5) Revision of ELM shard emission
Since the nerf of $ELM, ELM shard was also nerfed tremendously (as the emission of ELM shard is directly related to $ELM emission). The whole crafting loop is basically dead now and the team is very aware of that. In light of that, the team is now working on a new ELM shard emission which should revitalize the crafting loop. More details will be soon officially announced, but in general, players can expect pre-nerf ELM shard emission in Goblin Plains starting from anytime next week.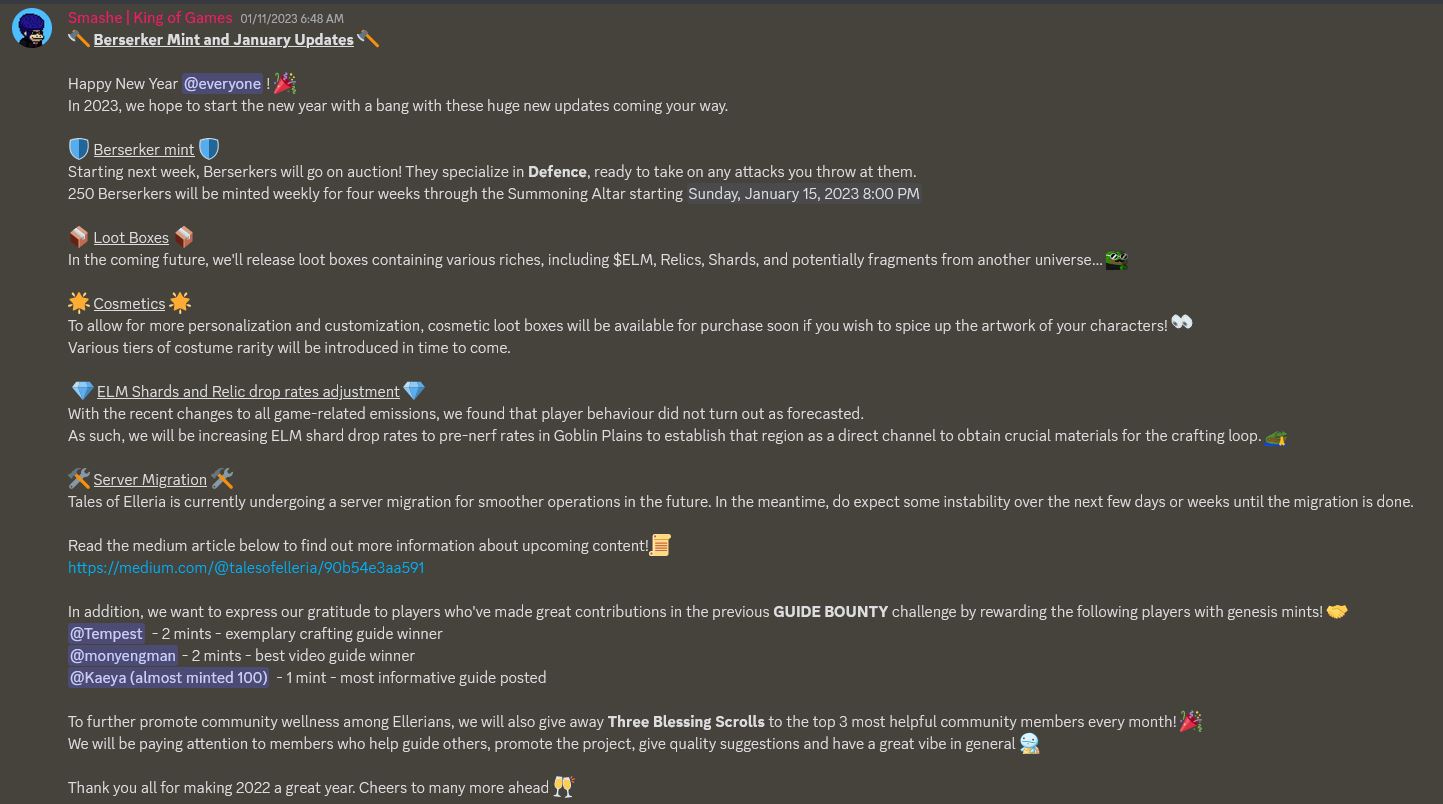 6) NEW FEATURES IN 2023
This team over-delivers time and time again so we can bet on them that they will make a bang in 2023. They have teased about a lot of thoughts everywhere, and all of these potential new features deserve a separate (if not several) articles. 
Let's just leave everything in point form and the source of where they come from so interested parties can go check them out.

- Dawn Hero Mint (Berserker, Spiritualist, Ninja) (https://medium.com/@talesofelleria/elleria-a-new-hope-12cb3bbdc0fb)
- Lootboxes with $ELM, shards, relics, "fragments" from another dimension (treasure T5 fragments?) (https://medium.com/@talesofelleria/berserker-mint-and-january-updates-90b54e3aa591)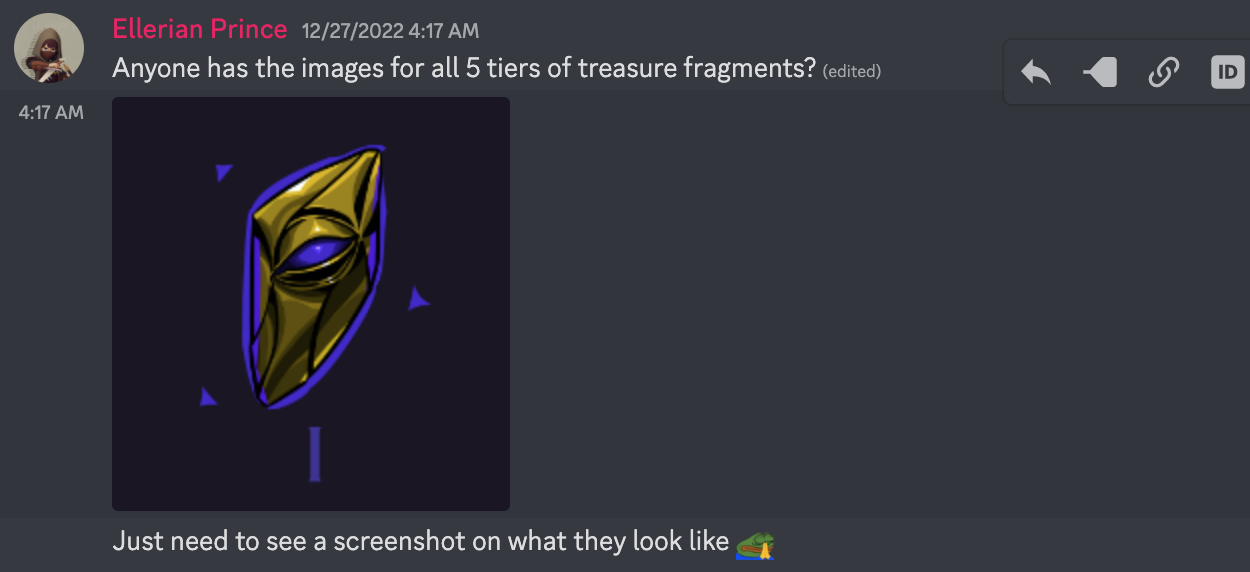 - Cosmetic/skins for characters (same article as above) (https://discord.com/channels/933280677338701826/1058711675764752416/1058711870061690942)
- Permadeath System (https://medium.com/@talesofelleria/joining-tales-of-elleria-2023-60d73371e841)
- PVP and ladder rewards (same article as above)
- Special attack and combat system revamp (this is where skillbook will come into play) (same article as above)
- Merch (Dolls and maybe gobbie foot?)
- Ellerian Racer (Vroom Vroom)
More speculative discussions: (all here: https://discord.com/channels/933280677338701826/1058711675764752416/1058711723638534184)
- Region/Time Specific Rewards/Quests
- Upgrade Shards and Protection Jewels (for levelling up heroes)
- Equipments
- Hero recycling/soul mileage
- Pets/Bestiary
- Soulbound heroes
- Free mint hero trainee (similar to recruit in bridgeworld)
As always, the team welcomes suggestions of any kind so feel free to drop by discord and voice your suggestions/concerns.
Realm:
Writer - J (@Dysto1911)
It feels like the calm before the storm has settled over the Realmverse as the new year gets going. Market activity has been relatively slow, but a lot is just over the horizon and there have big several big announcements of late.
In Game Economy
The much anticipated switch to using $PARTICLE for collectibles production went into effect at the end of the year. Shortly after, the $ANIMA cost of transcendence increased significantly to balance increased production from the current battle system. The team continues to balance the tokens' utilities, while the community waits to see if one or both may become tradable.
Meanwhile, community members continue to build as well. An historic giveaway of Beacon Egg 104 took place for a lucky Adventurer on Realm #2812 "House Lannister," and the owner of Realm #56 "[$] R56" released their first minigame. The Realm team has been highly supportive of community efforts and recently made a place for them within the main Activities dashboard.
Community-driven Minigame

The Bigger Picture
The team recently released a visual summary of current priorities, and a more detailed article describing upcoming gameplay changes and a broader picture of asset relationships. Lootboxes and new items will bring more utility to buildings, including new types (Labs and Seaports). Notably, it seems Monuments will be a critical part of the Lootbox game loop. The focus remains on interoperability as well, with teased integrations across multiple other collections. And it looks like the Realmverse will be getting some more lore soon too.
Visual Action Plan Summary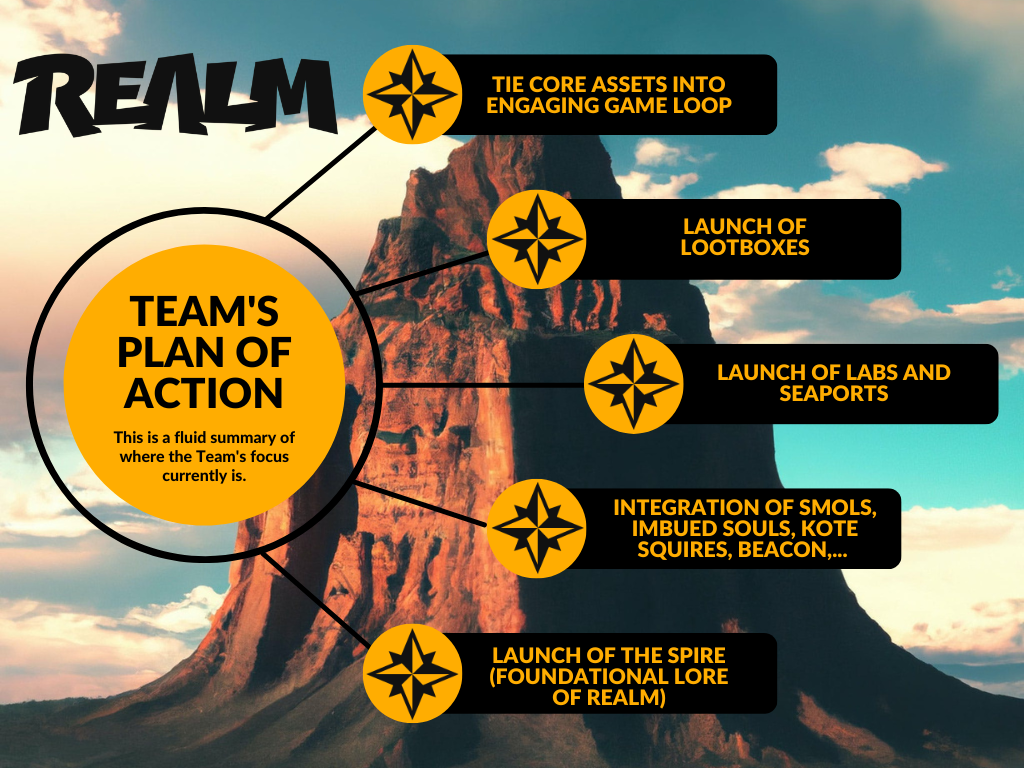 Realmverse: Two Paths, One Story: https://realmverse.medium.com/realmverse-two-paths-one-story-60ebe5b9972e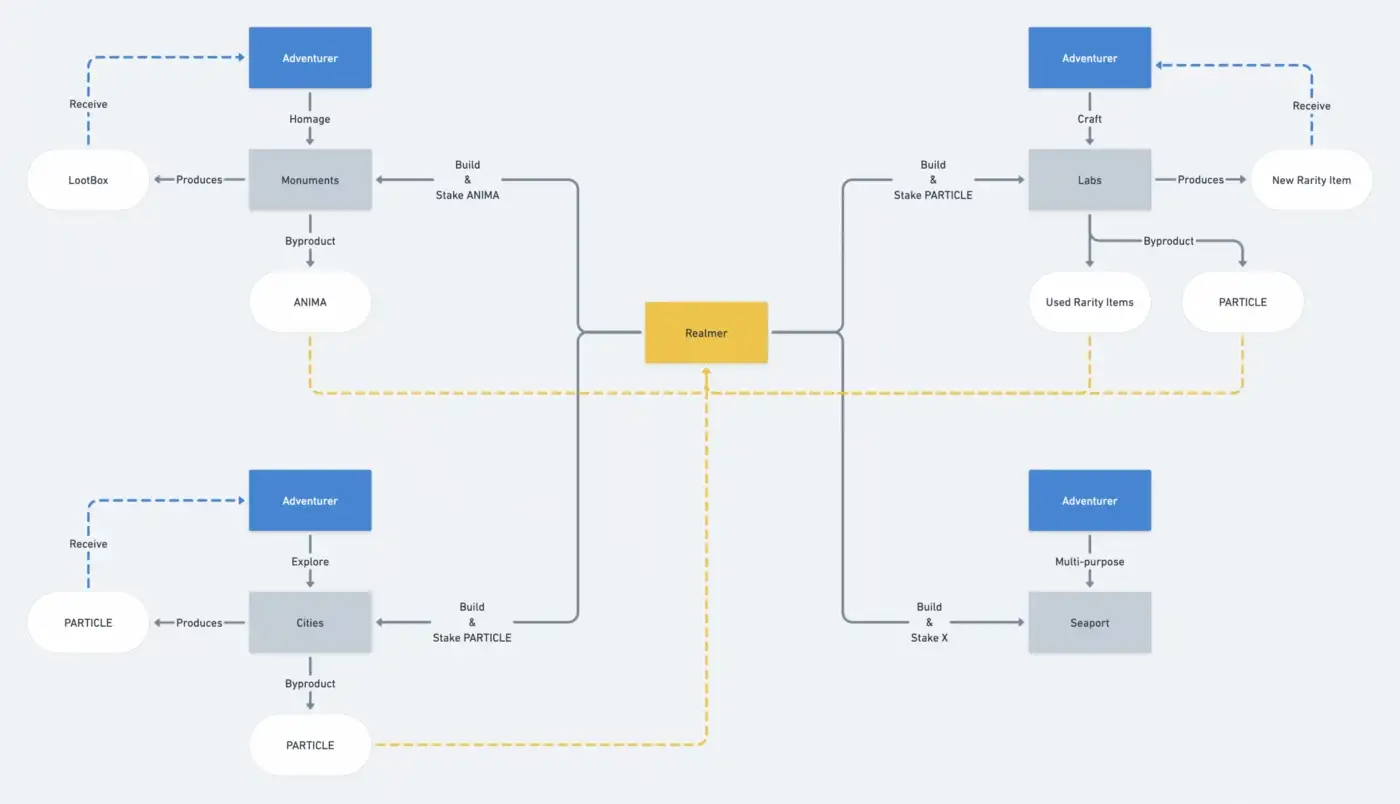 Smolverse:
Writer - Kowl (@kkowll)
Kicking off 2023 with a bang Smolverse seems to have a lot in store for this new year. Smolidays skins are now available to claim for those that participate in the event (Claim ends Jan 30th)

Even with $Magic pumping recently Smols have been moving up, and the collection is now sitting at a 1,195 $Magic floor. People seem to be getting excited about what's in store. David Hoffman from Bankless has recently joined the Smol community and his thesis is very sound on why to bet on the Smols (nfa)

In terms of price action:
- Smol Brains are sitting at a 1,195 $Magic floor
- Smol Bodies are currently sitting at a 175 $Magic floor
- Smol Brain Pets are at a 33 $Magic floor and Smol Body Pets are at a 29 $Magic floor
- Cars are at a 25 $Magic floor and Swolercycles are at a 16 $Magic floor
- Land is sitting at a 100 $Magic floor
- Smol Treasures: Moon Rocks are at 0.3 $Magic floor, Stardust at 0.34 $Magic, and Alien Relics at 378 $Magic
Upcoming potential catalysts:
Smol Hall - Jan 17th
There will be a Smol Hall on January 17th - featuring PurpleSnow the game director of Smolville. During this AMA we will get to hear more of the vision of Smolville

Chop Shop Update
The Chop Shop is underway, while no date has been set for the release it does seem like it could be happening soon. People have been saying the week of the 16th (This Week) so keep your eyes out

Bridgeworld:
Writer - Tempest (@0x_zughead)
Weekly recap/developments:
New spanky-dink special harvesters announced just for 12-month Atlas Mine depositors just in time for lock-up maturities. 

If markets continue their pamp, expect new harvester deployments to increase usage of legion boosts & extractors! (Sadgely, a snapshot was taken for 12M depositors and harvester parts will be airdropped to them - soulbound)

Corruption still in development, guild & social game-play loops announced to be coming as well! Lots of talk about guilds forming - watch this space.
Market recap
Aux Legion prices & Genesis have held steady at 200 & 1.9k MAGIC respectively even with MAGIC pamp + despite some FUD on 12M unlock. With the latest Harvester access for Atlas stakers, things may not really turn as bad as expected. 
What is interesting is Treasures have risen ~8% in the recent market as some players started accumulating treasures in anticipation of Corruption.
Meanwhile, level 5+ craftooors are hanging ~850 MAGIC - not a crazily expensive proposition, but it remains worthwhile to offer some bids to see if any surprises. 
APR (Aux questing)
Part 1 = 93%
Part 2 = 82%
Part 3 = 103% (assuming 1 card flipped & no corruption)
BattleFly:
Writer - Kowl (@kkowll)
Noting major on the BattleFly end of things, as the team prepares to onboard more users on Jan 31st
BattleFly Founder V1s are sitting at an 8,669 $Magic floor
BattleFly Founders V2 are at a 1,200 $Magic floor price
BattleFlys are at a 26 $Magic floor at the time of writing this
$gFLY is at a price of $2.82
Knights of the Ether:
Writer - Kowl (@kkowll)
It's the claim before the storm for Knights of the Ether. The closed beta is set to come out by the end of this month and people are waiting patiently

Squires have gone glasses so now you can gather items without spending any gas


In other bullish news Knights will be fighting in Harvester Wars with the Beacon in late Q1


In terms of price action:

Not a lot of movement happening right now with KOTE but I expect that could change as the closed beta rolls out and knights compete in the Harvester Wars.
Knights are currently sitting at a 0.05 Eth Floor
Squires are at a 188 $Magic floor, but bids have been hitting around the 130 $Magic range
Items have all moved up from last year and now the cheapest floor item is a Platinum Ring of Confusion for 1.5 $Magic
Toadstoolz:
Writer - Tempest (@0x_zughead)
No news over the week on the development front - house construction still in play. News has been light as parts of the team was on holiday over the new year. 
Toad prices remain 90 MAGIC or so which is higher than 85 before the holidays. Some 1/1 and top 30s sold for 555 & 569 MAGIC respectively. 
Toad padz (gold houses) also sold for ~100-110 MAGIC whilst the normal floor is percolating ~30-35. Cost of wood has dropped and net of production costs is now largely on par to the house's net costs. 
Lost Donkey:
Writer - Exor (@ExorTreasure)
What rhymes with $BONK? …. $DONK of course! What started as rumors from our favorite community shirt shredder quickly spread over Twitter and blew out of proportion.
As a result, everyone desperately tried to grab one of the few remaining Donkeys listed on Trove (reminder: the % of Donkeys listed has constantly remained below 2% over the past months) and the floor price shot up to over 280 $MAGIC… so much that Karel rocked the Donkey pfp for a while and the Donkeys News Network (DNN) started tweeting again. Notably, Donkey #2674 sold for a whooping 1000 $MAGIC, the 8th highest sale in the Lost Donkeys history!
Barns also had a wonderful time with the floor price rising above the 50 $MAGIC threshold and with a super rare Shambhala barn selling for 2000 $MAGIC, the highest price ever for a barn.
So what about $DONK? After playing around with the rumors, the team then quickly highlighted that the main in-game The Lost Lands token will be $CARROT, and it seems like the $DONK airdrop rumors were… only rumors. Nevertheless, the #DonkWatch still prevails!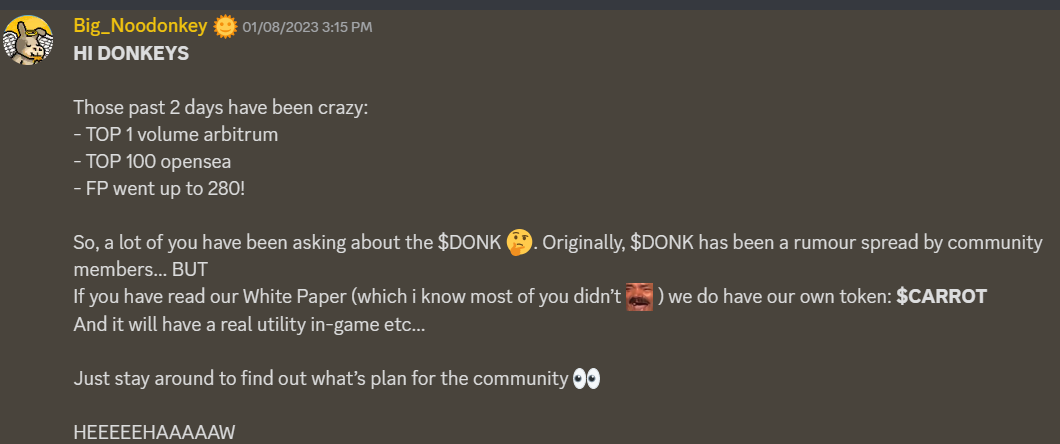 The floor prices for Donkeys and Barns have now fallen back from their highs, but still sit at a very comfortable ~150 $MAGIC and ~30 $MAGIC, respectively.
Lifeverse:
Writer - Kowl (@kkowll)
No major movements on the Lifeverse side of things recently although I think 2023 will have some interesting things in store.
Imbued Souls are a 133 $Magic floor price
Skill Reset Potions are now at a floor price of 4.1 $Magic


Life COP Season 2 is coming out soon. This second season will start on January 17th
Arcane is currently in a fully functional alpha state. I would keep your eyes on Q2 as it seems like we could get something by then. Also the project should mint by end of Q1 so be ready
---
Thank you all for reading. This will be a bi-weekly report so look out for the next one

Follow Treasure Times on Twitter for more $Magic content - https://twitter.com/treasuretimes_
To keep track of upcoming events: Magic Calendar - https://www.treasuretimes.lol/nft-calendar
Check out some amazing game guides by Treasure Hunt:
Check out all our amazing writers and give them a follow:
Kowl - https://twitter.com/kkowll
Tempest - https://twitter.com/0x_zughead
Gerguny - https://twitter.com/Gerguny
Exor - https://twitter.com/ExorTreasure
J - https://twitter.com/Dysto1911
---
Disclaimer: Treasure Times is not affiliated with Treasure, Trove, or any project mentioned in these summaries. These recaps are intended for entertainment purposes. None of the information in this piece is financial advice. Always do your own research and talk to a financial professional when making investment decisions.
Disclaimer: Every project we have talked about we own an NFT or multiple of those NFTs. Always do your own research before making a purchase.

#$magic
#treasuredao
#arbitrum
#web3 gaming
#gaming
#treasure times