Welcome to the Trove marketplace recap. This will be a bi-weekly post breaking down all the actions happening in the Treasure ecosystem. Each summary will feature price movement on projects, upcoming events, and potential catalysts
---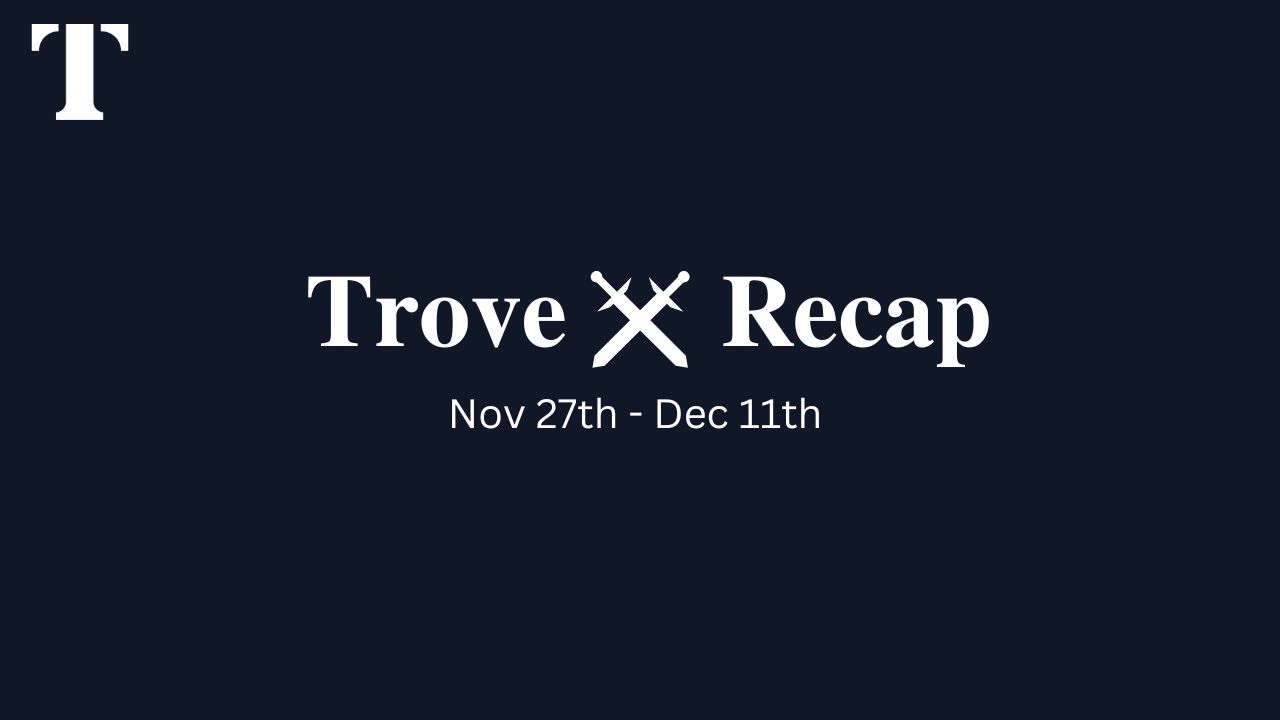 What a wild week, $Magic pumped to around $0.60 with the recent listing on Coinbase. The Beacon Settlement has been a massive success bringing in lots of new players into the ecosystem and putting $Magic on the map as a great place for gamers.
Upcoming events happening in the $Magic ecosystem:
Tales of Elleria New Hero Mint - Dec 12th

The Beacon Settlement Cup Qualifiers - Dec 12th

Last Day to Claim your Smoloween Skin - Dec 13th

Web3 Gaming: A Year in Review + What's Next?! Twitter Space - Dec 13th

The Beacon Settlement Final Day - Dec 14th

The Beacon Pet Mint - Dec 16th
---
The Beacon:
Writer - Exor (@ExorTreasure)
The Beacon Settlement Launch has only been live for 17 days and the Beacon has now crossed the 40k minted Founding Characters threshold with over 42.1k mints! It doesn't feel like the citizens of Altaris know what a "bear market" is… 
A lot happened since the last recap, as players can now recycle items of one rarity tier in order to receive a guaranteed item from the next higher rarity tier (and no longer own collections of 50+ pants), as well as collect awesome Mythical items:
Meanwhile, although the floor price for the Beacon items fell to ~2 $MAGIC, this hasn't stopped the volume on Trove to skyrocket from ~20k $MAGIC to over 920k $MAGIC… highlighting how much settlers love decorating their cherished home!
Once we reach the 3 weeks of struggle through the daily dungeon quests (not for Karel…) and time spent in the warm tavern next week, the Pet Egg Mint event will start (December 16). As such, Allowlist (Whitelist + Waiting List) members will be able to mint one of the 4,096 limited Gen-0 Pet eggs.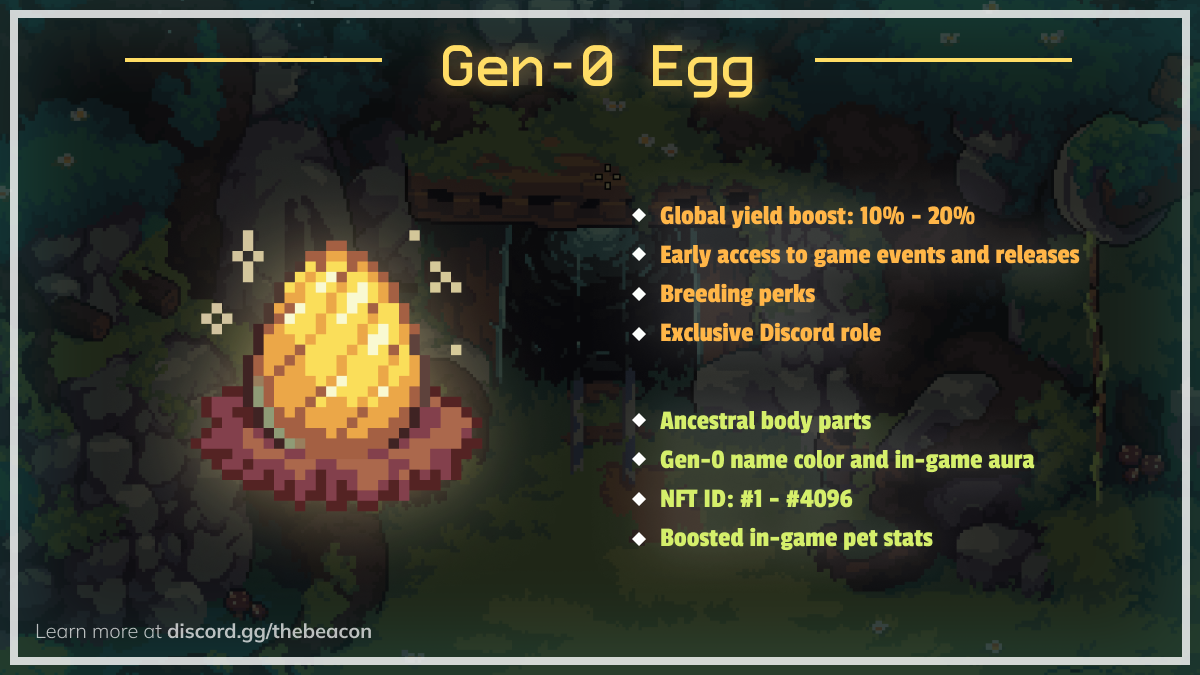 While we get excited for the Egg Pet Mint, do not forget to participate in the Beacon Settlement Cup with over $12,500 in $MAGIC to be won! Qualifiers start on the 12th of December:

Tales of Elleria:
Writer - Tempest (@0x_zughead)
Ideas of the week:
Try your hand at minting a few Machinists for degen CS purposes (don't forget, they will be eligible for a separate pool of $ELM emissions via questing)

Snipe paperhandoor Machinists with decent stats in Trove secondary

Holy water and Washed Parchments remain well-in demand!

Batch questing Monday means MOAR heroes for $MEDALS/$ELM is easier than before!
Price action of $ELM and all staking pools
Price of $ELM held around $1.40 and ended the week at $1.20 as some smol profit taking in $MAGIC on Friday. Overall LP has held steady ~ $429k and APRs on LP have been still around 6.2%.
We are moving into mint Monday for Machinists, so expect some $ELM hoarding to degen-roll or try to mint a few more. 
Heroes:
$MAGIC pamp has led to some normal NFT price-actions (crypto pamp => NFT re-prices to fiat USD). 
Floor heroes have hovered ~100-130 MAGIC to end the week. 
CS heroes however, have retained well their value with most CS sales still in range of 1.3-1.6K MAGIC. With the floor at 1.2k MAGIC for 87 main-stat ranger and only 6 listed, demand for strong heroes is clearly well in demand. 
Relics:
Depending on your crafting progression, Holy Water and Washed Parchments remain well in demand but dropped slightly versus prior weeks (~4-8 MAGIC drop respectively) but is broadly on par in fiat prices.
Hoarding some scrolls or weaker bids may still be a play to bring those near-CS machinists to true CS so you can properly pwn those slimes. 
Upcoming potential catalysts:
Secondary mint is coming Monday. USDC 50 + $ELM competitive bidding (0-$100 ELM) 
Those that bid highest get the heroes! Note that for Monday, there are a total of 250 Machinist up for grabs.
Some things to note - Dawn heroes series (Machinists included) will have lower overall stats vs. genesis series - but due to this and the usual "mint / flip" mentality, this will leave some good desirable ones on Trove that are near- CS potential (same those scrolls!)
People will probably think Dawn Hero floor < Genesis Heroes…but a secret here is that $MEDAL emissions are higher for Dawn Heroes => if you're short on $MEDAL this is a cheap route to increase them immensely! 

Some ideas here:
Even if your Machinists looks crap on stats, they should still be eligible for a $MEDAL bonus. Watch for this bonus amount to make the assessment

Snipe near-CS Machinists or "OK" Machinists as there could be separate incentives in the future for these Dawn heroes vs. Genesis.

Hoard mats for scrollers

Suspect 2-3rd weeks of mint will be a bit less active as people will be egg-nog-maxi + X'mas stuffing themselves silly with Turkey! Consider this as the better mint window!
Batch questing. Come Monday, you can save time instead of 30+ Ledger clicks (looks at own sweaty Ledger!) - It remains unconfirmed on $ELM penalty or not, but will at least be very useful for $MEDAL quests!
Ellerian Racer: a F2P mobile and PC game aimed at attracting more eyeballs to the World of Elleria. Possibly launching demo by the end of this year
Realm:
Writer - J (@Dysto1911)
Things have been relatively quiet in the Realmverse, but there are some big updates on the way that are likely to stir up marketplace activity. Keep an eye on things in the coming weeks!
Realms:
Realm floor dropped with the recent volatility in $MAGIC, to 359 $MAGIC at the time of writing, down from the recent peak of 750. Notably, in $ETH terms this only represents a change from ~0.17 to ~0.15.
High total resource count Realms have held strong, and thinned out. For Realms above 1000 total resources, the lowest listing is at 1600 $MAGIC, and only nine are below 5000. This is likely attributable to the big announcement that all collectibles production in the future will be based on $PARTICLE, among other TBD use cases for the token. Reminder, Realm total resource count scales the amount of particle a Realmor receives from any AoV exploring on it.


Adventurers of the Void (AoV)
With the announcement that $PARTICLE will continue to play a greater role in the Realmverse, Battles v2 and loot boxes coming soon, AoVs' influence in the Realm ecosystem continues to grow. 
The first level 8 AoVs have transcended recently, and new artwork variants are set to release next week. Additionally, the second limited edition variant has been revealed and will be raffled to 50 lucky AoV battlers! 
Market activity for AoVs has been slow, but floor price has held and good deals continue to crop up for anyone keen to get in with a head start. Of course, minting is still live at https://app.rlm.land/adventurers.
New variants' teasers (courtesy Realm discord):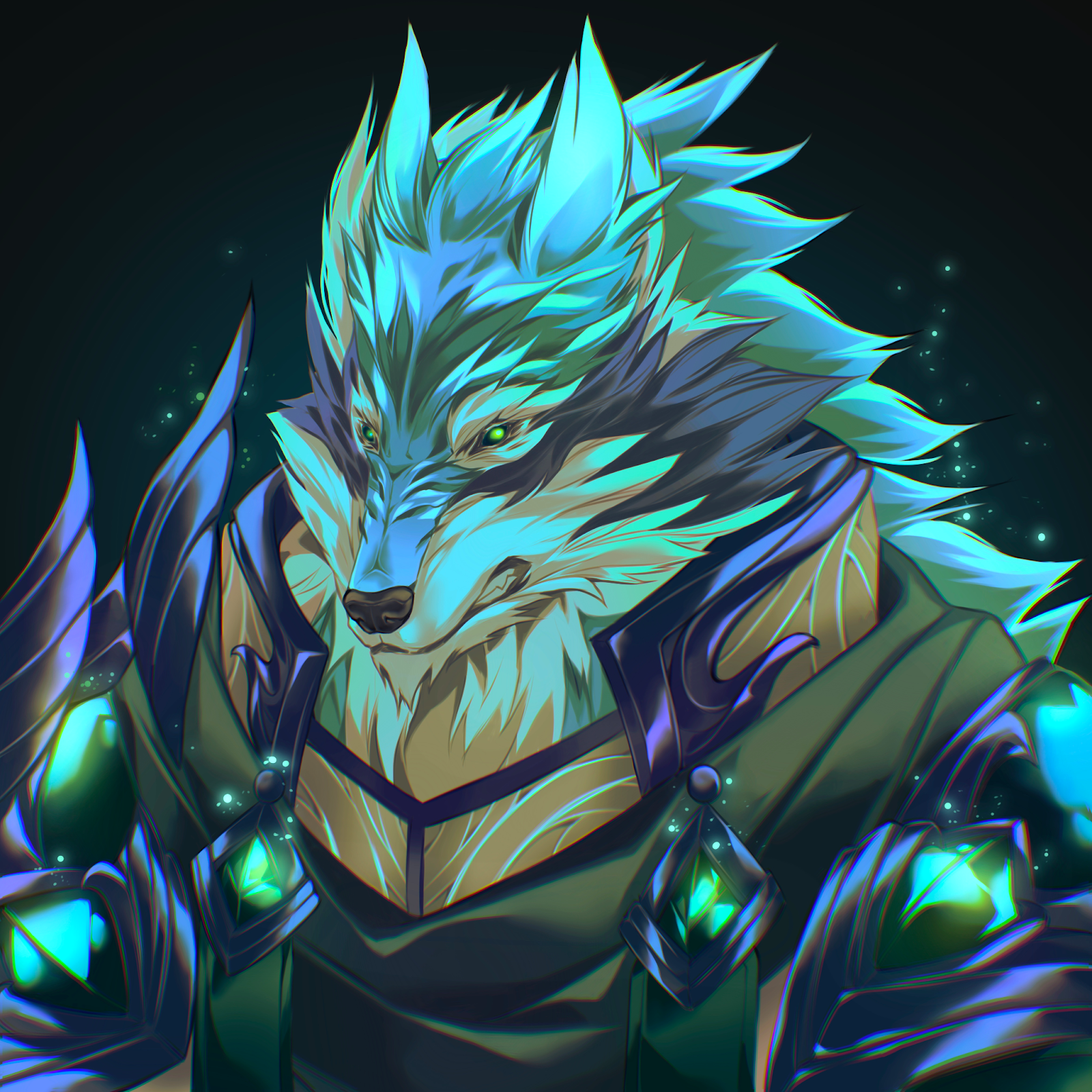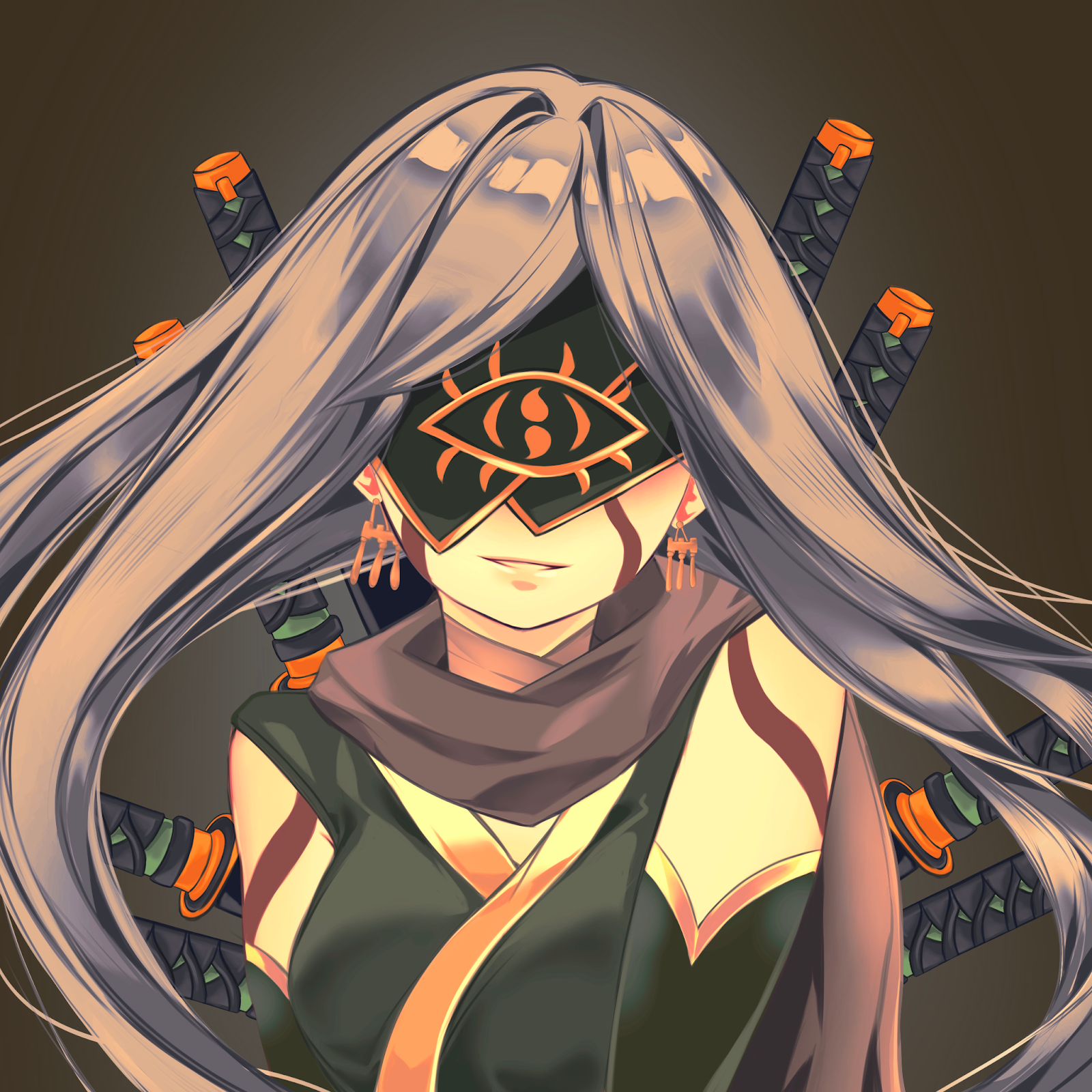 Collectibles
On November 29th, Aquatic type collectibles were official declared the Prime Collectible for the new period. Prime collectibles are the type required to construct Cities. The rarest Aquatic collectible, Giant Squid saw a big sweep shortly after the announcement, and are holding about a 12% premium over their previous $MAGIC cost.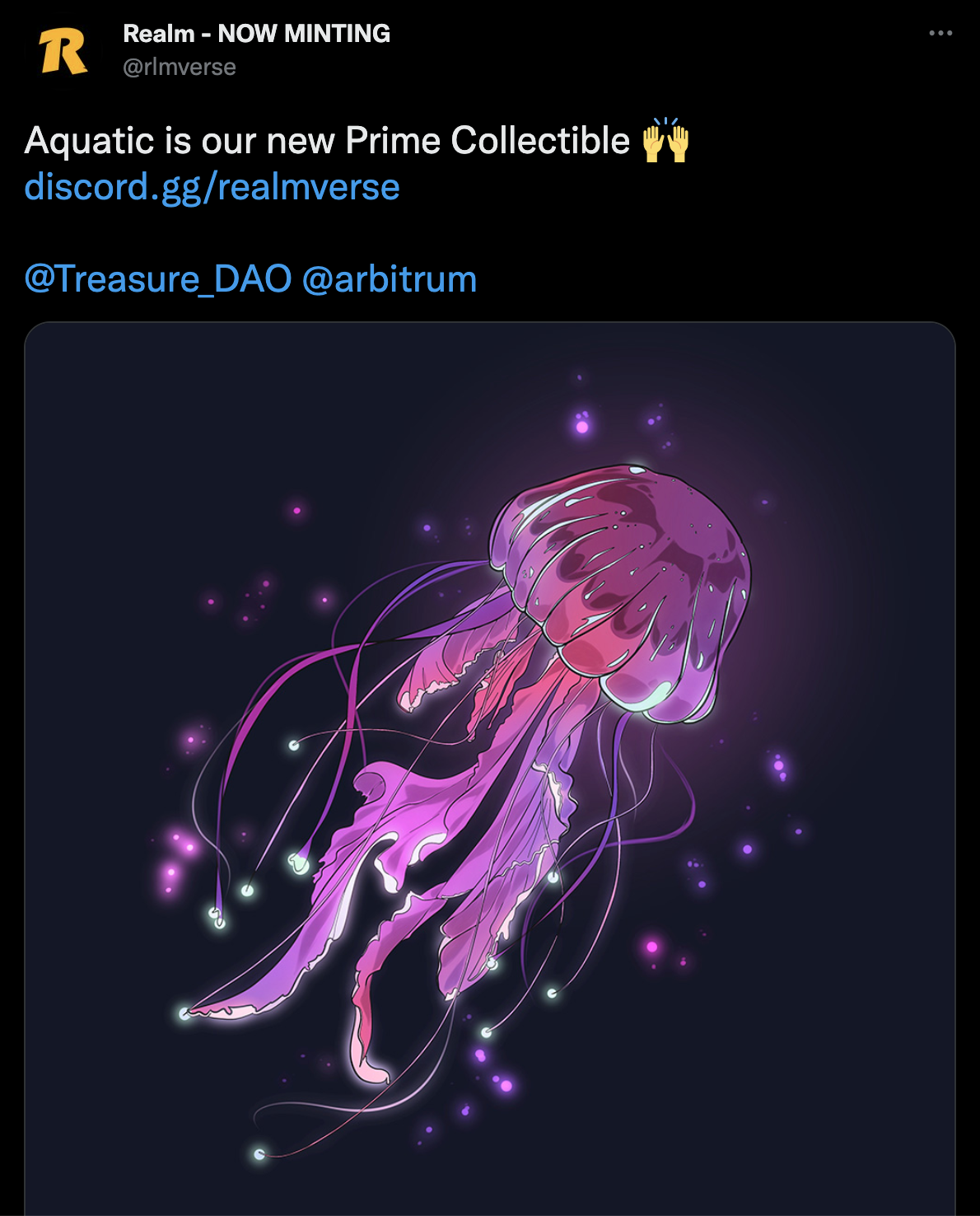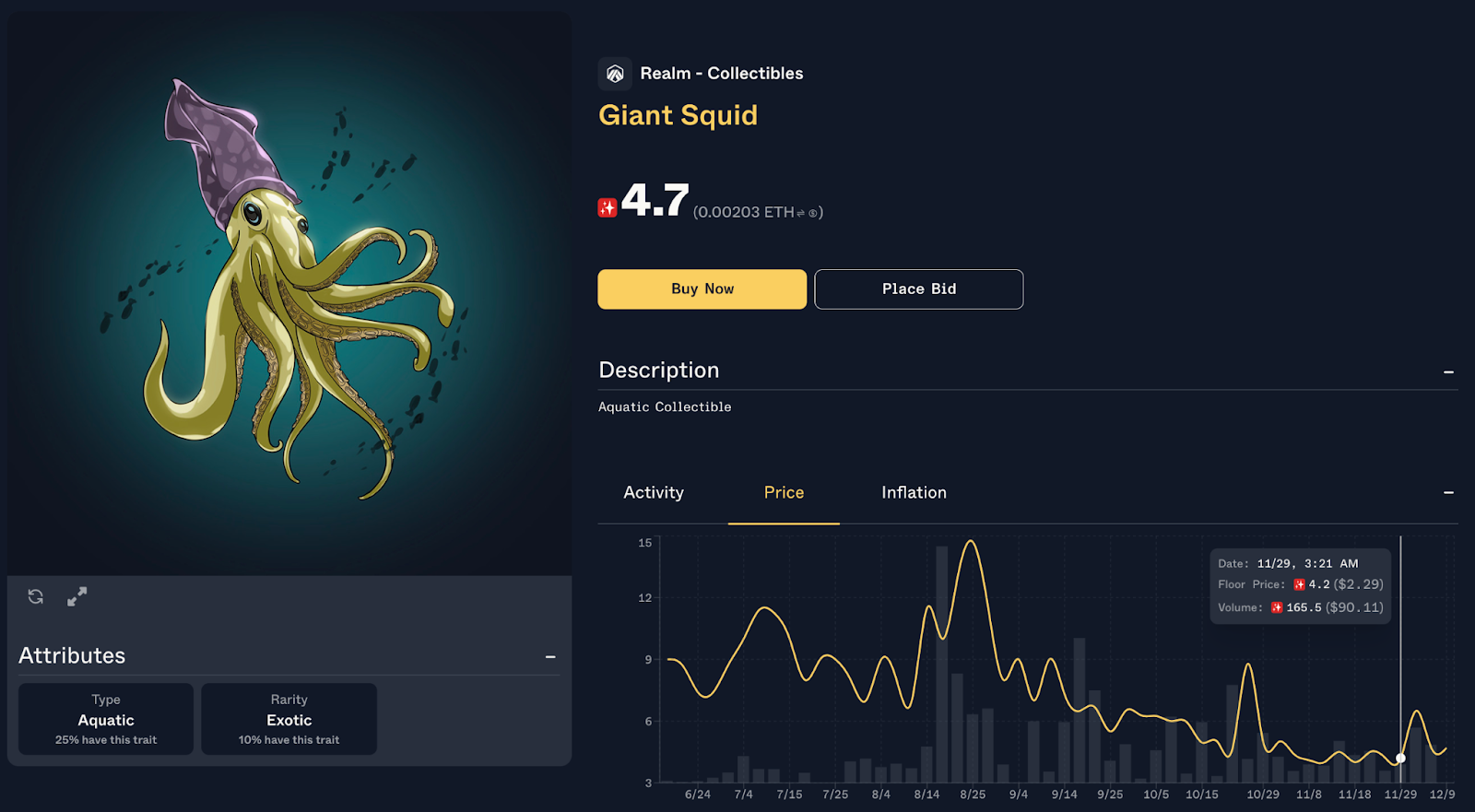 Other Realm Assets
Ancient Particle Reactor | Along with the Realm main collection, $MAGIC cost of reactors has dropped recently with the floor currently at 300 $MAGIC, down from about 500 a couple of weeks ago.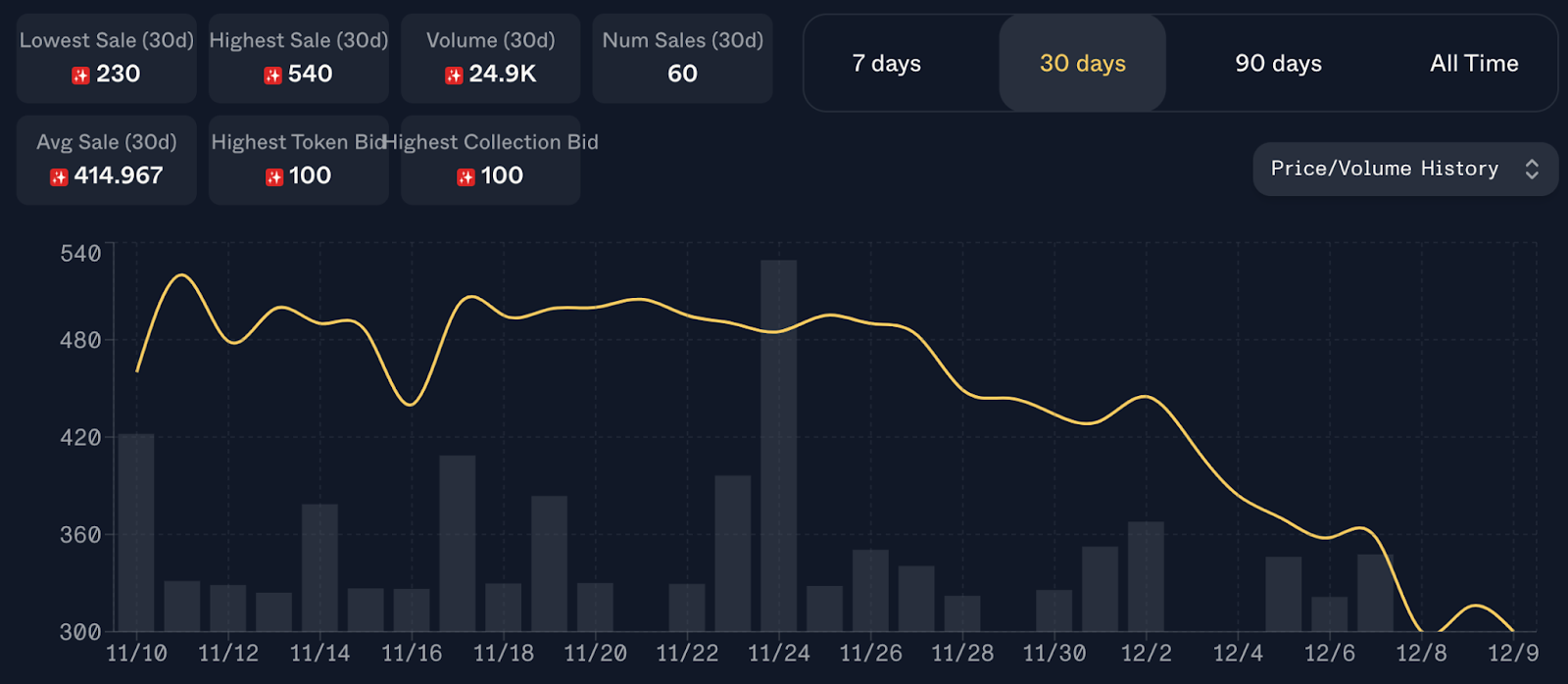 Magic Refinery | A couple of savvy snipers took advantage of a Tier 1 Magic Refinery sale last week. Currently, a few Tier 1 and Tier 2 refineries remain for sale a bit below $MAGIC staking cost.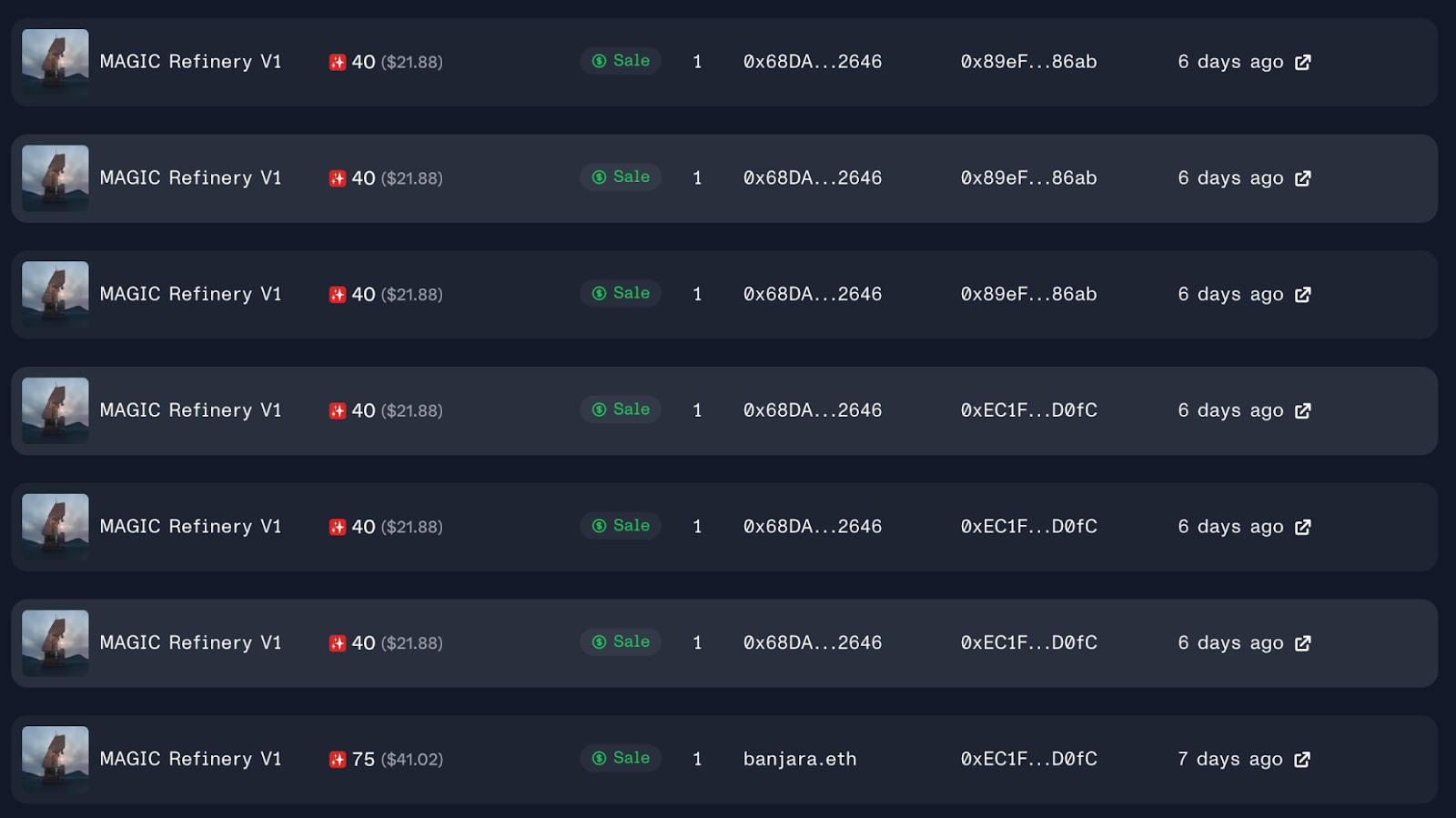 Cities & Monuments | Cities, and Monuments of all tiers, but particularly the bottom rungs, have depreciated as well recently. Along with the uptick in $MAGIC value, there is likely some influence here from the beginning of the month now seeing a big wave building construction to compete early for fresh emissions leaderboards.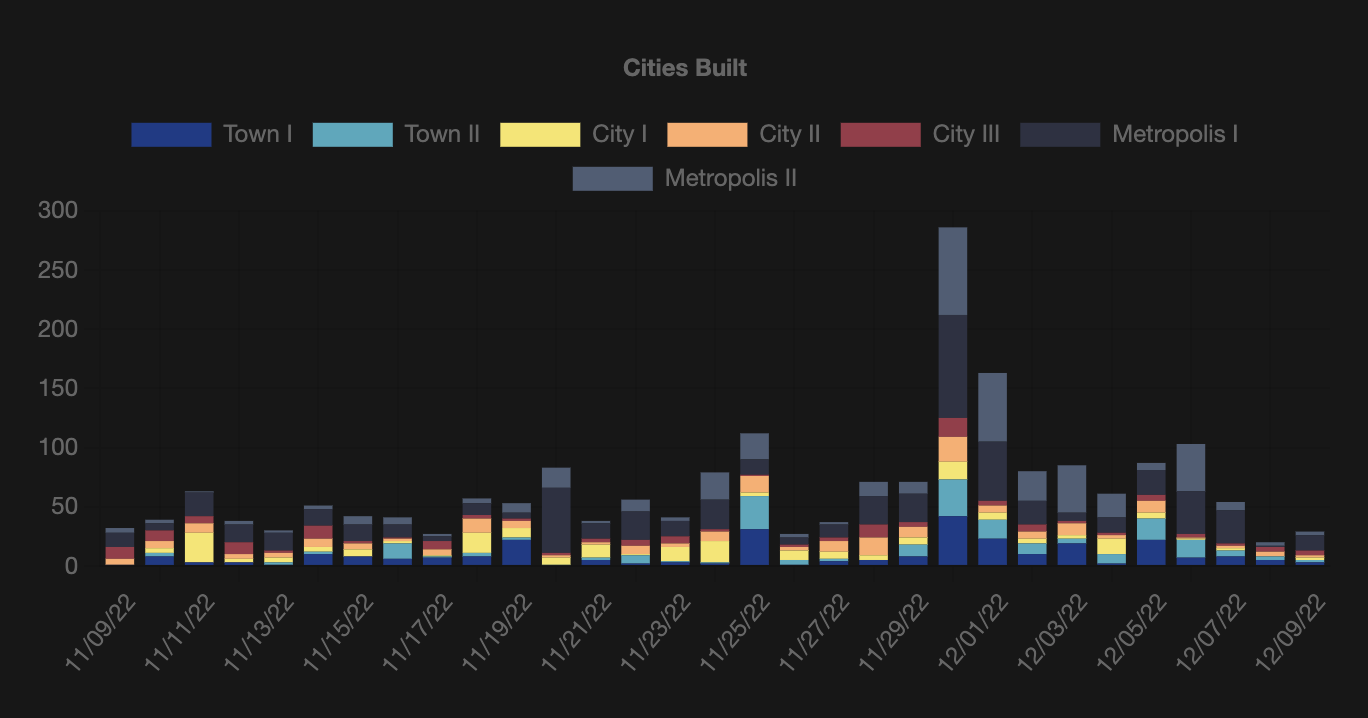 Smolverse:
Writer - Kowl (@kkowll)
No major moves in Smolverse over the past 2 weeks. As the price of $Magic has moved to the upside with the recent Coinbase listing and Beacon Settlement success, NFTs are down in $Magic terms.

Ideas of the week:
Claim your Smoloween skin (if you have not done so already) Claiming Ends December 13th

Purchase a Smol World Cup Jersey

Put out some Swol/Smol Bids - With the price of $Magic up NFT prices have come down

Stock up on Smol Treasure - With the AMM coming in 2023, I have been stacking my Smol Treasure in preparation

In terms of price action:
- Smol Brains have come down and are sitting at a 1,120 $Magic floor. People are getting bids around 1,000 $Magic
- Smol Bodies are also down they currently sit at a 211 $Magic floor. People are hitting bids around 150 $Magic range
- Smol Brain Pets are at a 35 $Magic floor and Smol Body Pets are at a 27 $Magic floor
- Cars are at a 28 $Magic floor and Swolercycles are at a 19 $Magic floor
- Land is sitting at a 100 $Magic floor up a bit from one week ago
- Smol Treasures are down across the board, Moon Rocks are at 0.59 $Magic floor, Stardust at 0.7 $Magic, and Alien Relics at 600 $Magic although people have been accepting bids in the 400 $Magic range
Upcoming Potential Catalysts:
Smol Racing Chop Shop should be coming out soon (This is where you can trade in your Trophies for Car Skins)

From the recent Smol Hall, we know the team is working on a Holiday Event

Bridgeworld:
Writer - Tempest (@0x_zughead)
Ideas for this week
Hoard T1-3 treasures - dev team suggested there will be some rebel to increase usage here

Snipe or target a craftoor (or genesis) for corruption by year-end

Aux legion no longer as inflationary, put in a bid for some cheap exposure (market has some paperhandooors due to the recent MAGIC pump)
Market recap
Despite the $MAGIC pamp, Legion prices have held rather well relative to other projects which reminds us why this is the console game.
With summoning disabled, aux legion prices have regained steadily to 250-300 MAGIC floors as of writing.
LG have held steady and are currently around 2,159 floor (note: snipe those Genesis Specials or Uncommons!)
Corruption targeted End of Year
Ready to ring in the new year by rugging frenemies of their $MAGIC emissions? Get your crafting hands ready!
Some nice snipes of lvl 2 craftoors came thru near floor but also some lvl 4-6 craftoors near the range of 700-968 MAGIC! 

As a reminder, Genesis Legions will be able to craft corruption without much penalty as a substitute to the summoning changes
Cataclysm & game mode news
On the horizon, the dev team has suggested that corruption remains incoming but further discussions eluded to another development, 'Cataclysm' which is coming to address Atlas Mine's lock-ups or potential utility. 
Another longer-term goal is to make more competitive gameplay for BW - this remains under discussion/development - but regardless, it remains worthwhile to consider having some exposure to the center game console (especially when you look at future Treasure burning utility for other inter-op).
BattleFly:
Writer - Kowl (@kkowll)
Things have been pretty quiet on the BattleFly front recently. Prices have come down as $Magic pumped.

BattleFly Founders V1 have held pretty stable at an 8,000 $Magic floor price
BattleFly Founders V2 have come down to a 1,600 $Magic floor price

BattleFlys are sitting at a 36 $Magic floor down from their 90 $Magic floor price back in November



BattleFly - 7-Day Chart on Trove



$gFLY is around $3.37 at the time of writing this, my guess is we see some chop around this range till the main game goes live (nfa)


The main BattleFly game is live for Founder NFT holders to test out and people have been enjoying it so far. The public should be able to play the main game in the future (no time frame has been given yet)





Knights of the Ether:
Writer - Kowl (@kkowll)
Ideas for this week
Attend the KOTE Alpha Playtest on Wed, December 14th

Put out bids on Knights, Squires, and Items in preparation for closed beta and Squires update
Prices have come down across the board on KOTE NFTs

Knights have been stable around 0.06 - 0.065 ETH over the past two weeks
Squires have come down to a 200 $Magic floor where they have stabilized
Rings, Potions, and Trinkets are all around 1 $Magic floor for the common items
Upcoming potential catalysts:


Closed Beta is coming in January
The Squires update should also be coming out soon, according to the team "they are coming in the soonest of twinkling" could this mean we are getting the update in Dec?




Toadstoolz:
Writer - Kowl (@kkowll)
With the recent celebration of Toad 1 year anniversary the community has been all the buzz. People have been showing off their sweet digs (Toad Padz)
In terms of price action:

Toadz are down from their 200 $Magic floor back in November and are currently sitting in the 100 $Magic range

Toad Padz are sitting at a floor price of 38 $Magic


ToadStoolz Padz 30-Day Trove Chart
Lost Donkey:
Writer - Exor (@ExorTreasure)
As we all patiently wait for The Lost Game to be released, the floor price of Lost Donkeys fell back to ~95 $MAGIC following the rise in the USD value of $MAGIC. The floor price of Barns also fell to 15 $MAGIC, allowing everyone to afford a Barn as a Christmas gift for their loved ones!
We also now know more about upcoming harvest resources, harvesting, and crafting thanks to this great thread from @CryptoTaxCat!


Lifeverse:
Writer - Kowl (@kkowll)
Season 1 of COP has ended and Season 2 registration will be announced sometime in the future


In terms of price action:
Imbued Souls have come down to around 125 $Magic floor price

Imbued Souls 30-Day Trove Chart
Skil Reset Potions are at an 8.8 $Magic floor, but people are hitting bids in the 2 $Magic range.
---
Thank you all for reading. This will be a bi-weekly report so look out for the next one

Follow Treasure Times on Twitter for more $Magic content - https://twitter.com/treasuretimes_
To keep track of upcoming events: Magic Calendar - https://www.treasuretimes.lol/nft-calendar
Check out some amazing game guides by Treasure Hunt:
Check out all our amazing writers and give them a follow:
Kowl - https://twitter.com/kkowll
Tempest - https://twitter.com/0x_zughead
Gerguny - https://twitter.com/Gerguny
Exor - https://twitter.com/ExorTreasure
J - https://twitter.com/Dysto1911
---
Disclaimer: Treasure Times is not affiliated with Treasure, Trove, or any project mentioned in these summaries. These recaps are intended for entertainment purposes. None of the information in this piece is financial advice. Always do your own research and talk to a financial professional when making investment decisions.
Disclaimer: Every project we have talked about we own an NFT or multiple of those NFTs. Always do your own research before making a purchase.

#treasuredao
#$magic
#treasuretimes
#web3 gaming
#trove