Welcome to the Trove marketplace recap. This will be a bi-weekly post breaking down all the actions happening in the Treasure ecosystem. Each summary will feature price movement on projects, upcoming events, and potential catalysts.
---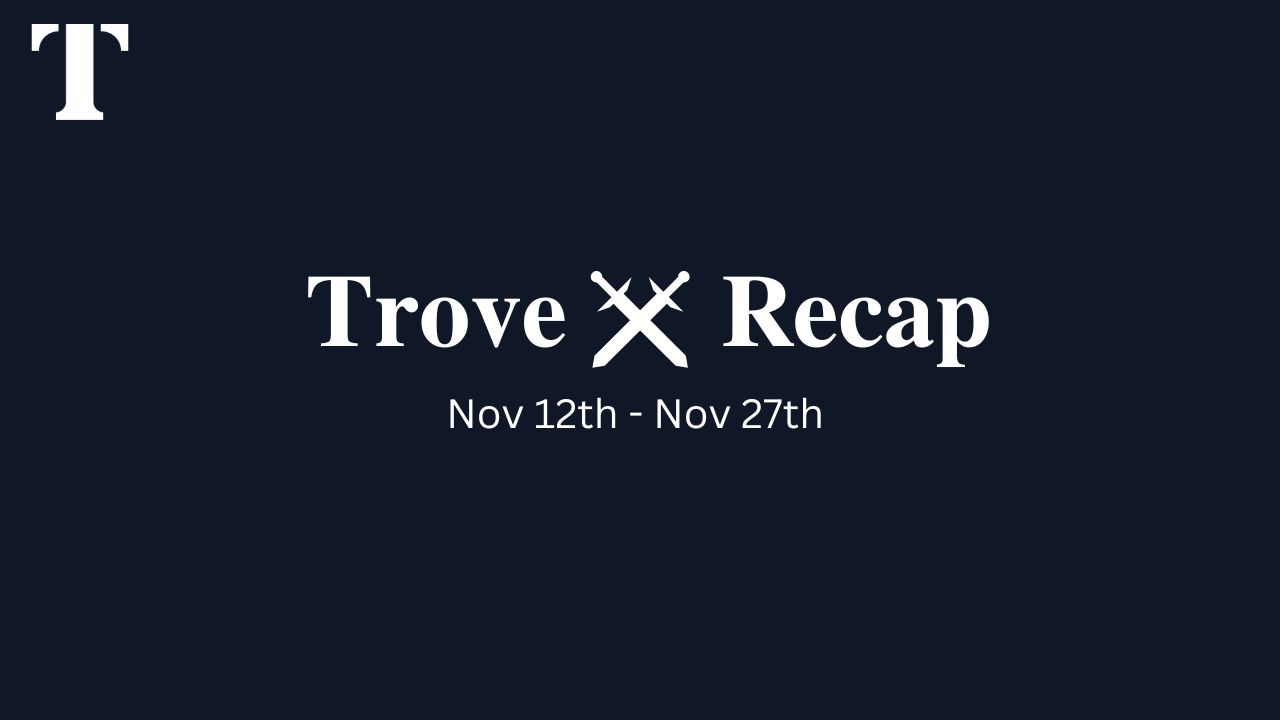 Lots happening this week with the launch of Flywheel 2.0, $gFLY and the Beacon Settlement official starting. Arbitrum seems to be picking up users and the TVL has actually been growing over this bear market. As new games continue to onboard into the Treasure ecosystem and users start jumping over to L2 the pieces are being laid out for the L2/Gaming bull run that will eventually come.
Upcoming events happening in the $Magic ecosystem:
Kasumi Dungeons is launching on Monday, November 28th

Smol Racing Season 1 is ending on Tuesday, November 29th

Tales of Elleria hero auction starts Monday, December 5th

Knights of the Ether closed beta coming soon

The Beacon Gen 0 Pet mint starts on Friday, December 16th
---
The Beacon:
Writer - Exor (@ExorTreasure)
The Beacon has been on everyone's mind since the beginning of the Settlement Launch event on the 25th of November. The Settlement Launch is a 3-weeks event where The Beacon is open to the public and where everyone can try the gameplay for free.
Although the game is free-to-play, players can decide to mint a "founding character" NFT pack for ~$40 (denominated in $ETH). The pack includes a character, various character cosmetics and various house items, and allows players to personalize their characters and in-game homes in order to fully participate in the social component of The Beacon.
Outside of the founding character pack, players can earn cosmetics and house items everyday by solving quests in the tavern or by managing to exit the dungeon! Since both cosmetics and house items are NFTs, they can be freely traded on Trove. Although the current floor price of The Beacon items is 5 $MAGIC, items have different rarities:
Rare (~60%)

Epic (~30%)

Legendary (~10%)
and rarer items are expectedly selling at higher prices.
Interestingly, as explained in the above tweet, all Epic and Legendary items available during the event will be removed from the loot tables once the event ends. Even though the market for The Beacon items is very new and a lot of things are likely to develop in the months to come, it seems like the Treasure community is enthusiastic about in-game items and about the social component of the game since the volume on Trove already crossed the 20k $MAGIC threshold!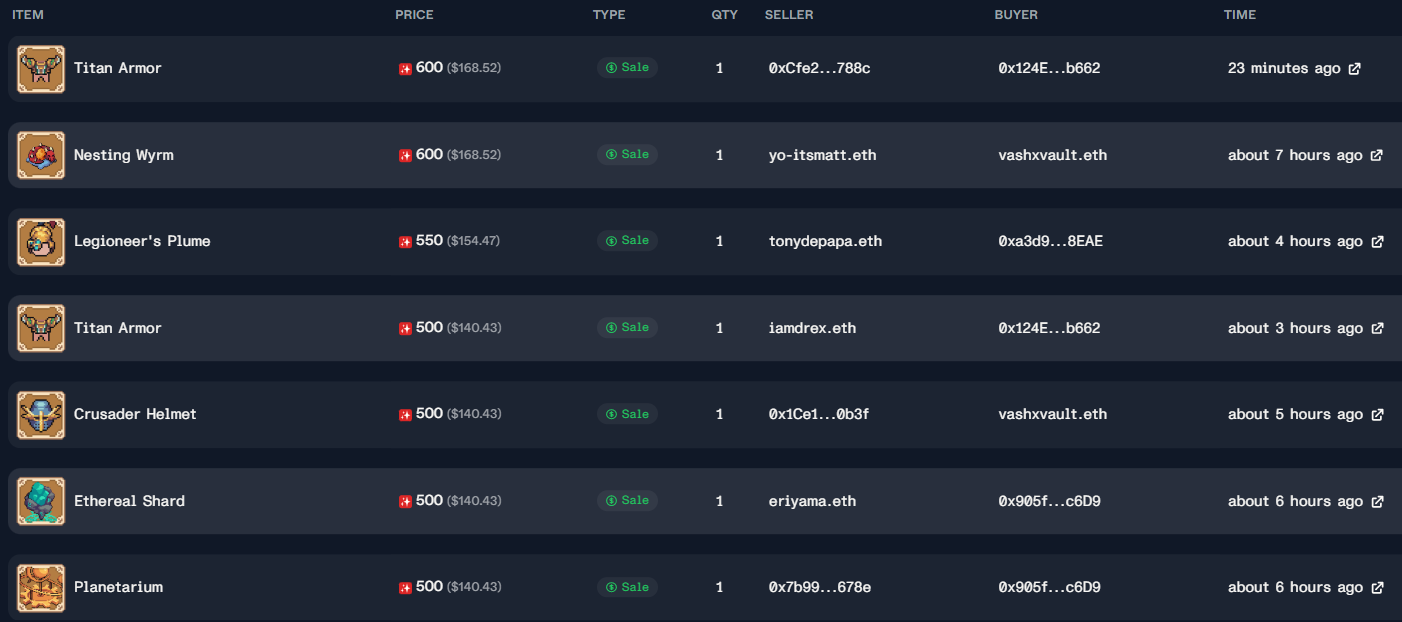 As at the time of writing, some of the rarest Legendary items have already recently been sold for 600 $MAGIC. Enjoy The Beacon gameplay and may you build the coziest home and loot some Legendary items!
Tales of Elleria:
Writer - Gerguny (@Gerguny)

Value of $ELM has been increasing since the announcement of Dawn Heroes mint. $ELM:$MAGIC was hovering at ~4:1 before announcement and quickly skyrocketed to ~7:1 within 12 hours of announcement. The ATH during this period was ~7.7:1 which was spiked by a $31k (17.5k $ELM) purchase on 24th Nov. The single-sided ELM staking pool slowly shrink from 91k to 82k $ELM from 12th to 24th Nov but quickly bounced back to 99k $ELM after the said purchase. Meanwhile the ELM-MAGIC LP staking pool gradually grows from 74k to 86k $ELM over the same period.
In terms of heroes, volume of them has exceeded 1M $MAGIC on 14th Nov. The floor price has maintained fairly well at 220 $MAGIC (~0.05 ETH) which is the mint price and sales of low main stat (86 main stat) CS heroes were consistently going at >10X floor price. Most CS heroes are sold at level 3 with the exception of a legendary warrior (95 strength, 89 vitality) which was sold at level 1 at a 3500 $MAGIC bid. The hero was first listed at 5000 $MAGIC, then 4000 before the bid was accepted. Notably, the demand of non-CS level 3 heroes had seemingly gone down and there are currently 3 of them sitting at around 1000 $MAGIC, with a total of 9 level 3 listed.
Please be noted that world boss has just concluded and all $MAGIC and relic rewards were distributed accordingly on 24th Nov. Please check your off-chain inventory for all distributed relics. With that said, several world boss rewards were going fast into the market. 5 Chaos scrolls (all from accepting bids from 199 to 145 $MAGIC) were sold since then and 2 Jester's Tricks out of 7 were sold at 140 and 150 $MAGIC bids respectively. The current floor of Jester's Tricks is at 499 $MAGIC. This rare relic, along with Plague Doctor's Secret (PDS), could ONLY be obtained as world boss rewards and bug bounty - both of them cannot be crafted with the current crafting table. While there are only 2 PDS on trove, none of the 3 PDS for 1st to 3rd place in this world boss season are listed, further highlighting how much top players value the utility of it.
During the past 2 weeks, 27 exalted scrolls were sold at ~400 to ~600 $MAGIC and is one of the highest volume premium relics. Apart from scrolls, potions also have pretty high volume and price of recovery potion were well maintained at ~25-30 $MAGIC before the release of ~250 Recovery potions as world boss rewards for all players. Currently the floor of recovery potion is 19 $MAGIC. There was also high volume in Bone Powder as over 400 of them were sold in the past 7 days at around ~2.5 $MAGIC each. The demand of Wood Chips is also high with over 200 of them at bid price at or above 1.8 $MAGIC each. The most accessible relics to obtain Wood Chips is Goblin's Club and you need to spend 2 ELM shard to guarantee 1 wood chip, along with possible cloth and T1 metal drops. Vial of Mysterious Blood also has maintained at ~2.5 $MAGIC even though 200 of them are emitted in exploration daily - this shows that this relic is probably still one of the most significant bottlenecks in most crafted items.



BattleFly:
Writer - Kowl (@kkowll)


Big week for BattleFly, the launch of Flywheel 2.0 and $gFLY token. Daily volume on $gFLY was $1.27million, so not bad for the first day of trading. As of writing this $gFLY is sitting in the $4 range. APYs for the new Flywheel 2.0 has been really good so far and I expect more people will lock up their $Magic in the Flywheel over the coming months.

In terms of the NFTs


Regular BattleFlys:

Price has been steadily climbing from a low of 37 $Magic back in August to now around 74 $Magic at the time of writing. Price has been bouncing around in the 70 $Magic range for most of November and with the launch of $gFLY and Flywheel 2.0 prices hit a high of 89 $Magic. Things seem to be coming down and I don't expect to see tons of movement till the game comes out.


Founders V1/V2 BattleFlys:
Founders NFTs have held up very well, After the airdrop of $gFLY to Founder holders the price held up, and in the case of Founder V2s the floor got swept pushing the price from 2,000 $Magic to 3,000 $Magic. There are also barely any listed - Founders V1s have 2 listed and V2s have 5.
Upcoming Potential Catalysts:

Leaderboard for the Wasteland NFT is live, snapshot could be taken anytime over the next few weeks. Top 88 stakers from $gFLY and $Magic/$gFLY LP tokens who lock for at least 90 days will win a Wasteland NFT. As people compete to be top 88 I could see the supply of $gFLY getting locked up potentially causing some movement (nfa).
The main BattleFly game should be coming out for Founder NFT holders very soon, this will be a great way for Founders to try out the game before everyone else. In terms of when will the main game be open to the public that should also be happening in the near future.


Realm:
Writer - J (@Dysto1911)
Realms
It has been a big week for Realm sales, which has driven the floor to 749 $MAGIC, up from ~400 $MAGIC at the beginning of November. Active community members seem to be anticipating future changes, and looking to pick up specific resource traits or stats. It's also been exciting to see active players from other Treasure ecosystem games join the Realmverse lately.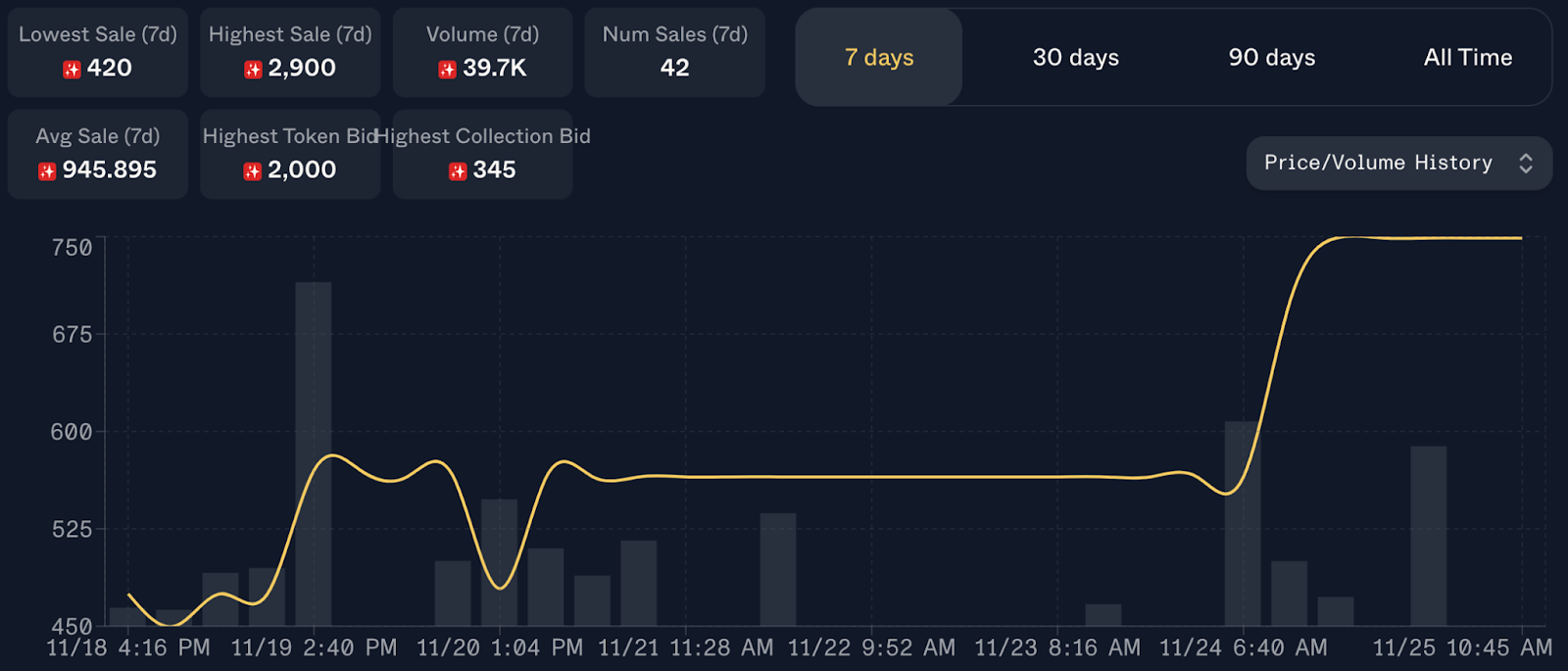 (chart source: trove.treasure.lol)
Collectibles
The next Prime Convergence has arrived, and players are determining which collectibles type will become the next Prime Collectible (which can be used to construct cities). Contributing collectibles serves as a "vote" for that type. Currently Aquatic type holds a strong lead. Prime Convergence will conclude on November 30th. Learn more here.
Sales volume has slowed a bit, and floor prices for collectibles have remained steady over the last week likely as players await the determination of the next Prime Collectible, and the change of month when points for building construction will be weighted more heavily toward Realm rankings.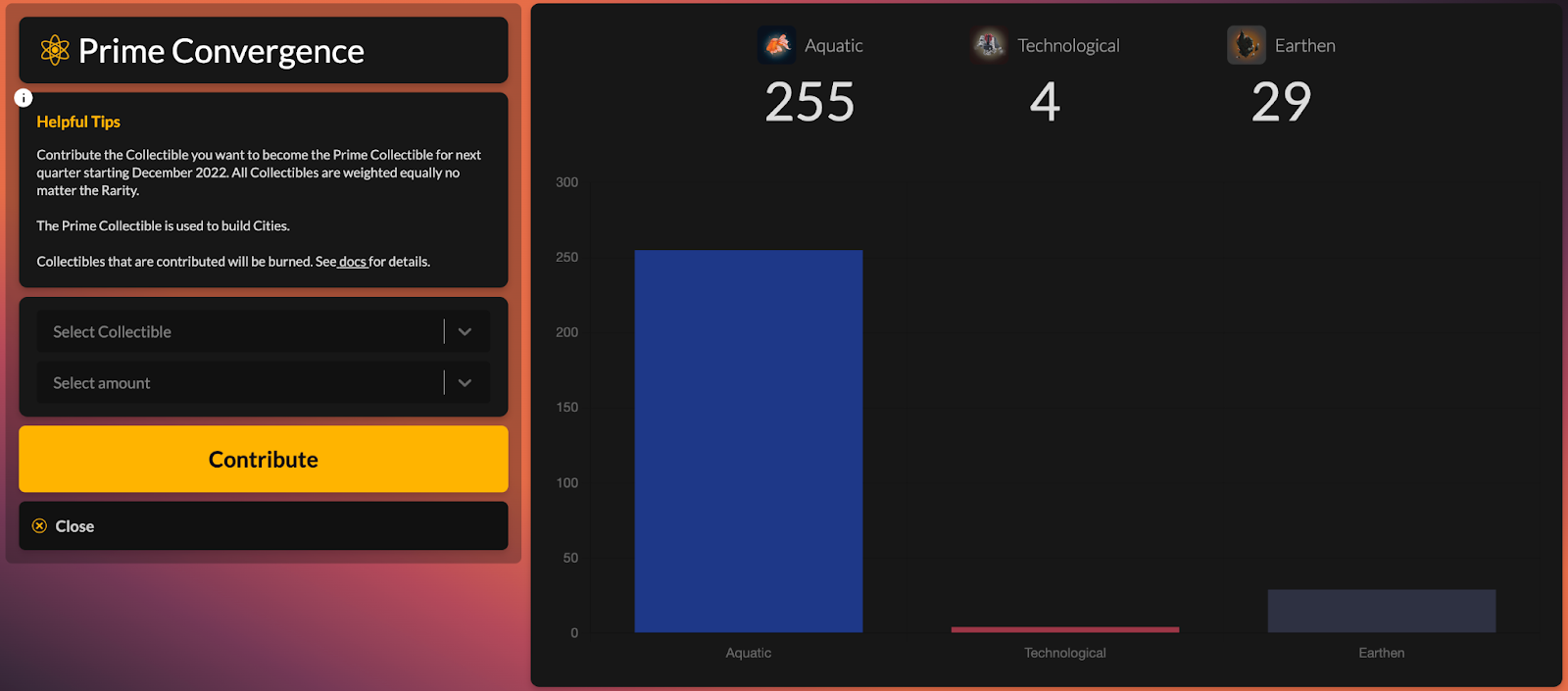 (screenshot from app.rlm.land)
Adventurers of the Void (AoV)
AoV hit a bit milestone this week, with the total for minted Adventurers passing the 5000 mark, for a total of 5054 as of November 25. Mint is still live here. The vast majority (~90%) of AoV continue to be owned by "Diamond Hands" who have never sold.
Secondary sales saw a lot of activity, including large sweeps of Level 3 AoVs, a couple of weeks ago. Activity has since calmed down, though great deals continue to disappear quickly. Floor price for Level 2 AoV currently sits at 0.088 ETH, or 0.1 for Level 3. Sharp shoppers should keep a look out for a high trait total, representing those AoV that have been actively questing lately. 
Gameplay updates are expected soon to the current battle system, as well as a release of missions.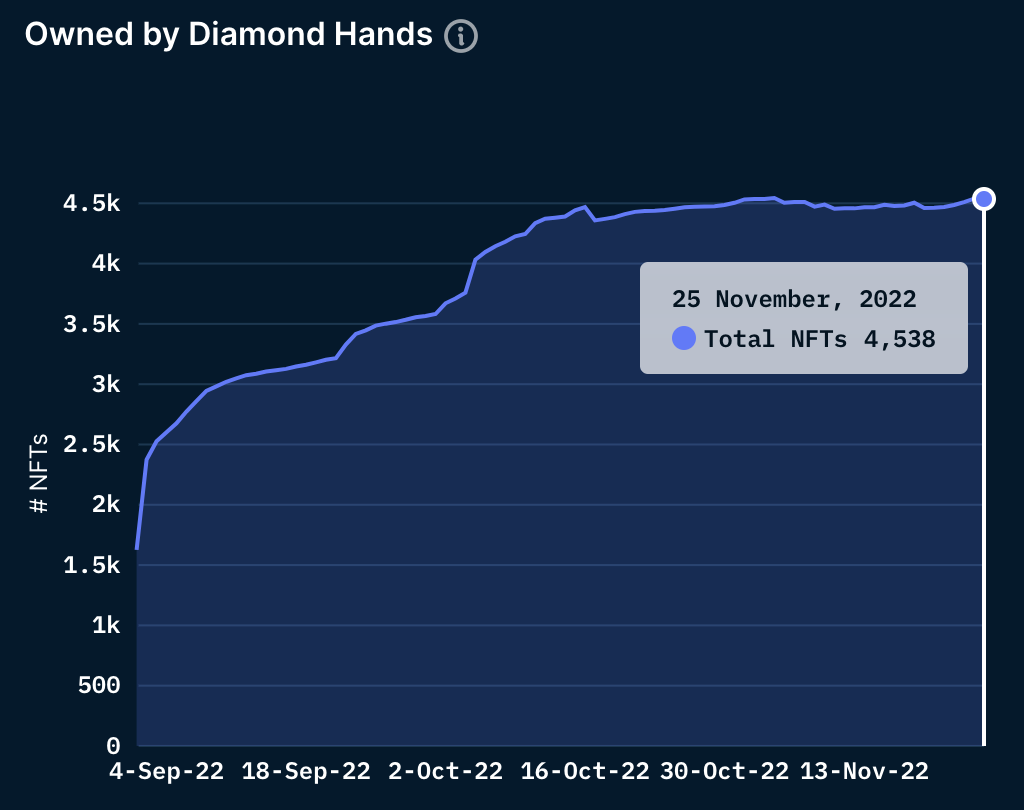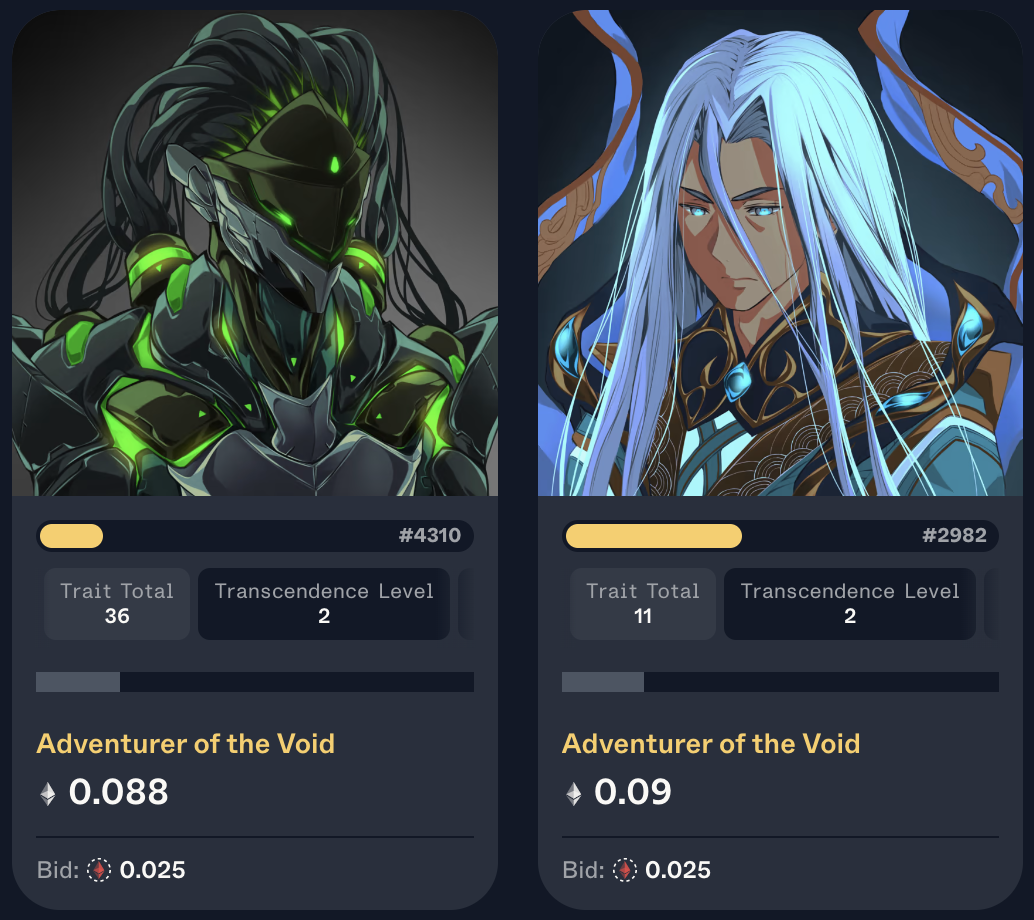 Smolverse:
Writer - Kowl (@kkowll)
Things have been pretty calm recently on the Smolverse side of things. Smol Racing season 1 did get extended by two weeks and the new end date is Tuesday, November 29th. Smoloween is wrapped up and skins are now live to claim for those that participated. Last day to claim is December 13th at 11:59pm EST.
Smol World Cup Jerseys were hinted at so I expect we hear more info on those in the next week or so
In terms of price action:

- Smol Brains have come down to around 1,500 $Magic
- Smol Bodies have been staying pretty flat in the 400 $Magic range
- Cars and Swolercycles are down a bit as well but overall somewhat stable
- Pets are actually up a bit with Smol Brain pets sitting at 55 $Magic and Smol Body pets sitting around 59 $Magic
- Smol Treasure have been pretty flat as well besides Alien Relics. Relics recently got a sweep up to a 776 $Magic floor



After Smol Racing season 1 concludes we will be getting the Chop Shop, this is where you can trade in your trophies for $Magic and CarV2 skins. Skins will be only visual to start but might have gameplay utility in the future.

Bridgeworld:
Writer - Tempest (@0x_zughead)
Aux Legion supply stopped This week, aux legion inflation as turned off which led to a move of floor from 180 to 249 MAGIC (who summons negative costs stuff anyways??). This effectively means the aux collection is capped at 18.2k - which is a good thing until corruption can finally come into play to rebalance the economy.
Legion Genesis to gain corruption utility First of all, LG prices are the same 2.7k MAGIC from prior weeks, so there's no big negative FUD going on.

Before you sadge over your precious Genesis Legions due to diminished utility, the dev team has mentioned there are plans for further utility for GLs into the corruption patch! What can you do you ask? Well, it seems that LGs no longer need to have crafting levels to craft corruption parts (Where-as, you have to break so many Treasures to hit level 5-6 craftooor on aux) - this is a pretty hefty crafting level bump if true! In the meantime, hit them up to part 1/2 (and keep repeating) for that extra treasure 1% treasure roll chance! (Assuming you do 3x 8 hours a day, you probably will hit a full treasure each month - or more if you have the rarer LGs)
Aux Legion APR
Part 1 (8-hour repeats) = 19%

Part 2 (16 hour repeats) = 50%

Part 3 (24 hour repeats) = 64%
Fragment Drop Rates
T1 = 1.9%

T2 = 4.2%

T3 = 8.4%

T4 = 8.2%

T5= 16.2%
(Best play is to just do 8-hour Part 1 and keep rolling the dice! Craft & hit the bids!)
Knights of the Ether:
Writer - Kowl (@kkowll)
People are getting excited about the closed beta for KOTE. Closed beta for knight holders should be coming sometime in December next 2-3 weeks or so.

In terms of price:

Knights and Squires a both up with Knights sitting at 0.075 eth floor price and Squires now sitting at a 300 $Magic floor price after a big sweep last week.

Squire - Trove 30 day chart
Upcoming Potential Catalysts:
The closed beta is coming out soon sometime in December, this could cause some price action for the ecosystem.

Squires will help gather items that knights will need as they adventure in the UnderDark.

The Jeweler, Alchemist, and Blacksmith shops should be live in the future this is where you can combine your items to upgrade them. This in theory should start to decrease the supply of items potentially causing some price action

Some Alpha for you all:




Trinkets will eventually have a hard cap for the season plus maybe some upgrade/burn mechanics in the future.
Crafting will focus on rings to start then potions.

NFA, but we could see a supply crunch after the crafting update is released


Toadstoolz:
Writer - Tempest (@0x_zughead)
Toad Padz launched earlier this week creating much excitement for existing holders and bumped the floor from 180 to 208 MAGIC as of writing! One of the rare Toadz even sold for 1,469 MAGIC as the whole ecosystem is boolish..Sheesh!
At the development level, the game has continued to show steady development and this week the release of Toad Padz has led to further interest + better volumes in the existing Wood NFTs & Blue Prints
Stack 5 Wood + 1 Blue Print + 200 BUGZ = 1 Toad Pad (House / Land play)
Some thoughts here on the latest project development:
1 Toad makes 10 BUGZ a day (soulbound) clearly you NGMI with just one - it seems like you need at least 3-4

Toad Padz are limited items that can be staked (For now you can only stake one) and seems can level

There are indications Padz can be staked together to create larger land plots in the upcoming expansion

House rarity is mostly aesthetic - although most people would like a nice plot for their Toad PFPs

It is also hinted there will be NFT furniture & $BUGZ catchers (emissions) for Padz!

Lastly, it was suggested the Beacon trophy may have some hidden value... (as evidenced by the Powerplins trophy utility a few weeks ago)
There is no big APR calculation here, but Toadz will remain a next-best PFP play with a casual life-sim component that has shown a steady track record of development! One of the advisors is also an EtherOrc Founder (poof) what's not to like for a reasonably priced project??
Lost Donkey:
Writer - Exor (@ExorTreasure)
Long gone are the times when the floor price of a donkey from the Lost Donkey collection was in the 2-digits, as the floor price pumped to 140 $MAGIC (up from 105 $MAGIC in the previous recap) following news about the Lost Lands game development, about barns and about $CARROTs (and generally because of how awesome the community vibes are).
Since community members were reminded that barns would be at the core of the Lost Lands gameplay and at the core of $CARROT generation, it is no surprise why the Lost Barns pumped too.

As such, the barn floor price increased from a stable 20 $MAGIC to a high 70 $MAGIC, only to currently sit at ~40 $MAGIC, still a 2.00x in less than a week.
Although many unknowns still exist with regards to the quantitative generation of $CARROTs per barn and with regards to the value of $CARROTs, it is definitely worth keeping an eye on our cute donkey friends!
Lifeverse:
Writer - Kowl (@kkowll)

Life COP game is underway. The first season will end on December 8th. Seems like a lot is in the works for LifeVerse as the team recently showcased their rebrand and fresh new look.

In terms of price actions

Imbued Souls are up a bit from their 145 $Magic low and are now currently trading around 160 $Magic

Skill Reset Potions have seems some wild price actions recently, going from 3.5 $Magic floor last week to now sitting at a 30 $Magic floor



We know there will eventually be utility for Reset Potions in the LifeVerse game, so stacking these over a long period could be a decent play (nfa)
---
Thank you all for reading. This will be a bi-weekly report so look out for the next one

Follow Treasure Times on Twitter for more $Magic content - https://twitter.com/treasuretimes_
To keep track of upcoming events: Magic Calendar - https://www.treasuretimes.lol/nft-calendar
Check out some amazing game guides by Treasure Hunt:
Check out all our amazing writers and give them a follow:
Kowl - https://twitter.com/kkowll
Tempest - https://twitter.com/0x_zughead
Gerguny - https://twitter.com/Gerguny
Exor - https://twitter.com/ExorTreasure
J - https://twitter.com/Dysto1911

---
Disclaimer: Treasure Times is not affiliated with Treasure, Trove, or any project mentioned in these summaries. These recaps are intended for entertainment purposes. None of the information in this piece is financial advice. Always do your own research and talk to a financial professional when making investment decisions.
Disclaimer: Every project we have talked about we own an NFT or multiple of those NFTs. Always do your own research before making a purchase.
#nft
#gaming
#$magic
#treasure
#treasuredao
#trove
#trove marketplace
#treasure times
#web gaming