Welcome to the first edition of Trikon newsletter! We are thrilled to have you on this journey as we share the latest news and insights about the Web3 gaming ecosystem.
If you don't want to miss any future updates, be sure to subscribe! You can also check out Trikon's blog posts and follow us on Twitter.
2022 is coming to an end. While it has been a rollercoaster ride, this year has taught us many things about the changing dynamics of the crypto industry. That's why 2023 is expected to be a big year for crypto space in terms of innovation and adoption.
In our case, conviction in Web3 gaming has been unscathed all year long. We believe the best is yet to come and we'll strive hard to bring the best possible solutions to gamers and developers.
With that said, let's dive into our newsletter. Here's what we are covering today:
Status of Web3 gaming

General market outlook

Trikon updates

Expectations for 2023
Web3 Gaming So Far
Play-to-earn took a big hit: The market downturn has proven P2E games can't sustain long-term. This resulted in a major decline in active players in top games like Axie Infinity.

Time to pivot:  Play-and-earn has become the new standard for Web3 gaming as projects build towards sustainability. This shift has rooted out fundamental issues with in-game reward systems.
Two games stayed resilient throughout the year: Despite major setbacks, Splinterlands and Alien Worlds maintained the most active user base in Web3 gaming with over 200,000 players every day. Few other notable games are STEPN, Gods Unchained, Decentraland, and The Sandbox.

Blockchains hosting games skyrocket: Games are launching on different blockchains offering unique functionalities with low fees and high performance. Some of the most used blockchains for hosting games are Wax, Polygon, Immutable X, Arbitrum, and Solana.

Billions poured into gaming: Investors allocated heavily into blockchain gaming firms, sharing the same thesis — gaming can drive mass adoption. $5+ billion is the approximate amount that went into investment deals.
General Market Outlook
For the most part, 2022 has been a dark year for crypto. We saw major exchanges and lenders go down, taking away the confidence of millions of investors. 
As a result, the crypto asset prices took a big hit. The macroeconomic situation with interest rate hikes and Russia-Ukraine war tensions also played a huge role in market downturns. 
On the bright side, there is less leverage at play now with bad actors wiped out. But, as always, most investors were affected by the unwinding of leverage and major price drawdowns.
Let's look at how much damage was caused and understand what's the silver lining.
$213 Billion In Realized Losses
As shown in the chart below, bitcoin investors realized nearly $213 billion in losses after making over $455 billion in profits in 2021. The losses are comparatively even larger for smaller cap coins.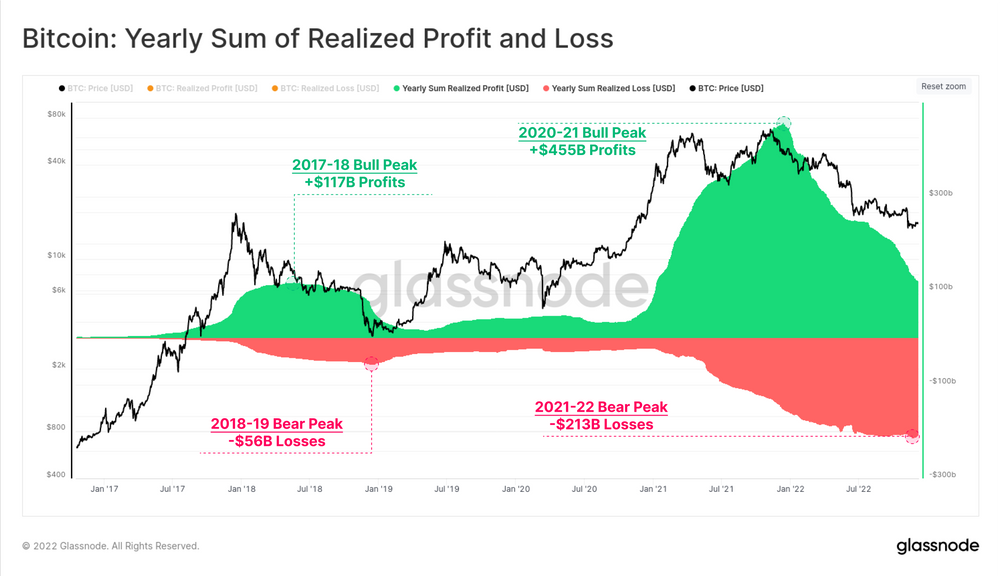 BTC Long-Term Holders % Hits New ATH
If there's a silver lining after witnessing one of the harshest crypto periods, it is long-term holders' behavior. No matter what happened, the people who believed in bitcoin continued accumulating.
In the chart below, 72.3% of the bitcoin supply belongs to long-term holders, making a new all-time high. People have realized the shortcomings of centralized platforms and see decentralization as the only way out.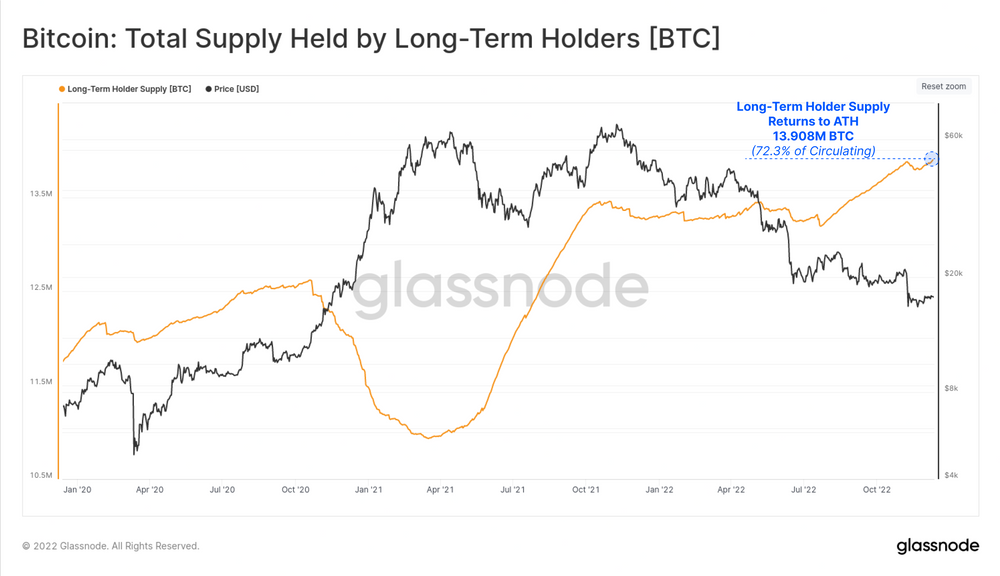 Trikon Updates
Regardless of the market conditions, we at Trikon continue to focus on building revolutionary products for the gaming industry. For this newsletter, we want to share some key updates. Take a look:
Introduced our unique PoR consensus mechanism: Proof-of-reward is a mechanism used to achieve sustainability for play-to-earn games. You can check out more in detail in the thread below. 
Kicked off Talk Trikon on Twitter: We started an exciting series of Twitter spaces called Talk Trikon where we bring industry experts to discuss Web3 gaming and beyond. So far, we conducted four such talk shows with amazing builders in the space. And we'll continue with more spaces in 2023.

You can check out all recordings of Twitter spaces here: http://bit.ly/3G4XySP

Started ambassador program: We are taking applications for students to join our community and represent the Trikon brand. For more details, check out the following thread:

Organized nation-wide community events: Community means everything for us. And we wanted to meet and greet everyone supporting us and building exciting projects in Web3. In 2022, we conducted four events in partnership with OG Club DAO, 5ire organization, Polygon Jaipur Guild, and Jmuds gaming cafe.  You can expect even bigger events next year. Stay tuned!
Nominated for EBC Awards for Europe's Top 100 blockchain startups: We're proud to be among the best of the best in the blockchain space, and can't thank you enough for supporting us. We are aiming to be one of the finalists at EBC awards and pitch on the biggest stage. So if you haven't voted yet, do check out the link below and cast your vote. 
https://eblockchainconvention.com/ebc-blockchain-awards/
Direction for 2023
Undoubtedly, 2022 has been a rough year for most of us. It may even get worse before it gets better. But one thing is certain — crypto is here to stay. And so are use-cases like gaming, NFTs, and metaverse. Here are trends and expectations of 2023: 
Self-custody becomes the norm: After the recent collapses, the emphasis on self-custody will be larger than ever. So we might see projects make huge changes to promote true ownership of assets. 

NFTs will go mainstream: We feel NFT profile pictures have had their moment and will continue to thrive. But it's time to introduce more utility with NFT technology and we think we'll see that in action in 2023. 

Scaling solutions in full effect: Blockchain scalability will be a key trend to watch in 2023. We have seen major upgrades this year with Ethereum and moving forward we'll see layer-2 solutions like zero-knowledge proofs come into effect. 

DEX trading platforms on the rise: With so much uncertainty around exchange, we might finally see DEXs evolve into reliable trading platforms with deep liquidity and advanced trading features. This also involves derivative trading. 

Web3 gaming will thrive: With gameplay being the primary focus from now on, we can see amazing games emerge in 2023. These can be mainly mobile games as they seem to attract mainstream gamers more than anything. Few more trends to watch specific to gaming are UGC gaming, interoperability, and Web3 eSports.
Happy Holidays; Talk To You Next Year
That wraps up the Tri-News newsletter for this week. 
We hope you enjoyed the first edition. We will continue to bring you exciting stories unraveling in the Web3 gaming space with deep insights and alpha. 
2022 has been quite eventful for us. MVP product development, community events, gaming nights, and whatnot! We can't wait to share what's in store with you in 2023.
Till then, stay updated on the latest news and join our community: 
Discord: http://discord.gg/fJzB5Jgk9q
Twitter: https://twitter.com/Trikon_official
Instagram: https://www.instagram.com/trikon.io/