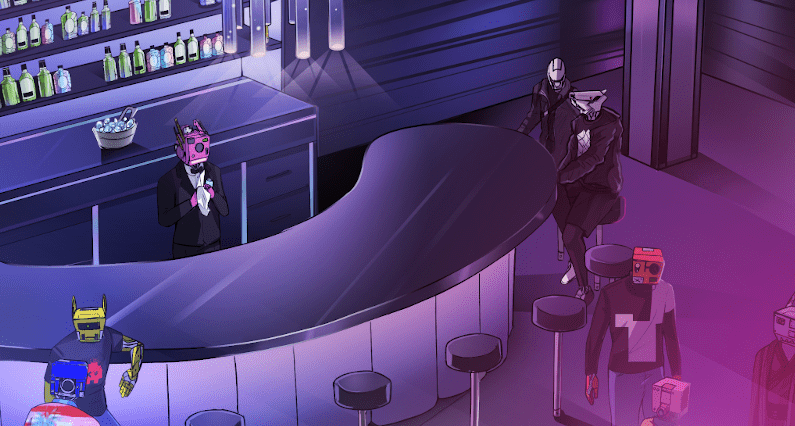 Welcome back to the TNN's Crew Chronicles— a multi-part series exploring the history and culture of our galaxy's most influential tar crews. In this installment, we spotlight Club Storm and how they function today, from their preferred tar tech to their Dapper Lounge empire.  
** \n **
As detailed in our previous installment, Club Storm originated in the employee breakroom of one of Mars's first planetary surface casinos, Ferdinand's. Eighty-something years later, you can still find CS members working the Ferdie floor. Among many other places. Their modern pursuits are far-reaching and lucrative. They deal cards at high-roller casinos across the galaxy. They take bets at the races. They run resorts. They host black-tie VIP events. They tend bar at your local Dapper Lounge. They own your local Dapper Lounge. And because they understand the importance of branding, they do all this while sporting the signature CS tuxedo. 
** \n **
If asked to describe the Club Storm brand in three words, one might say: personable, discreet, and trustworthy. CS tars are well-regarded for their conduct and the impeccable services which they provide. Though CS users reserve much of their tar CPUs for personal interests, they often opt for tech upgrades that enhance their service capabilities. The major tar vendors offer various extremity packages that include Fast-Reflex, Quick-Hands, and Reach tech, ideal for dealing cards and servicing high-volume bar crowds. Vogu's newly released OmniScan™ is fast becoming a preferred feature for CS tars as well; its precise, comprehensive visual feed allows users to better identify card-counters and prohibited weapons. Other popular upgrades for this crew include musical instrument programming, should your CS-hosted event require a string quartet, and heightened taste receptors for the sommeliers. 
** \n **
Club Storm sommeliers work and train at the famed Dapper Brewery and Winery, a large resort compound located 50 miles or so outside New Vegas city limits. A popular tourist destination and producer of some of the galaxy's best-selling booze, the compound is one of CS's most profitable enterprises. During their stays, tar visitors can take in impressive vistas from several observation decks that overlook the property's massive yeast and grape labs. They can also pose with antique brewing equipment and taste the latest wine concoctions while situated in simulations of 21st century Italy and France. Of course, tuxedoed CS tars will be there to uncork and pour as needed. 
** \n **
Business-minded and progressive, Club Storm has certainly built, and continues to build, a robust portfolio. However, profitability is not central to the crew's ethos. Rather, one might say, CS values and prioritizes community above all else. As evidenced by the atmosphere and day-to-day operations of the crew's biggest asset: the Dapper Lounge. 
** \n **
The dive bar chain is not just a business. It's a beloved hangout. A refuge. A trusted institution. All tars are welcome, regardless of crew affiliation. Doors are always open (figuratively). You can find a Dapper Lounge dive in every city and settlement in the galaxy. Each marked with the same neon sign—a small circle containing four horizontal lines of varying lengths, the first two connected. Most current-day CS members are unsure as to the emblem's exact meaning, but many assume the geometric composition is a deconstructed rendering of the letters D and L. 
** \n **
Inside, Dapper Lounge bars are dimly lit, the décor purposefully drab. The floors are a little sticky. The fabric on the leather booths faded and worn. Billows of smoke waft to the ceiling. Patrons are free to indulge in cigarettes, cigars, vapes, and the like. Stoner tars in Hawaiian shirts often sit atop the bar stools. So constant a fixture, these tars now rank as honorary Club Storm members. Behind the bar, you will always find a tar in a tux and a selection of booze tailored to the locals and regulars. For example, the Dapper Lounge closest to Vogu HQ is said to have cherry cola on tap for influencer twins Saxton and Sheldon as well as some sort of green energy drink for Vogu CEO Trackzy. 
** \n **
Whatever the location, the Dapper Lounge front bar is a welcoming, chill, good-time sort of place. The back parlors, however, serve a different purpose. Dapper Lounges are neutral territories, meaning all crews must put aside conflicts upon entering. Embedded in the chipped wood frames of each bar entrance is a hypersensitive tech sensor, which scans tars for active weaponry. All weapons must be disarmed. Those seeking admittance to the back rooms undergo an additional screening process administered by a Club Storm bouncer. 
** \n **
These parlors are a favorite for any sort of inter-crew relations or underground dealings. Rooms are soundproof, private, and secure. Club Storm seems to have an understanding with the ILA (Intergalactic Law Administration) which keeps the Lounge parlors free of any surveillance. The Dapper Lounge is the go-to for your off-record handshakes and black-market trades, all your high-stake conversations. No other galaxy venue provides such a haven. 
** \n **
All who enter the Dapper Lounge respect the rules of the establishment. A code of honor made possible by the universal trust instilled in the Club Storm crew. CS members have spent decades in proximity to wealth and power. They understand the importance of discretion, confidentiality, impartiality. They never take sides. They are adept mediators. Their word is always good. And their network is a well-regulated, trusted resource which restricts information brokering. One might use this resource to procure goods or set a meeting with an evasive contact—but secrets are never on offer. 
** \n **
So concludes our chapter on the Club Storm crew and the Dapper Lounge institution. The next time a tuxedoed tar hands you a drink, we hope you remember the pivotal role CS tars play in our surface-side activities. Tip big!
\n