Welcome to the latest edition of our newsletter! We have some exciting updates and events to share with you.
Let's dive right in!
The DAO's Social Media:
We are thrilled to announce that we have received the shiny blue Elon stamp of approval! 🌟
This means that our social media efforts won't go to waste.
To stay connected and up-to-date with all our latest announcements, ensure you're following us on Twitter and have your notifications turned on. Engaging with our tweets by leaving comments or liking them will help boost our visibility in the Twitter algorithm.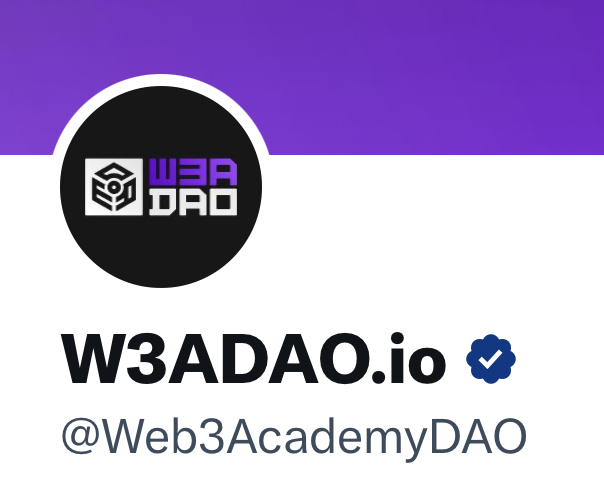 Additionally, we have set up a form for you to submit tweets and threads. If you'd like to contribute directly from the DAO account, we're also working on setting up tweet decks for your convenience.
DAO Meeting
We have a DAO meeting scheduled for Monday at 5 o'clock Eastern time. We will meet in our NEW Web3 Academy DAO Discord in the #DAO Voice Channel.
Join the DAO DOers Voice Channel
During this meeting, we will discuss our consulting services and the possibility of offering a newsletter service and launching the DAO website! Your input and participation are valuable, so mark your calendars and join us to contribute your ideas.
W3A Event Announcements
How to Invest in Application Tokens
Get ready for an epic event that you won't want to miss! 🚀
🗓️ When: Tuesday, 27th of June, 12pm-1pm EDT
📌 Where: W3A Discord
This time, Kyle will be diving into the topic of How to Invest in Application Tokens. He will share valuable insights on investing in dApps, protocols, DAOs, social tokens, etc.
The best part? This event is FREE for everyone! 🥳
The Web3 Academy team will wrap up the event with a special AMA session for PRO members, where you can ask your burning questions. If you're not already a PRO, consider upgrading your subscription using the link in <https://newsletter.w3academy.io/s/web3-academy-pro>.
Discord Event Link: Web3 Academy Discord
Podcast News Rollup Prep
Join us on Wednesday morning at 11 AM Eastern time for the Web3 Academy team's Podcast News Rollup Prep. This is a great opportunity to connect with the team, ask questions about the latest headlines, and contribute to our podcast. We value your insights and look forward to collaborating with you.
---
🌿💫 Lens Updates
Check out the latest podcast Stani was on. Odisea 03: The future of DeFi and web3 social with Stani Kulechov. Check out their blog on Mirror.xyz
---
🦋 Buttrfly Update
Spaces are coming to Buttrfly. Look who we found in the Buttrfly Space Preview. 👇
---
Thank You
That's all for this edition of the newsletter. Stay tuned for more updates and exciting opportunities coming your way. Remember to follow us on Twitter, engage with our content, and be an active member of our thriving community.
Thank you for your continued support and dedication!
---
🌿 Follow us on Lens!
Follow The Web3 Academy DAO on Lens @W3ADAO.Lens and our Writers @Borlokva.Lens & @CandyToyBox.Lens
---
Please share our newsletter and pass it along to anyone interested in joining the DAO or learning more about Web3!
---
📆 Web3 Academy DAO Weekly Events🎯
Don't forget the DAO's weekly events!
🌟 We need you to make the DAO successful!
🎯 Monday:

DAO All-Hands Meeting 9:00 pm UTC / 5:00 pm EDT

📓 Tuesday:

DAO Writer's Guild Meeting 9:00 pm UTC / 5:00 pm EDT

🎤 Wednesday:

Web3 News Chat—Weekly Rollup Podcast Prep 4:00 pm UTC / 11 am EDT
---
🤳Subscribe to our Calendar for DAO Events!
Subscribe to our calendars and keep up with what's happening around Web3 Academy DAO and the Web3 Academy Community!
---
🐥 Follow Us on Twitter!
Please follow us on Twitter Web3 Academy DAO and our members contributing to this week's newsletter—@VanessaG, @Yakuza, @CandyToyBoxYT1, @Borlokva, @19charles54
#web3 academy dao
#lens protocol