GM Doers! 😎
BTC is selling at huge 20-50% discount and nobody is talking about it. 🤯
Yes, you read that right, there is a huge and unique opportunity to buy Bitcoin at a bargain right now.
And the craziest part: It's on TradFi. 😅
It involves Grayscale's Bitcoin Trust ($GBTC), and people are already making bank out of it. 💸
Put simply: if the Web3 Academy intern would have invested $100 in plain BTC in January, he would have $164 now.
But if he would have invested in Grayscale's GBTC instead, he would have $238. 🤯
So TradFi isn't all that bad after all. Because if you know what you're doing, you're going to have a huge advantage.
And the upside is not over. 👀
In this newsletter, we are going to give you all the details you need to know to capitalize on this opportunity. 💰
Not gonna lie, outsmarting TradFi is one of our favorite hidden pleasures. 😏
Buckle up, this one's huge. 🚀
---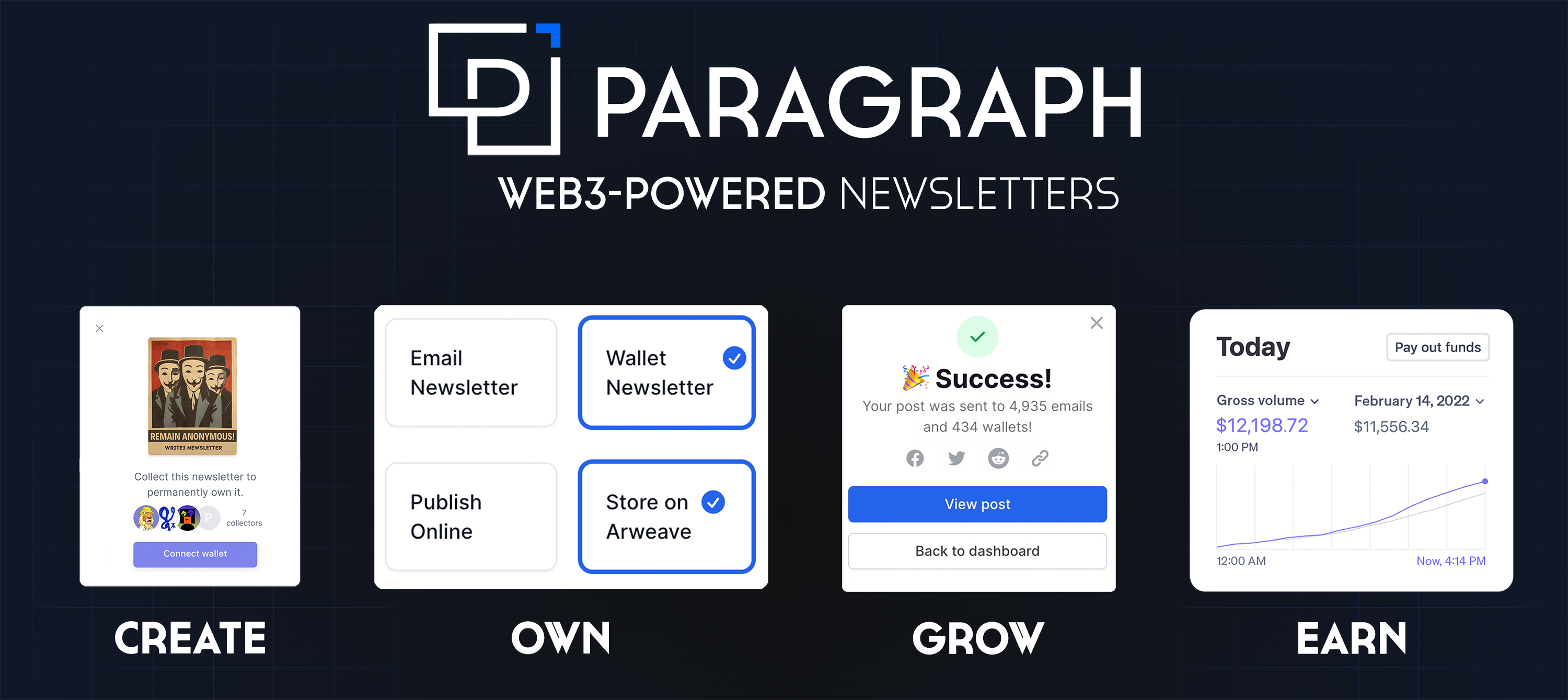 Paragraph powers modern newsletters, enabling readers to own their content and creators to share revenue with fans.
Web3 Academy has already transitioned to Paragraph because it's the future of newsletters.
If you're a creator, writer, or keen reader, explore Paragraph's early opportunities!
---
What is the Grayscale Bitcoin Trust ($GBTC)? 🤷
While the whole world is curious about Bitcoin, most don't want to buy it because of various concerns:
Setting up an account with a centralized exchange is viewed too risky
Buying and setting up a hardware wallet (to self-custody) is too difficult

The entire crypto space looks like a scam to the outside world
The best solution to overcome these hurdles is an ETF (a way for investors to get exposure to Bitcoin as easily as investing in stocks).
However, an ETF isn't available in the US yet. But Grayscale didn't want to wait. ⌛
So in order to sell BTC to their customers, they started the Grayscale Bitcoin Trust (GBTC).
In simple terms, they pooled a large amount of Bitcoin from wealthy institutional investors and issued $GBTC shares.
This allows our intern to buy $GBTC and get direct exposure to Bitcoin without directly owning the asset.
And it's truly huge, Grayscale holds over 620K $BTC, which means:
$16,000,000,000

~3.4% of Bitcoin's circulating supply

4 times more than what Microstrategy holds
This makes Grayscale the biggest BTC holder behind Satoshi. Yes… that big.
---
🎙️ Catch up on the latest news in web3
It's been a big week for crypto, with so many things happening all at the same time.
Get the lowdown on all the latest news by listening to our Weekly Rollup on your favorite podcast platform.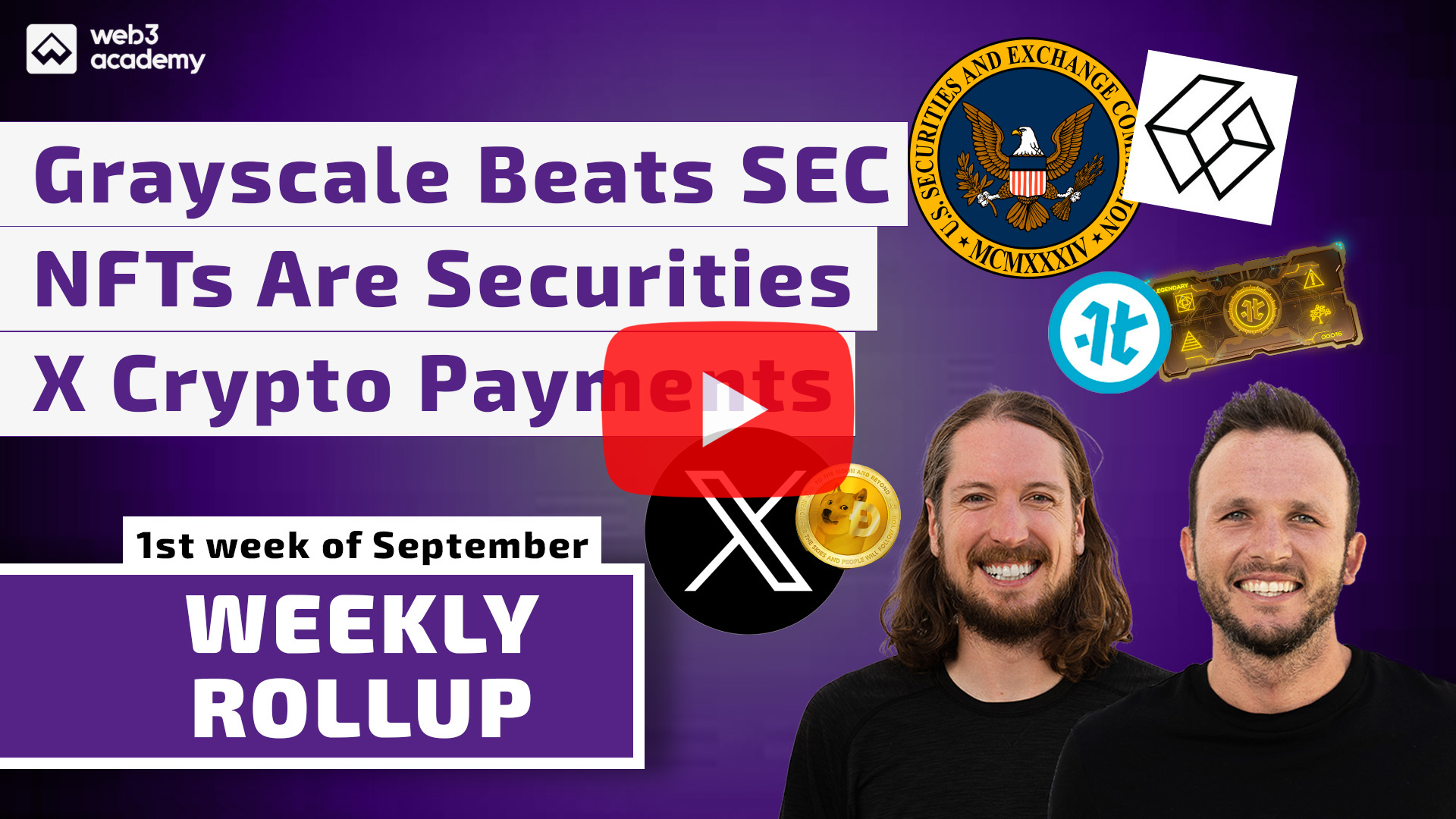 ---
So Where Is The 20-50% Discount? 🤷
Here is the trick. 🪄
While buying $GBTC gives you exposure to actual $BTC, there can be a price difference.
Why? Because Grayscale controls the total amount of Bitcoin they hold, and unlike ETFs, they are not obligated to buy and sell every time someone trades the shares.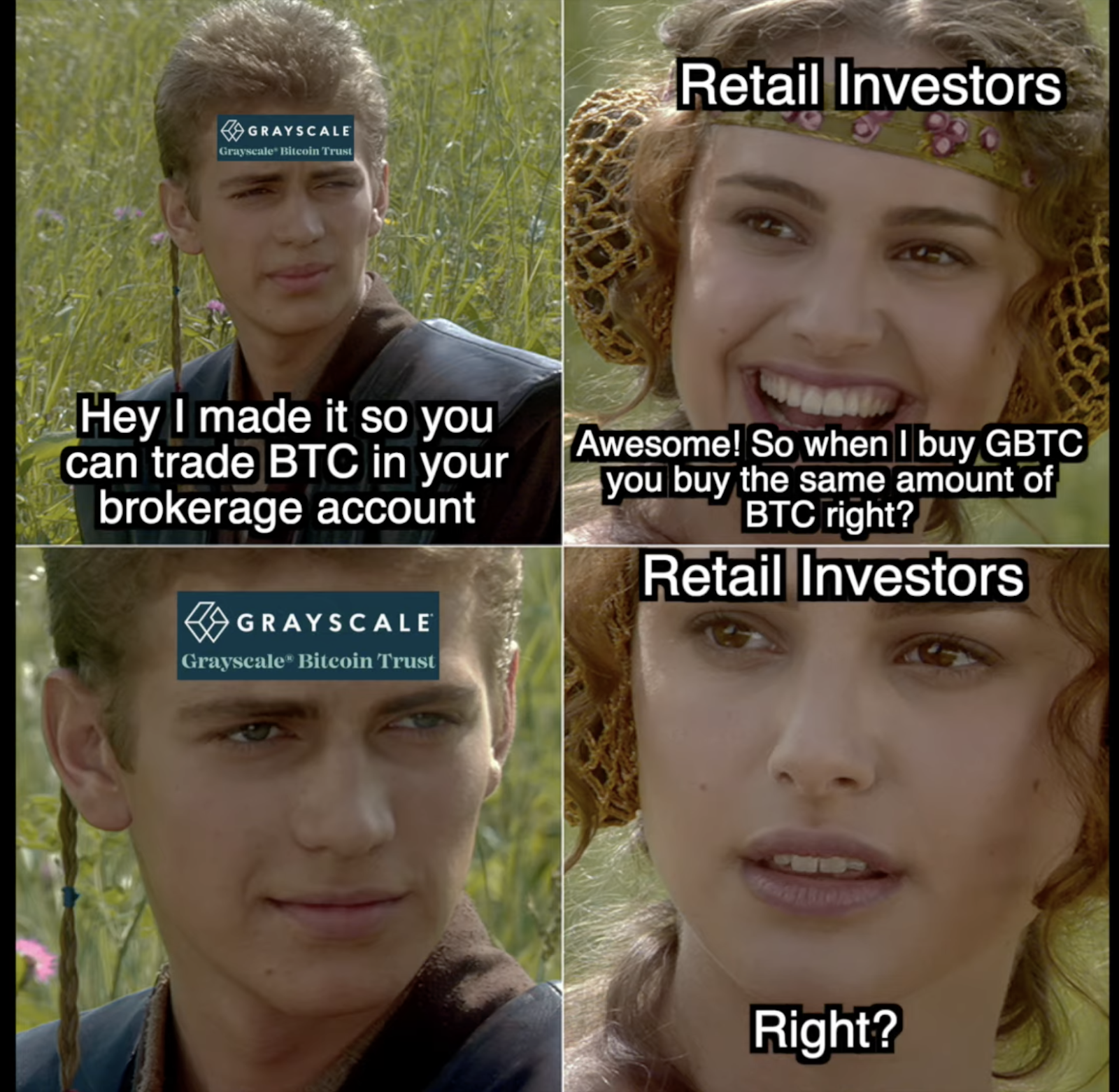 This leads to pricing imbalances—what we call Discounts or Premiums to NAV (Net Asset Value).
These represent the gap between the share price of the trust and the actual value of the underlying Bitcoin it holds.
Currently, we're at a ~20% discount, down from ~50% late last year.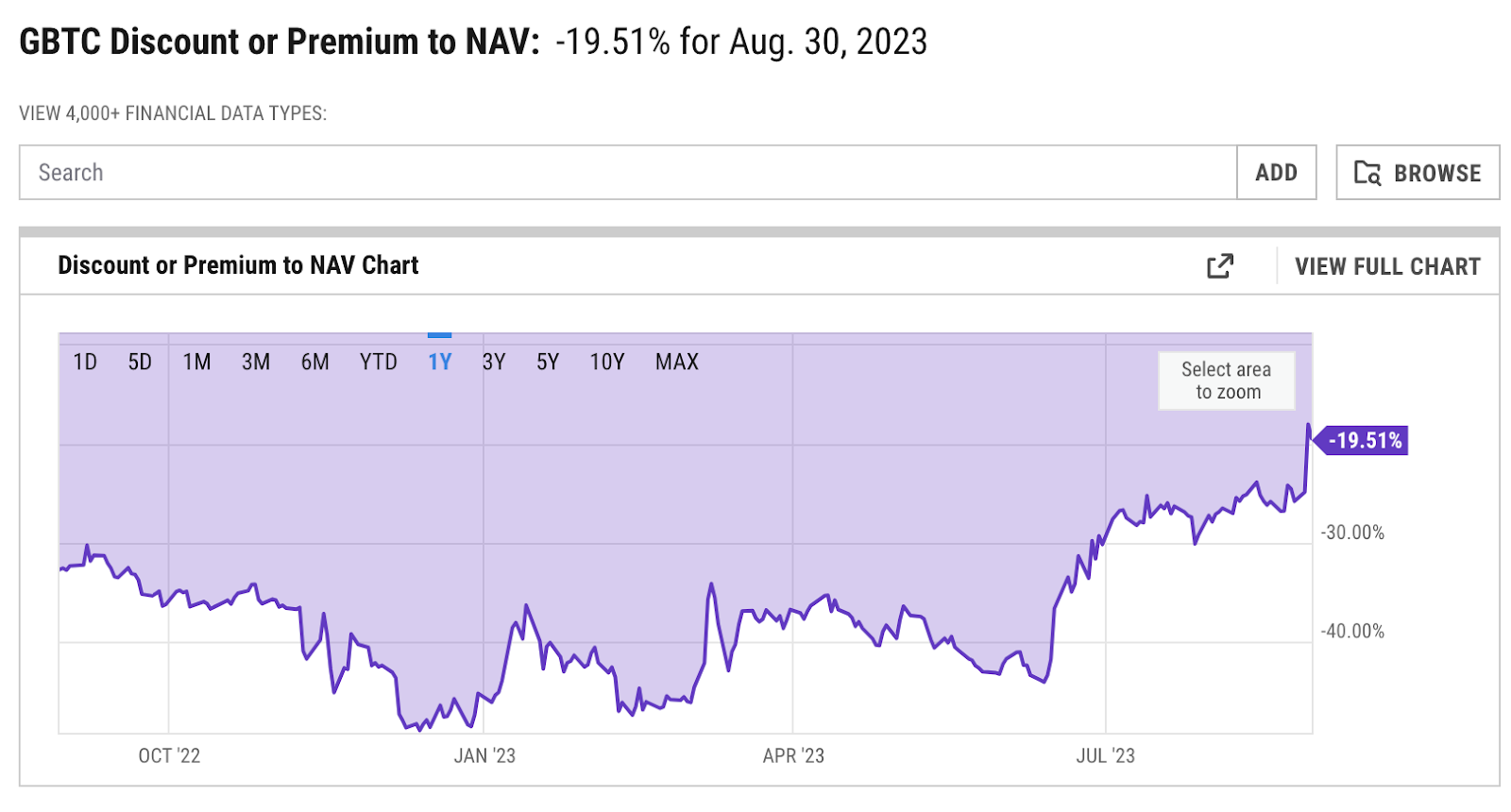 In fact, the gap has been closing all year long.
To give you a better understanding of how Premiums and Discounts work for $GBTC, let's take a golden Rolex as an example. (Imagine this Rolex is made 100% out of gold).
Hypothetically, let's establish that the gold that the Rolex is made of is worth $100,000 (and for this example, let's assume the price never changes).
At the start of this year, the Rolex was worth $150,000 – this means that the Rolex was trading at a Premium in comparison to how much the gold is worth.
However, 8 months later, because the demand died, the Rolex is now worth $70,000 – which means that it's trading at a discount in comparison to how much the gold is worth.
Now that it's trading at a discounted price, you might be tempted to buy this golden Rolex because the underlying asset (the gold) is still worth $100,000.
Well, imagine if the gold from this scenario was Bitcoin while the golden Rolex was Grayscale's fund.
It means that buying $GBTC today essentially equals buying Bitcoin at a 20% discount. And that's where the BIG opportunity lies.
When you purchase GBTC at a discount and believe the discount will reduce over time, you're boosting your Bitcoin profits even further.
Just like our intern, you'll earn more than by simply trading BTC.
Oh, and we almost forgot to mention. The same opportunity exists with $ETH, currently at an even larger discount of ~30%.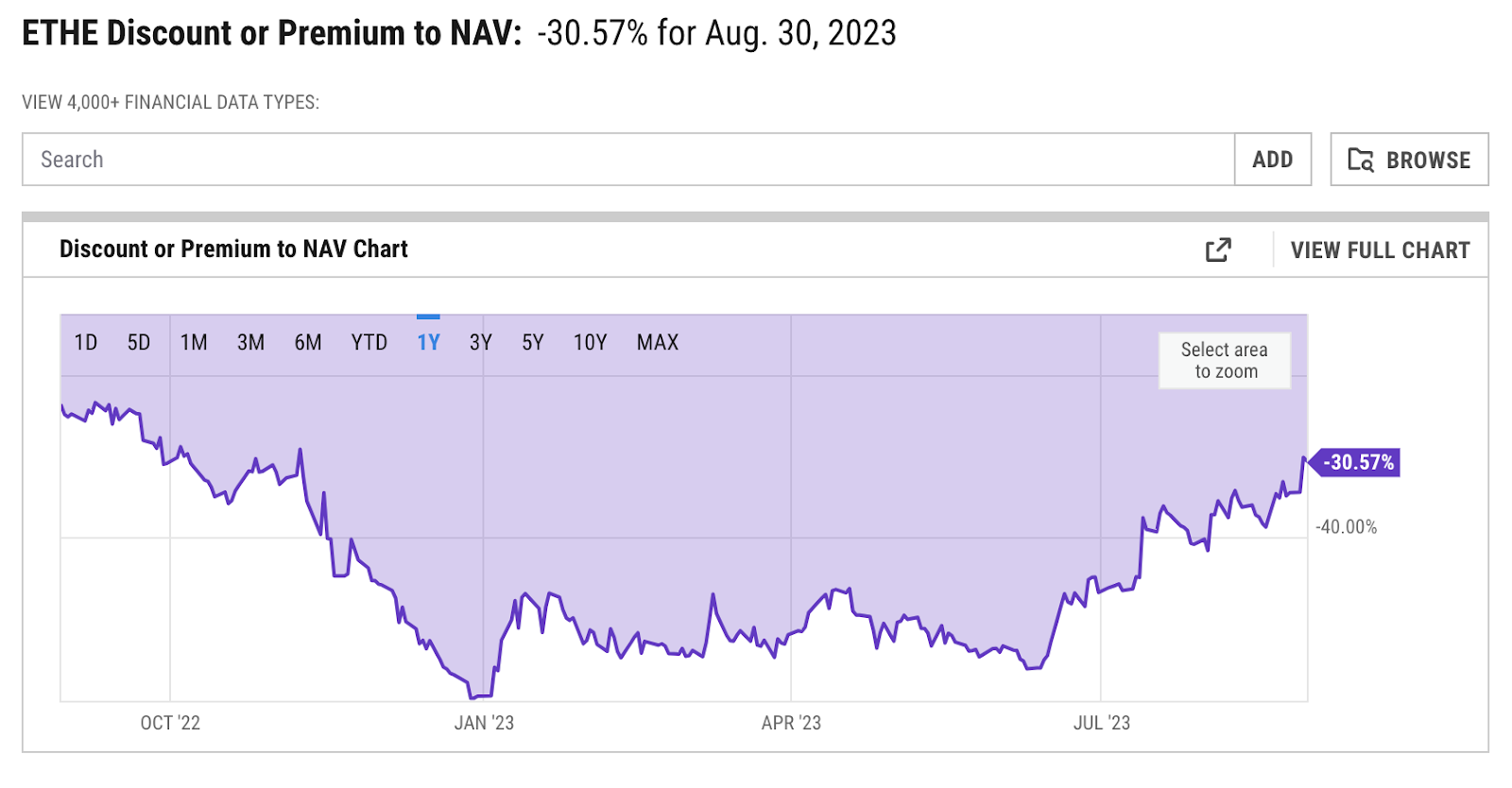 But When Should You Sell?
It's simple. As long as you buy $GBTC at a discounted rate vs. when you sell it, you'll be making an extra profit.
There's two good scenarios that could occur:
People start buying more $GBTC, and Grayscale does not buy more BTC, and the discount continues to go down, eventually into a Premium = BANK 💰

$GBTC turns into an ETF. This means that the discount would go immediately to 0, giving you an instant 20% extra BTC if you buy it right now = BANK 💰
In both of them, you'd be snagging BTC at a bargain, just like our intern.
Now… Will $GBTC turn into an ETF?
Most probably, yes, at some point in the future. And those who are betting on this happening have the opportunity to buy Bitcoin at a discounted price, with relatively low risks (more on this in a second).
But keep in mind that it may take a few more months until we get an ETF. And Grayscale may not be the first one to get approved.
The SEC is still playing hard to get…
However, with seven ETFs in the pipeline right now, key decision deadlines until March, plus the SEC's recent setbacks, all signs suggest that some ETFs will get approval soon.
And Grayscale stands a good chance to get approved among the early players.
---
Go PRO for More Valuable Alpha 😶
Are you looking for more ways that you can capitalize on the opportunity that crypto markets have to offer? 👀
Then Web3 Academy PRO is your answer. We look onchain every day & compress our findings into a weekly onchain report combined with our industry insights.
The goal: To help you build and invest successfully in web3! 💰
Ready to level up & win?
---
Are There Any Risks? 😬
While there are, they're pretty simple:
Grayscale might not turn GBTC into an ETF (unlikely)

Discounts to NAV may not go to 0 due to lack of $GBTC demand

Discounts to NAV may not go to 0 due to Grayscale buying more BTC
So before you do anything to try and capitalize on this opportunity, we suggest you weigh the pros and cons.
This could be a golden shot at affordable $BTC and $ETH, but manage your investments wisely.
If you're investing into Ethereum and Bitcoin for the long-term then remember that by simply buying spot $BTC and $ETH gives you at least 150% returns per year, on average.
So if you consider that the risks aren't worth it, then stick to the regular DCA method we've recommended for ages:
Buy crypto on a centralized exchange to get the cheapest fees and best UX

Immediately transfer that crypto to a hardware wallet like Ledger
But if you want to take a shot at a rather low-risk opportunity like buying $GBTC now, it might not be a bad idea.
Just don't ape in with your entire portfolio, like Peter Schiff suggested in the tweet we shared above. 😅
That's all from Web3 Academy today, frens! Enjoy your long weekend and just a reminder:
We'll meet in Discord on Tuesday, at 12PM EST to chat about the latest opportunities that we're seeing in the markets.
If you want to join us, you're welcome to! The event is free for everyone.
Just make sure you're in Discord already. 👇
---
Thanks for reading. And remember, you're strong, you're powerful, you're alpha! ❤️
See you soon. ✌️
---
Join us on Discord | Follow us on Twitter
Disclaimer: This article is for informational purposes only and not financial advice. Conduct your own research and consult a financial advisor before making investment decisions or taking any action based on the content.