GM DOers! 😎
Lufthansa, one of the largest airline groups in Europe, has launched an NFT loyalty program called Uptrip on Polygon. ✈️
And it's no joke, since its soft launch in March, over 20,000 users have registered and over 200,000 digital trading cards have been issued. 🤯
Probably nothing. 😏

We love seeing another massive company joining web3 next to others like Starbucks, Nike, Gucci, Mercedes-Benz, Dior, Coca-Cola, Crocs, and many more. 🚀
Lufthansa Group has over 8 airline companies, 38 million registered members in its current loyalty program Miles & More, and is preparing to introduce the goodies of web3 to all of them. 🤩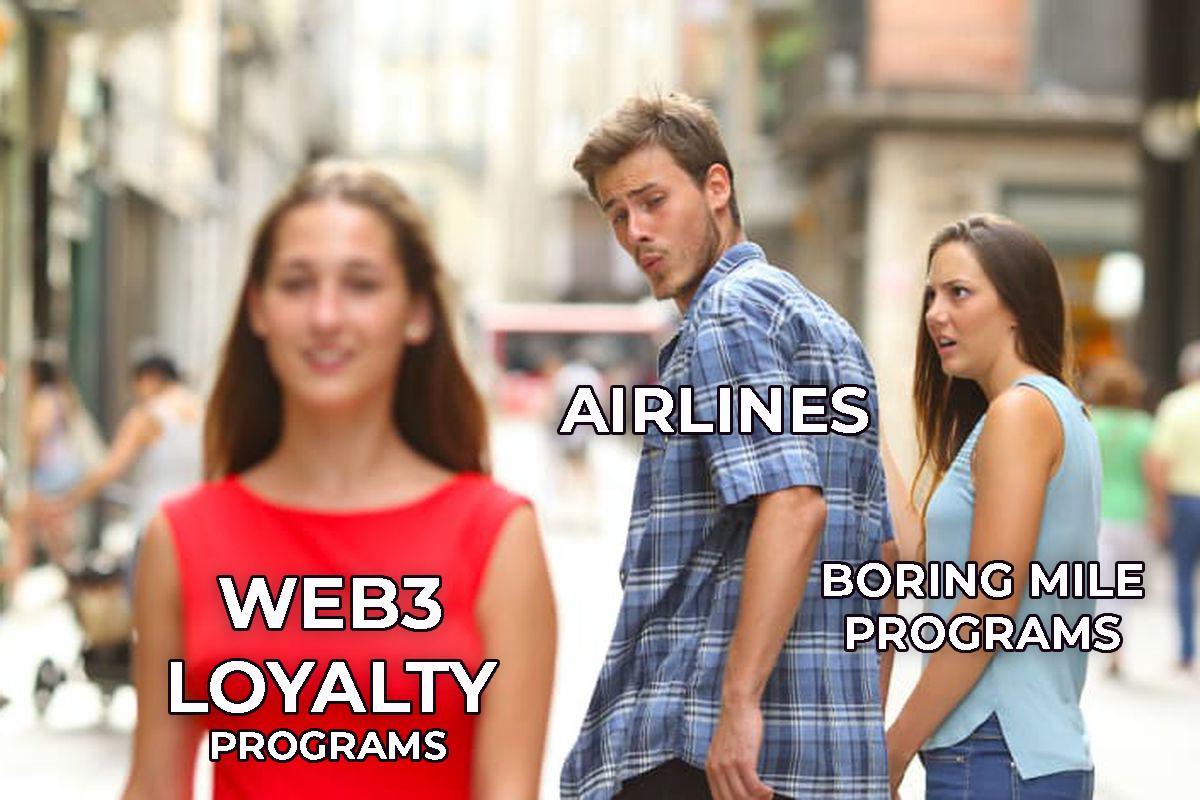 Today we'll tell you everything you need to know about it:
How Lufthansa's Uptrip works

Why onchain loyalty is better than online

Are there other airlines entering web3?

How can you capitalize on this opportunity?
Fasten your seatbelts frens, Web3 Academy's pilot has turned on the bullish sign. ✈️
---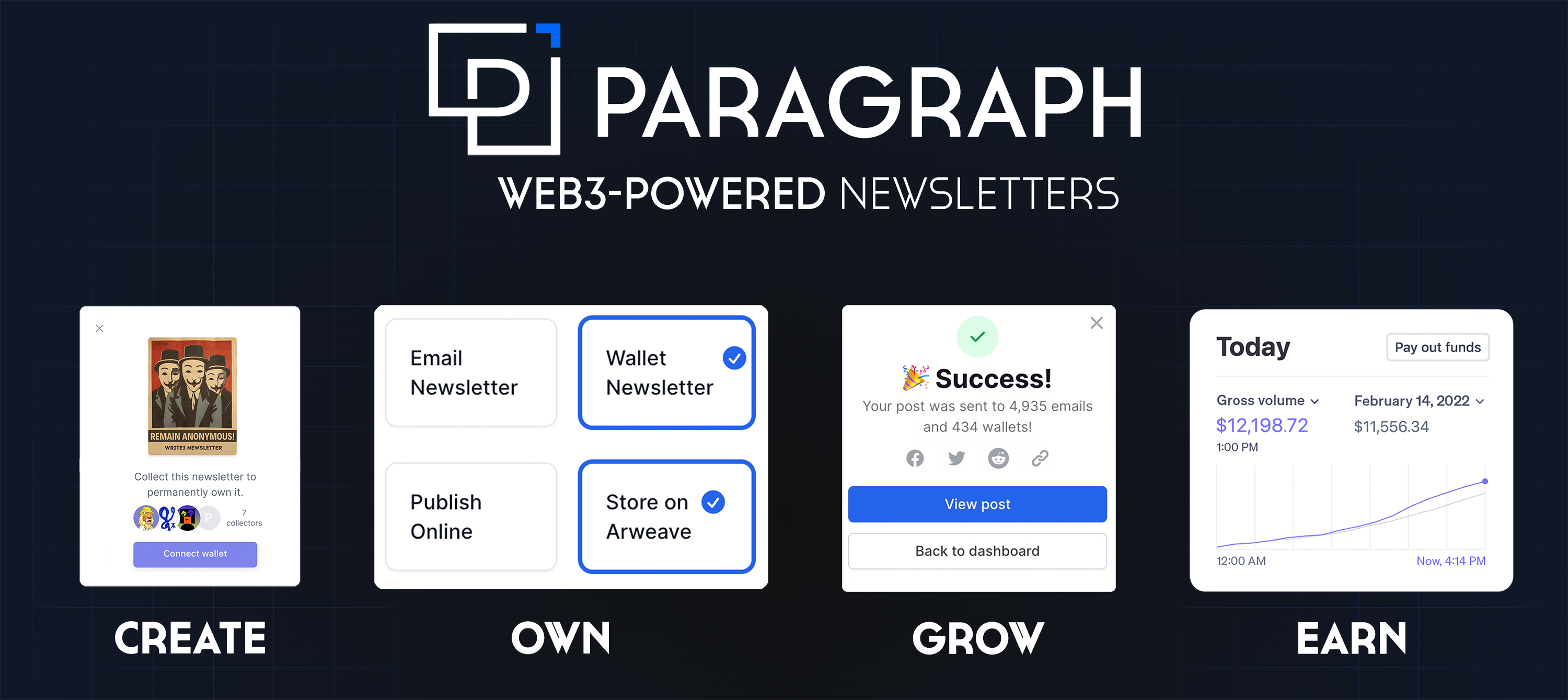 Paragraph powers modern newsletters, enabling readers to own their content and creators to share revenue with fans.
Web3 Academy has already transitioned to Paragraph because it's the future of newsletters.
If you're a creator, writer, or keen reader, explore Paragraph's early opportunities!
---
How Does Lufthansa's Uptrip Work?✈️
It's as easy as it gets:

Scan your boarding pass following your flight.

Select two cards to add to your personal collection.

Merge cards to complete various collections.

Cash in your rewards for perks like complimentary in-flight Wi-Fi, bonus miles, access to business lounges, and exclusive frequent traveler benefits.
Some have already used Uptrip and have only positive things to say about it…
What we love about this loyalty program is the way it brings customers back to Lufthansa after they've used their product. It's like giving them a friendly nudge to remember them.
This is a genius move to catch & keep people's attention, and it can have a significant impact!
The typical airline loyalty programs just give you random mile credits in your account that you don't check until you take your next trip (probably not even then). 🤦
Uptrip switches that approach by having their customers collect their points (NFTs) right after they enjoy their flight.
They activate their users right away and incentivize them to engage. They won't ever forget about their mile points after that. 👏
Twitter is on fire with enthusiasm because of this.
But is this approach actually better than typical air miles? Let's see… 👇
---
🎙️ Catch up on the latest news in web3
A lot has happened in the world of crypto and web3 this week.
Get the lowdown on the latest news by listening to our Weekly Rollup on your favorite podcast platform.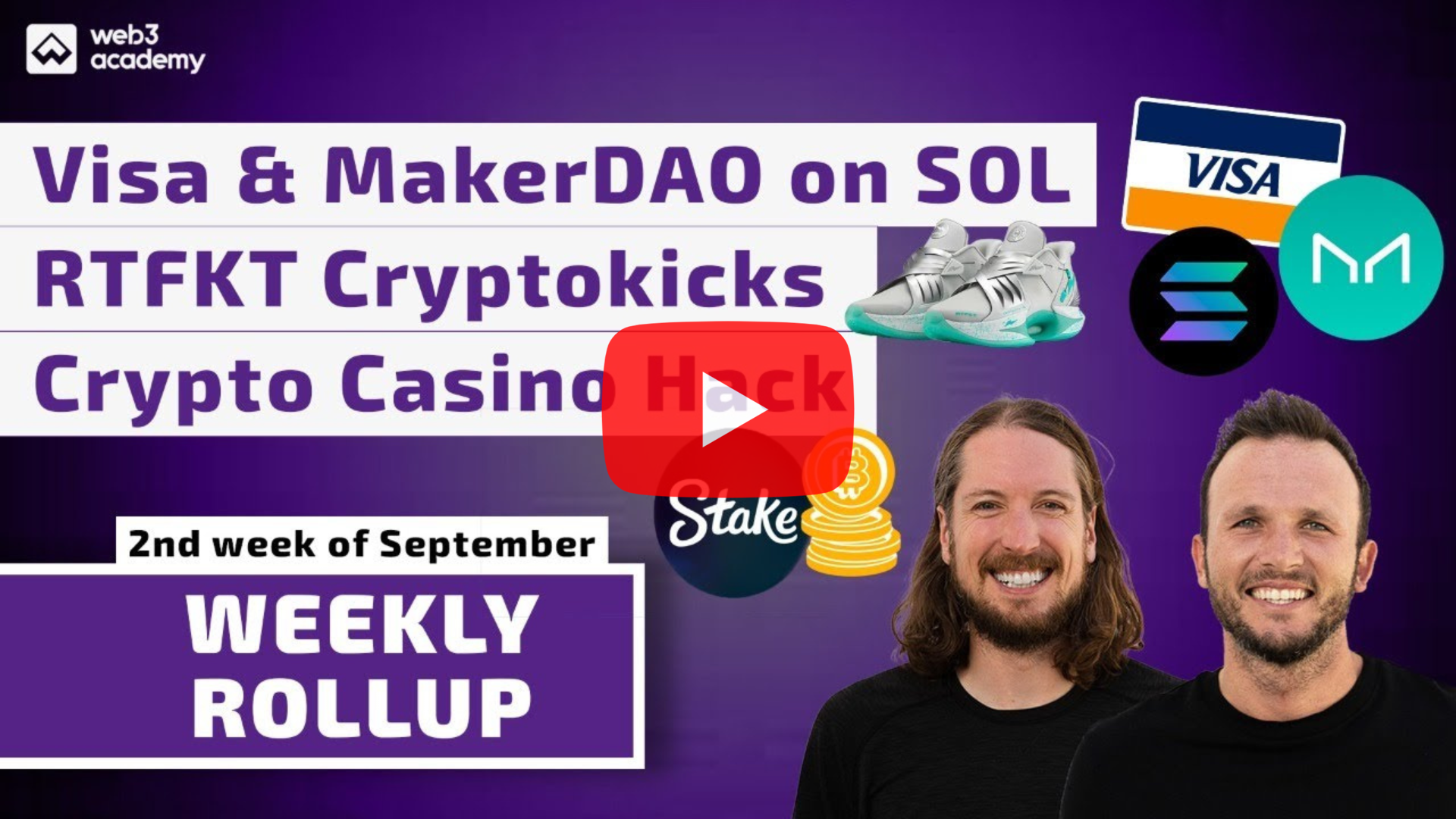 ---
Onchain Loyalty > Online Loyalty 🫡
There are 3 reasons why Uptrip is better than existing airline loyalty programs:
1. Trade with Others
The collectible cards are not soulbound, which means once a user receives them, they can buy and sell them on secondary markets at will.
Lufthansa knows this, and they are building their own marketplace.
You will be able to connect with other passengers through the app and trade cards to complete your collections faster.
By completing collections, you get benefits & discounts.
Just imagine you take a flight, and then after you redeem your reward, someone immediately offers you $100 to buy it from you because they need it to complete a collection. 🤯
The first time this happens to someone, their mind will be blown away, and they will never fly with another airline again. 😅
2. Collectibles > Miles, Points or Credits
Giving out a collectible is way better than just giving out miles. What the f*#k are miles anyway? 😴
Travel is all about creating memories, and miles give you none of that.
Collectible cards on the other hand, which highlight the cities you visited, your travel plans, the aircraft you flew with or that remind you that you crossed over the North Pole?
Now that's a story to tell…
And yes, they do have special cards available for those who fly over the North Pole or take flights on New Years. 😎
3. Collaborations with Other Brands
The icing on the cake is the chance for brands to team up with each other.
Let's say you hold a certain amount of Starbucks NFTs (stamps), and you complete a collection in Uptrip.
This could unlock a discount on a flight to Costa Rica where Starbucks harvests their coffee beans.
Possibilities are endless, and some are even envisioning a door for collaborations with web3 native brands.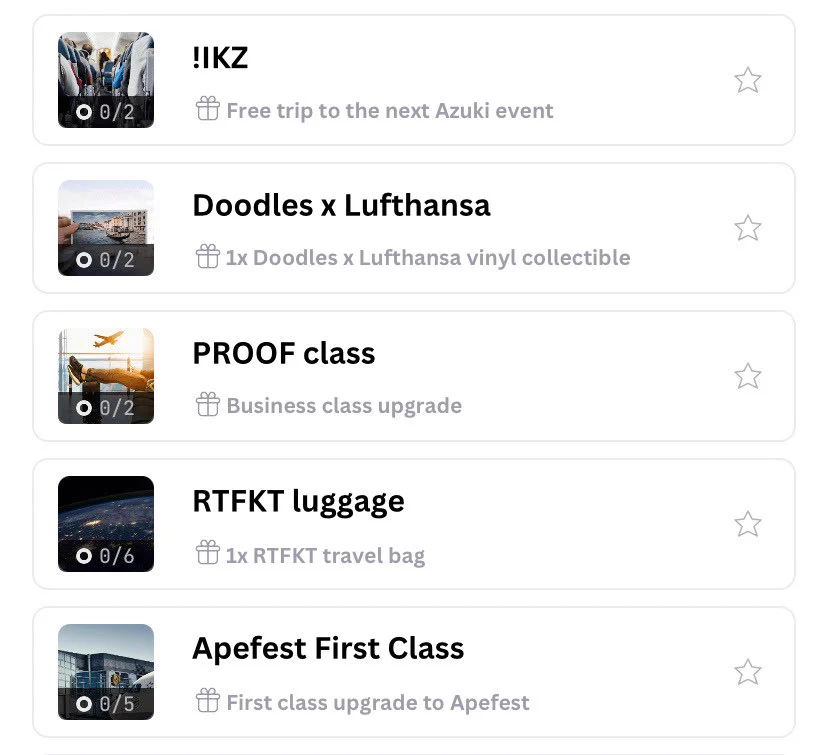 And that's why we believe other airlines will soon follow. Oh wait… They already have. 😅
Airlines Onboarding into web3 🌊
We may be just witnessing the beginning of a massive onboarding of airlines into web3.
Here's some other airlines that are experimenting with web3:
The Argentine airline Flybondi is doing exactly this by issuing all their tickets as NFTs through the Algorand blockchain.
The giant Emirates airlines is accepting BTC as payment methods and flirting with NFTs and metaverse experiences.
The Mexican ultra-low-cost carrier Volaris launched 10 NFTs as annual passes, allowing the owner to travel to any destination in the airline's network.
The Spanish low-cost airline Vueling has also committed to researching the adoption of NFT technology and crypto payments in 2023.
Music to our ears. 😌
And the benefits are clear… Imagine airline tickets were NFTs. 🔮
Right now, if you can't make your flight, you either lose your ticket or you need to pay an obscene amount to reschedule your flight.
If tickets were NFTs, you could sell those tickets on a secondary market to someone else.
This would make life so much easier for both customers and airlines (who often overbook flights).
Plus, airlines can impose royalties where they make a bit of $$$ on every sale on the secondary market. 🤑
How Can You Capitalize on This? 💰
If you're thinking about speculating on these Lufthansa NFTs, don't. We've got better ideas for you.
If you want to invest successfully in web3, then you need to be looking for the underlying infrastructure and allocate there!
Uptrip is built on Polygon, which means that they'll be the ones to benefit the most from the potential activity that occurs on Uptrip.
So if you're excited about this loyalty program, and want to partake in the upside, then I think allocating into Polygon could be a good idea.
But before you do that, find out whether or not Polygon's token is sustainable long-term. We wrote about this at length in our PRO report here.
Second of all, I think there could be huge value if you participate in the program. In web3, early users are always rewarded and if you use Lufthansa's program, you may be too.
Besides, you get to learn how onchain loyalty programs work, which you could use to potentially build your own or consult other brands on how they can do it successfully.
Regardless of what your next steps are from here, keep in mind that you learn best by DOing!
And you can start by taking our newly revamped Web3 Rabbit Hole Course over the weekend.
This is our FREE resource that's aimed to teach YOU about the foundations of web3 so you can confidently build, invest & use web3.
Plus, by completing it, you get to mint your onchain credential (NFT) and you can enter a raffle where you can win some awesome prizes from Web3 Academy PRO.
More info about the raffle will be found in the course.
Happy learning this weekend. ✌️
---
Thanks for reading. And remember, you're strong, you're powerful, you're alpha! ❤️
See you soon. ✌️
---
Join us on Discord | Follow us on Twitter
Disclaimer: This article is for informational purposes only and not financial advice. Conduct your own research and consult a financial advisor before making investment decisions or taking any action based on the content.