GM DOers! 😎
On Monday, PayPal announced the launch of their own stablecoin: $PYUSD, an Ethereum-based token. 💱
What a terrible name btw… 🤦
This puts crypto, Ethereum and stablecoins in front of PayPal's 435 million active users. 🤯
The token will be initially available on PayPal and then on Venmo, and can be:
Transferred between PayPal accounts 🔄
Transferred between external digital wallets 🌐

Used to pay for goods and services 🛍️

Used to buy other crypto from PayPal 💱

Exchanged for U.S. dollars at any time 💵
Saying that this is huge is an understatement. PayPal's $PYUSD marks the first time a major financial firm launches a fiat-backed stablecoin. 🚀
This move from PayPal is a massive step towards further normalizing crypto for the wider population and will most likely start a trend of other fintech companies launching stablecoins. 👀
It essentially highlights the benefits of crypto without putting the user through the UX hurdles of web3. 💪
Today, we'll talk about PayPal's massive influence in the fintech space but will also break down some of the concerns that $PYUSD brought to the table.
Vamonos. 👇
---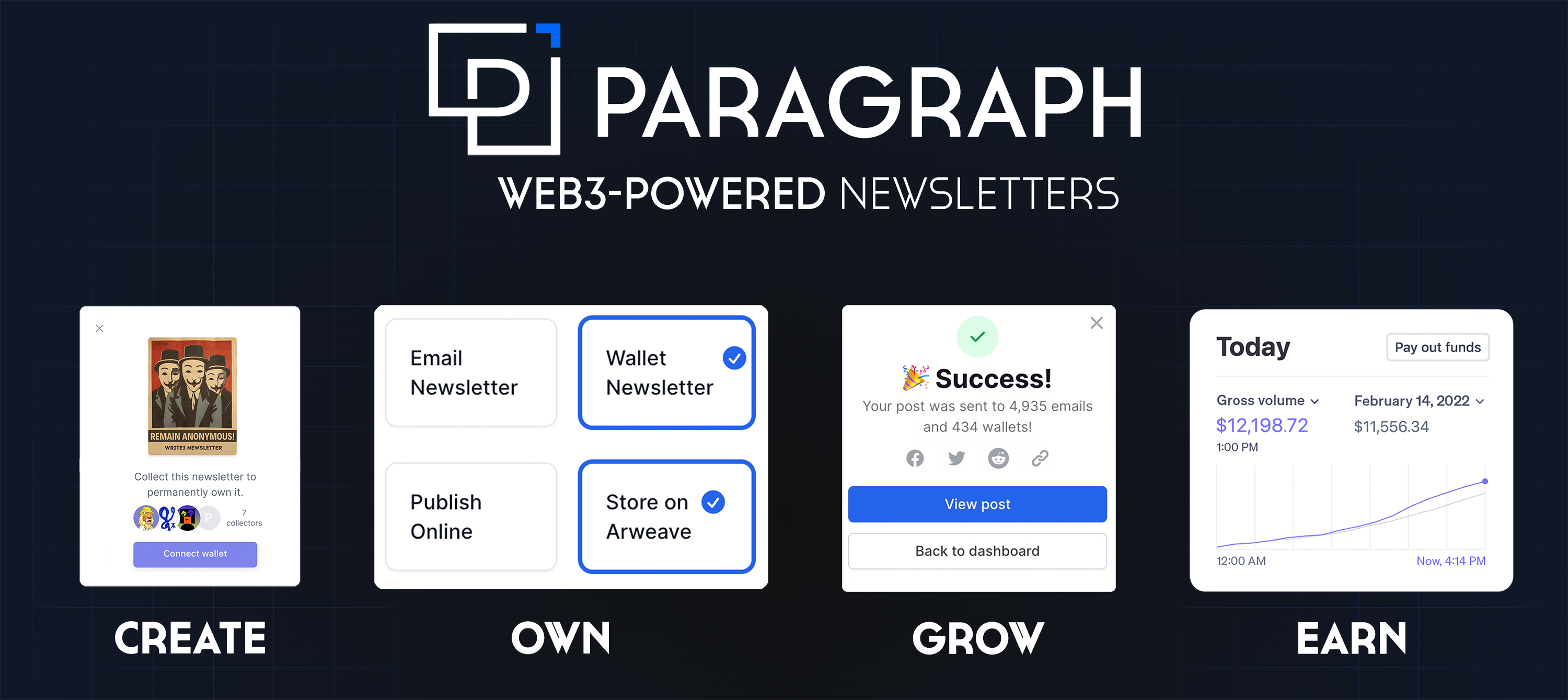 Paragraph powers modern newsletters, enabling readers to own their content and creators to share revenue with fans.
Web3 Academy has already transitioned to Paragraph because it's the future of newsletters.
If you're a creator, writer, or keen reader, explore Paragraph's early opportunities!
---
Key PayPal Stats 📊
There are a few concerns that have stirred up Crypto Twitter (like with every new thing) but before we go over those, let's reflect on PayPal's numbers for a second.
As of 2022:
435 million active users worldwide 🌍
Over 22.3 billion completed transactions ✅

$1.36 trillion in transaction volume 💰

An average of 51 transactions per account per year 🔄
With the launch of $PYUSD, some of the numbers above will funnel into web3. 🤩
The global reach of PayPal played a huge role when they launched crypto assets in Sept 2021, fueling the prior bull cycle 🚀.
Now, with the stablecoin launch, things are looking even more bullish. Why?
Because all 435 million users can jump into onchain activities!
No more just sending money to friends or buying stuff on eBay; PayPal now lets you dive into DeFi, acquire NFTs, transact in other cryptocurrencies, and so much more 🎉.
Note: that's the case only if $PYUSD is integrated in other applications and protocols.
Expect the '51 average transactions per year' to skyrocket, along with PayPal's yearly volume 📈.
Comparatively, $USDT & $USDC settled almost $200 billion in one of their worst months.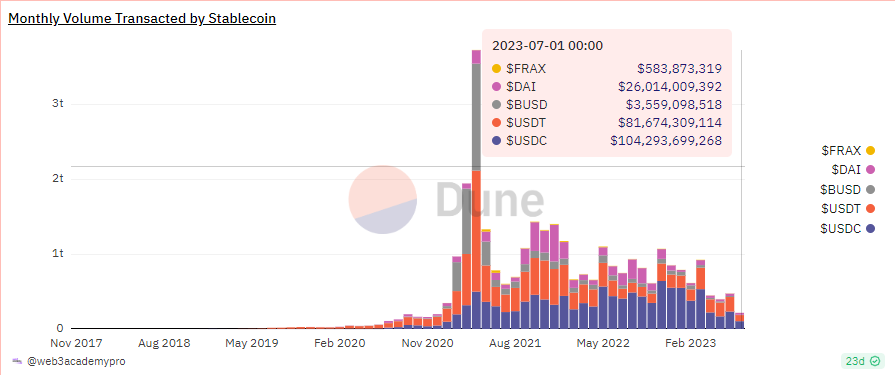 Just imagine the possibilities with PayPal's whopping 435 million active users. 🤯
Regulatory Concerns 😬
No crypto party is real without regulation concerns, right? 😅 PayPal's $PYUSD is no exception.
Here are some of the concerns that have been addressed:
Banking System Stability: Regulators are eyeing how a big stablecoin could affect the U.S. banking system, especially during financial turmoil.
PayPal's influence only adds to this concern 🏦.
Big Tech's Involvement and Scrutiny: Memories of Facebook's Libra hang heavy, and similar scrutiny is expected for PayPal's foray into crypto 🧐.
Big tech have had a tough time in crypto so far. 😬
Urgency of Legislative Action: With stablecoin legislation on the move, there's a real 'the moment is now' vibe for clear rules – which companies desperately need. 📜
PayPal's launch of $PYUSD shows confidence that regulation will be on their side. The role of stablecoins is growing, and we're here for it. 💪
It's high time for some concrete guidelines, and PayPal's move could be the catalyst the industry needs 🚀.
---
Profit from the Future: Web3 Investing Masterclass
Friends, after months of development in the back, we're finally ready to share our new flagship product: The Web3 Investing Masterclass ⭐
This is a resource made of 7 modules and 25 lessons aimed to make you a more successful investor in web3. 💪
By taking this masterclass, you will learn all there is to know about how crypto assets work, how you can analyze them, how to pick the winners, and how to structure your portfolio so you mitigate risks while maximizing your returns. 🚀
We truly believe that this is the #1 investing resource on the market and you can now get your hands on it at a discounted price. 💲
33% off for our free newsletter subscribers
50% off for PRO members

100% off for Founding members
The discount expires on August 15th. ⏳
P.S.- As a PRO/Founding member, you'll need to connect your wallet. The PRO/Founding Pass in your wallet will verify your membership and grant you access to the masterclass.
---
Privacy & Centralization Concerns 🕵️‍♂️
Fun fact: You can see the contract address of PayPal's $PYUSD on Etherscan.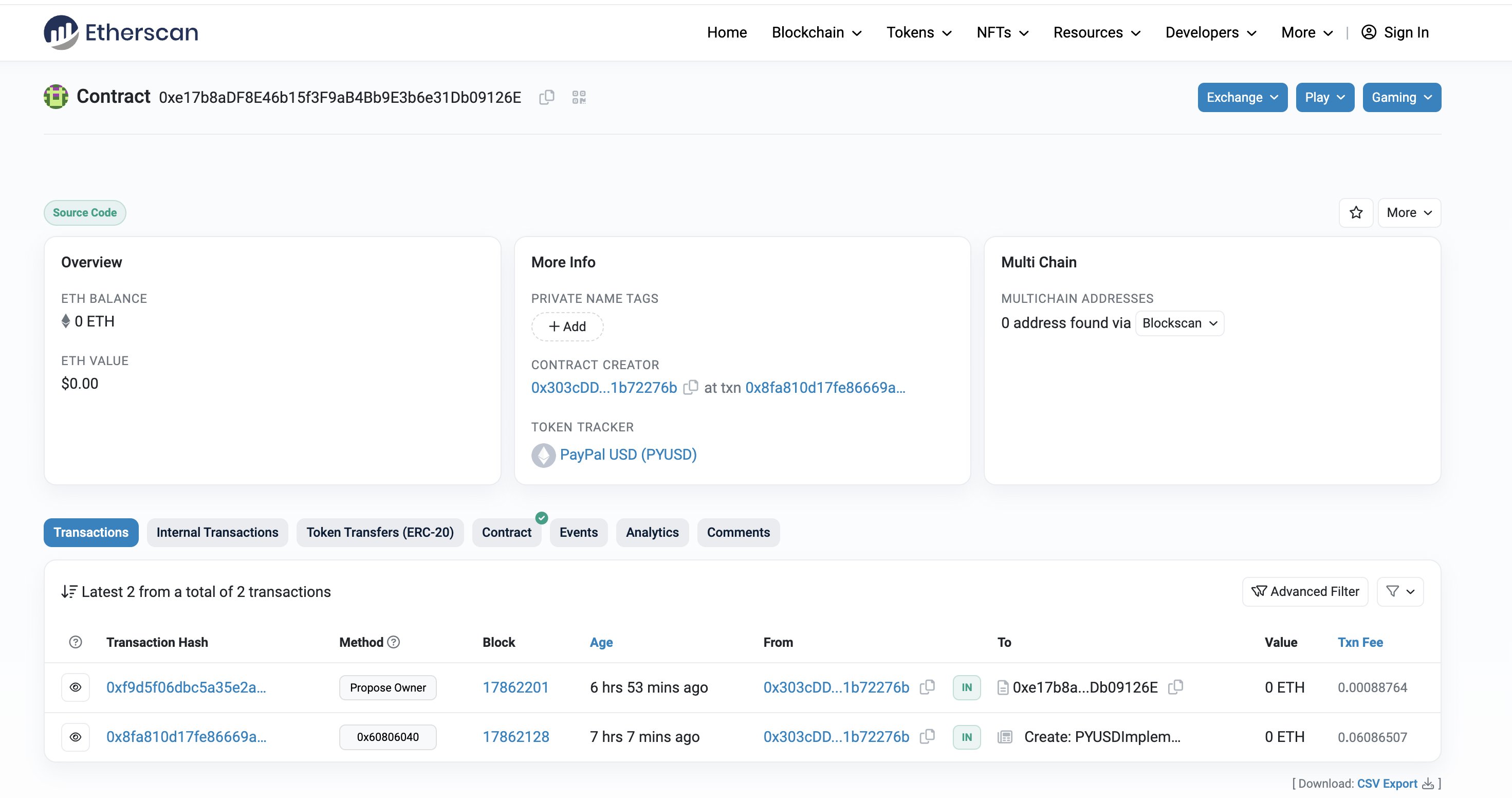 That's only possible because PayPal's stablecoin is onchain & so is their code (open source), so we can read it.
Some onchain analysts have looked at the code and discovered a few things that stirred up some concerns:
Old Version of Solidity: First up, the contract is penned in an extremely old version of Solidity.
It's like using a flip phone in the age of smartphones; it works, but why not use something newer? 🤷
Pausing Transfers: The owner can freeze all transfers, like having a remote control for your funds! 🎮
Freezing Addresses: Your funds could get stuck in a chill zone by the owner. ❄️
Increasing Supply: Admins can pump up the PYUSD supply whenever they want. 💸
It's basically a centralized stablecoin, but hey, at least they're transparent about it.
And, to be frank, this shouldn't concern us too much. The stablecoins that we use daily ($USDC & $USDT) have similar sort of centralized components to it.
We just don't see them, so we don't stress.
Remember, web3 is permissionless. If you are too concerned about this new stablecoin being too centralized and having too much control, then just don't use it. 🚫
Simple.
So what's our take on $PYUSD? Let's dive in. ⏬
Key Takeaways for DOers 😎
There are 3 things I want to touch on:
1. Why Launch on Ethereum?
A lot of voices are against launching on Ethereum (main chain) because of fees.
While it's a valid point, we need to remember that Ethereum is the most secure, decentralized and trustless settlement network.
It also has the most liquidity and adoption. Any company launching a stablecoin will naturally start here.
Our guess is that $PYUSD will move to a Layer 2 in the near future. Maybe even to $BASE since Coinbase surely knows people at PayPal. 👀
2. The Centralization Side of $PYUSD
The ability to freeze & seize assets scares any crypto investor.
But we need to remember that this is consistent with USDC, BUSD and even USDT. It's a core requirement for centralized issuers.
We often forget that there's an actual company behind these technologies and they have duties to fulfill (paying taxes, abiding by regulation etc…)
Of course they want to keep control, and that's okay as long as it is shared publicly.
3. PayPal's Significance in Web3
PayPal fully adopting web3 is a HUGE onboarding event! 🌊
And their decision to launch a stablecoin is not "fuck around and find out" - there's a clear vision & plan for its technology, regulatory effects and partnerships.
Fact: PayPal has 29 million merchants and thousands of cross-border payments.
This is one of the few platforms that can begin to solve global payments at scale, and they're doing this on blockchain rails, using Ethereum.
This sets Ethereum on track to becoming the money layer of the internet, and they're the clearest winners from the $PYUSD launch.
JP Morgan agrees:
The migration from online to onchain is intensifying day by day and we're seeing constant growth in web3. 📈
A bull market for prices is imminent. An onchain activity bull market has already begun, and there's nothing anyone can do about it.
Except you. You can capitalize on being early. Learn how to allocate your capital in the right directions.
The coming few years will be life-changing for many of us. Don't throw that opportunity out the window.
If you'd like some extra guidance on your investing journey, then we recommend our Web3 Investing Masterclass, the #1 investing resource in web3.
At an early-bird discount (expiring next week), you can learn how to successfully invest in web3.
So what are you waiting for?
---
Thanks for reading. And remember, you're strong, you're powerful, you're alpha! ❤️
See you soon. ✌️
---
Disclaimer: This article is for informational purposes only and not financial advice. Conduct your own research and consult a financial advisor before making investment decisions or taking any action based on the content.