GM DOers! 😎
You're cool for being early in web3. But you know what else is cool? Reddit. 🤖
Because they just announced their Gen4 Collectible Avatars – a new series of NFT avatars on Polygon. 🚀
And they partnered with some renowned NFT projects for this…
1️⃣ Cool Cats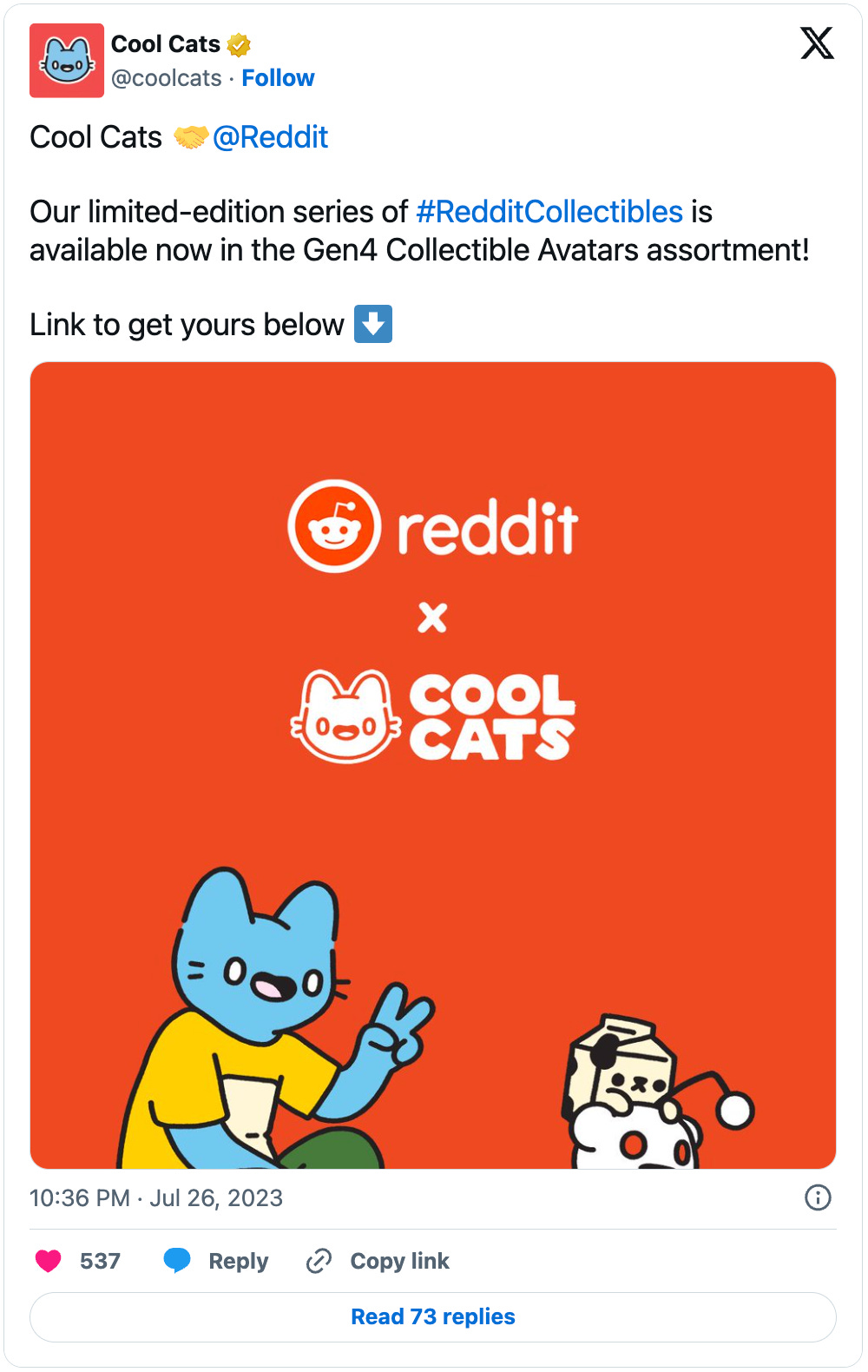 2️⃣ Micah Johnson's Aku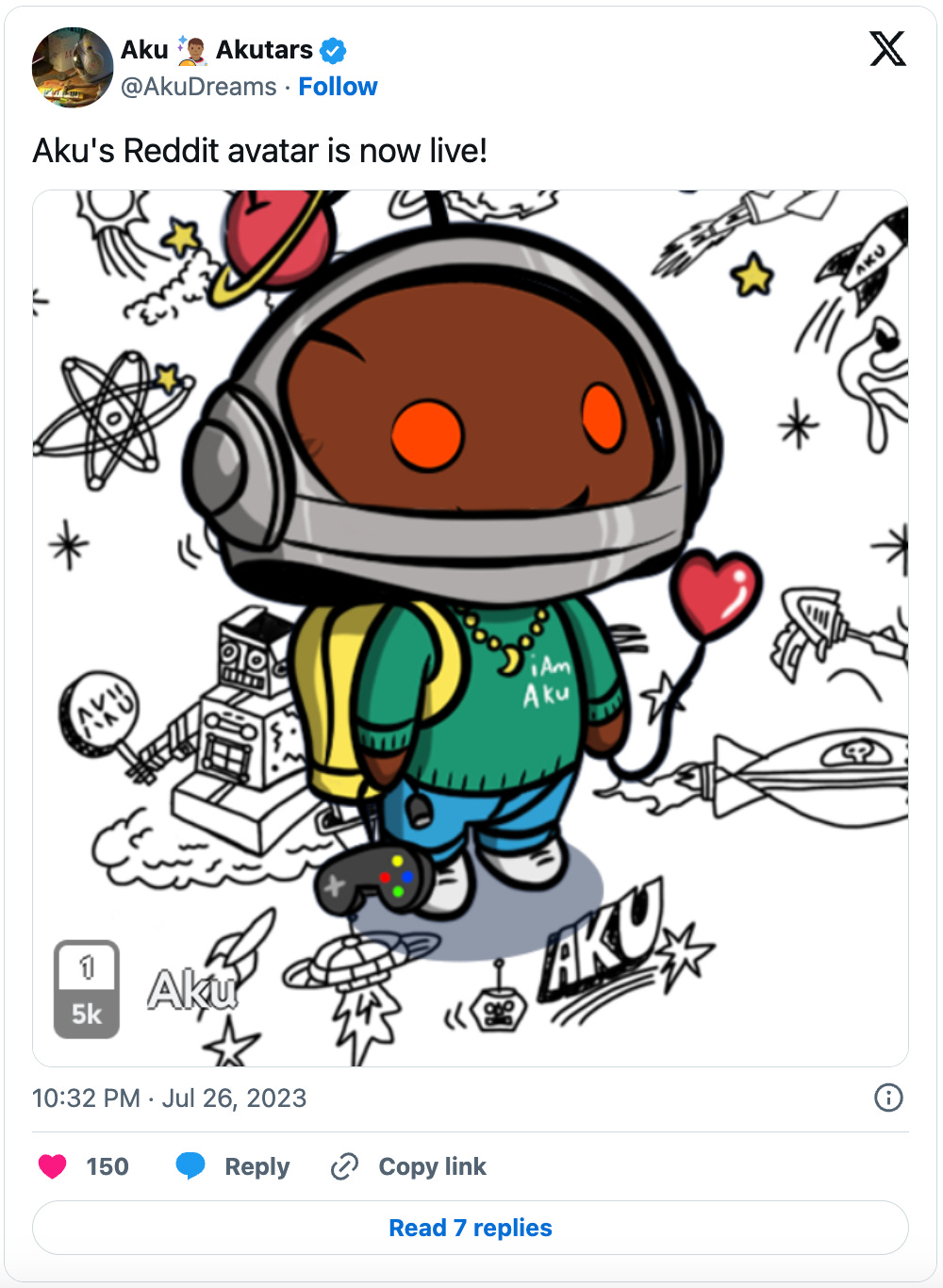 Today, we'll explore:
What Reddit's Gen4 avatars are all about

The state of Reddit NFTs

How YOU can benefit from Reddit's web3 endeavor
But first… Let's recap Reddit's web3 journey. ⏬
---
👉 Lens Protocol: The Future of Social Media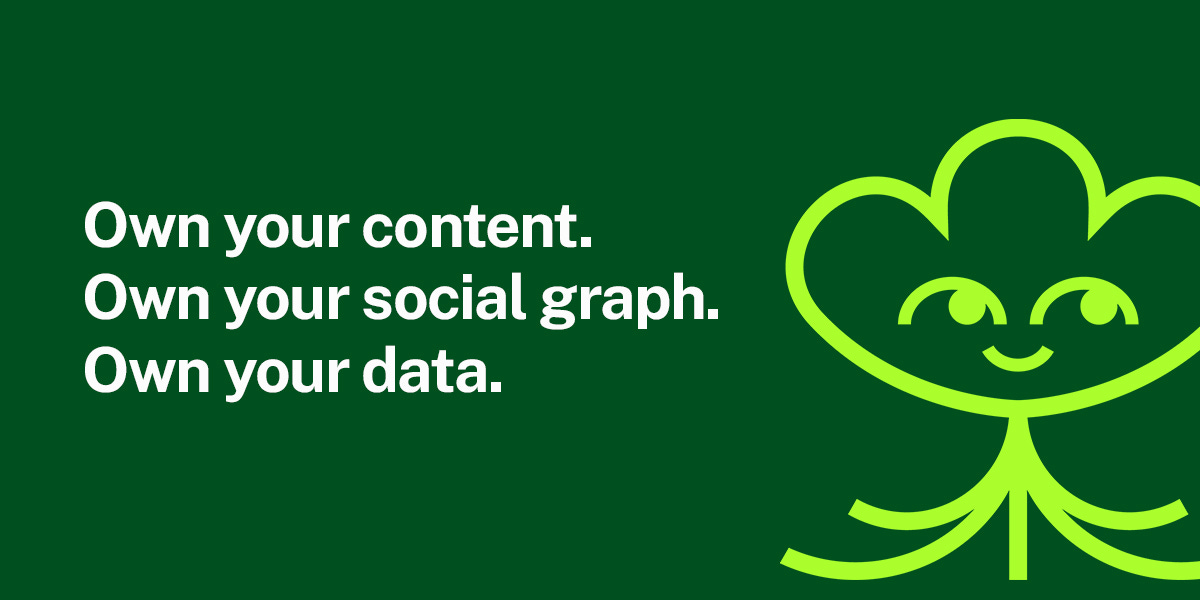 Decentralized social media finally allows creators to own their content, data and followers. That's why we choose to build part of our media platform on Lens Protocol.
---
Reddit's Web3 Journey So Far 🤖
Reddit first launched Collectible Avatars last summer via Polygon.
Initially, they launched their own collection for free, to users which have surpassed a specific activity threshold (~2,500 Reddit Points).
These avatars represent the largest chunk of NFTs minted on Reddit.
In addition to their free avatars, Reddit also launched avatars linked to popular IRL events:
1️⃣ Reddit Cup – Avatars resembling all the different countries present at the ⚽ World Cup in Qatar last year.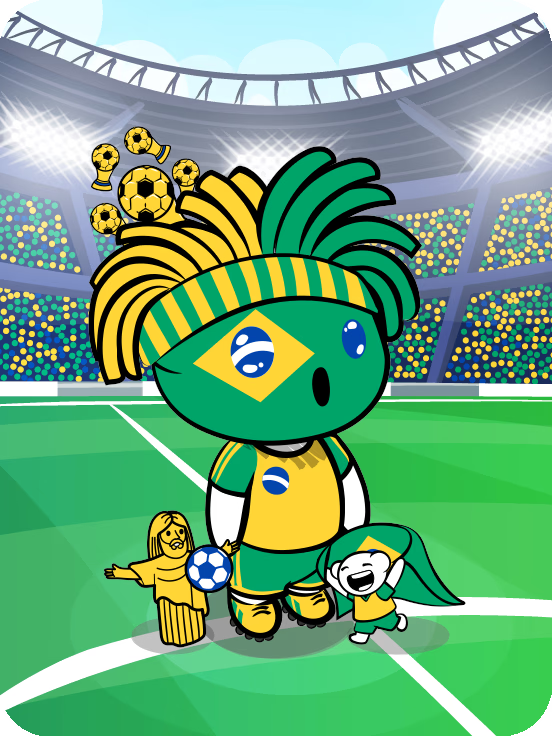 2️⃣ Super Bowl Avatars – 4 different styles of avatars resembling each team from the final 4.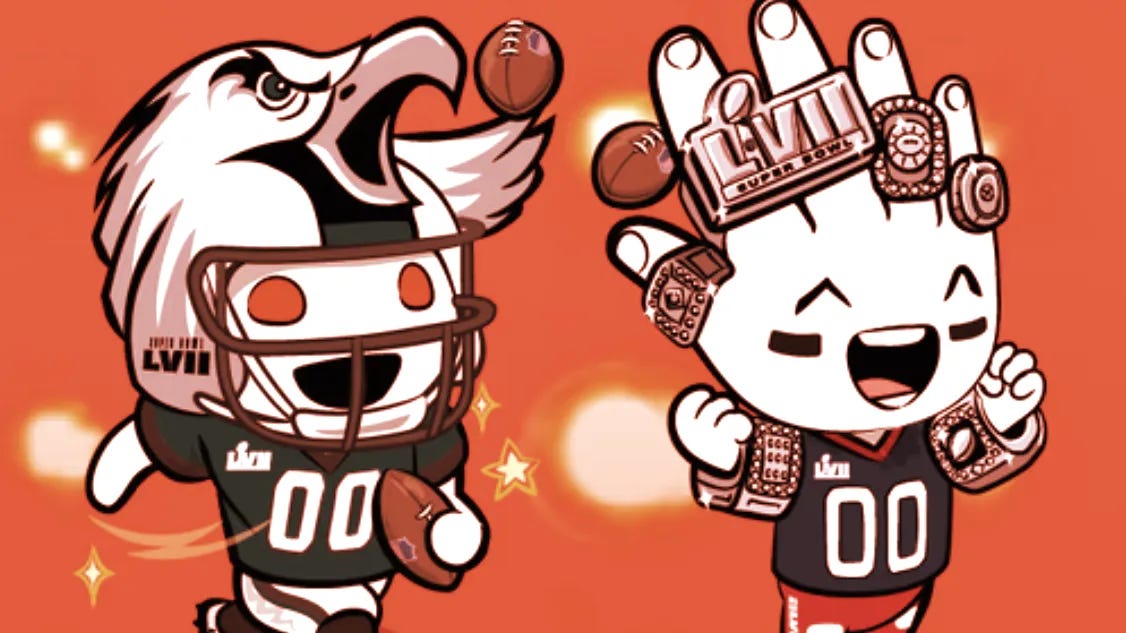 All of Reddit's mints have resulted in 15.06M wallets ever holding a Reddit NFT – 14.4M of those are still holders today.

These wallets have, in total, minted over 18.5M NFTs in roughly 1 year.

When it comes to the art of these avatars, this was created mostly by artists from the Reddit community – around 100 artists.
Over time, they got to share a paycheck of over $1M. A great way to involve the artists in the community and reward them for their work.
And now, they've partnered with renowned NFT brands to launch their Gen4 avatars. ⏬
---
📢 Stay in the loop with the latest happenings in web3 with our Weekly Rollup.
Worldcoin's token has launched

Twitter X's rebrand

EthCC Recap

McDonald's HK launches McNuggets Land experience in The Sandbox
Get the web3 lowdown here 👇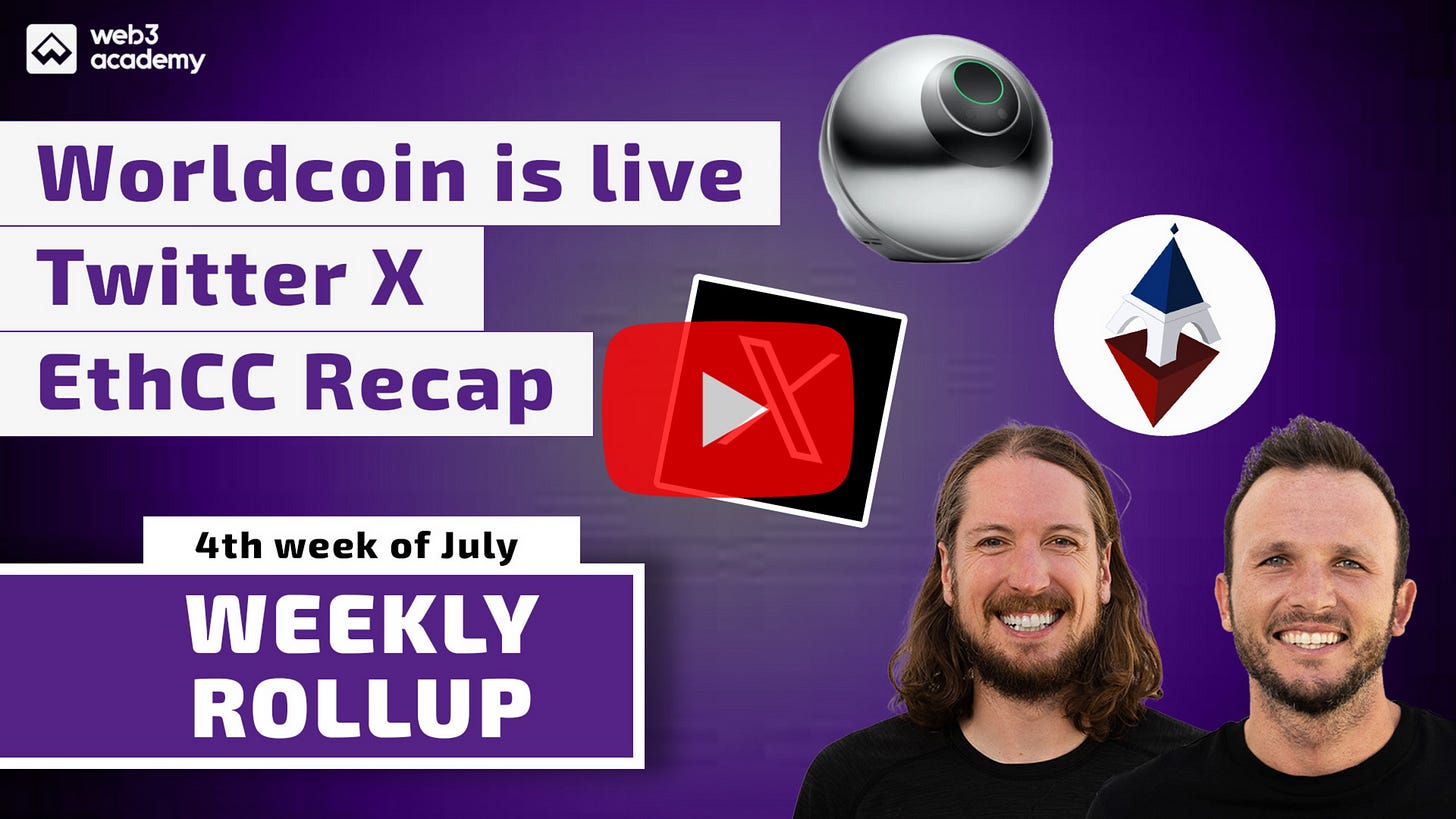 YouTube | Spotify | Apple Podcasts
---
Retro Reimagined: Reddit Gen 4 NFTs 🎨
Retro Reimagined represents Reddit's Gen4 Collectible Avatars Gen 4 drop – whose art still revolves around Reddit's famous Snoo mascot. 🤖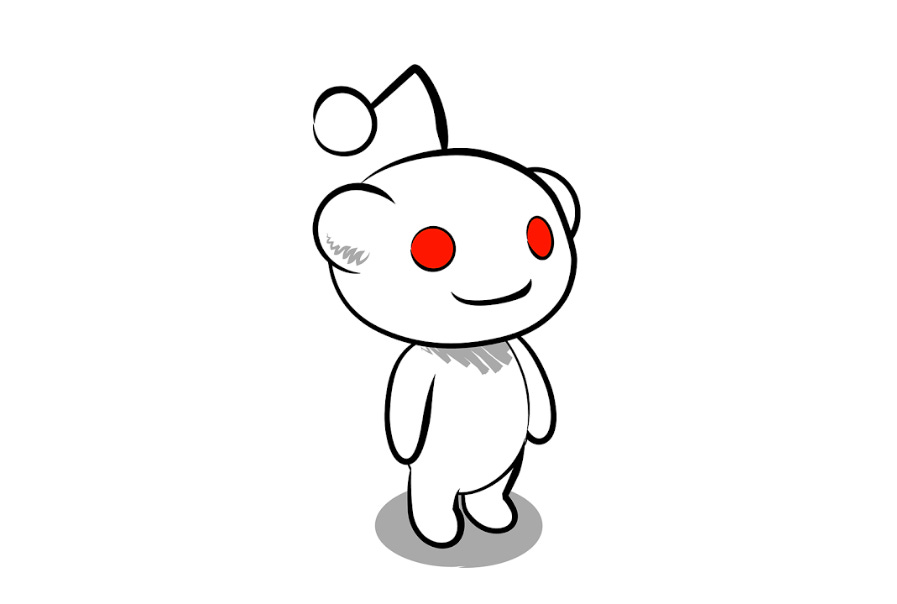 The artists responsible for the art in Reddit's Gen4 drop include those who participated in previous drops (artists from the Reddit community), but there's more.
This time, Reddit decided to also partner with renowned NFT projects like Cool Cats and Micah Johnson's Aku NFT character.
Cool Cats is a successful NFT brand that has generated around $388M in NFT sales and is known for its animated cat avatars. 🐱
Cool Cats Reddit NFTs come in 3 tiers:
2500 pieces at $9.99

400 pieces at $49.99 (sold out)

99 pieces at $199.99 (sold out)
Here's the art: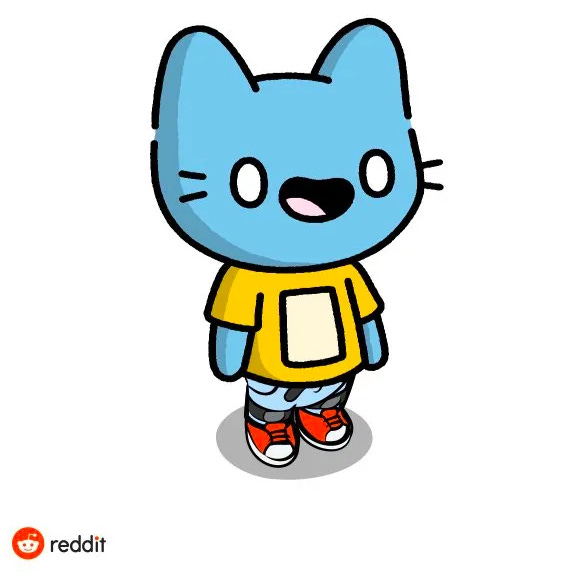 Aku is the leading character in the Akutar NFT collection which was created by artist and former professional baseball player Micah Johnson. ⚾
After Micah's nephew asked him why he never sees any black astronauts, he created Aku, a black astronaut aimed at inspiring kids that anyone of any color can be an astronaut.
Aku Reddit NFTs: 5000 pieces at $4.99.
Here's the art: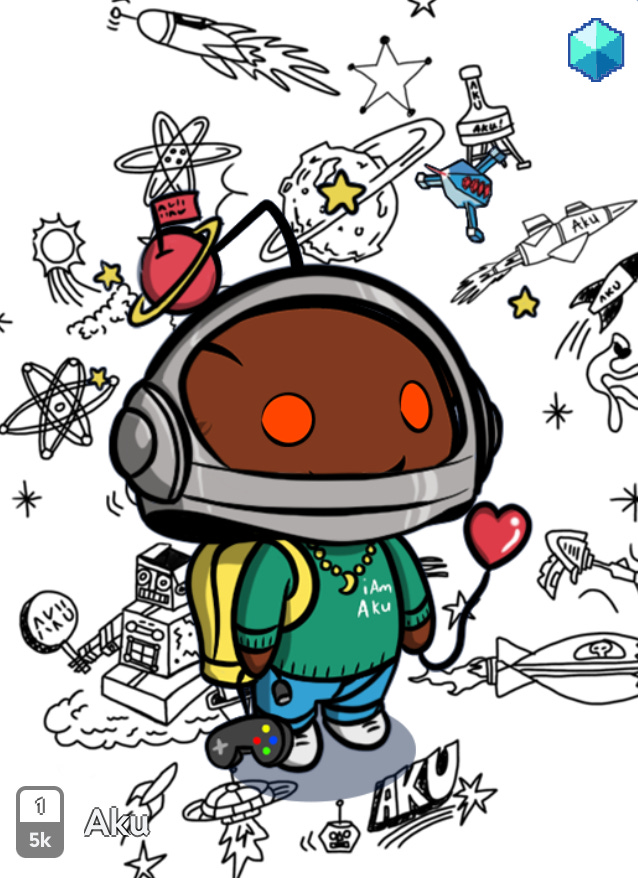 You can check the Cool Cats Reddit NFTs here and the Aku Reddit NFTs here – but you need a Reddit account.
The Gen4 avatars go beyond just the Cool Cats- & Aku-themed ones, and they range from $2.49 to $199.99.
Spoiler alert: They're super popular and most are sold out. Reddit has once again executed perfectly on their web3 blueprint. Here's why:
1️⃣ Seamless UX
Reddit's web3 strategy stands out among all other web2 counterparts because of the approach of onboarding users, without mentioning any web3 jargon.
You have an avatar that you don't know is an NFT and you have a wallet that doesn't have a seed phrase (called a vault).
Remember the web3 mullet: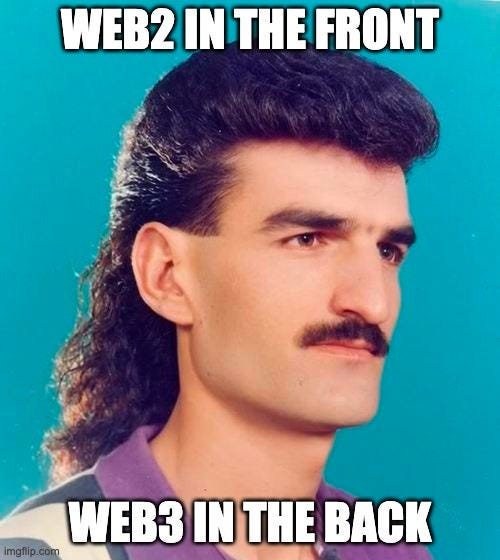 2️⃣ Low price, high utility
Reddit's NFTs cost up to $200 – with most being $2. However, some of these unlock premium access to certain sub-communities in Reddit, and that's awesome.
Users will snag these up just to join those communities, not to speculate.
Because of this playbook, I think that Reddit NFTs will go on to reach 50,000,000 mints by the end of the year.
What's your best guess? Reply to this email and let us know!
Let's take a look onchain to see where we are currently. 👀🔛⛓️ 👇
---
🤝 Thanks to our trusted partner, Whag.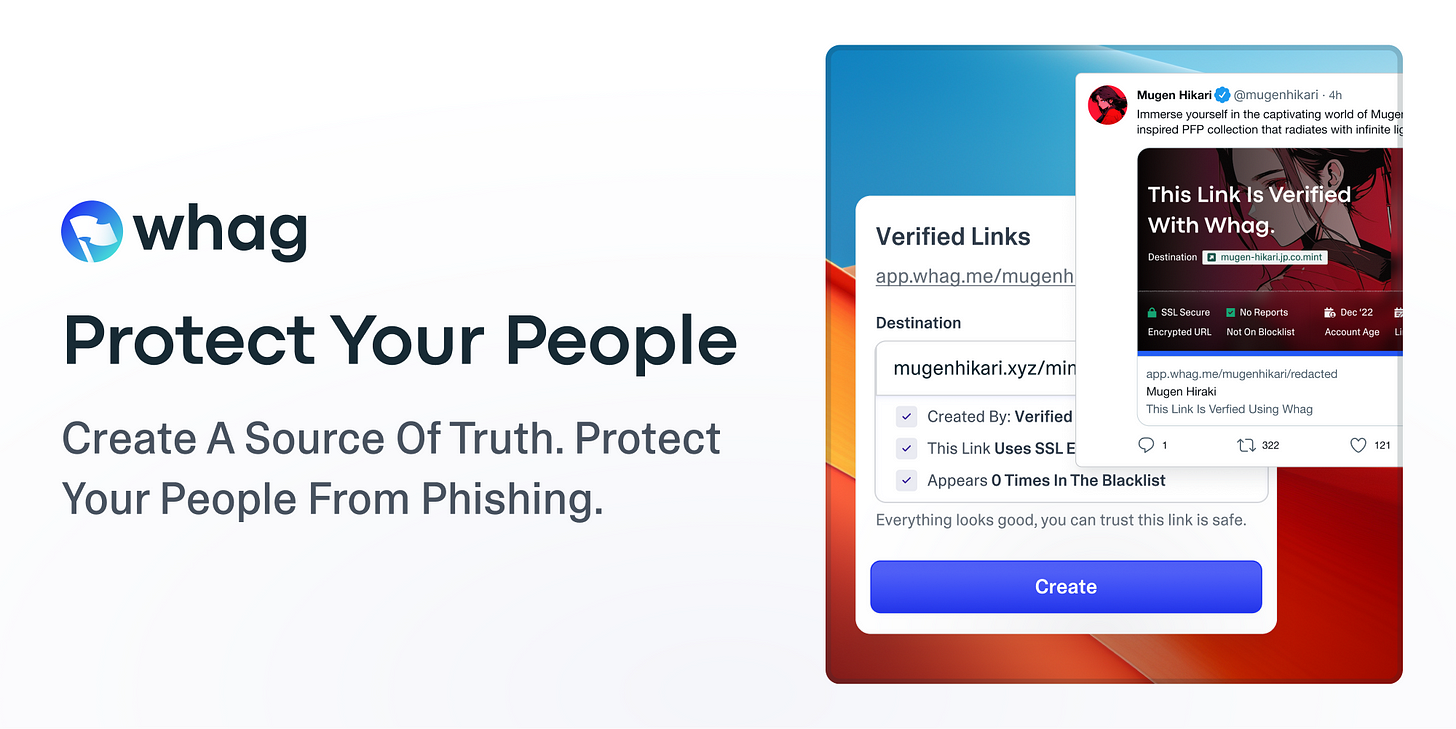 Web3 users lose billions of dollars every year due to phishing attacks. Luckily, Whag uses verifiable links so you can rest easy, knowing that every link you click on is safe.
Just click below to see for yourself. The first 1000 users that sign up and use the code "free1000" get free access FOR LIFE.
---
State Of Reddit NFTs 🌊
There have been 15.06M wallets that ever held a Reddit NFT – 14.4M of those are still holders today.

These wallets have, in total, minted over 18.5M NFTs in roughly 1 year.

Now, if we look on the secondary market (where people would trade their NFTs), we can see that volume and activity are very low.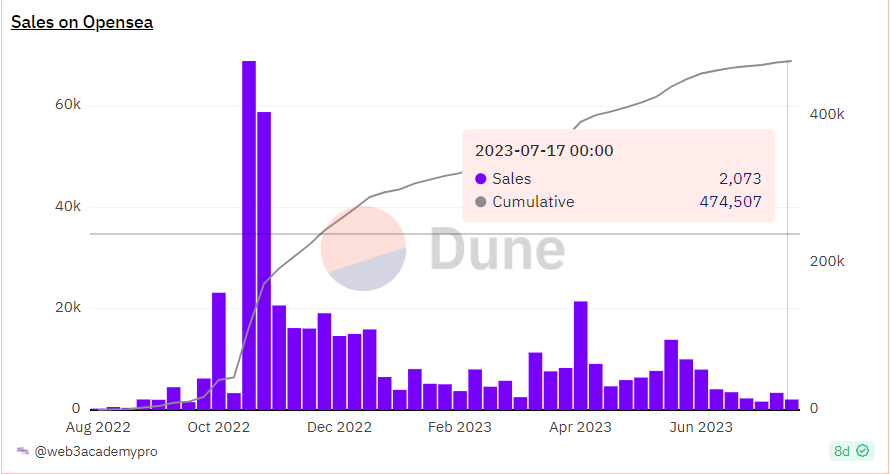 This indicates that Reddit users don't care to speculate on these NFTs – they're simply getting these for the utility.
Lastly, if we compare Reddit NFT users to all other NFT users since 2017, we see that users on Reddit are 3x bigger. 🤯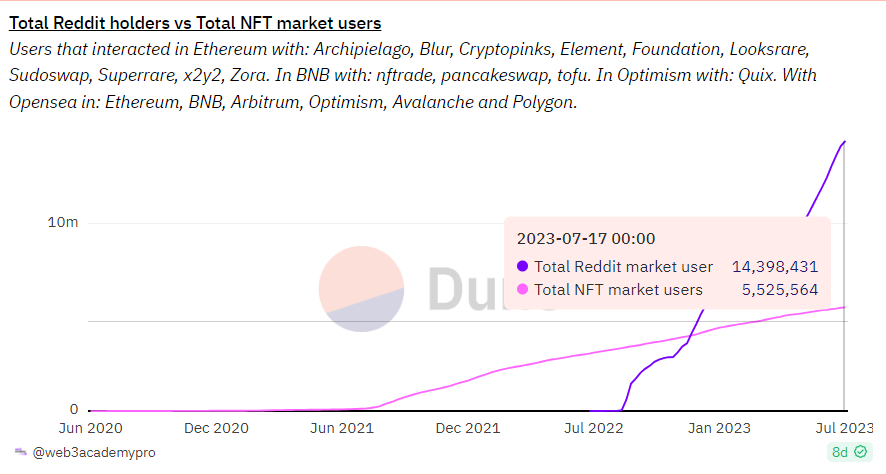 That comes after Reddit's been around for 1 year versus 6+ years for the entire NFT market!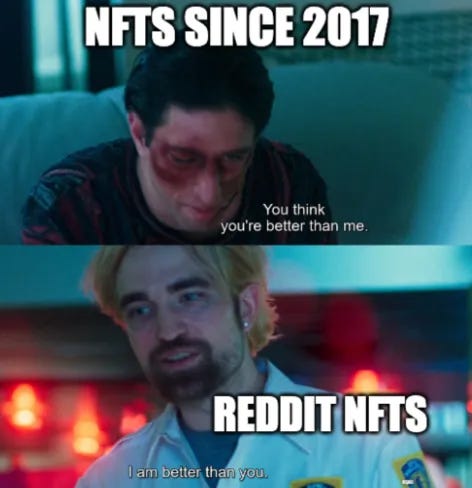 Shows you how important Reddit NFTs have been so far, and why we keep saying that Reddit's the trojan horse of web3.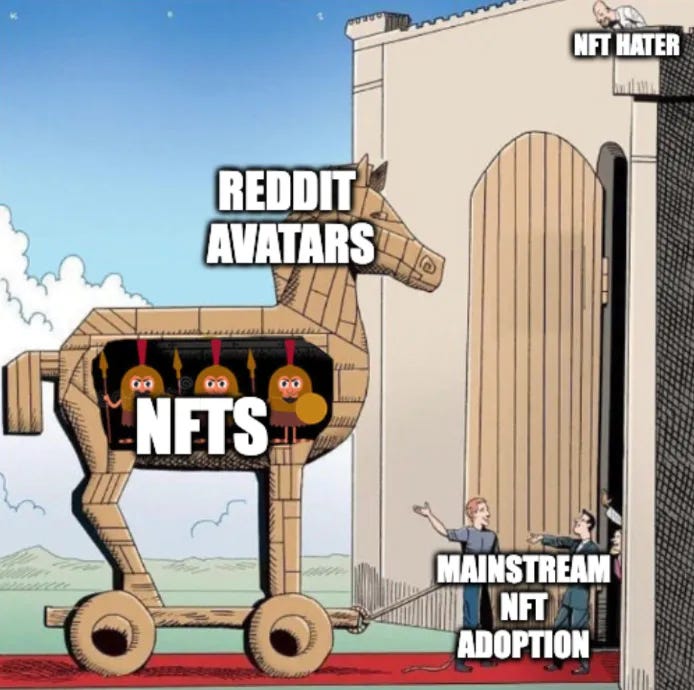 How Can You Capitalize? 💰
Let's make it clear that investing in Reddit NFTs makes no sense. 🤷
Not saying you shouldn't buy them. But do so for the simple utility of using them as your PFP in Reddit or supporting a community/creator you like.
Not as an investment because these are not digital collectibles in our mind. So there isn't much of an opportunity to benefit from Gen4.
But the opportunity is coming, so let's talk about that. 👀
The following is exclusive to our PRO members. Enjoy. 👇
On September 12th, Reddit is sunsetting community coins and awards. Don't be deceived by the word coins. These are not onchain.
Why?
Last week Reddit announced changes to their Terms of Service.
TL;DR: Web2 centralized virtual goods like Coins & Awards are going away while web3 Community Points (CPs) can now be traded.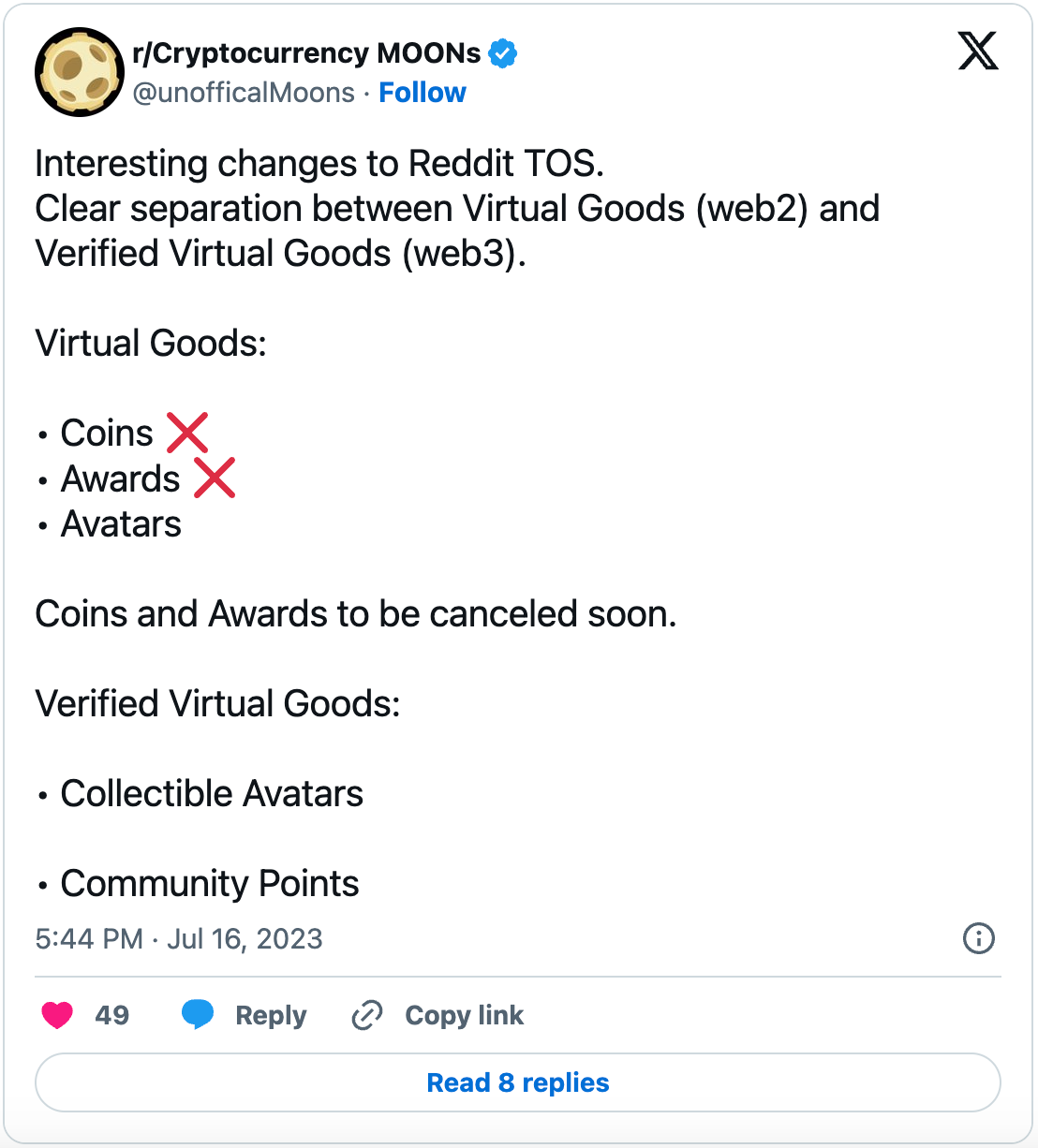 While Community Points have always been technically tradable, the process of trading them from the Reddit app is awful.
It's easy to send CPs to other Reddit users from the app, but to trade them, one has to export the private key from the Reddit wallet and import it into a crypto wallet. Then trade the CPs on an Arbitrum Nova DEX. 🤮
Currently, there are 2 fungible tokens for r/cryptocurrency (MOON) and r/fortnite (BRICK) subreddits.
Both shot up over 100% after Reddit changed their ToS last week because of speculation over what is coming next.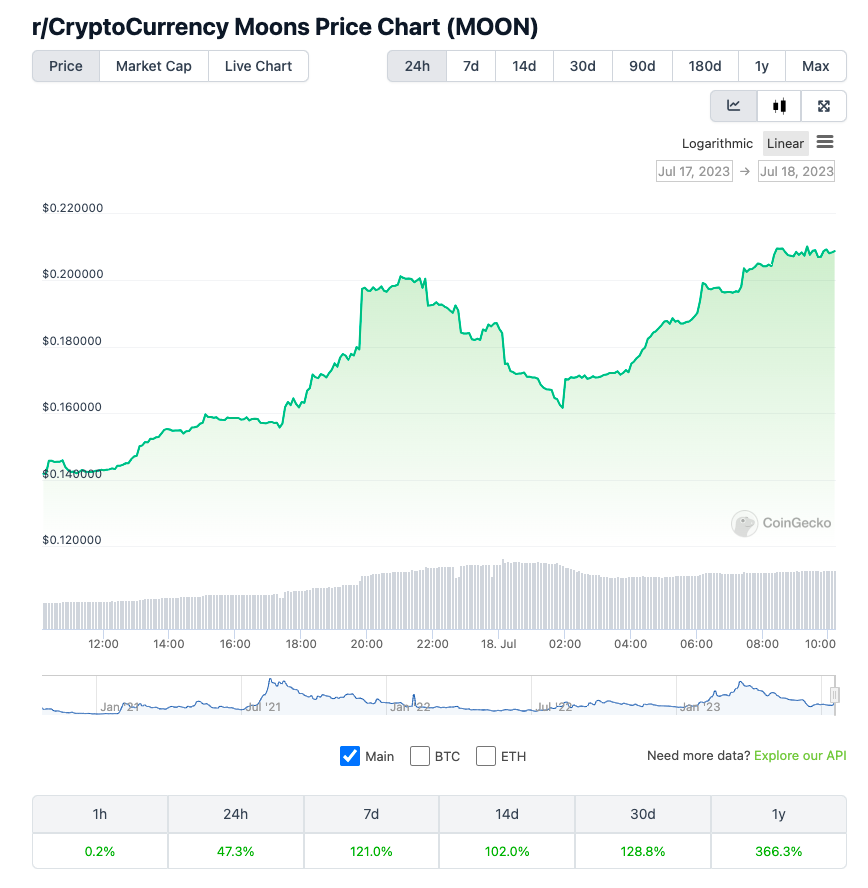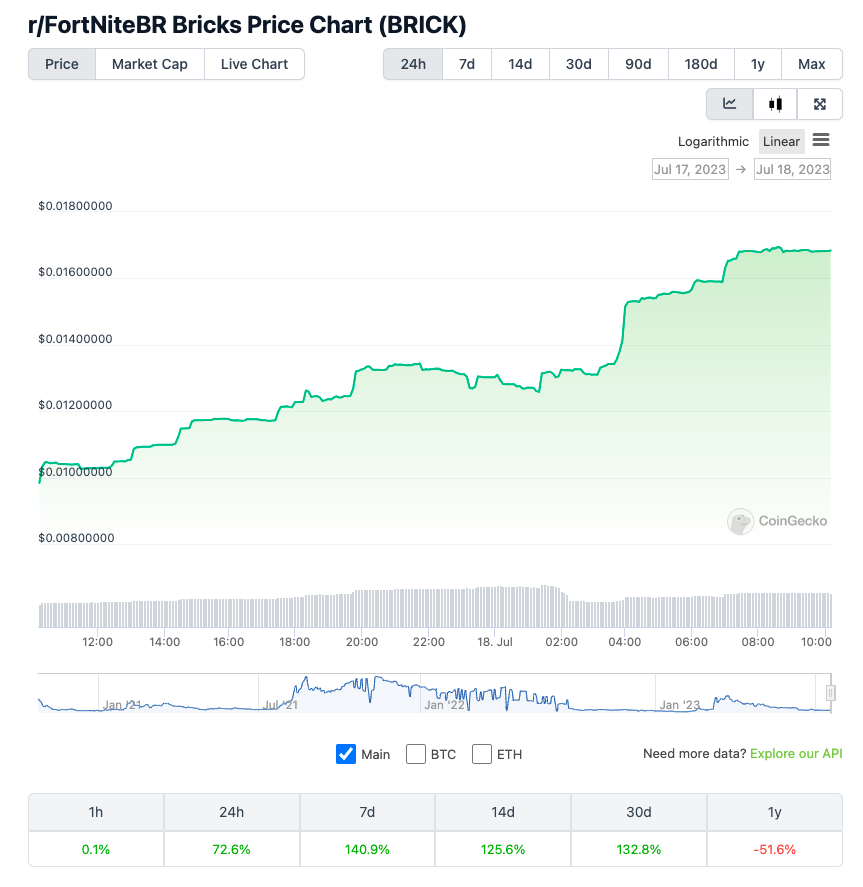 Remember, in our Google Play article, we talked about how Reddit is working on something onchain in app.
Is it possible that Reddit could launch a DEX to enable easier trading of CPs inside the app?
Reddit Coins are a significant revenue driver for the platform. For a company planning to IPO, they will need to replace the lost revenue with something else.
Exploring native integration of a DEX and further embracing Web3 could be potential avenues for Reddit to explore.
The expansion of CPs to more subreddits is likely to provide greater flexibility and utility for these tokens.
Each subreddit's moderators can decide how to best utilize the tokens to govern their respective communities, which can lead to innovative use cases and community-driven initiatives.
The trend of social media platforms rewarding users for their contributions with real monetary value is becoming more prevalent.
This shift away from "useless vanity badges" signifies an increasing desire among users for tangible benefits and incentives for their engagement and participation on these platforms.
Overall, it will be fascinating to see how Reddit's experiment with Community Points and web3 unfolds in the coming months.
It has the potential to shape new possibilities for user engagement, community governance, and revenue models in the social media landscape.
And they seem to get it and double down on making this a reality.
So yeah, Reddit NFTs will eventually hit 50,000,000 mints. The when is still unclear, but we're betting that it'll happen by the end of the year.
Therefore, we'll make sure to keep you updated, so stay tuned to not miss out capitalizing on the opportunity. 👀
---
Thanks for reading. And remember, you're strong, you're powerful, you're alpha! ❤️
See you soon. ✌️
---
Disclaimer: This article is for informational purposes only and not financial advice. Conduct your own research and consult a financial advisor before making investment decisions or taking any action based on the content.