Your feedback is invaluable to us. It not only helps us improve but also ensures that we're delivering the kind of content you love and find useful. 🫡💜
We're all ears, always! 👂
Because you're awesome and took the time to help us out, why not explore some of our other resources?
Free Web3 Rabbit Hole Course
🐰
Get up to speed on the core components of web3 so you can invest and build with confidence in the fastest growing industry on earth.
Your web3 path begins with our Web3 Rabbit Hole Course
Podcast
🎙
We publish 3 podcasts (Spotify, Apple Podcasts & YouTube) per week:
Tuesday's Hot Take 🔥 - Breaking down the latest trends in web3.

Wednesday's DOer 🧠 - Picking the brains of web3 thought leaders.

Friday's Weekly Rollup 🗞 - Discussion of the latest news in web3.
Web3 Academy PRO
⛓
Look onchain to build & invest successfully in web3.
Get an onchain PRO report to your inbox every Thursday at 9AM EST.
Web3 Investing Masterclass
💰
Start investing in crypto and web3 successfully & build generational wealth over the coming years. 🫰
From risk assessment to portfolio management, this course empowers you to make informed decisions and spot lucrative opportunities in the web3 space. 🤑
Get the Masterclass for FREE by choosing the Annual PRO Membership!
Until the 21st of November, our Black Friday Bundle offers you a unique opportunity.
Go PRO for 1 Year (26% Off) and get the Web3 Investing Masterclass at no extra cost.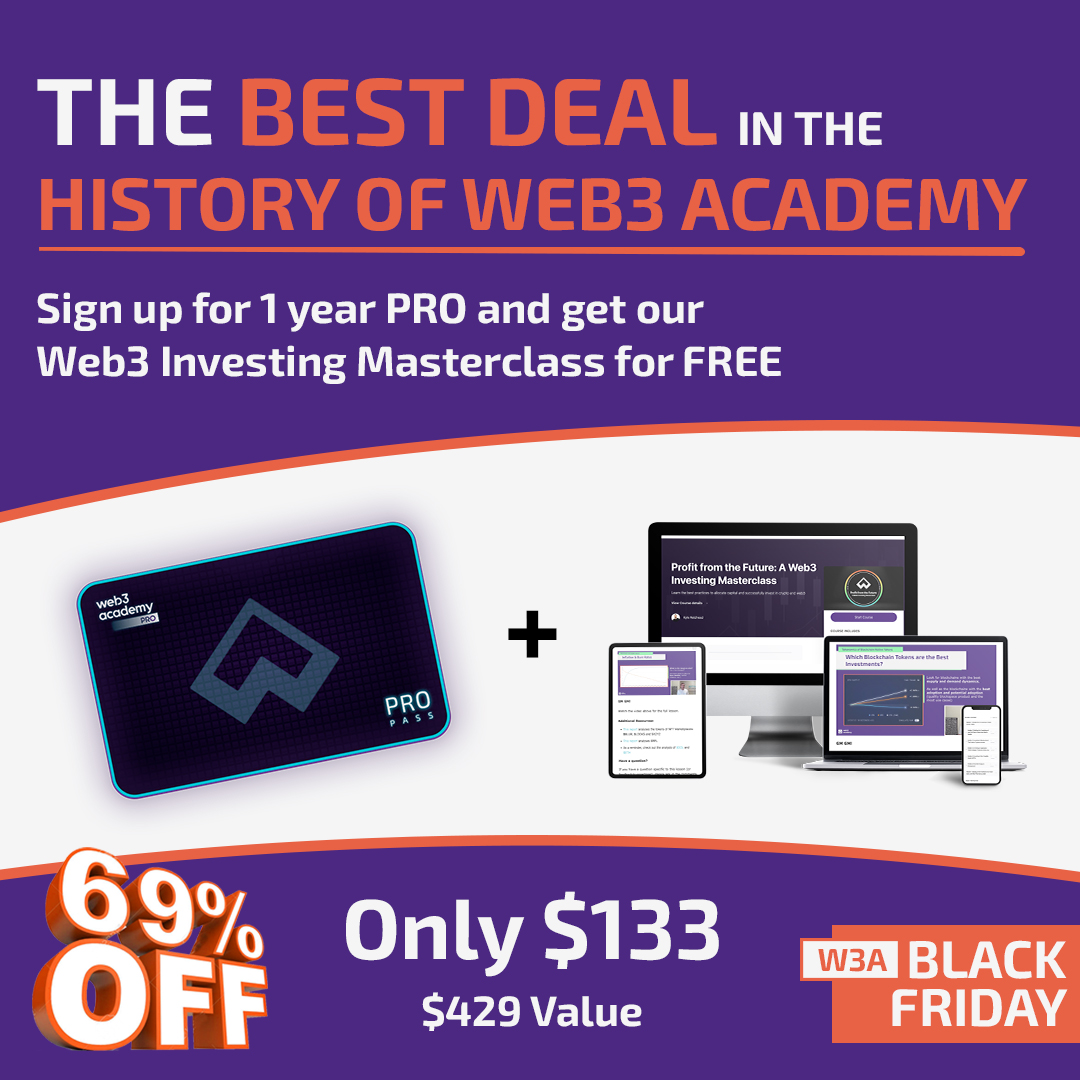 ---
Thanks for your feedback once again, and we'll see you soon. ✌
---
Join us on Discord | Follow us on Twitter
Subscribe to Web3 Academy and never miss a post.