GM DOers! 😎
On August 3rd, when Base (Coinbase's layer 2) announced that it will open its gates to the public, it got a whopping 1.2 million views on its X-post.
At that time, it opened only to developers, which saw a huge influx on $ETH being bridged over + a lot of scam tokens going around.
Today, we're talking about Onchain Summer, Base's initiative to get 1 billion people onchain. 🌊
On August 9th, Base opened up to the public, aka anyone could bridge to and from Base to participate on the fresh L2, making Coinbase the first publicly listed company to launch a blockchain. ⛓️
Many will have read the announcement and thought it's just another layer 2, nothing to see here. 👀
But this isn't really about it being a new layer 2 – it's about a marketing campaign that caught everyone's attention. 📢
Plus, you have a golden opportunity to set yourself up for a big payout from Base in the future, by simply participating right now. (Read until the end) 💰
Let's dive in. ⏬
---
🤝 Together with Paragraph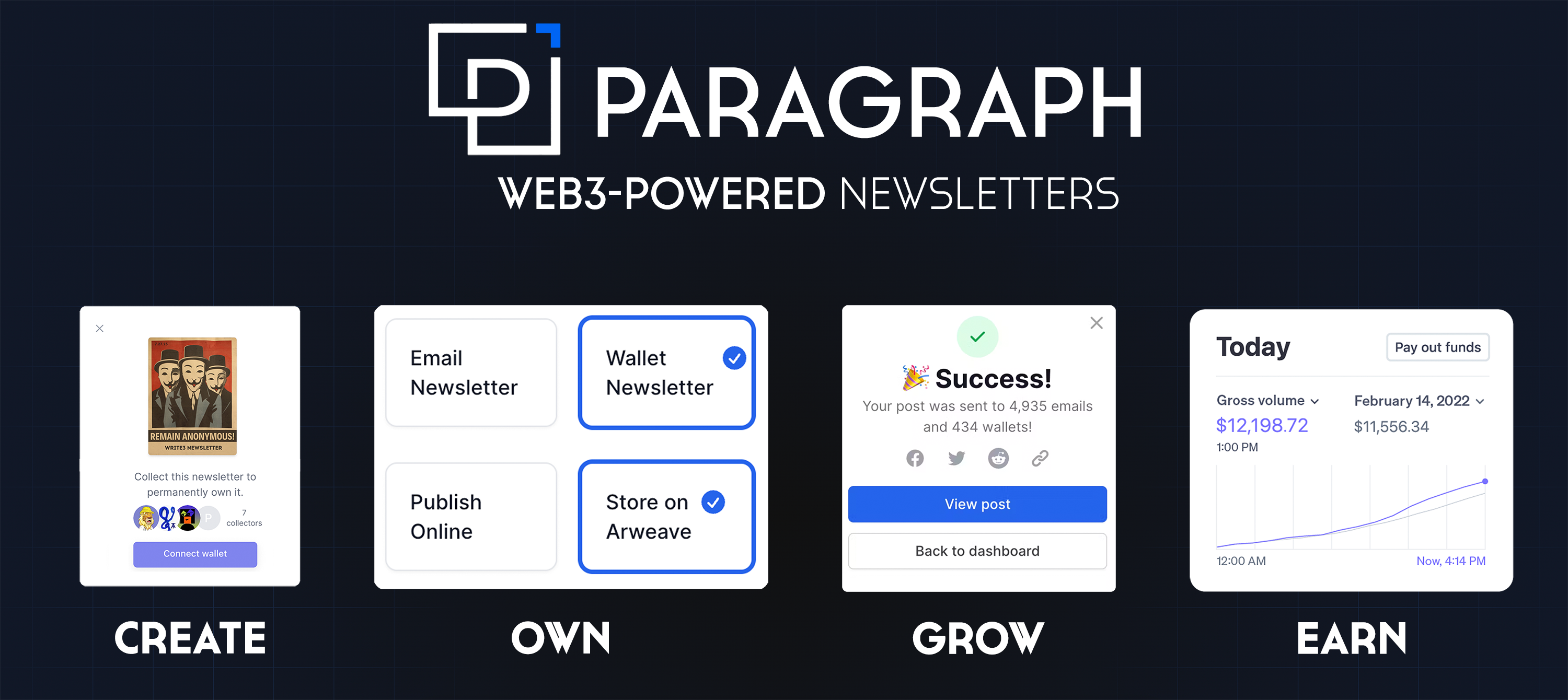 Paragraph powers modern newsletters, enabling readers to own their content and creators to share revenue with fans.
Web3 Academy has already transitioned to Paragraph because it's the future of newsletters.
If you're a creator, writer, or keen reader, explore Paragraph's early opportunities!
---
What is Onchain Summer? 🟡
Coinbase's catchphrase: Bringing the world onchain. 🌊
They want to achieve this by making it easy and cheap for everyone to do stuff onchain.
So, they started Onchain Summer, a multi-week celebration series of art, culture, gaming, community, and more.
From August 9th to 31st, there'll be new mints happening on Base daily, in partnership with other projects & artists from both web3 & web2.
The first mint was done solo by Base:
The second mint was in partnership with FWB & Cozomo de' Medici. Interestingly, this was banned on Instagram (when people shared on their story).
Here's what Coinbase tweeted:
Today's mint is in partnership with Parallel (yet to be released at time of writing).

And if we're looking at what's planned ahead, we can see that there are a bunch of partnerships lined up, with various projects like:
Zora

Manifold

Optimism

OpenSea
Plus many more… But the one that stands out in particular is…

Coinbase x Coca Cola? 👀
The partnership between Coinbase and Coca Cola is yet to take place so we can't speculate too much about what's going to happen (Sunday, August 13th).
But a previous partnership that Base put together with Nouns, included the change of metadata for Base's first NFT (launched on Zora when they first announced Base).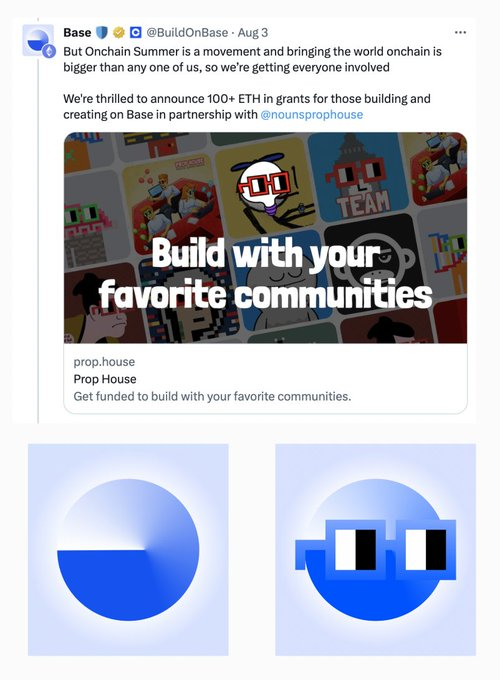 What we can expect for sure is a Coca Cola NFT on Base. But how big will it be? Will Coca Cola launch an entire collection? Will Coca Cola give away any grants for people building on Base?
Time will tell. But this sure is HUGE.
Coca Cola is one of the biggest brands in the world. 94% of people recognize the Coca Cola logo, so it's safe to say that this partnership will bring a lot of hype for Base.
Now, let's talk about the important stuff:
Who's building on Base?

What's the activity looking like on Base?

How can you capitalize on the Base opportunity?
But before we do that, let's make you a better investor. 😏
Early-bird Discount: Make Generational Wealth From the Future 💰
Do you want to achieve financial independence?

Do you want to finally be able to afford that house you always wanted?

Do you want to sell less of your time for a job you don't even like?
Then you need to invest, and you need to do so sustainably, so you don't lose your money!💸
Crypto and web3 is an industry that will make a lot of millionaires in the coming years. This is an asset class that goes up at least 150% per year on average.
Yet, most people lose money because they don't know what they're doing. And that's okay. We're here to help with that!
Meet our Web3 Investing Masterclass, the #1 investing resource in web3, that will help you understand how to invest and what to invest in, so you can make a shit ton of money in the coming bull cycle.
And right now, our masterclass is trading at an early-bird discount:
33% for our free newsletter subscribers
50% for our PRO DOers
100% for our Founding members
To grab your discount (expiring in a few days), please follow the button below & connect your wallet:
P.S- As a PRO/Founding member, you need to have your PRO/Founders Pass in your wallet.
If you don't, please go back to our PRO Report from Yesterday (in your email) to grab your discount.
Who Else is Building on Base & What's the Onchain Activity Looking Like? 🔨
So apart from a bunch of brands launching inexpensive daily NFT mints, who's building on Base?
Here's a few notable companies:
And here are the brands already moving to Base:
Some of those logos belong to big brands, others to not so big brands.
But that's not important. What's key here is that people are looking to build over on Base.
This is exactly what we advised in our newsletter from July 31st.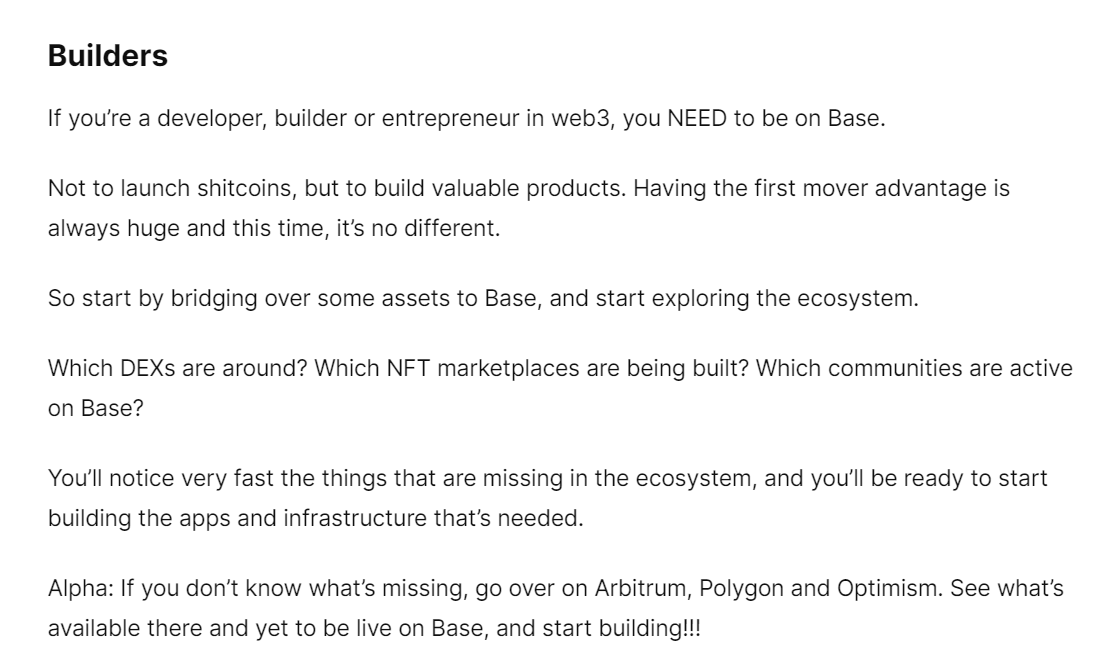 P.S- this is still relevant today!
But what about users? What does the onchain activity look like on Base? Let's 👀🔛⛓️
There have already been 7.6 million transactions….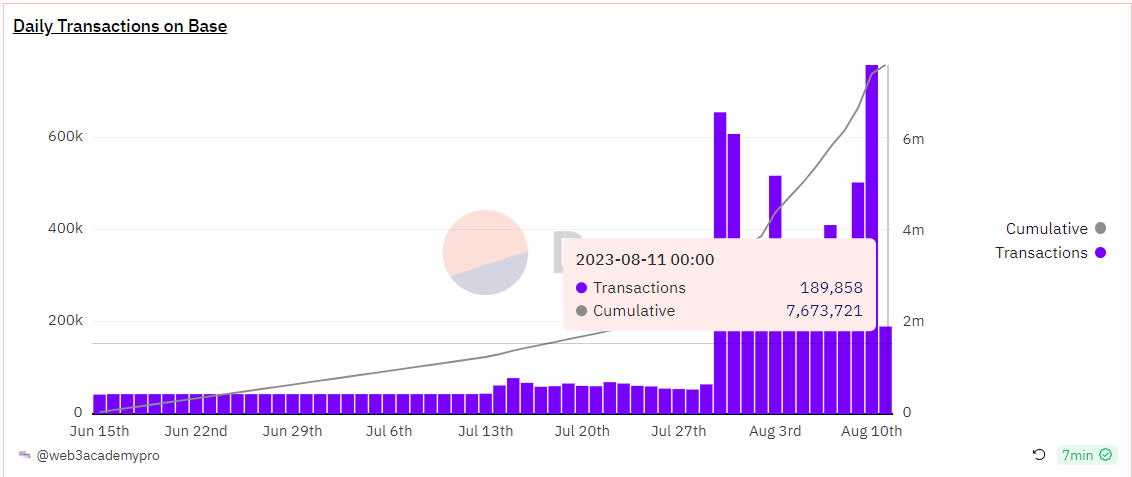 Made by ~500k wallets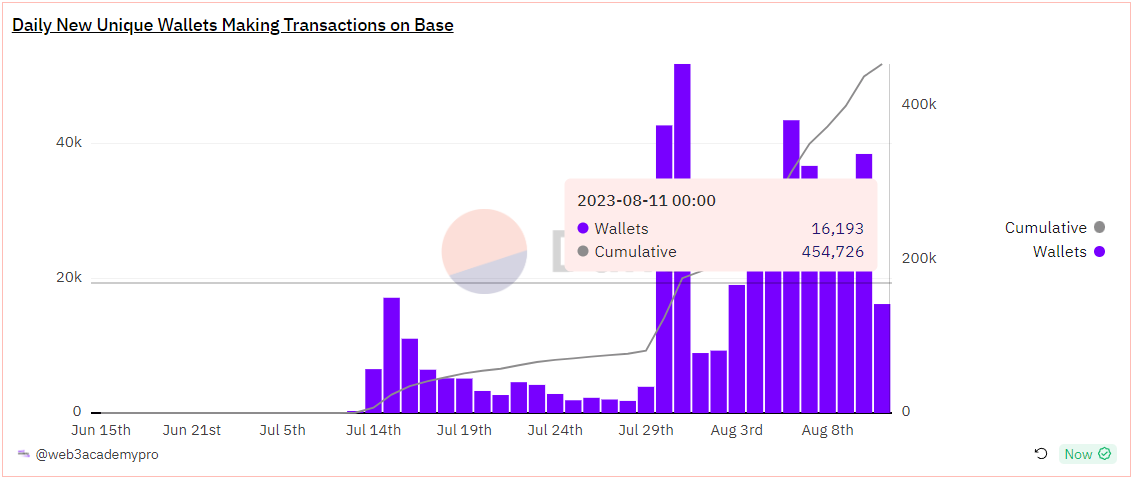 The amount of assets bridged over to Base is close to $200M. Most of that is ETH, followed by USDC, and then other Altcoins.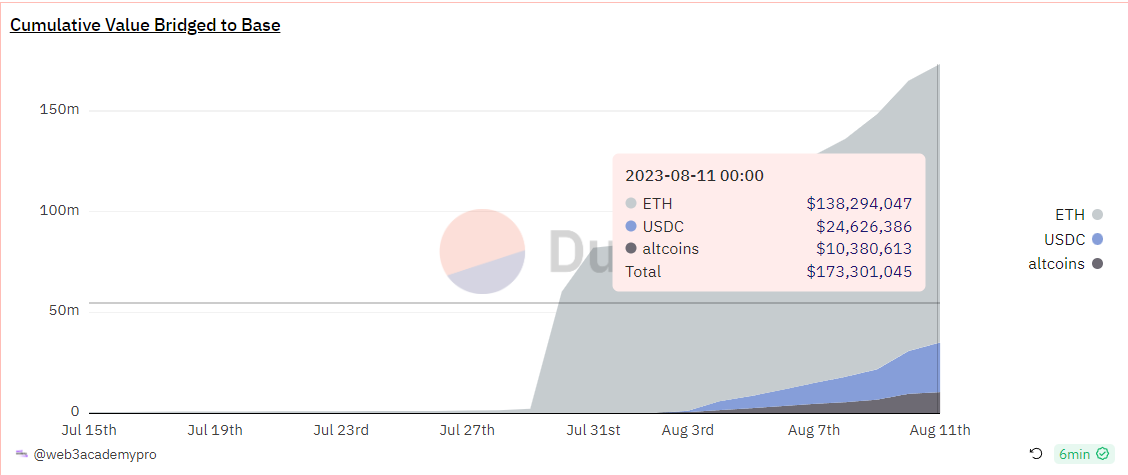 From all this activity, Base already made over $2M in revenues.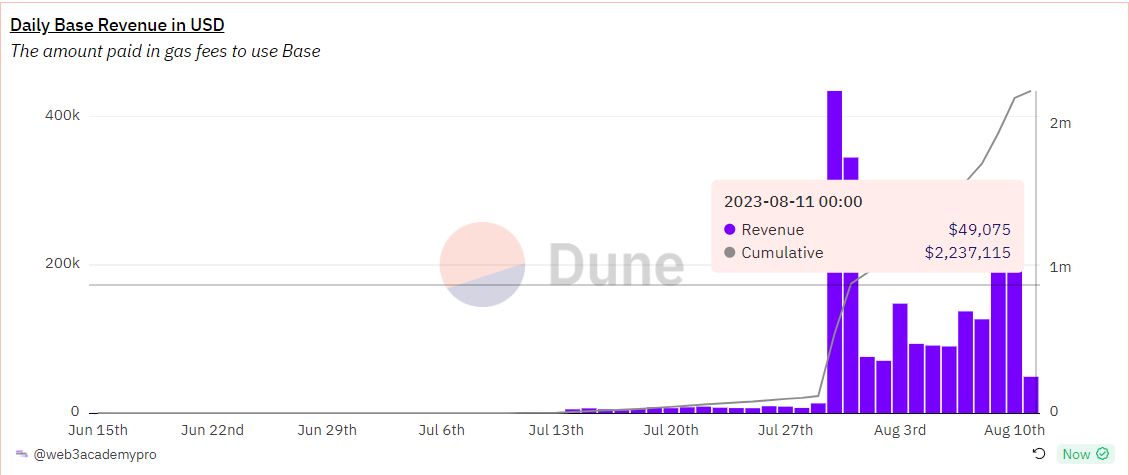 And $1.6M profit.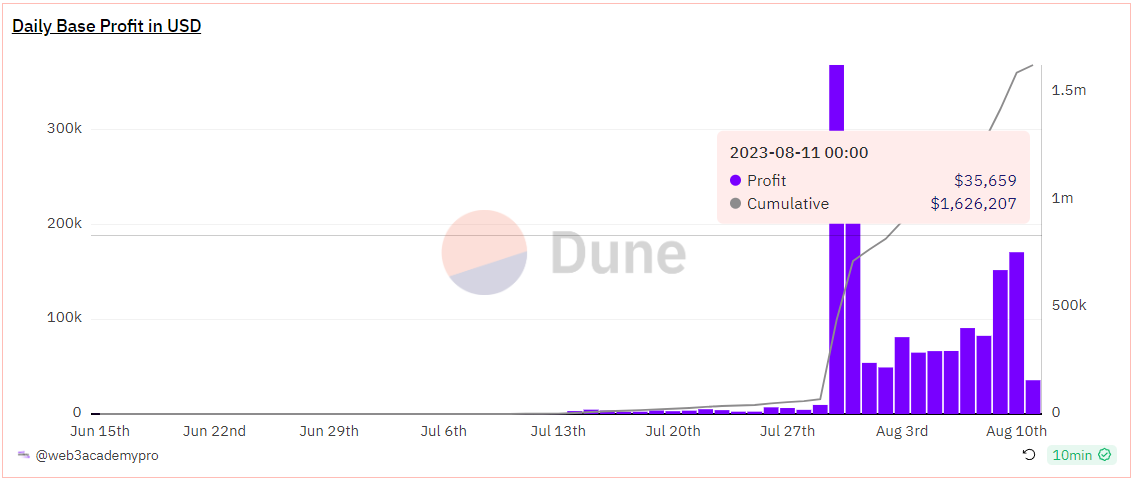 There's clearly a lot of hype & activity on Base right now, as there is with every new thing.
But the key takeaway from the onchain stats shared above is the profit. Base is already very profitable despite operating for ~1 month.
And the thing that stands out is that most of Base's revenue is actually profit (72%). Sustainable business model? Time will tell. 👀
Now... How can you capitalize on the Base opportunity?
Let me tell you 👇
Takeaways: What Should You Do to Capitalize? 💰
Builder 🔨
If you're building anything in web3 right now, you better get your ass to Base. Kidding. Just do it if it makes sense for your brand.
For example, if you're Yuga Labs, it makes no sense to move your BAYC collection to Base, because the bridge between Ethereum and Base is causing way too much friction for the masses to get to your collection.
BUT, you should 100% pay attention to what's happening on Base & spot the opportunities that occur on the new chain.
The early-mover-advantage shouldn't be underestimated.
Creator 🎨
If you're a creator/marketer, you need to bring out your notebook and start taking notes.
Base isn't even that big of a deal (it's just another layer 2), yet, it got all the eye-balls. Why?
Uses a catchy slogan: Bring the world onchain

Made a huge campaign called Onchain Summer which is really catchy

Partnering with top brands (both web3 & web2)

Issuing daily (and cheap) mints while providing great UX on their site – this allows ANYONE in the world to get on Base and get their first NFT
Now… the attention it got is mostly thanks to the fact that Coinbase is behind it, which has tons of products and billions of dollars.
But still, solely observing Base's strategy is a great learning curve.
Investors 🫰
BRIDGE YOUR ASSETS.
It takes 2 seconds to bridge your $ETH to Base, it's safe (not saying exploits can't happen) and it'll cost you up to $10 in gas.
Don't bridge all your $ETH though, just transfer a little bit over and start minting the daily drops.
These drops are very cheap and we suspect that those who participate now will get rewarded later.
And if you're not, it'll still be a great experience for you to collect some really cool, inexpensive graphics.
But, most likely, you will be rewarded. Previously (if we look at Arbitrum and Optimism), the early participants (those who bridged their $ETH) received a hefty airdrop.
Now, Base says that they're not planning to launch a token.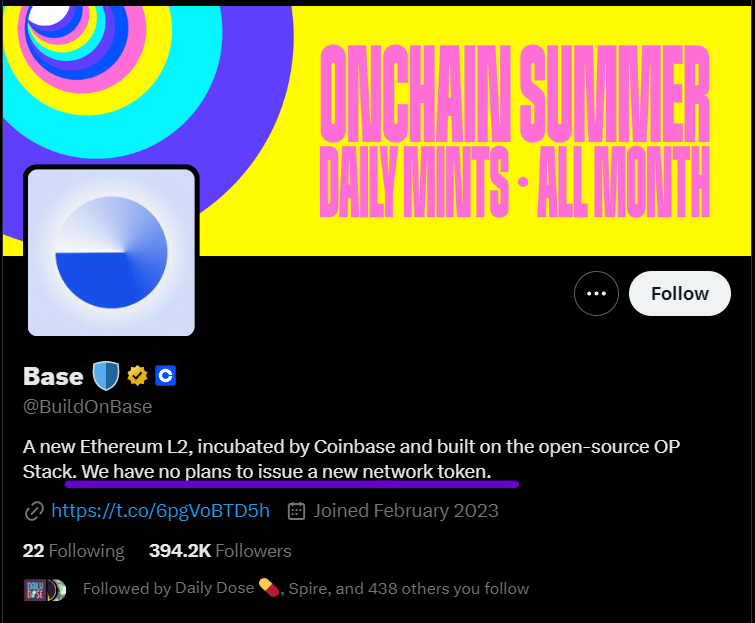 However, when Brian Armstrong chatted with Jesse Pollack he stated that they're looking for ways to decentralize the network in the future.
So far, everyone has distributed ownership through a token, so they will too, most likely.
To ensure you capitalize on being early, make sure you take this chance to bridge some of your $ETH over to Base.
And if you want to become a successful, long-term investor, then our Web3 Investing Masterclass is for you. 🫵
With it being at a hefty discount, you can take the opportunity to take your investing skills to a whole new level. 🚀
... and make generational wealth during the upcoming bull market (which is already starting btw).
As an early Web3 Academy DOer, you get 33% off. If you're a PRO member, you get a hefty 50% discount & if you're a Founding member, you get the masterclass for free.
All you need to do is click the button below, connect your wallet & boom, you unlock your discount.
The discount will appear after connecting your wallet.
As a PRO/Founding member, if you don't have your Pass yet, then please go to the PRO Report we sent Yesterday in your email inbox.
---
Thanks for reading. And remember, you're strong, you're powerful, you're alpha! ❤️
See you soon. ✌️
---
Disclaimer: This article is for informational purposes only and not financial advice. Conduct your own research and consult a financial advisor before making investment decisions or taking any action based on the content.