Market Updates
Weekly NFT Volume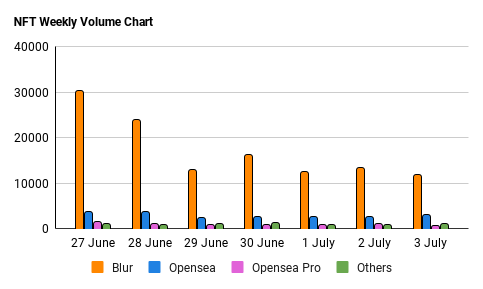 NFT Volume spikes this week following Azuki Elementals mint on 27 June, with Blur crossing 30,000 ETH on Tuesday.

As compared to previous week's volume of 90,185 ETH, this week eclipses it, totalling 155,442 ETH.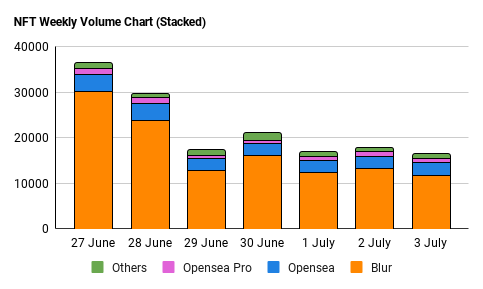 Majority of the volume, as usual, came from Blur.

Blur takes 77% market share this week on average, while Opensea + Opensea Pro takes only 18%. Other platforms such as LooksRare and x2y2 takes a small 5%.

Choppy as usual.
Weekly Active NFT Traders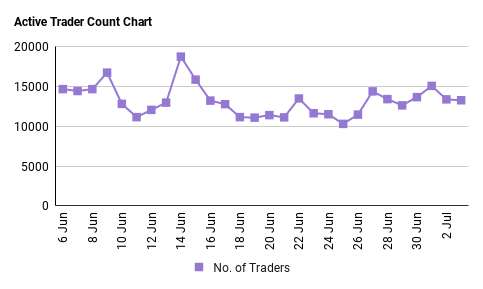 Active traders this week sees a little increase as compared to previous week, with close to 15,000 more active traders this week.

The increase is no surprise with Elementals and Ether having minted this week.
Large Cap PFP Index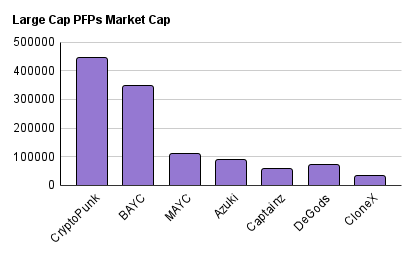 A sea of red...

Large Cap PFPs take a huge hit across the board with Punks dipping below 500,000 ETH Market Cap.

Azuki falls below MAYC again, after overtaking MAYC the previous week.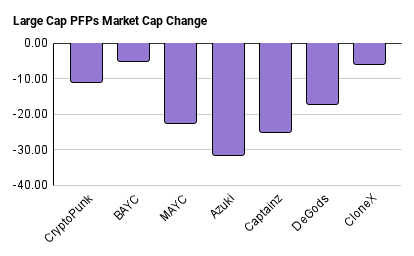 All of the Large Cap PFPs saw a dip, with MAYC, Azuki, Captainz and Degods being hit the hardest, falling 22.55%, 31.36%, 24.9% and 17.18% respectively.

A huge fall for Azuki following the Elementals mint, which has resulted in huge FUD.
Mid Cap PFP Index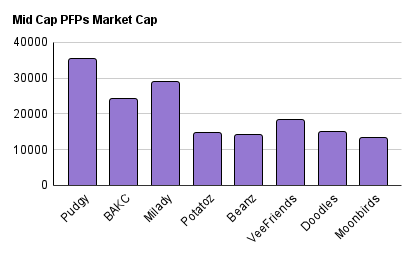 Unsurprisingly, Mid Cap PFPs follows Large Cap PFPs, seeing a sea of red.

Out of all Mid Cap PFPs, only Pudgy Penguins stay above the 30,000 ETH Market Cap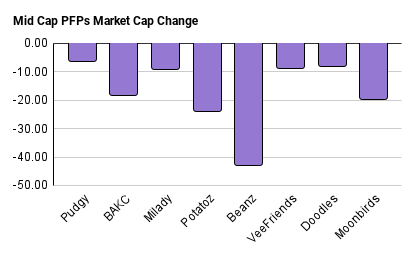 Beanz takes an extremely big hit of 42.62%, while Potatoz takes a 23.97% dump, on the end of Captainz reveal.

There are no surprises this week as general sentiment around NFTs hit an all time low, with FUD around Azuki Elementals and Captainz underwhelming reveal.

While it seems like all hope might be lost, there are some positives in the world of NFTs.
Trending NFT Projects of the Week

Azuki Elementals, revealed and unrevealed, takes the lead this week but no surprises here.

Generally low volume across other significant collections.
---
Spotlights
Dior introduces the 'B33' sneakers utilising Physical-Backed Tokens (PBTs)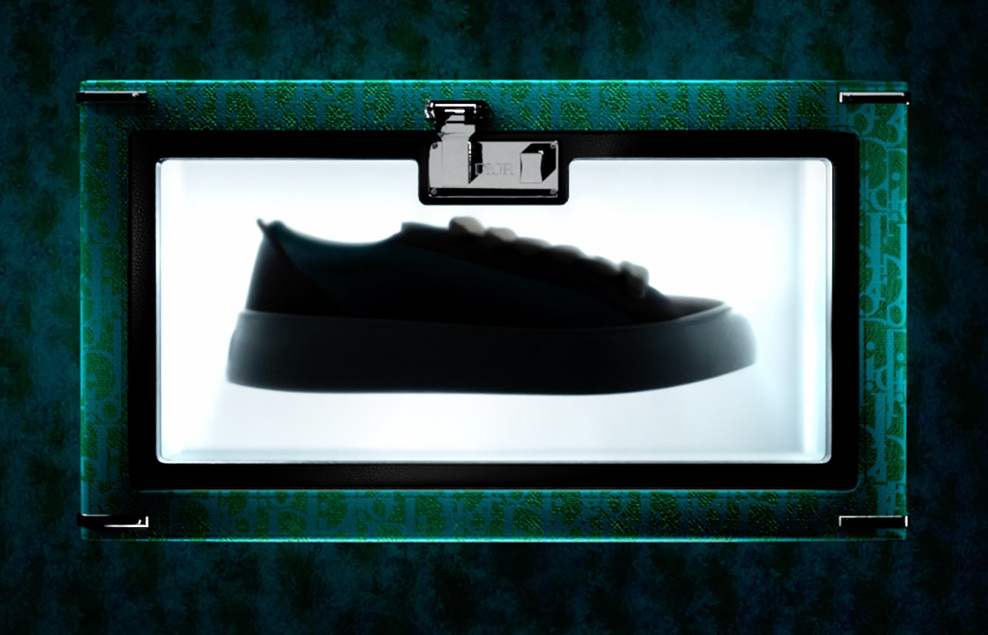 The House of Dior has announced the B33 sneakers, designed by Kim Jones, as part of the Dior Fall 2023 men's collection.
Each right sneaker comes with a digital key embedded under the sole, granting access to a secure platform that offers exclusive services.
With this platform, you'll be able to verify the shoe's certificate of authenticity, learn about the manufacturing process and be the first to receive info on upcoming sneaker drops.

Certain styles also come with what Dior calls a "Digital Twin Collectible", which is a corresponding NFT minted on the Ethereum blockchain.
B33 Sneakers Details:
> 470 pairs available for sale
> Release on Dior's website 6 July
> A Digital Twin Collectible with select editions

While the underlying technology utilises blockchain and more specifically, "PBTs", an interesting observation is that throughout the marketing campaigns and their website, there were no mentions of "NFTs" or "PBTs".

Instead, Dior chose to use words such as "Digital Twin Collectible" and "Encrypted Key".
What does this mean?
While the approach that Dior is taking is a little different from the other fashion brands, it is bullish that yet another fashion giant has entered Web3 by utilising blockchain technology.

We can see that Dior is trying to move away from using Web3 terminologies to market this launch and that, might actually be a better way to reach the masses!

We have always known that blockchain technology brings immutability, that leads to strong use cases such as verification of data.

Dior's approach by not using Web3 terminologies while using the technology, can be seen as a step towards adoption. As the use of Web3 terminologies might, at this point, still deter others from related products, Dior might have just started the new "wave" of marketing.

Similarly to how we don't commonly use web terminologies such as HTML, URL, and source files, we foresee that the Web3 space will eventually shift towards using more "widely understandable and accepted" terms.

While it is not a direct comparison, we are certainly watching the results of this launch without the use of such Web3 terminologies.

Could this be the start of blurring the lines of Web2 and Web3?
Relevant Links:
Dior Website: https://www.Dior.com
Dior Twitter: https://www.twitter.com/Dior
Dior B33 Website: https://www.dior.com/en_vn/fashion/mens-fashion/shoes/b33-sneakers

Cyberkongz develops a new ERC standard that enhances NFT security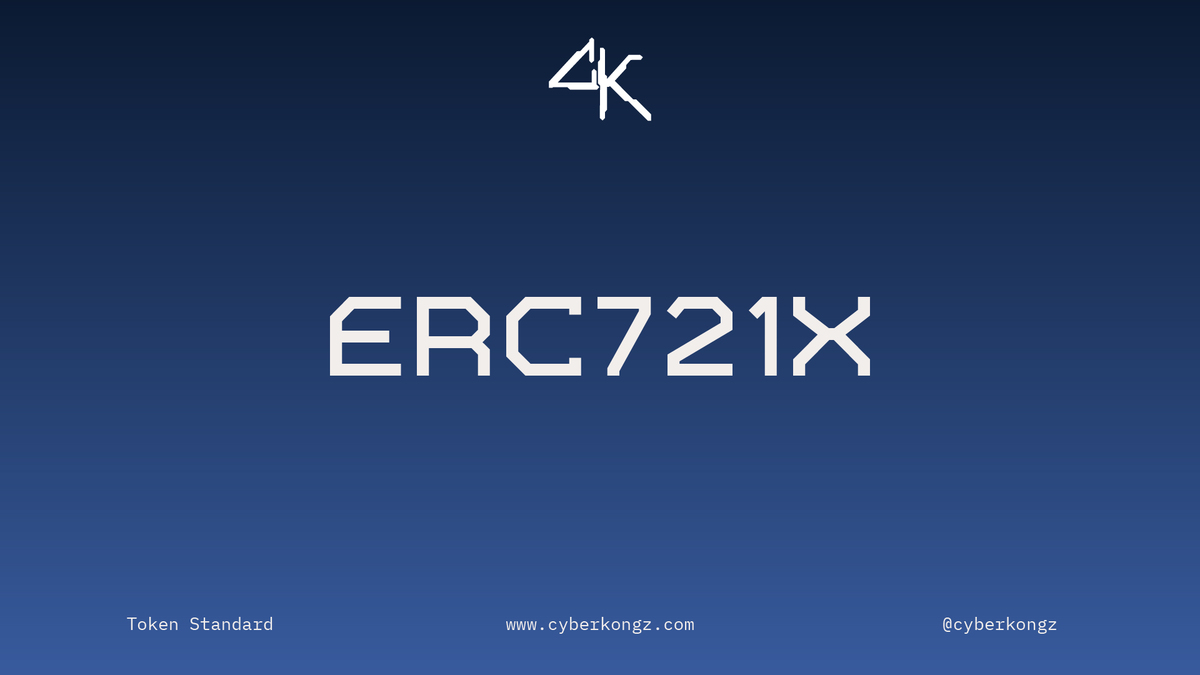 OG NFT Project, CyberKongz, has developed a new game-changing ERC standard that enhances security for NFTs.

The new ERC standard, ERC721x, gives the convenience of using a hot wallet, with the added security of a cold wallet.

CyberKongz calls this feature, "Guarding".
How does it work?
To put simplistically, you can hold your NFT in a hot wallet and lock it from being transferred anywhere. This locking is done through another wallet. In this case, let's say a cold wallet.

Now that it's locked, to transfer or sell that NFT, you must first unlock it through the cold wallet.

Example:
Wallet A is your hot wallet. Wallet B is your cold wallet.

Wallet A holds your precious ARC Stellar NFT. You authorise the ARC Stellar NFT to be locked and unlocked by Wallet B.

You now lock your ARC Stellar NFT held in Wallet A by signing a transaction on Wallet B.

This makes your ARC Stellar NFT held in Wallet A untransferable.

To now transfer your ARC Stellar NFT to another wallet, you must first sign a transaction on Wallet B, authorising the unlock, before being able to transfer it.

This makes sense as your cold wallet is often, or should often be, less exposed to contracts.

The frequency of signing on the cold wallet is less, minimising the chances of signing a malicious contract.
What does this mean?
This new ERC standard will greatly improve security of your NFTs as it makes an NFT a "temporary Soul-Bound Token".

In an instance where your wallet is compromised, hackers are not able to move Soul-Bound Tokens. Therefore, by making your precious NFT a temporary Soul-Bound Token, in the event where your wallet is hacked, everything else can be drained but the NFT which utilised ERC721x.

This is useful for any NFT project, but especially so for high value ones.

While this new ERC standard might minimise the effectiveness of a cold wallet like Ledger or Trezor, it is important to note that ERC721x does not protect you from seed phrase hacks or device compromises.

In such events, a cold wallet is still the ultimate protector as it requires your manual signature.

This is definitely a well thought out innovation by the CyberKongz team, and we certainly hope that more projects will implement this!
Relevant Links:
CyberKongz Twitter: https://twitter.com/CyberKongz
ERC-721x Tweet: https://twitter.com/CyberKongz/status/1673372436132245504?s=20
ERC-721x Documentation: https://www.cyberkongz.com/blog/post/erc721x

Azuki Elementals

Last week, Azuki's big announcement during their 'Follow The Rabbit' event in Vegas, was the mint of 20,000 Elementals.

A recap of the mint structure:
> 10,000 Elementals airdropped to Azuki holders
> 10,000 Elementals sold in phases, at 2 ETH each
> Phase 1: Azuki
> Phase 2: Beanz
> Phase 3: Public Dutch Auction
> Each phase lasted 10 minutes
What happened during the mint?
During Phase 1, Many Azuki holders were having trouble minting due to the mint page being unresponsive with several Azuki holders mentioning that the mint button was not appearing for them. This resulted in a good chunk of Azuki holders being unable to mint. The estimated number minted during Phase 1 was about 5000-6000.

Phase 2 seemed to have the same issues, with many Beanz holders being unable to mint due to the unresponsiveness of the website.

Despite the issues, Elementals minted out during Phase 2, helping Azuki raise a huge 20,000 ETH.
What happened after the mint?
After a chaotic experience, many Azuki holders took their displeasure to Twitter with some of the most loyal Azuki supporters being on the short end of the stick.

Azuki whale, Grail.eth, tweeted that the mint time was too short, suggesting that it should have been 30 minutes to an hour. This was already a concern prior to the mint, with people requesting to lengthen the mint time. Their concerns were proven to be the right.

Azuki then announced that trading and reveal would begin in a few hours which led to more criticisms as most people expected trading to begin immediately after mint out.
What happened during reveal?
Elementals were to be revealed manually, taking a Gacha/Optional reveal approach.

While the reveal process was smooth, many were shocked by the art, claiming that it is too similar to the art of the OG collection. This sparked an uproar by community members within the Azuki Discord and Twitter.

The floor of Azuki plummeted close to 50% from recent all time highs within hours, falling to lows of around 6 ETH. Elementals also started trading below mint price.

Many were in disbelief, but there were also speculation that the Elementals would evolve into a new form which was a conflict between disappointment and hope.

Zeneca also took the same stance as speculators, tweeting that he thinks the misstep was on purpose, and part of a bigger plan.

However, this seems to be proven now, that the "supposed misstep" was in fact, not a "misstep".
Team's response
A few hours post mint, Azuki co-founder, locationtba, put out a tweet apologising for the mint experience as well as acknowledging the art comparisons to the OG collection. Azuki's main twitter account also made a similar tweet.

The tweet seemed to have little effect, with the FUD continuing, which led to Zagabond putting out a tweet, announcing a discord stage later that day.
Summary of the Discord stage:
> The community will vote on background changes on the Elementals collection to help differentiate from the OG collection
> Anime shorts are currently being developed by Azuki
> Reassurance that OG Azuki will always have primary preference for anything in the Azuki ecosystem

The team has said they want to involve the community members as much as possible and won't stop until everything is made right.

It is also worth to note that there are alot of great images in the collection and alot of positive reviews are being given to the animal and dark traits in the collection.
What does this mean?
The FUD has simmered but the Azuki ecosystem has already taken a significant hit.

While the floor has dipped a huge amount, it is still sitting comfortably at around 6 ETH which in comparison to the countless number of projects in the space, is still a very good achievement.

We are also seeing many loyal Azuki holders leaving the ecosystem, with a few voicing their feeling of betrayal and disrespect.

It may be a tough road to recovery, but there are also positive sentiments that Azuki can recover just as fast.
Relevant Links:
Azuki Twitter: https://twitter.com/Azuki
Elementals Opensea: https://opensea.io/collection/azukielementals
Elemental Beans Opensea: https://opensea.io/collection/azukielementalbeans

---
Quick Fire News
---
JPEG Casino Weekly Ride #004 was brought to you by Keane, Cassidy and Spectrum.
Subscribe to ARC Community and never miss a post.