"You're a wolf! It's playtime."
-Locke the Pig to Doc The Wolf
There is a lot of really cool sh..stuff happening in Web3.
Just from Wolf Den Labs alone, we will see:
The Penguin Posse roll out some exciting games for penguin lovers.

Recovery Punks community continues to create and share artists from around the world and publish the weekly punk newsletter.

The Black Swan group publish their Web3 experience with brand new branding exclusive to the Web3 experience

The Golden Swan

Danny Zelisko unveiling his private collection to the world and launching a Web3 membership for music fans around the world

More 3D Wolf Pups roaming in the wild

A web3 experience from Akshay Nanavanti, the craziest man alive

And Palladium Protocol will be bringing its design, architecture, and real estate experience to build on the blockchain
Exciting times.
But my FAVORITE thing of all right now is the Doc The Wolf ecosystem.
Doc The Wolf
Doc The Wolf started out as Doc just following the suggestion to name your Wolf Pup upon adoption.
Once Doc The Wolf had a name, his story developed.
First, a book was published on Amazon.
This is the last page of his book: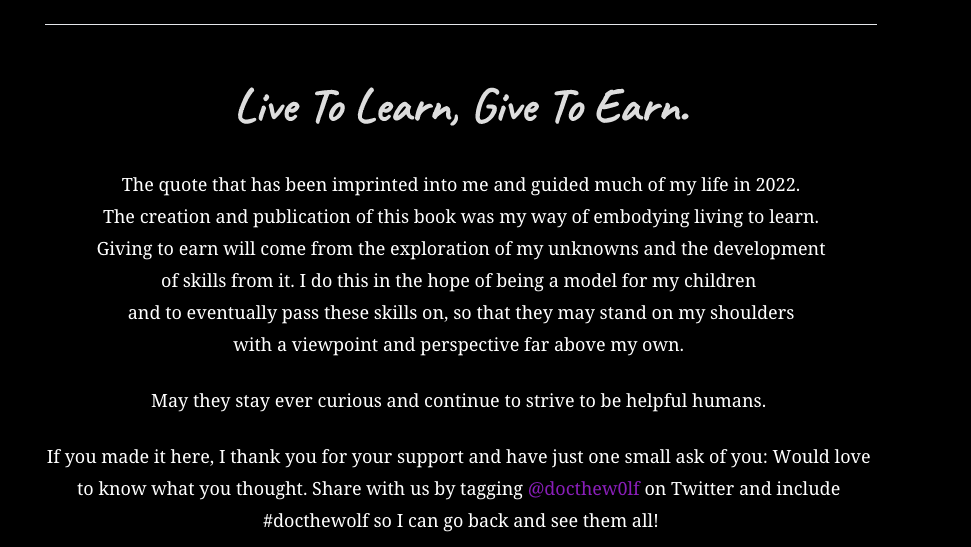 Live to Learn. Give To Earn.
He continues to do so in spades.
From there, Doc The Wolf continued to create art and stories. he even started a daily 6WU to share lessons from CCA, TGA, and life experience:
Wolf Pup Protagonist
Positive Vibes
TGA Frameworks
Wolf Pup 0 is a fan.
Most recently, Doc The Wolf launched a daily 6WU NFT:
The best part? This collection is not about floor price, it's not about hype, it's just an opportunity for those that follow along to own a little piece of Doc The Wolf History.
The collection states that the royalties buy guard, my best guess is that Doc The Wolf will continue to build a Guard powered web3 world alongside a value-driven web2 brand.
There is nothing like seeing children reading "Pennies Into Dimes" and getting enjoyment and value from it. The reach extends far beyond NFT traders or Web3 enthusiasts.
For those reasons, even with all the exciting things coming to Web3, Doc The Wolf World is my favorite thing in the space right now. Check it out.
Wolf Pup 0

PS. The Wolf Pup 0 journeys will continue in the next few weeks. Working on some collabs and value adds to maximize the amount of fun we can have with jpegs ;)