Hola!
As you probably know from my tweet, I am separating my Web3 blog from other topics. I previously write my technical blog on note.hadna.space, and it's utilizing Hashnode as the blogging platform. It's not that Hashnode is not a good place to write Web3 content (in fact, they are very good) but I just want something different, with a more Web3-focused platform. And Paragraph (previously Papyrus) is the chosen platform for this, and if you want to know why I choose this platform, just explore the homepage of Paragraph.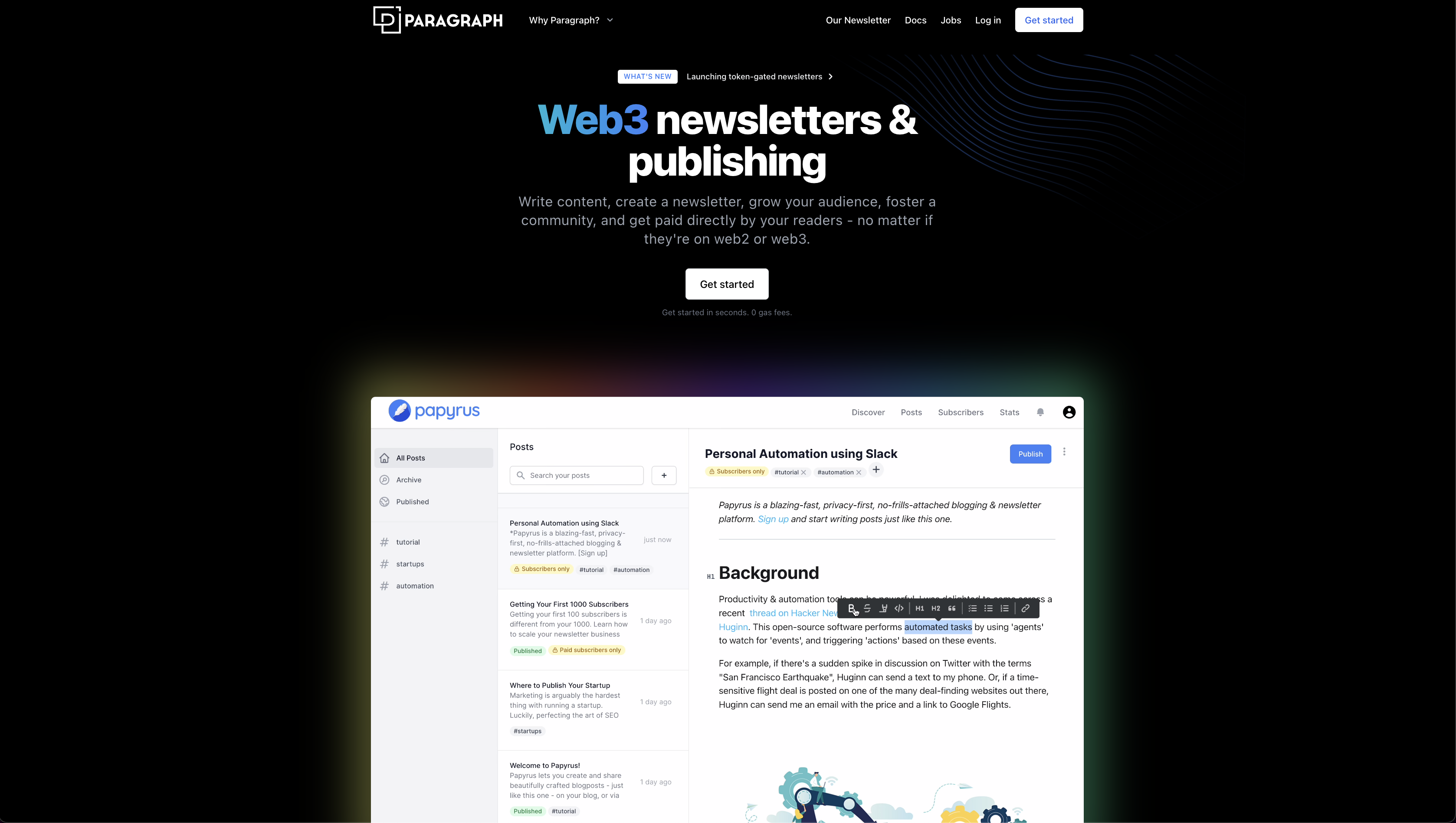 In case it's your first time hearing my name, here's my introduction.
About Me
I started my career as a Java Developer, doing mostly mobile apps & games development for older phones (J2ME), Android, and BlackBerry platforms (it was around 2010-2013 when modern mobile development frameworks were not as popular as today). During these times, SOAP (Simple Objects Access Protocol) was still a popular choice for data transfer.
Starting in mid-2013 when I was taking my Master's degree, I was interested in the Artificial Intelligence field as it was my main research topic, and to be more specific, it was Natural Language Processing (NLP). I built text classification apps, chatbots, and other tools like product categorization for a price comparison website, and most of them are using Python (either Python 2.7 or Python 3). I build these NLP engines as Back-End services (so yeah, I'm doing Back-End development as well).
My Front-End development journey started in 2017 with a very simple question I asked myself, "if I make these NLP engines, how do I serve these to the users?" And right after that, I'm entering the Front-End development until today. For the Front-End development, I mostly choose ReactJS with its related frameworks/libraries (TailwindCSS, MUI, Redux, Typescript, and many others).
In 2021, I'm taking another path into Web3/Blockchain development since I believe in its future. I started taking part in Blockchain development projects. Lucky enough for me, I'm surrounded by Blockchain veterans from my country (developers, marketing guys, etc.) and it really helps me to boost my Blockchain development skills. Now, I have been doing many Blockchain projects (NFTs, marketplace, etc.) either on the Smart Contracts part, Front-Ends part, or other parts of the projects, and using a lot of popular Blockchain dev tools like Remix, TheGraph, Moralis, Thirdweb, Infura, etc.
I started to work remotely in 2017. It was for a Netherlands-based startup company that need help to build chatbots for their business. Until today, meeting and working with people around the world have always been a pleasure for me, and I've been working with people from many countries and from different time zones like the US, Canada, German, Ukraine, Poland, Ireland, Australia, Singapore, France, etc.
Here are some links to find me on the internet:
About XARPN
Initially, XARPN (pronounced similarly with sharpen) was built to showcase my Web3 projects, and it can be accessed at xarpn.xyz. But then, an enlightenment came and I said to myself, "Why stop in just projects? What about the writings?"
And voila! XARPN blog is launched!
I am planning to host all my Web3-related posts on the XARPN blog, and all the non-Web3 posts are hosted in note.hadna.space, so you know the difference and where to look at.
Happy reading!