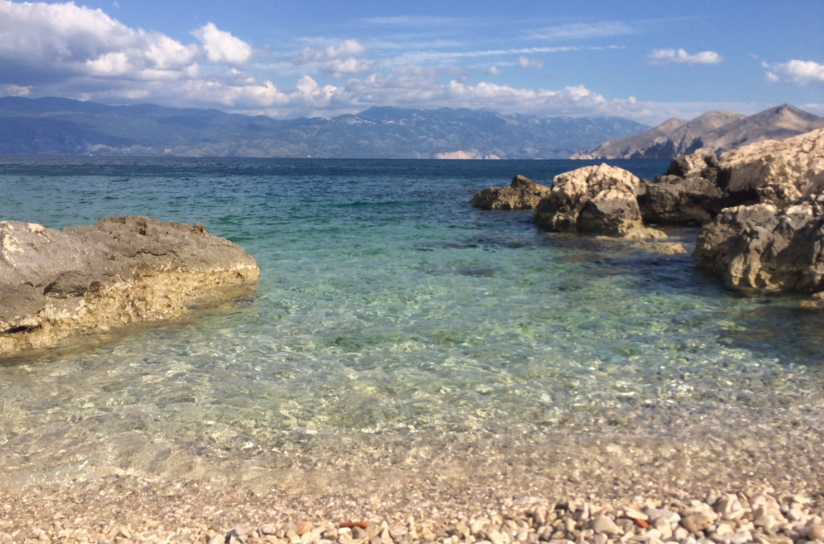 Don't allow the belief you need perfection get in the way of simply making small, incremental progress.
While this statement could easily be the entire meditation, let's discuss.
So often we allow ourselves to believe "things just have to be perfect" and when they aren't…
Well, we get upset.
For instance.
I proposed to my fiancée on a cliff-face overlooking the beautiful, Croatian bay in a small village, Baška.
In my head, I imagined this:
The moon and stars would be overhead.
Maybe the sun would be setting, conflagrating the horizon with fiery hues.
We'd be all dolled up from a delicious, perhaps fancy meal somewhere.
Instead, this happened:
Andrea and I had arrived just that day. I was too damn excited and couldn't wait!
We tiredly walked from our little villa into the village, proper, and found outdoor seats at the seaside. 
They didn't have anything too fancy, so we ordered a pizza — it was made with local tomatoes for the sauce, cheese from the sheep there, and olives plucked off the mountains. 
Stray cats (like, a lot of stray cats) fished and wove between our legs as they sauntered, begging, table to table.
After the very delicious dinner, we walked a ways further and had an Adriatic classic — gelato.
Finally, my nerves nearly fried, we headed back home. I knew exactly where I wanted to ask — right on the cliffs besides our villa…
…but when we got there, it was dark and overcast. Oh, and just over the other side of the cliff was a large nudist beach and campground, looking up towards us!
In reality, as I dropped to one knee, nothing was "perfect" as it had been in my head all the months planning. 
But I just owned it.
I made up the little speech — even jokingly incorporating the German divers who were diving in the cove where we swam.
And here's the thing:
Even though it was flagrantly "not as perfect" as I believed I wanted it to be, she still said "YES!" 
Which is the same exact result I would've gotten, even if I'd'of asked her hand at a New Jersey bus stop with an overflowing garbage can.
Our odd relationship with planning and perfection sometimes ruins our perception of things that are perfect and beautiful exactly the way they are.
To this day, she and I still very much remember the proposal and enjoy the memory!
So, don't worry quite so much about deeply, intimately planning every minute detail and striving for perfection…
…you'll just ruin the experience when things fall short!
Follow for daily philosophical meditations.
These are distillations from my coming book "YouDaimonia: the Ancient Philosophy of Human Flourishing."
#philosophy
#love