✨

5 Faves of The Week

✨

Here we go friends! I'm learning as i am doing and i've received feedback from my peers so I'm super excited to share the 2nd Faves of the Week! Hope you all enjoy and show these artists some love!

#1 : Kior
Meet Kior, the South Korean illustrator who crafts visual tales that dive deep into the labyrinth of human thought. Her passion for creating visually delightful artwork began when she a young age, and she's been on a creative journey ever since. As an illustrator, graphic designer, and multi-talented creator since 2009, she's navigated various artistic currents.

Her latest piece 'All that Glitter,' where the ordinary sparkles with a twist. Kior's art reveals the illusion behind glitters and sparkles, challenging our perception of value. It's a magical, superficial charm that captivates and deceives the eye.

and one of my favourite parts of this piece, is non other than -- the shiny,shimmering,golden Poop+ Poop pattern!

#2 : Saeko Ehara
Dive into Orabel's world, where colors are the storytellers of complex human emotions. This French Digital Artist, Mariama Laborde, creates vivid, painterly masterpieces that capture the essence of feelings. Her characters are intimate pieces of herself, sharing their inner worlds, emotional struggles, and journeys of healing.

Experience 'feeling DOUBTFUL✦,' a stunning piece that delves into the inner voices that cast doubt and sow confusion. It's a journey through self-doubt, where the mind questions, 'Am I good enough?'


#3 : SΞUNGDO
Discover the mesmerizing artistry of Seungdo Hyun, the contemporary artist from Busan, South Korea. His fusion of traditional and digital mediums produces visually captivating pieces that touch the heart. With a passion for community and individuality, Seungdo's work delves deep into life's mysteries.

Explore his latest masterpiece"Chair of Contrasts: Embrace and Exploration" a chair bearing a vibrant garden within, symbolizing comfort, and flourishing life. Yet, the eyes within the chair reveal a conflict, torn between the allure of uncharted treasures and the security of the familiar. It's a visual journey of the heart's desires.


#4 : HAZEM
Meet HAZEM, anartist with a keen eye for illustration and a passion for leaving a powerful mark through design! His works focuses on minimalist art that leaves a sense of comfort and calmness in the souls of the viewers

Explore 'Spiritual,' a piece that whispers the message of transformation and beauty emerging from pain. Just as a butterfly symbolizes change and hope, HAZEM's art reminds us of the beauty that blossoms after every struggle.

#5 : Raquel Casilda
Say hello to Raquel, an artist from Spain with a Bachelor's Degree in Fine Arts and a Master's in Visual Arts Education, her exhibitions have spanned the globe from London to Rio de Janeiro.

Raquel's art is a dance of delicate intricacy, often graced by the presence of women in harmonious natural settings, sprinkled with surreal enchantment. She's loves creating with pencils, ink, watercolors, and digital art, occasionally veering into experimental techniques. Her art, described by her community as 'delicate, tender, elegant, and soft,' offers a tranquil respite from the world's chaos.

Her latest creation, 'Deep in the Forest Nº 6,' where a girl finds solace in the woods, immersed in a soothing palette. It's an invitation to let your imagination continue the visual story, taking you deep into the heart of the forest.
---
Awesome Halloween Things
Nyan Cat Spooky Spree
Come play this halloween themed game presented by Nyancat.eth created by @R3BELLABS! This was such a special surprise and definitely one that goes it my "awesomethingspplhavecreated" books!
Human Flesh Art Exhibition
Doooo is exhibiting their Human Flesh Art Brand "Mother Factory" this november in New York over in Superchief Gallery. Prepare to be fascinated by the mind-bending art of Japanese music producer and DJ, Doooo. Imagine body parts turned into everyday objects; jaws that become coin slots, severed fingers transformed into stamps, and noses reshaped into shot glasses. Doooo's creations blur the lines between human flesh and the mundane, making the ordinary extraordinary. His bizarre journey began when he fashioned a human flesh MPC for an album cover, inspired by horror and sci-fi. Now, he's on a quest to show us just how intriguing our bodies can be, urging us to see the world from a whole new, and rather weird, perspective.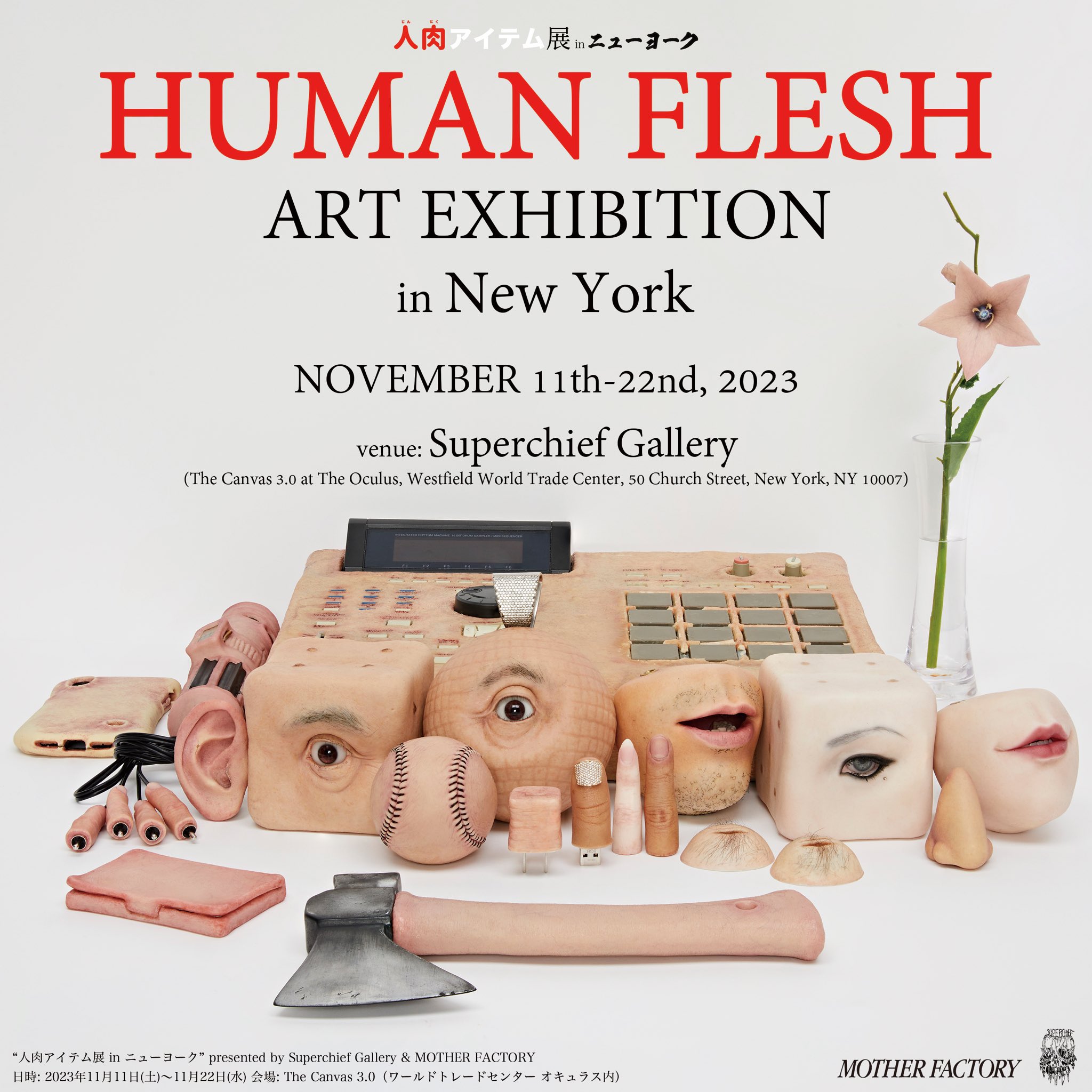 As we wrap up this week's artistic journey, remember that the world of creativity never sleeps. Stay inspired, keep exploring, and continue to support the incredible artists who make our world more colorful. Until next week, may your days be filled with art, wonder, and endless inspiration! 🎨🌟
If you enjoyed this post don't forget to subscribe and also share it with your friends and community!
Subscribe to Zenavi's Updates and never miss a post.
#nftart
#artist feature
#nft artists share
#nft
#nfts
#art