✨

5 Faves of The Week

✨

Here we goo!!! My faves of the week are here ! come show some love for these incredible artists and get to know them a little bit better. Below you will also find some fun Halloween news from the art and NFT art space! hope you all enjoy!

#1 : Cemhah x Axestone
Meet Cem, the artist with a magnetic fusion of creativity and communication skills. Originally hailing from Turkey and now making waves in London, Cem embarked on his journey as an art director in advertising. Here, he mastered the art of capturing attention and conveying messages through visuals. Yet, it was the enchantment of animation and storytelling that truly stole his heart, inspiring him to dive into the world of art. Cem's creations are a mirror of his experiences, emotions, and keen observations of the world, designed to ignite joy and curiosity in your soul. Fully immersed in digital media, he constantly pushes the boundaries of style and technique to keep your senses enchanted.

Selin Çınar, better known as "Axstone," emerges as a luminary Turkish illustrator, seamlessly fusing tradition with modernity. Across her 15-year career, Çınar has made indelible marks not just in traditional art but also within the dynamic world of NFTs. Her art is an enchanting blend of innovation, whimsy, and nostalgia, evoking vintage computer games and MS-DOS icons. This nod to retro elements, combined with meticulous detailing, characterizes her work, offering a window into the childhood memories and passions that shaped her. Çınar's creative process has evolved from meticulous sketches to embrace spontaneity, featuring bizarre animals, quirky human expressions, and retro computer graphics in her repertoire.

🍽✨ Indulge in the enchanting collaboration by Axstone and Cem Hasimi—'The Chef' unfolds a whimsical celebration of a lavish feast. Watch as food flows from one creature's mouth, feeding curious beings in a culinary magic extravaganza. A delightful symphony of artistry and whimsy awaits!

#2 : Saeko Ehara
Saeko Ehara, the Kirakira (sparkling) artist and VJ from Tokyo, embodies the shimmering essence of Kirakira in her mesmerizing creations. With a fusion of AI and Generative Art in her latest pieces, she perpetually embarks on a journey of discovery, relentlessly seeking novel ways to express the dazzling magic of Kirakira. Saeko's wellspring of inspiration is rooted in the nostalgia and pure delight of her childhood days. Her passion for drawing, her cherished Kirakira Anime cards, stickers, toys, acrylic gems, dainty glasswork, and the enchanting pages of illustrated flower books were her cherished treasures. Her enthusiasm was so boundless that time would slip away unnoticed while she indulged in her beloved activities. Through her art, she aspires to illuminate the world with the radiant allure of Kirakira, reviving the childlike wonder that resides within us all. 🌟✨. Check out her latest work "Daisy" From her Jewel Angels series!


#3 : Yucai
Meet Yu Cai, the Chinese animator and illustrator carving her creative path in Italy's NFT realm. With a decade of pro experience and an artistic past in painting and printmaking, she now invites you to a vibrant, alternative urban universe that defies the ordinary. Yu's art offers fresh perspectives on modern city living, giving you a peek into uncharted territories. From galleries to NFT spaces, she's been making waves worldwide, constantly challenging norms, and painting new landscapes in the digital realm since 2020.

In Yucai Yu's latest artwork, the viewer is transported to a futuristic urban landscape characterized by towering architectural wonders and a network of bustling thoroughfares. This city pulses with vitality as luminescent data streams traverse its veins, uniting the realms of human thought and technological innovation in a harmonious symphony. Within this captivating tableau, an unspoken dialogue emerges, exploring the dynamic relationship between the organic and the artificial, the enduring and the transient. Yucai Yu's work beautifully encapsulates the transcendence of modern existence in a mesmerizing fusion of art and technology


#4 : Rensi Ardinta
Indonesia-based artist, Rensi Ardinta, turns life's tales into vivid visual symphonies. Exploring themes from her own experiences, Rensi weaves intricate narratives using nature's symbols and delicate characters. Her signature style dances with bold, vibrant hues against flowy figures, creating a visual feast for the senses.

Dive into Rensi's latest creation, a mesmerizing collaboration with DFZ LABS for the Deadfellaz Infected series. Titled "DFZxRensi" this artwork encapsulates Rensi's iconic style—vibrant, yet shrouded in an enigmatic darkness. A kaleidoscope of emotions and storytelling awaits in this masterpiece that harmonizes the bold with the mysterious.

#5 : Riniifish
Step into the fantastical realm of Riniifish, an introverted artist whose emotions, dreams, and stories come alive in vibrant artworks. Known for her 'bugs' inhabiting the 'M7 Planet,' Riniifish crafts parallel universes and extraterrestrial civilizations, exploring themes of life, death, emotional struggles, and everyday life. In 2022, she collaborated with fashion giants like Pull&Bear, Adriana Hot Couture, and JIU JIE, while her M7 Planet series dazzled art lovers in global exhibitions. In 2023, Riniifish's art graces the pages of WePresent magazine and the French publication "Revue Maison n°0."

Dive into the surreal wonderland of Riniifish's latest masterpiece, "𝘗𝘢𝘯𝘢𝘦𝘰𝘭𝘶𝘴 𝘙𝘢𝘥𝘪𝘰," listed on mint.fun! This trippy psychedelia artwork transports you into an Alice in Wonderland-esque journey, with bug-like creatures dancing amid bold and mesmerizing colors. Let your imagination take flight and 'beep, beep...🐛' as you dream away into the sun🌿.
---
🎃

Awesome Halloween Things

🎃

Nyan Cat Spooky Spree
Come play this halloween themed game presented by Nyancat.eth created by @R3BELLABS! This was such a special surprise and definitely one that goes it my "awesomethingspplhavecreated" books!


Human Flesh Art Exhibition
Doooo is exhibiting their Human Flesh Art Brand "Mother Factory" this november in New York over in Superchief Gallery. Prepare to be fascinated by the mind-bending art of Japanese music producer and DJ, Doooo. Imagine body parts turned into everyday objects; jaws that become coin slots, severed fingers transformed into stamps, and noses reshaped into shot glasses. Doooo's creations blur the lines between human flesh and the mundane, making the ordinary extraordinary. His bizarre journey began when he fashioned a human flesh MPC for an album cover, inspired by horror and sci-fi. Now, he's on a quest to show us just how intriguing our bodies can be, urging us to see the world from a whole new, and rather weird, perspective.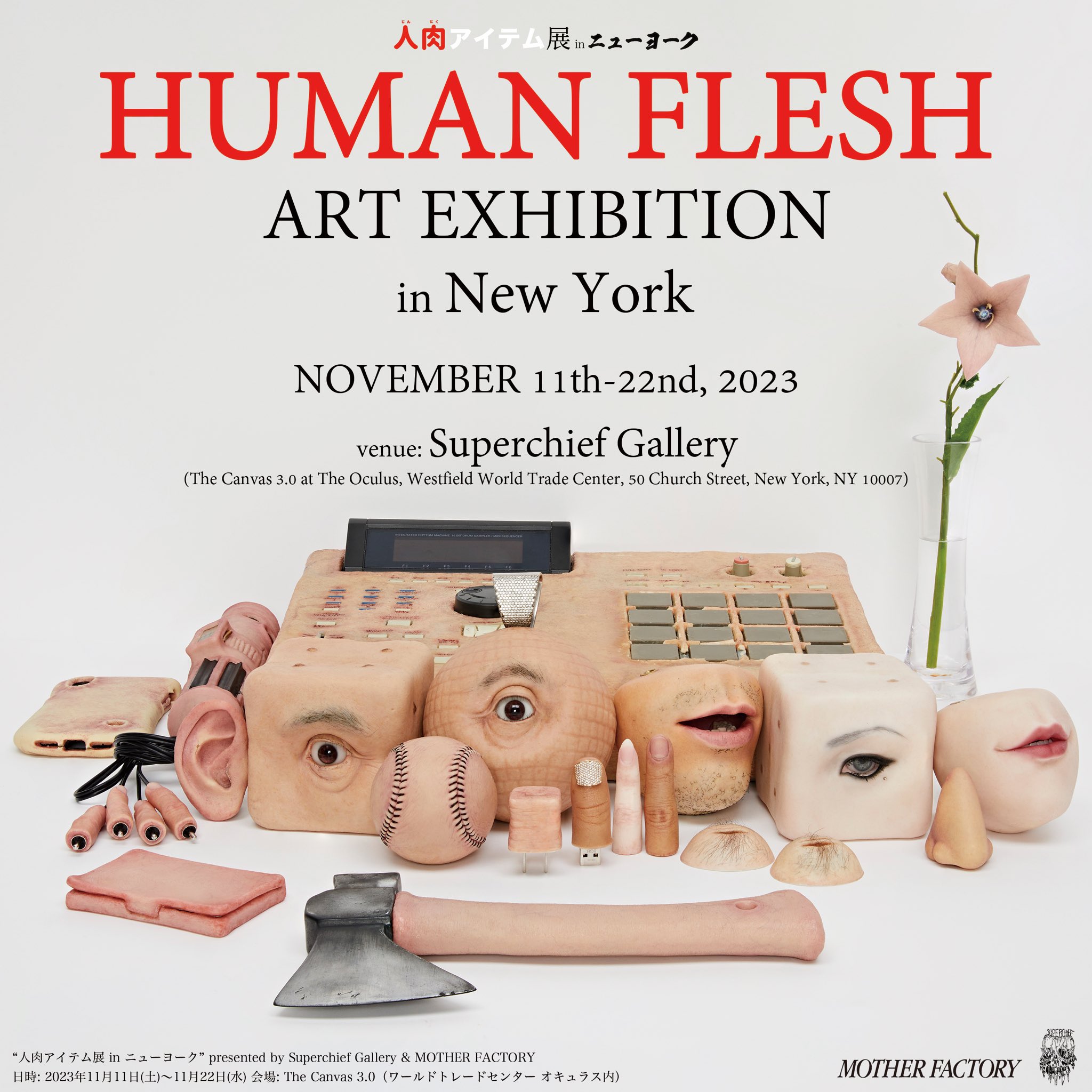 As we wrap up this week's artistic journey, remember that the world of creativity never sleeps. Stay inspired, keep exploring, and continue to support the incredible artists who make our world more colorful. Until next week, may your days be filled with art, wonder, and endless inspiration! 🎨🌟
If you enjoyed this post dont forget to subscribe and also share it with your friends and community!
Subscribe to Zenavi's Updates and never miss a post.
#nft
#nftart
#artist feature
#art
#creators
#nfts
#digitalart