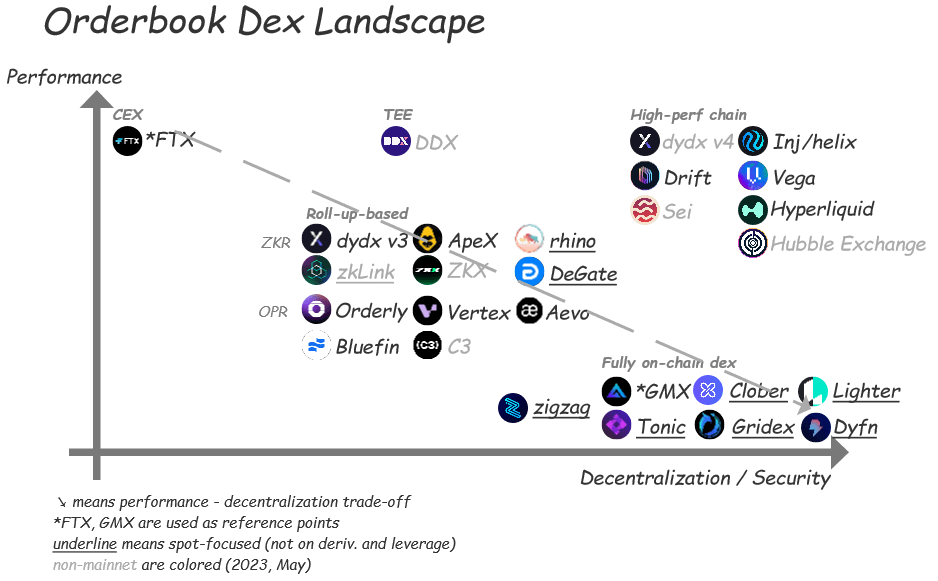 tldr
3 major types for orderbook dex: rollup-based, fully-onchain, high-perf

dydx v4, hyperliquid, vertex, aevo, orderly, apex are doing some interesting new developments in this space

security, convenience to existing exchanges and GTM strategies are the things that matter most for orderbook dex exchanges.
1/ Landscape
There are many orderbook exchanges. Understanding them involves grasping a performance-decentralization trade-off (the diagonal); increased performance implies more centralized design. Here's breakdown:
- CEX: Max performance, highly centralized (@FTX_Official)
- fully on-chain: Max decentralization, performance-limited; unfit for orderbook due to high gas fees (@GMX_IO)
- roll-up based: Off-chain orderbook for performance; settlements handled on-chain in batches for security & lower gas fee (@dYdX v3, @zkLinkorg @OrderlyNetwork)
- high-perf chain: A tailored chain to cater to the high-performance demand of the orderbook (@dydx v4, @Injective_, @vegaprotocol, @SeiNetwork)
As for metric comparison, I recommend @DefiLlama: https://defillama.com/protocols/Derivatives
2/ Interesting developments you might have missed
2.1 @dydx
v4 launch coming soon (Q3?). I admire their daring vision of creating a fully decentralized, performant exchange, which is fully open-sourced.
2.2 @HyperliquidX
A high-performance chain that seems to be developing faster than dydx 😂 (mainnet now)
- all actions are on-chain, for example, https://app.hyperliquid.xyz/explorer/address/0x63c621a33714ec48660e32f2374895c8026a3a00
- no gas for orders, curious about their DDoS defense 🤔
2.3 @vertex_protocol
one of the most feature-rich rollup-based orderbook DEX
- combines orderbook & AMM (Better composability?)
- on-chain risk management (no more liquidation by hayes 😂)
- unified margin across spot, perps & money markets
2.4 @aevoxyz
options + perp + otc; a first in the market; provides portfolio margin with strong backing from @ribbonfinance, @paradigm. They've executed very well since launch
2.5 @OrderlyNetwork
offers trading-infrastructure-as-a-service, a different go-to-market strategy. Building an orderbook DEX is challenging; if Orderly simplifies it, we may see some amazing growth similar to GMX, but strong security is also needed.
2.6 @OfficialApeXdex
while dydx has moved away from starkex, ApeX is still building on it w/ good improvs
- cross-chain deposit (eth, bsc, arb, polygon, op, avax)
- smart lp
- app
- referral
might be the most user-friendly orderbook dex atm.
2.7 @StorkOracle
A new oracle infrastructure. There're many oracles, but few see meaningful adoption outside their token 😂. And yet, Stork is adopted by @vertex_protocol and @OfficialApeXdex, as orderbook requires a faster oracle; love to see how they'll grow in future.
3/ What matters for adoption?
Due to my personal exp, I get asked a lot on what features matters for exchange adoption 🤣. exchange has innovative designs, but few gain traction. Here are my thoughts:
3.1 Security
How secure can a DEX be? My fav example is @zkLinkorg; it shows even when it is down, funds are still safu. While many DEX claim they're safe, but in reality not, campaigns like this are proof-of-security and make good players stand-out.
3.2 Low Cost & Convenience
Can users deposit from multiple chains? What's the order placement cost? How about fees, rewards, and rebates? Since users mostly come from existing exchanges, orderbook DEXs must offer a similar UX to encourage migration.
3.3 Go-To-Market Strategies
While product features are often discussed, they alone don't ensure success. Why is @dydx v3 the biggest among multiple exchanges built on StarkEx, despite having similar features?
To some extent, exchange is a network product (like twitter, fb) and liquidity is a cold-start problem. How to bootstrap liquidity? Choose perps vs. spot? How to stand out from competitors? @Bybit_Official and @bitgetglobal are good case studies if you're familiar with their journeys.
I'll leave a chart w/o comment 😉

4/ Future
We've seen remarkable progress in this space compared to the last cycle. I believe the journey doesn't stop here. Hats off to the teams shipping during the bear market, hoping we can finally free ourselves from figures like SBF and Gary 😅.
And that's it, thanks ... for feedback
and feel free give any advice, or point out any error or things I missed.
Collect this post to permanently own it.
Subscribe to ZK Zhao and never miss a post.