🌟 Hello Future Rockstars! 🌟
Welcome to the 8th official edition of the ZTalent newsletter! In this edition, we're delving deep into the realms of technology, music, and entrepreneurship, with a special focus on the impact of AI and blockchain. We're thrilled to bring you insights from two guest writers from the Web 3 Academy Writers Guild and an exclusive preview of an upcoming event that's a must-attend for musicians. Let's get started!
---
Here's What to Expect from Each Newsletter
Rhythm & Tech Digest: A weekly roundup of how technology is reshaping the music landscape.

PlugIn Pulse: A weekly spotlight on a tool or plugin that can redefine your music creation process.

ZTalent Vibes: The latest updates, news, and opportunities within the ZTalent community.
---
Rhythm & Tech Digest: Biden's AI Executive Order – What It Means for Americans
Guest Writer from the web 3 academy writers guild: Pam Lokker
Pam is a skilled content writer specializing in B2C and B2B for SMBs, with a focus on SEO, IT, web3, and AI. Explore her insightful work at Pam's Website.www.borlokvirtualassistants/
In this insightful article, Pam Lokker explores President Biden's AI Executive Order and its significance for Americans. The order sets new standards for AI safety, security, privacy, and equity, aiming to position America as a leader in responsible AI innovation. From addressing algorithmic discrimination to promoting innovation and competition in AI projects, the Executive Order is a comprehensive strategy for responsible innovation.
Biden's AI Executive Order – What It Means for Americans.
Balancing Innovation and Equity: How the Order Manages AI's Risks and Promotes Fairness.
President Biden has established New Standards. It's time for America to step up to the plate as a leader in protecting against the risks of Artificial Intelligence. What does this mean for you? In this article, we will look at what the President's Executive Order will cover.
1. New and improved standards for AI safety and security.
2. Your privacy.
3. Improved fairness, diversity, equity, and civil rights.
4. Increased protection against AI misuse.
5. Advanced support for employees in the workplace.
6. Promoting innovation and competition in AI projects.
7. Advancement of American leadership globally.
8. Government's role in monitoring AI.
As part of the Biden-Harris Administration's comprehensive strategy for responsible innovation, the AI Executive Order (EO) does not focus on current needs. Instead, it also incorporates previous actions the President has taken.
New Standards for AI Safety and Security
Everyone recognizes that AI's capabilities are steadily growing. To that end, the President has implemented standards to ensure Americans are kept safe against the risks of artificial intelligence. Never before have Americans received this measure of protection. What are the areas this protection will cover?
Developers will need to share safety test results and other information.

The development of standards, tools, and tests that will ensure AI systems are safe, secure, and trustworthy.

Safeguards against AI being able to engineer

The prevention of AI-enabled fraud and deception.

The creation of an advanced cybersecurity program.

In addition, development of a National Security Memorandum that directs further actions on AI and security
Your Privacy
In the AI Executive Order, the President laid out a plan to protect your privacy. Your privacy is now going to receive recognition Americans are concerned about. Congress has a directive requiring bipartisan data privacy legislation to protect all Americans, including children, with appropriate federal support.
In addition, funding a research coordination network will be critical in strengthening research and technologies in privacy.
Where do agencies get commercially available information? That information and information obtained from data brokers will now be evaluated. Procedures will be implemented to support privacy guidelines to account for AI risks.
In addition to what the AI Executive Order presented, federal agencies will now have a way to evaluate their effectiveness in protecting your privacy.
Advancing Equity and Civil Rights
Our country is a mess when it comes to discrimination, bias, and other groups. A real potential of AI is that it can make the abuses worse. To avoid this, President Biden has included in the EO three ways to failsafe AI from doing this in justice, healthcare, and housing. How? Let's look.
There must be clear guidelines for landlords, Federal benefits programs, and federal contractors on how to act responsibly and avoid discrimination.

Address algorithmic discrimination. You might ask what this term refers to. It's a shortened version of referring to automated systems contributing to treatment that is uncalled for. Algorithmic discrimination can only be corrected through training, technical assistance, and the Department of Justice and Federal civil rights offices working together.

To further the cause for fair treatment in our criminal justice system, the AI Executive Order specifies the development of best practices using AI in sentencing, parole, probation, pretrial release and detention, risk assessments, surveillance, crime forecasting and predictive policing, and forensic analysis.
Thus far, we have discussed new and improved standards for AI safety and security, your privacy, and improved fairness, diversity, equity, and civil rights. Ah, but there is so much more. Are you ready to see what else applies to you and all Americans? Before I go on, however, I thought you would appreciate this AI summary that covers our look into what the President has drafted thus far.
A quick song from an AI app
"(Verse 1)
Biden's order sets the stage,
For AI to turn a page,
Safe, secure, and trustworthy,
That's the goal, it's plain to see.
(Chorus)
Let's lead the world in innovation,
Harnessing AI's transformation,
Privacy protected, rights secured,
A future where progress is assured.
Well, dadgummit, what about treating consumers, patients, and students with dignity in the AI environment? Huh? Let's look at that for our next section.
Increased protection against AI misuse
AI can benefit consumers—for example, by making products better, cheaper, and more widely available. But AI also raises the risks of injuring, misleading, or harming Americans. To protect consumers while ensuring that AI can make Americans better off, the President has established many actions.
As we advance, we must ensure that artificial intelligence is used wisely in the healthcare sector. The Department of Health and Human Services will establish a safety program to track and fix any harmful or unsafe healthcare practices involving AI to assist this accomplishment.
In addition, AI will be geared up to transform education. The use of AI-enabled resources will be created to support educators. Moreover, new tools must be developed to advance student learning and help personalize school tutoring.
Advanced support for employees in the workplace
Have you asked yourself what about me in this rapidly evolving environment of AI? Artificial intelligence offers hope for the future, but it also elicits fear as many workers worry their jobs will be either replaced by AI or done away completely. The development of standards and best practices to lessen the potential ill effects of AI and reporting the impact of AI will be at the forefront of protecting workers.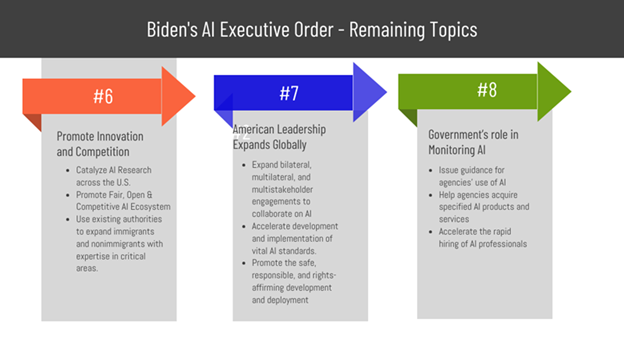 Bidens AI Executive Order – Created by Borlokva using Venngage Infographics
Promoting Innovation and Competition
America already leads in AI innovation—more AI startups raised first-time capital in the United States last year than in the next seven countries combined. The Executive Order ensures that we continue to lead the way in innovation and competition through the following actions:
Initiate AI research across the United States. This will be secured through a pilot of the National AI Research Resource.

Promote a fair, open, and competitive AI ecosystem.

Use existing authorities and expand the abilities and skills of immigrants and nonimmigrants.
Advancing American Leadership Abroad
AI's challenges and opportunities are global. The Biden-Harris Administration will continue working with other nations to support safe, secure, and trustworthy deployment and use of AI worldwide. To accomplish this, the recommendations are:
To involve all responsible parties worldwide to collaborate on AI.

Incorporate the development and implementation of vital AI standards with international partners and in standards organizations.

Be a catalyst in endorsing safe, responsible, and rights-affirming development and positioning of AI abroad.
Our government's role in monitoring AI
Artificial intelligence can assist our government by making better decisions that make life better for Americans. But if not regulated, AI also presents many risks. There are three actions included in Biden's AI Executive Order to ensure the responsible implementation of AI:
Guide and direct how agencies should use AI.

Help agencies purchase AI-related products and services faster and

Streamline the process of hiring AI professionals quickly.
In this article, we looked at the directives in his order that include AI safety and security, privacy and equity, innovation and leadership. But most of all, we looked at what this Executive Order means for you.
Recent news reports indicate there is more that needs to be ironed out. Let's hope that this AI Executive Order is not complete. Biden's AI Executive Order is a beginning and not an end. Americans will be better off with these actions. However, as we all know, artificial intelligence is ever-evolving. It will take some more work before you can feel truly safe and secure while your privacy and rights are protected.
---
PlugIn Pulse: Royal.io - Your Web3 Gateway to the Music Industry
Guest Writer from the web 3 academy writers guild: Charles Carr
Charles is a proficient Web3 and B2B copywriter, crafting compelling content for both the Web3 space and the Telecom industry. Discover more about his work at Charles's Website. salesboostingcopy.com
Imagine this: you're an indie pop star, strumming your heart out on your beat-up guitar, dreaming of making it big.
You've got the talent, the passion, and a head full of tunes that are just waiting to be heard. But the music industry, well, it's a fortress with sky-high walls, and you're just a hopeful with a slingshot, hoping to break through.
Enter Royal.io, a marketing tool that can act as a battering ram.
Not only can it blast open those great iron gates, granting you access, but it also puts you center stage.
Where music meets investment
As a musician, you can use Royal to share a percentage of streaming royalty rights with fans and collectors, allowing them to be co-owners of your songs or albums.
In essence, you get the financial support you need to keep creating, and the fans get to share in the profits of their favorite musician.
Changing the music game
Royal.io is reshaping the music industry by selling music rights as limited digital assets - NFTs.
Backed by renowned musicians like The Chainsmokers, Logic, and Kygo, it has even created a novel marketplace where music royalties are traded, like stocks or real estate.
With Royal.io, you can choose how much of your streaming royalty rights you want to sell, allowing you to raise as much or as little capital as you need.
In addition, you can also offer exclusive curated benefits to your fans and investors who buy royal tokens, such as merch, access to private listening parties, meet & greets, and more.
So check them out; it's a great way to connect with your fans and reward them for their support.
---
ZTalent Vibes
Event Spotlight: History of the Blockchain 4 Musicians
Date: Sat, 18th November

Time: 5 PM PST / 8 PM EST

Location: Twitter Spaces

Event Focus: Educating musicians about the history of blockchain technology and its applications in the music industry.

Co-Hosts: ZTalent Agency, Ohnahji University, NPC Labs, UVR, Music Tech Connect, W3A Writers Guild, Community of Communities, and more.

Join Our Discord Community: https://discord.gg/trBJbPDm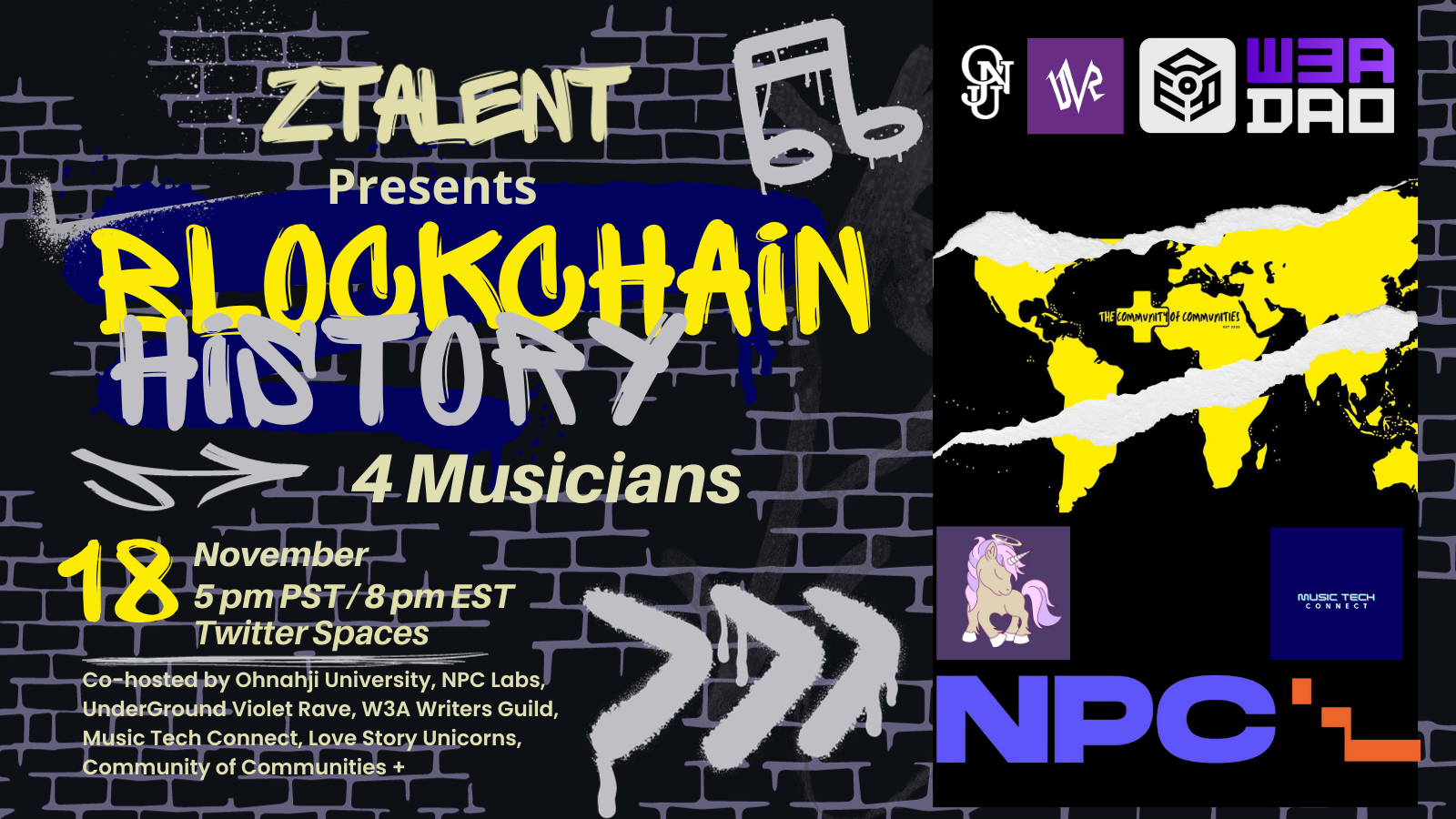 ---
That wraps up the 8th edition of the ZTalent newsletter! From exploring the intersections of AI, blockchain, and music to spotlighting tools that empower artists, we hope this edition has struck a chord with you.
A huge thank you to our guest writers from the Web 3 Academy Writers Guild and to all of you for being an integral part of the ZTalent community. Your enthusiasm and inquisitiveness drive us forward in this exciting journey at the crossroads of music and technology.
Stay tuned for more insights, opportunities, and breakthroughs. Let's continue to explore, innovate, and rock the new world of music together!
Rock on, The ZTalent Team 🚀
P.S. Comment if you like the longer form content!
Sites:
Pam's Website: www.borlokvirtualassistants/
Charles' Website: salesboostingcopy.com
Collect this post to permanently own it.
Subscribe to ZTalent Newsletter and never miss a post.
#music
#blockchain
#web3
#nfts
#ai