We're excited to announce Paragraph Referral Rewards - a new way to get rewarded for helping your favourite creators, and Paragraph, grow.
Simply share any Paragraph link with a wallet address (or ENS) in the URL, and get paid with crypto - instantly - whenever users click on your link and take a qualifying action. And, if users sign up to Paragraph as a creator using your URL, you'll get an ongoing reward every single time they monetize.
Think of this as a super-charged, built-in referral program. It's a new way to incentivize readers, curators, and platforms to drive growth to your publication (and get rewarded for doing so).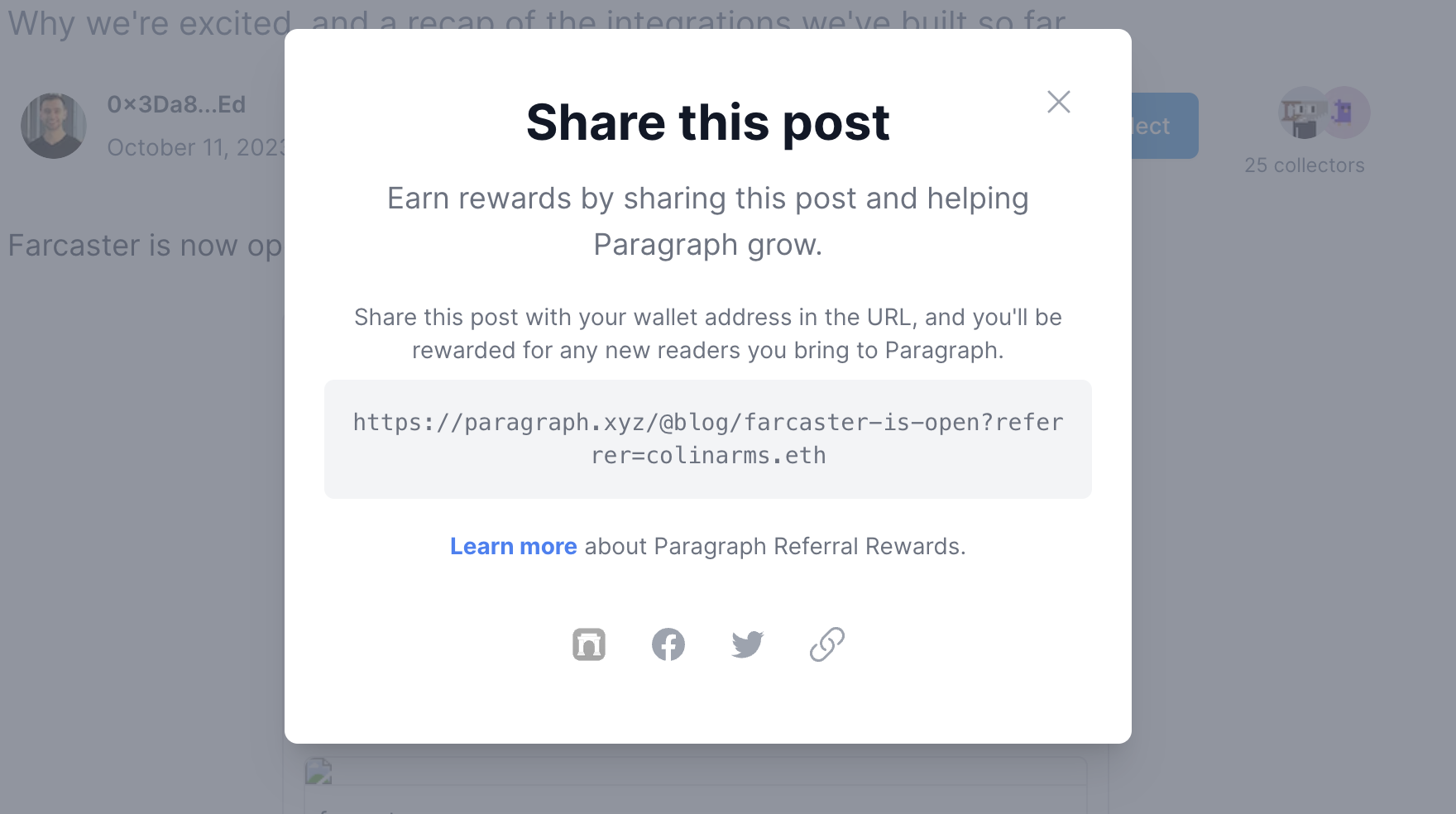 Background
Referral programs have historically driven significant growth for creators, but the rewards for these programs were often limited to physical goods (e.g. creator merch) or discounted exclusivity (e.g. a free month of paid subscriber access). Additionally, signup and setup on a per-creator basis were required.
Recent innovations in crypto, such as Zora protocol rewards, have introduced a crypto-native layer of incentives to help drive growth. No signup is required to start referring, payouts are immediate and transparent, and smart contracts ensure the underlying referral program never changes.
With Paragraph Referral Rewards, we're combining the best of both worlds: we're incentivizing growth for creators, while using the benefits of crypto to immediately and transparently pay out referrers (with no setup required).
Rewards for helping creators grow
Starting today, every link on Paragraph can be shared with a referrer param in the URL, referencing a wallet address or ENS, eg:
https://paragraph.xyz/@blog?referrer=colinarms.eth
Whenever a user clicks on that link and collects a post, the referrer will get a reward immediately sent to their address.
Rewards for helping Paragraph grow
If someone signs up to Paragraph as a creator using that referrer URL, the referrer wallet address is stored on this user's account. Every single time this new creator monetizes on Paragraph, the referrer wallet address receives a reward - indefinitely.
Reward Details & Future Improvements
We've added a 0.000777 ETH fee to all collectible posts in order to reward curators, referrers and creators. This fee is split between the creator of the post, the mint referrer, the creator referrer, and Paragraph.
Right now, the only action that qualifies for a referral reward is a collectible post, but we'll be expanding the qualifying actions in the future to incentivize and help drive even more growth.
We've also added a new 'Share' button to every post. When logged in to your Paragraph account, you can use this button to automatically append your wallet address to the URL:

For reward breakdown specifics, please see this link in our docs. For more information on the program and FAQs, please visit this referral rewards landing page.
We look forward to seeing Paragraph creators grow, and for ensuring readers and curators are rewarded for helping drive this growth.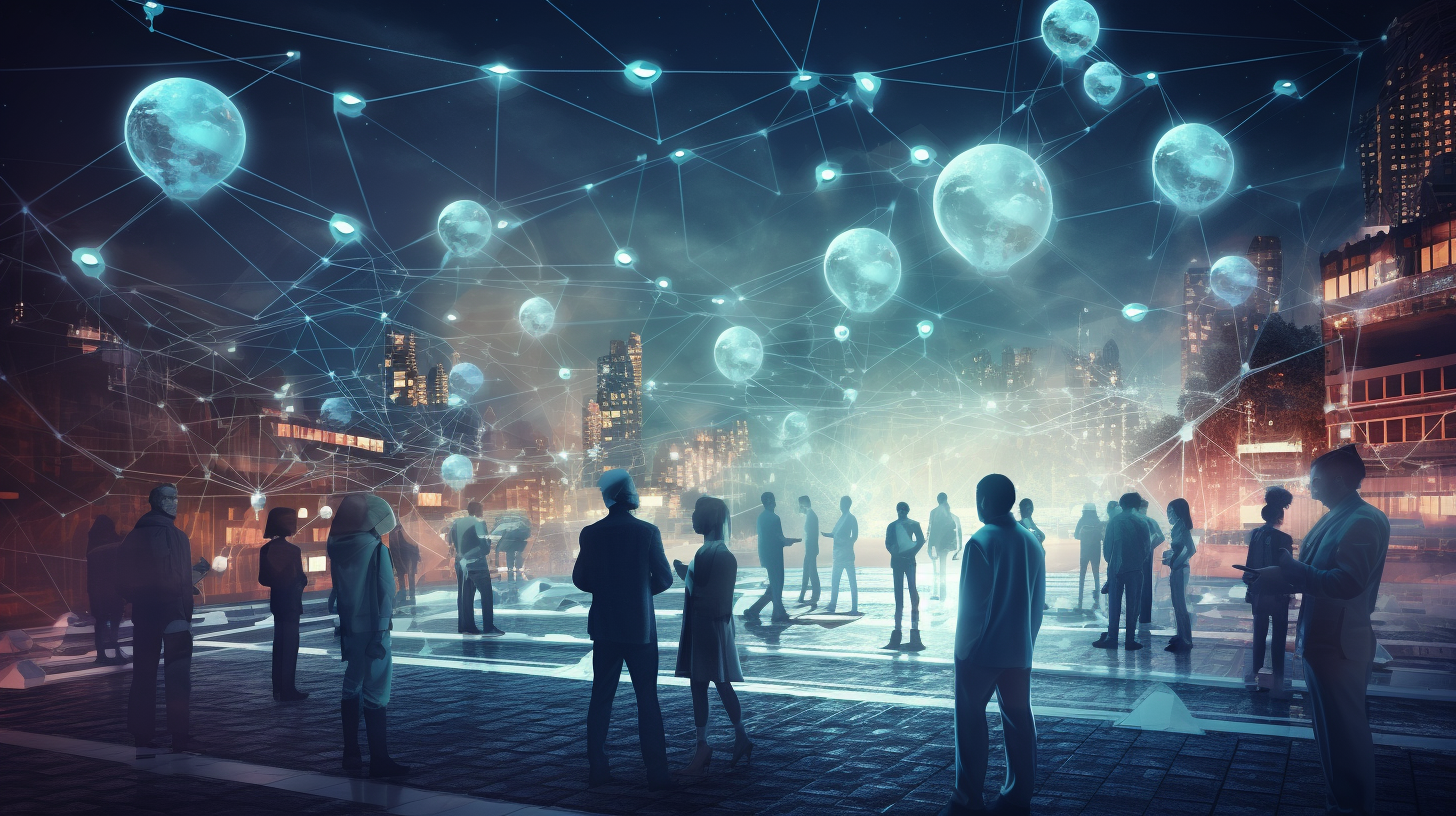 Collect this post to permanently own it.
Subscribe to Paragraph and never miss a post.