Over the past week or so Builder DAO has been mentioned in several podcasts. Check out the links below to listen to Builder DAO member Chris Carella on The Noun Square's Zero Rights Reserved podcast (head over to Zora and mint yours today) and the Friday Recap on the Overpriced JPEGs podcast hosted by Carly Reilly and Zeneca! I also dropped a link to the episode of OP Radio I mentioned recently which is now available on all platforms.
Updated Builder DAO Description
With the passing of Proposal 66, Builder DAO and the Nouns Builder Protocol have adopted an updated Mission, Vision, and Values. The "About" tab below the Builder DAO auctions has yet to be updated to reflect this change though. Prof Werder is proposing we change it to the text below. Please add any thoughts or comments to the Discord thread here.
The BuilderDAO mission is to develop DAO infrastructure as a public good, enabling decentralized, inclusive, and transparent decision-making processes that empower onchain communities to shape their collective futures.

Builder DAO established an Unincorporated Nonprofit Association (UNA) in Wyoming for its US operations. For more information about the DAO's org structure, please visit https://forum.nouns.build/.
Art from the winning entries in the Builder DAO Art Pack Prop House Round has been added to CC0-Lib.wtf. Head over to the website here and search for one of the winning entries to download their art!
Proposal Tracking
Just wanted to drop a quick reminder about the Proposal Dashboard which I have been maintaining in Notion. If you ever have questions about previous proposals, you can find general info in the document and links to the discussions of each proposal for more details. If you ever have any links, media, or even corrections you'd like to suggest, feel free to contact me on Discord (0xSatori) or Twitter (@0xSatori) any time.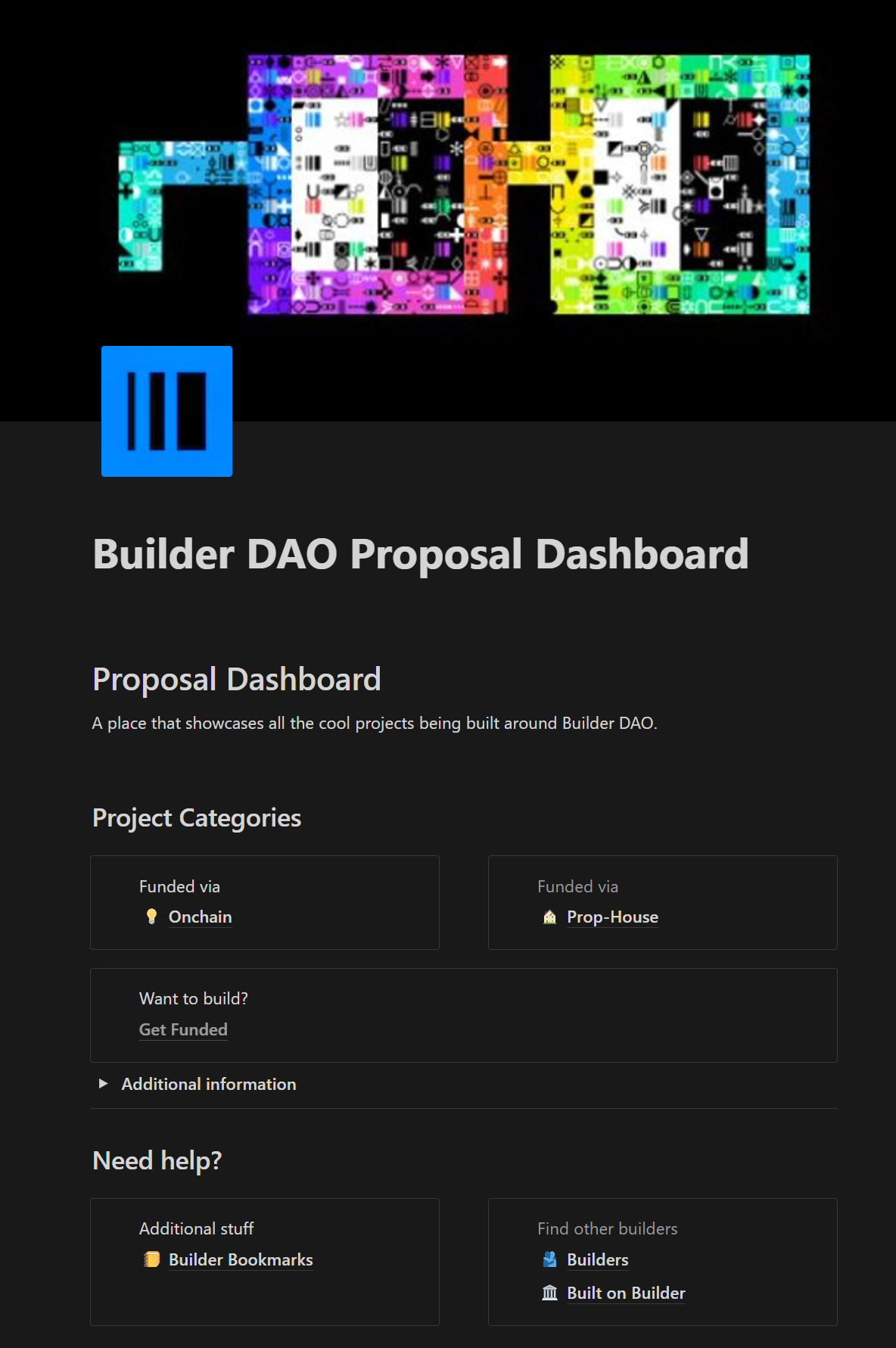 Protocol Rewards Discussion
The discussion about the implementation of protocol rewards continues! The details need to be ironed out as soon as possible so our engineers can implement these rewards in upcoming Builder protocol updates. Please take some time to review the latest HackMD document here and contribute to the conversation in Discord here.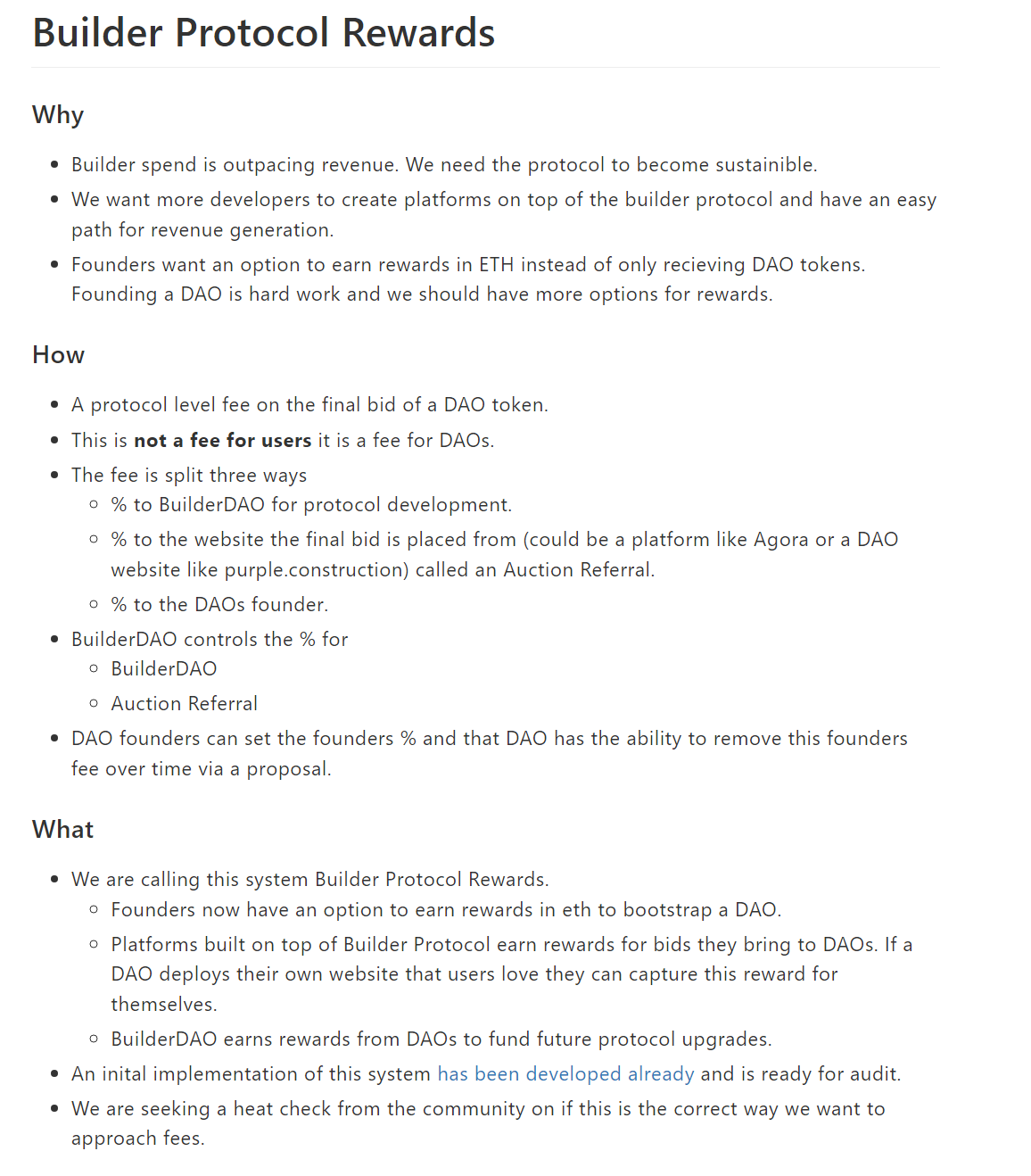 ---
Infinite Dev Round Winding Down
Unfortunately due to a lack of submissions to the round, our Infinite Dev Round is ending and the ETH will be returned to the treasury. I'll include one final update when this has taken place.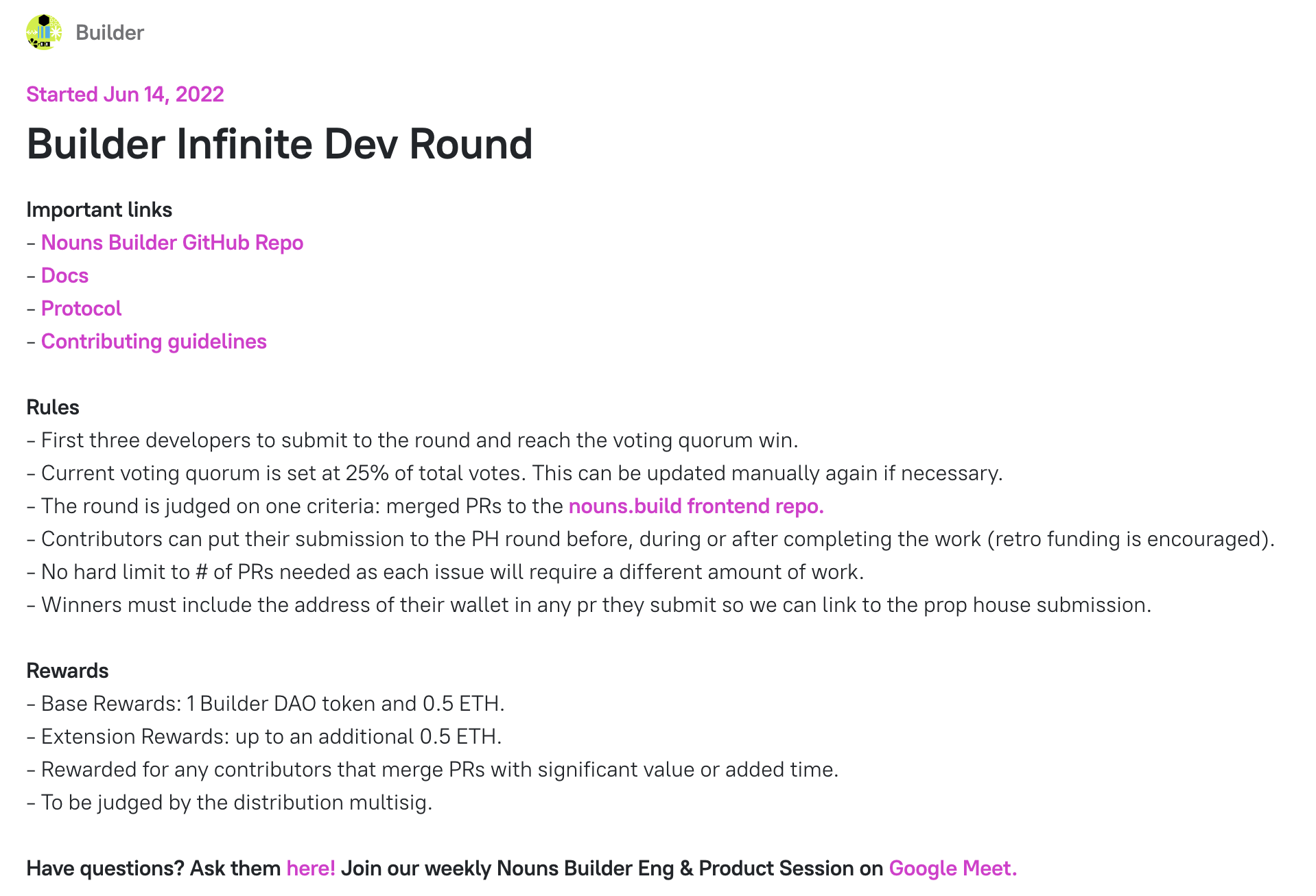 Builder DAO BuilderBox on TNS
Every week on Fridays at 12:30 pm EST Prof Werder and Toady Hawk host BuilderBox live at The Noun Square! Follow the BuilderBox Twitter account to keep up with the latest news. If you aren't able to make it, you can always go back and listen to the recording. This week's recording can be found here.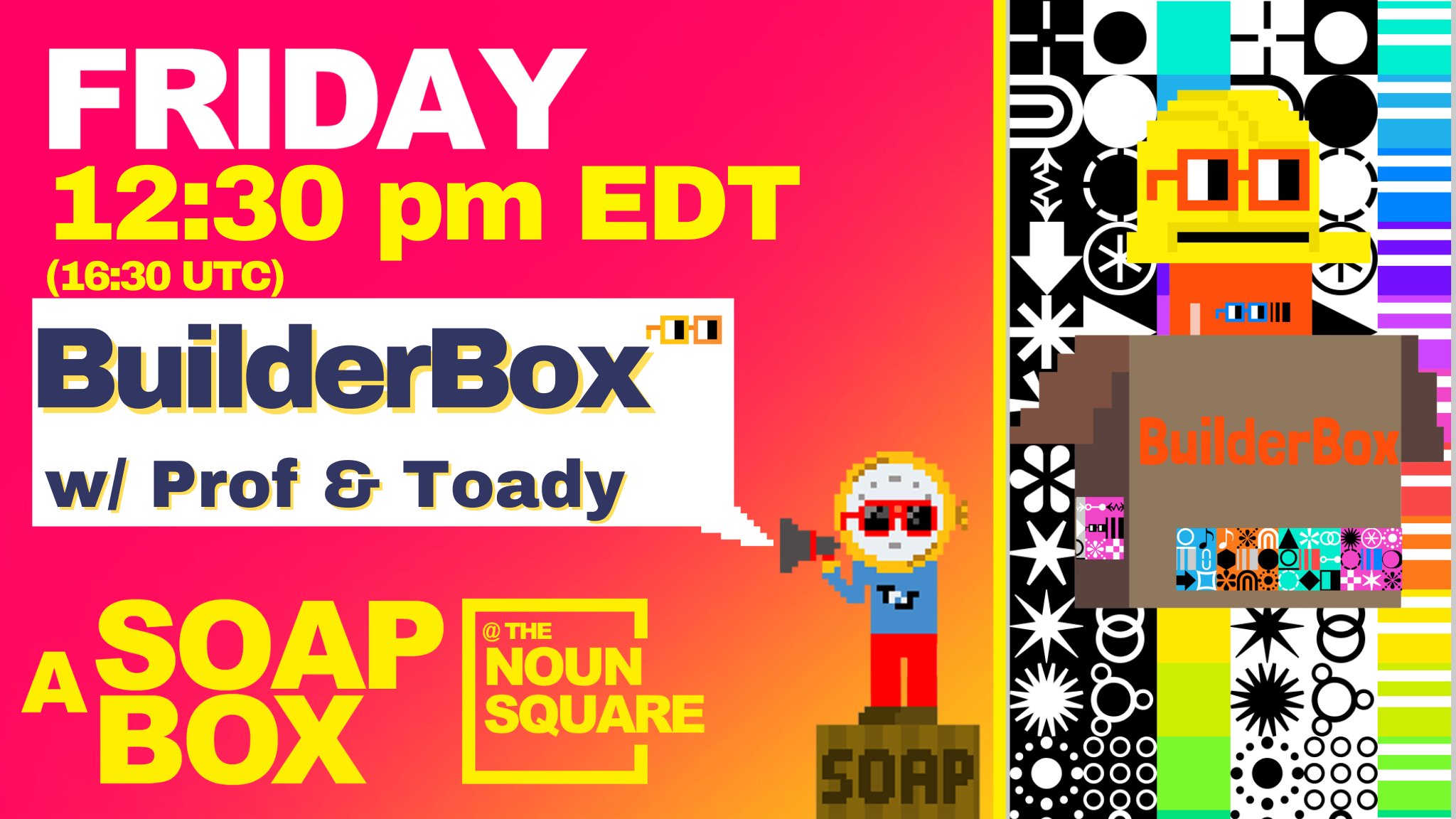 Builder DAO Meetings
The weekly Builder Office Hours call hosted by Prof Werder is every Wednesday at 4:00pm EST. Prof will be available to answer all of your Builder DAO and Nouns Builder questions! Register your interest in the next Office Hours call in Discord here.
In addition to the weekly office hours, the Builder monthly call takes place on Thursdays at 5:00pm EST, the next call is not scheduled yet so keep an eye out for a new event created in Discord. This past Builder monthly meeting occurred on September 21st, the recording can be found in Discord here and the agenda is below.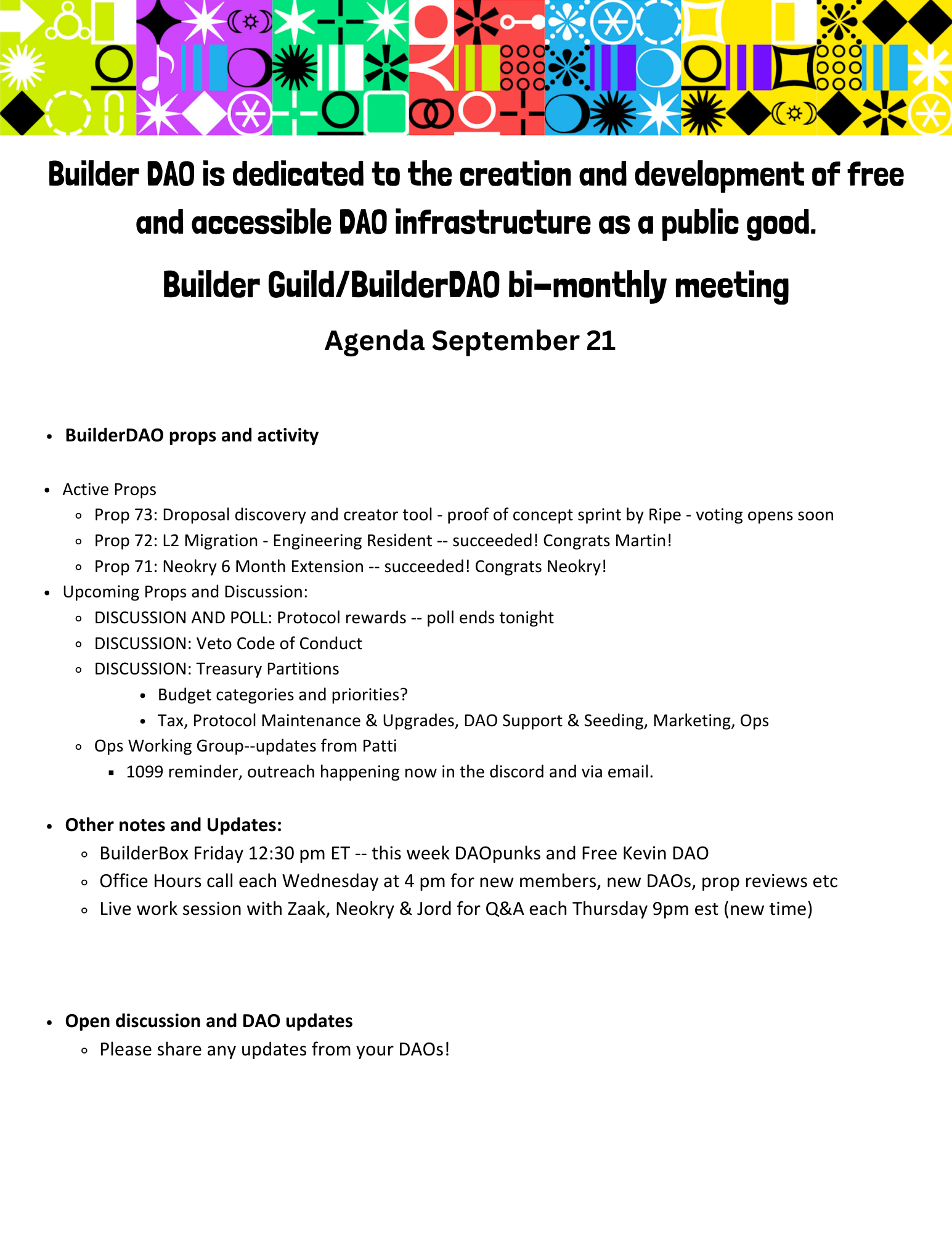 Public Work Session
Zaak and Neokry hold public work sessions every Thursday at 9:00 pm EDT (1:00 am UTC)). This week they will be joined by Jord as well. If you have any questions about the work they are doing, ways you can contribute, or even the Infinite Dev Round please feel free to pop in and join them during this session! You can find the latest work session notes and recordings here on GitHub. Details on the next Public Work Session are available here.
Builder Channel on Farcaster
The Builder Channel on Farcaster displays a feed of activity from members of Builder including casts and onchain activity such as auctions, proposals, and votes. You can also now see the DAO feed directly on the nouns.build website by clicking 'Feed' as shown in the screenshot below!
It's a really great way to keep up to date with your fellow Builders! There are no longer invites to join the platform, instead wallets that are holders of certain NFTs (including Builder DAO tokens!) are eligible to register.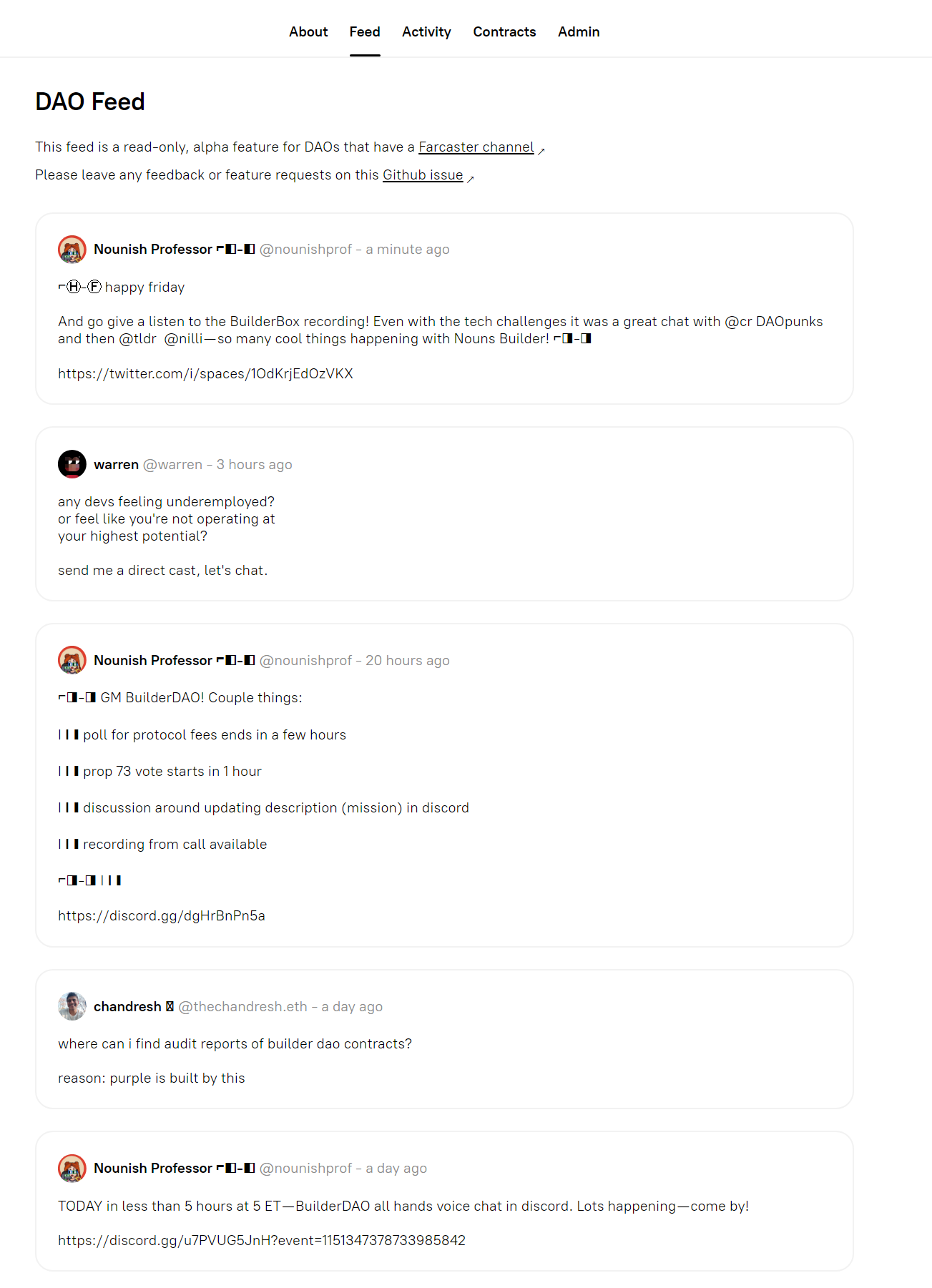 Newsletter Artwork
The art featured in this week's newsletter was created by myself using the NounsAI playground. If anyone wants to send me artwork they've drawn or generated with AI, please DM me on X or Discord, and I will include your art and a shoutout in a future newsletter!
Builder DAO Fun Fact
There are 9 quadrants for each builder token. The center quadrant includes the logo with 15 different color options.
---
Protocol Stats
Nouns Builder Deployed: 108 DAOs Deployed*
DAOs Launched on Builder Protocol: 135 DAOs Created
DAOs income from Auctions: 479 ETH*
Nouns Builder Proposals: 532 Total Proposals (+10)
For regular updates, follow the Nouns Builder DAO Bot on Twitter or Farcaster.
*Due to changes on Dune Analytics, these stats are not being actively updated. This note will be removed when the latest stats are available.
---
Proposals
Active
Passed
---
Built on Builder
This week's featured DAO built on the Builder protocol is The Homies DAO! The Homies DAO is a community that is focused on making space for creators to connect, collaborate, and receive support for their work while emphasizing the importance of wellness in Web3. Founded by Iman Europe, the organization focuses on the heart of artists and their needs beyond creating.
Website: https://thehomiesdao.xyz/
Auctions: https://nouns.build/dao/ethereum/0x785c9e48b8ff3f75d970932b89a16fba723a1195
Twitter: https://twitter.com/TheHomiesDAO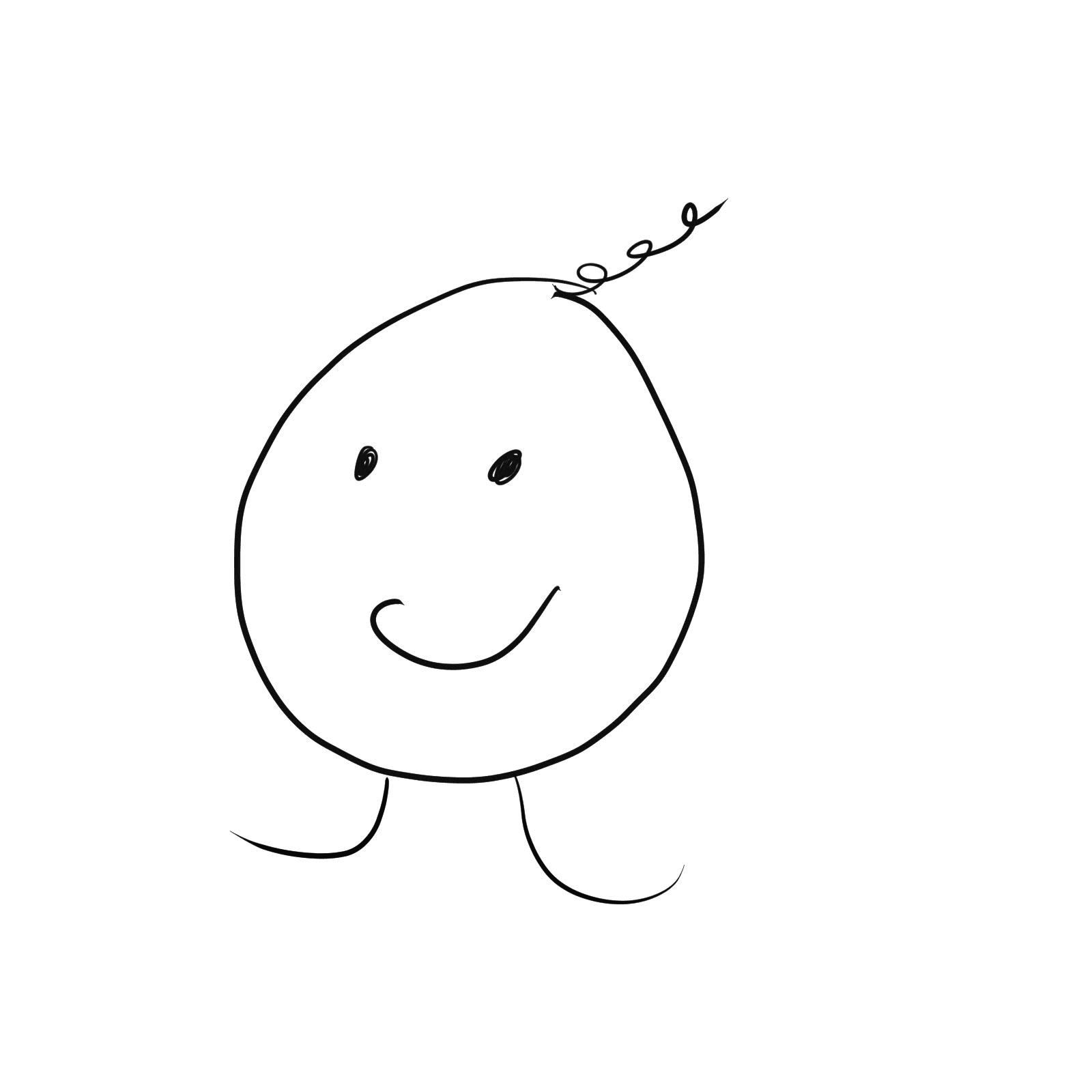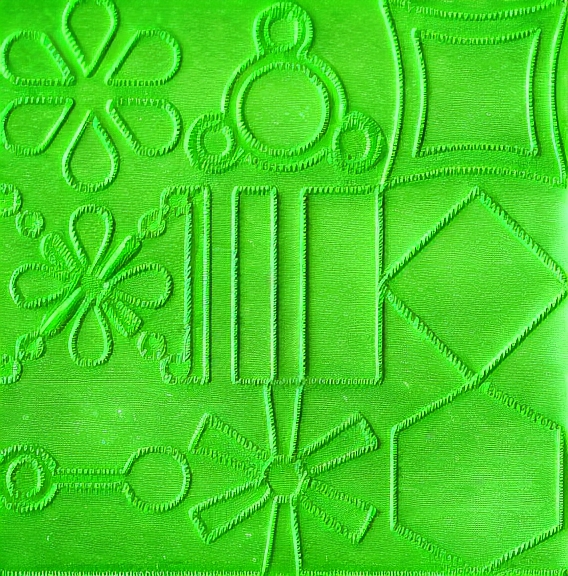 Collect this post to permanently own it.
Subscribe to Builder Buzz and never miss a post.