The Nouns Gardener selection Prop House round concluded voting last night, with 24 applicants being elected to a Gardener position. The Gardener role includes a unique Nouns Gardener NFT which enables them to be the curators of the bi-weekly Nouns Prop House rounds for the next 3 months. Huge congratulations to all Builder DAO members who have been elected as Gardeners! 9 of the top 24 applicants are also Builder members: index, mikegood, mrtn, ccarella, onion, toadyhawk, benbodhi, and LGHT. Again, congratulations on being selected for this prestigious position, we know you'll tend the Nouns Garden well!
Welcome New Builders!
We've also got some fresh faces joining the Builder DAO family: consecution.eth, iain.eth, and dustmrtn.eth. A warm welcome to our three newest members! We're super excited to have you on board and see the fresh perspectives you'll bring to the DAO.
BotFrens Builder Community
The BotFrens Builder DAO community is now live and available for everyone! You might have seen the bots that share updates on auctions, DAO spotlights and fun facts, and even token art showcases to Twitter and Farcaster. Now you can share posts from these Builder bots directly to your social feeds to help amplify content about Builder DAO. Thanks to Andrei and the BotFrens team for this awesome work.

Droposal Tool Updates
Ripe is making amazing progress on the Droposal discovery and creator tool from Proposal 73. Catch up on his updates in the Prop 73 thread in Discord to read through his updates and watch the demo videos he has been sharing. It is coming along really nicely and looks promising to be a very powerful tool for creators.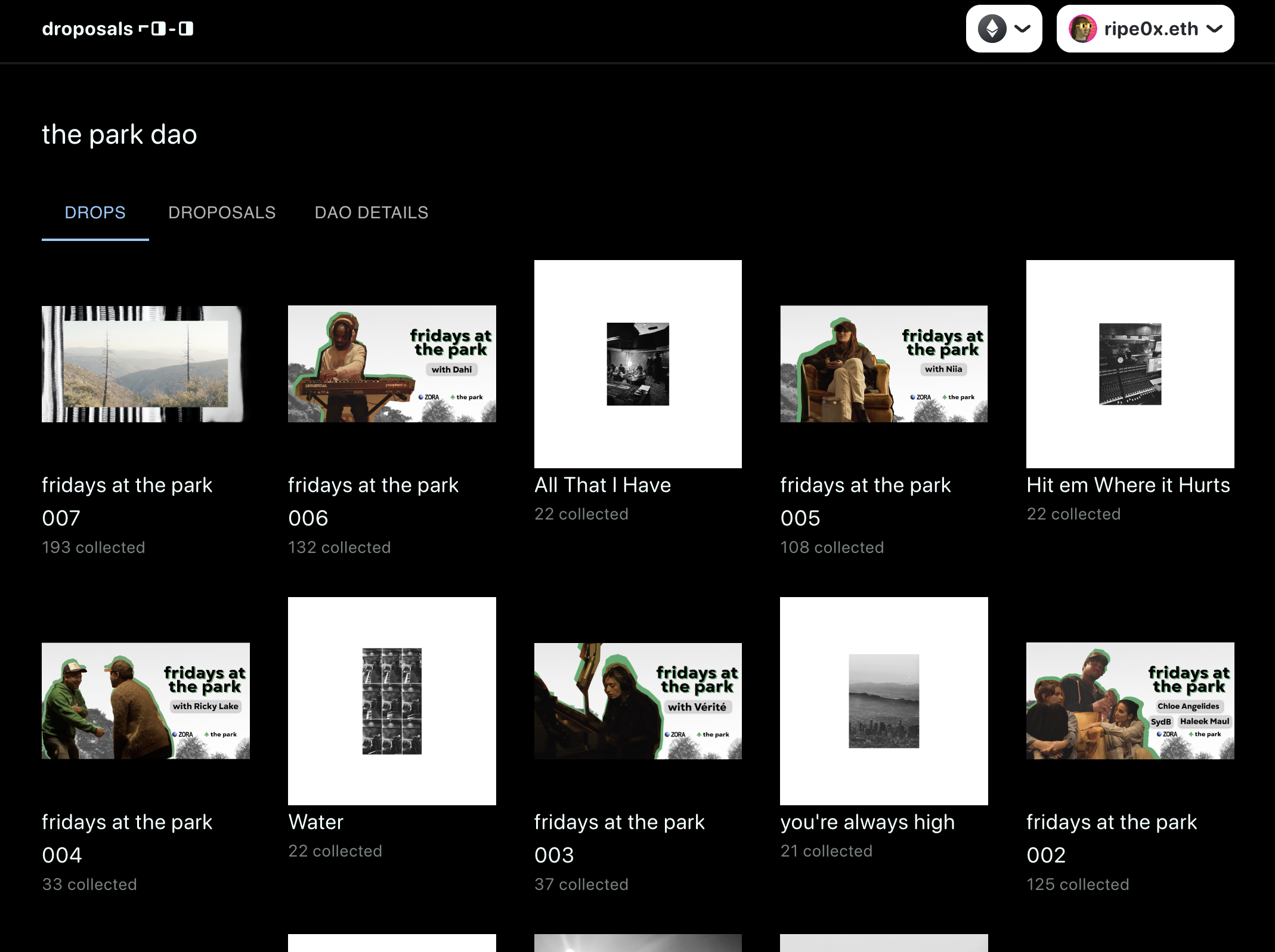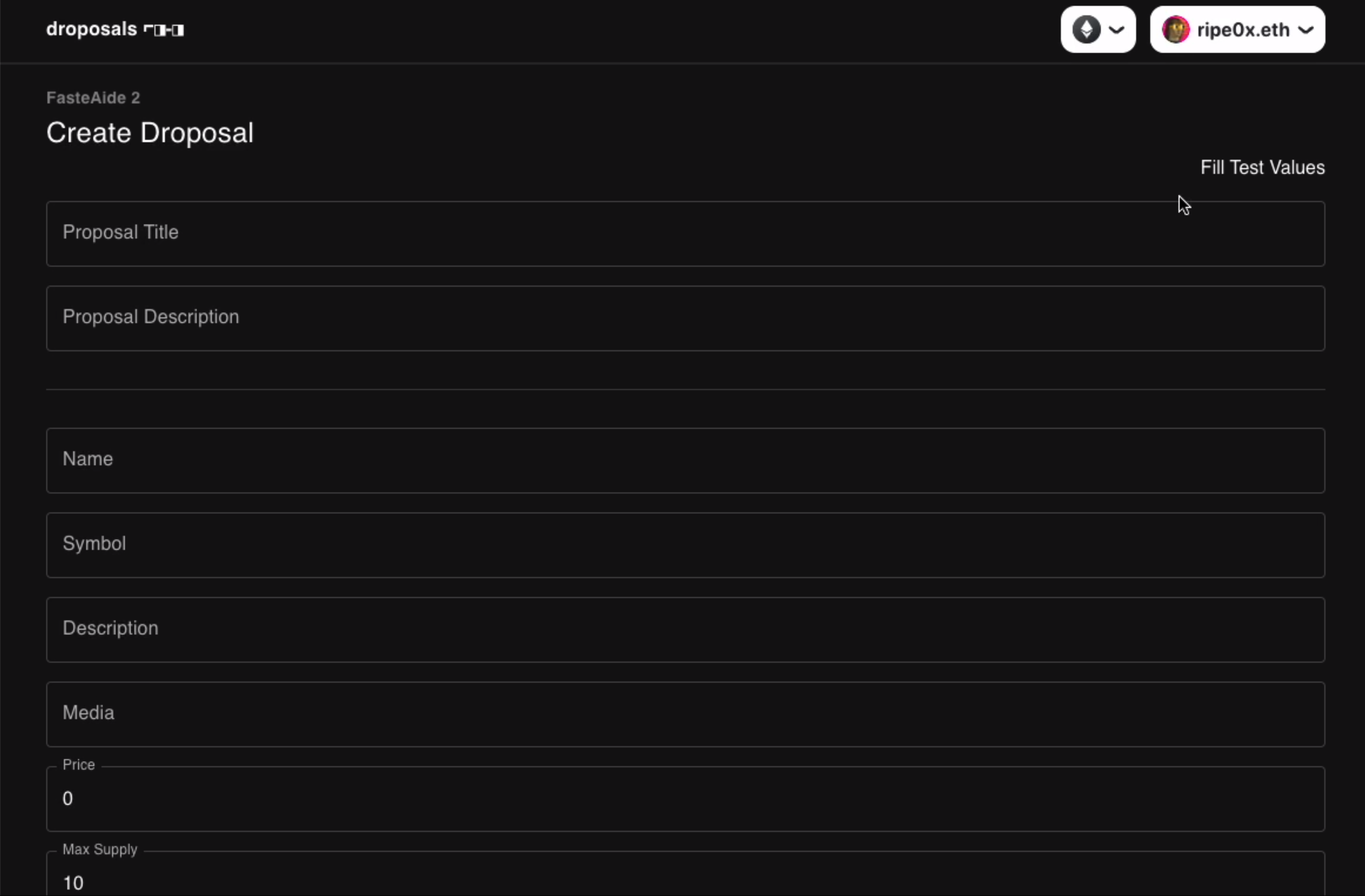 Burn Tokens, Mint Art
By default, when a token does not receive a bid at auction in most nounish DAOs it is burned by being sent to the '0x00...00dead' address. Many DAOs have discussed sending these tokens to the treasury instead of letting them go, and some DAOs already do so, such as Alps DAO. Builder member Chris Carella has shared a more interesting perspective on burned tokens. Over at ENERGY, a beautiful token was recently burned, and instead of letting this beauty go forever, they are turning it into a droposal. The droposal will enable everyone to mint and collect the artwork from this token and allow the DAO to earn the Zora protocol rewards. This is a brilliant idea and one that more DAOs should consider. But, he takes this idea a step further in the essay below, where he explores the possibility of every token being offered as a free mint collectible in addition to the auction. Check it out and share your feedback in Discord or on Farcaster!
Pre-Launch Collaboration
LGHT shared another interesting idea regarding community collaboration prior to launching a DAO. Imagine a portal where a founder can enable the creation of a community and allow aspiring community members to submit their own multi-media to be considered for acceptance as token artwork upon launch. This would open up the doors for founders to engage the community in a much more meaningful way before they ever even launch. What sort of creative things could you see happening with a tool like this?

Coffee, Onchain
The Park, a DAO built on the Builder Protocol, recently started selling coffee that comes with an onchain 3D NFT. They even received a shout-out from the official Base Network twitter account! Go support Builders in The Park and buy some coffee at happyfriday.coffee!
ENERGY Creators House at Bright Moments
Kismet Casa is a creator's house during Bright Moments Buenos Aires. The Kismet team assists creators in preparing their applications and selecting artists, then provides accommodations and groceries to ensure that passionate individuals are able to attend without the concern of financial barriers. The goal is to provide an opportunity for like-minded individuals to connect, collaborate, and share knowledge, enriching the experience for all who attend. Check out their proposal to ENERGY here and follow along on Twitter for more.
---
Builder DAO BuilderBox on TNS
Every week on Fridays at 12:30 pm EDT Prof Werder and Toady Hawk host BuilderBox live at The Noun Square! Follow the BuilderBox Twitter account to keep up with the latest news. If you aren't able to make it, you can always go back and listen to the recording. This past week's show featured Builder member Chris Carella, the recording can be found here.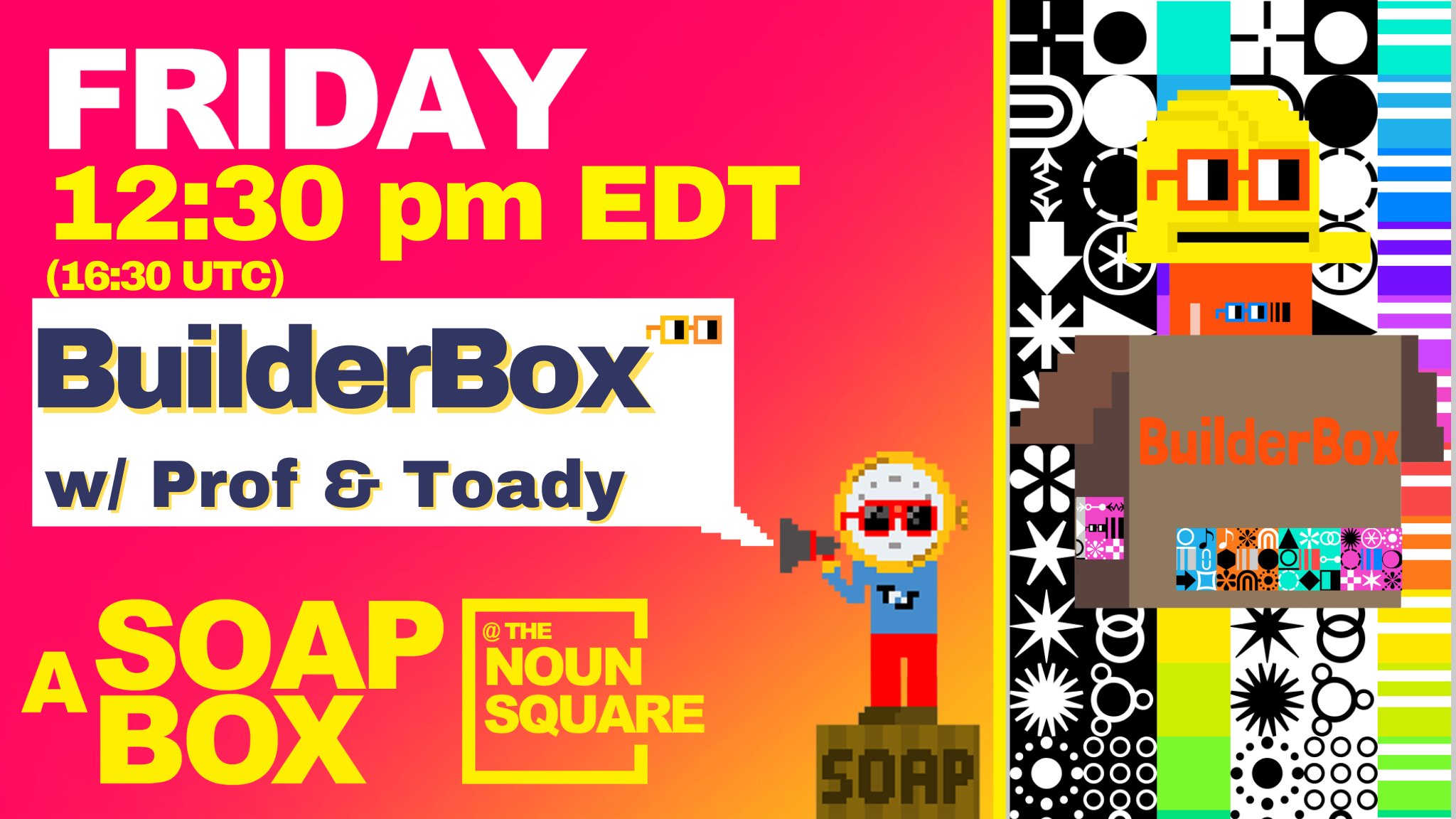 Builder DAO Meetings
The weekly Builder Office Hours call hosted by Prof Werder is every Wednesday at 4:00pm EDT. Prof will be available to answer all of your Builder DAO and Nouns Builder questions! Register your interest in the next Office Hours call on October 25th at 4:00pm EDT in Discord here.
In addition to the weekly office hours, the Builder monthly call takes place on Thursdays at 5:00pm EDT, the next call is scheduled for November 19th. You can register your interest in Discord here. This past Builder monthly meeting occurred on October 19th, unfortunately, no recording is available for this meeting.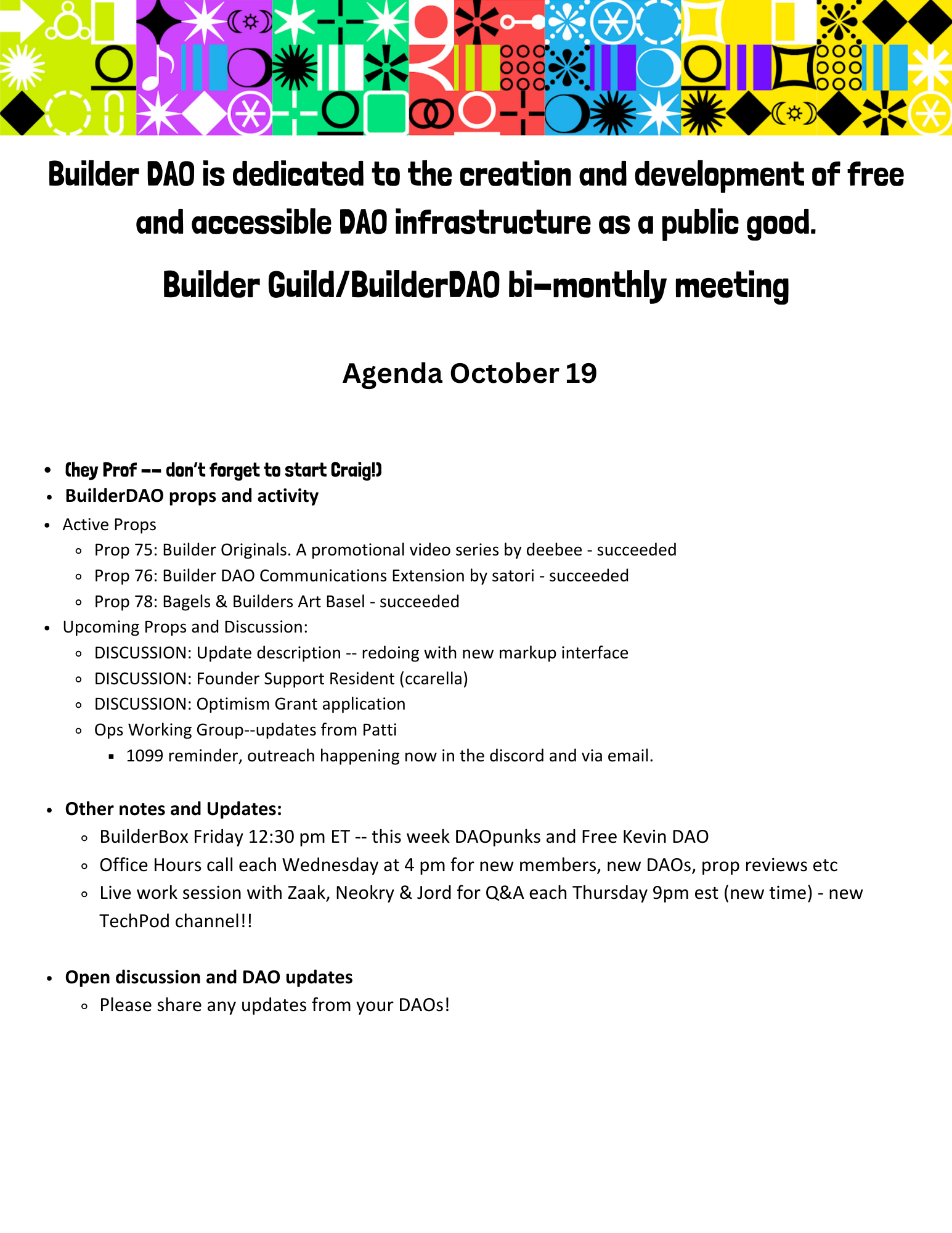 Builder Channel on Farcaster
The Builder Channel on Farcaster displays a feed of activity from members of Builder including casts and onchain activity such as auctions, proposals, and votes. You can also now see the DAO feed directly on the nouns.build website by clicking 'Feed' as shown in the screenshot below!
It's a really great way to keep up to date with your fellow Builders! Very recently Farcaster has even gone permissionless! Anyone can now signup for the protocol without an invite. Head to your Farcaster client of choice (Warpcast, Aburra, Flink, Herocast, etc) and sign up today. If you have any questions, please don't hesitate to reach out for assistance!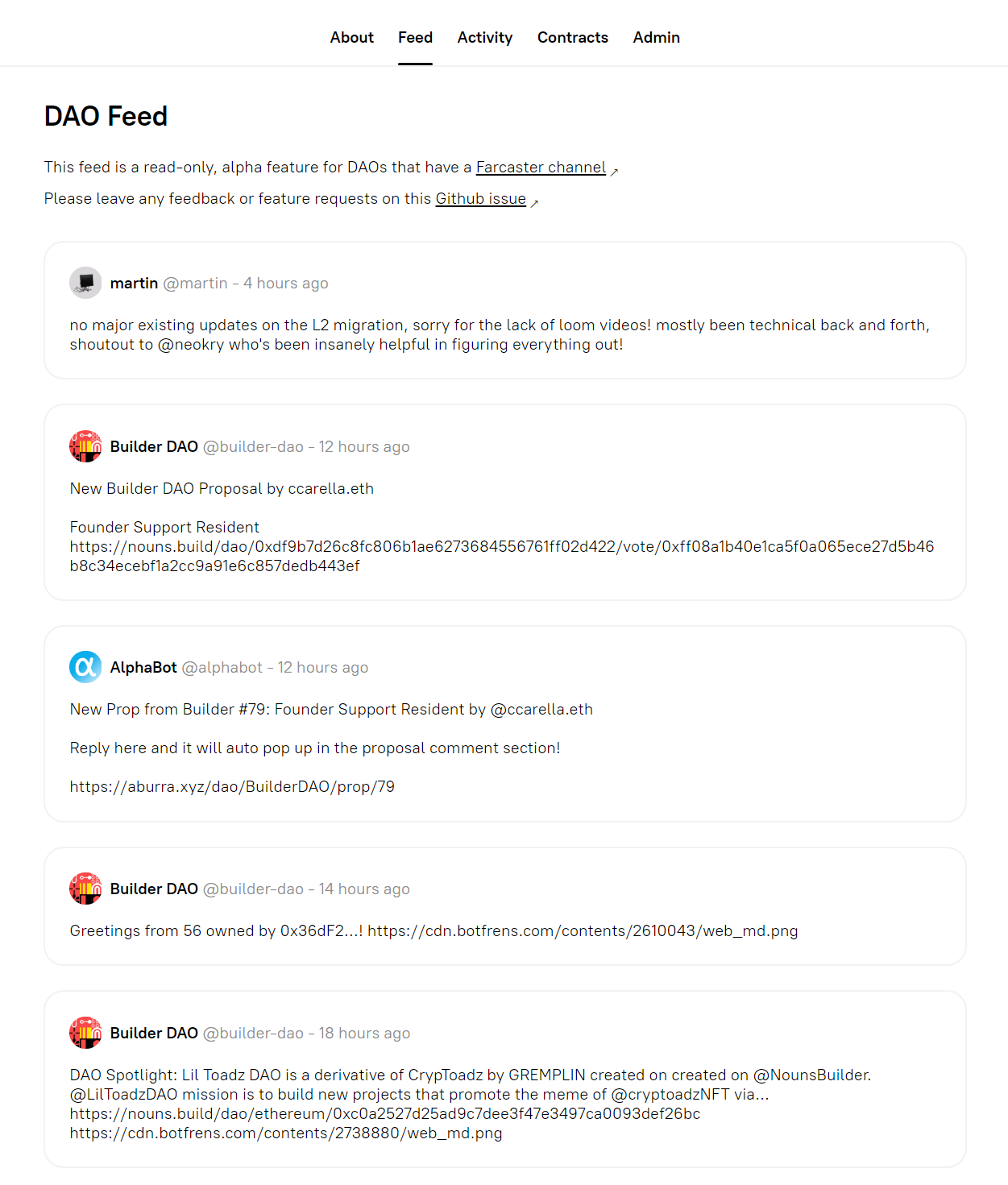 Public Work Session
The Tech Pod, including Zaak, Neokry, Jord and our other devs will hold public work sessions every Thursday at 9:00 pm EDT (1:00 am UTC). If you have any questions about the work they are doing, ways you can contribute, or even the Infinite Dev Round please feel free to pop in and join them during this session! You can find the latest work session notes and recordings here on GitHub. Details on the next Public Work Session are available in Discord here.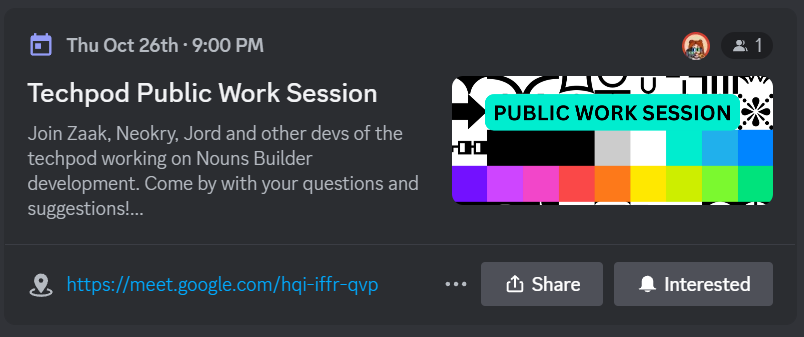 Newsletter Artwork
The art featured in this week's newsletter was created by myself using Adobe Firefly. If anyone wants to send me artwork they've drawn or generated with AI, please DM me on X or Discord, and I will include your art and a shoutout in a future newsletter!
Builder DAO Fun Fact
Great ideas begin with a blank canvas. @ArtHausDAO was created with Nouns Builder as a collective arts patronage with auction proceeds used to commission nounish art. The token art is intentionally a blank canvas...for now. Read more at art.haus.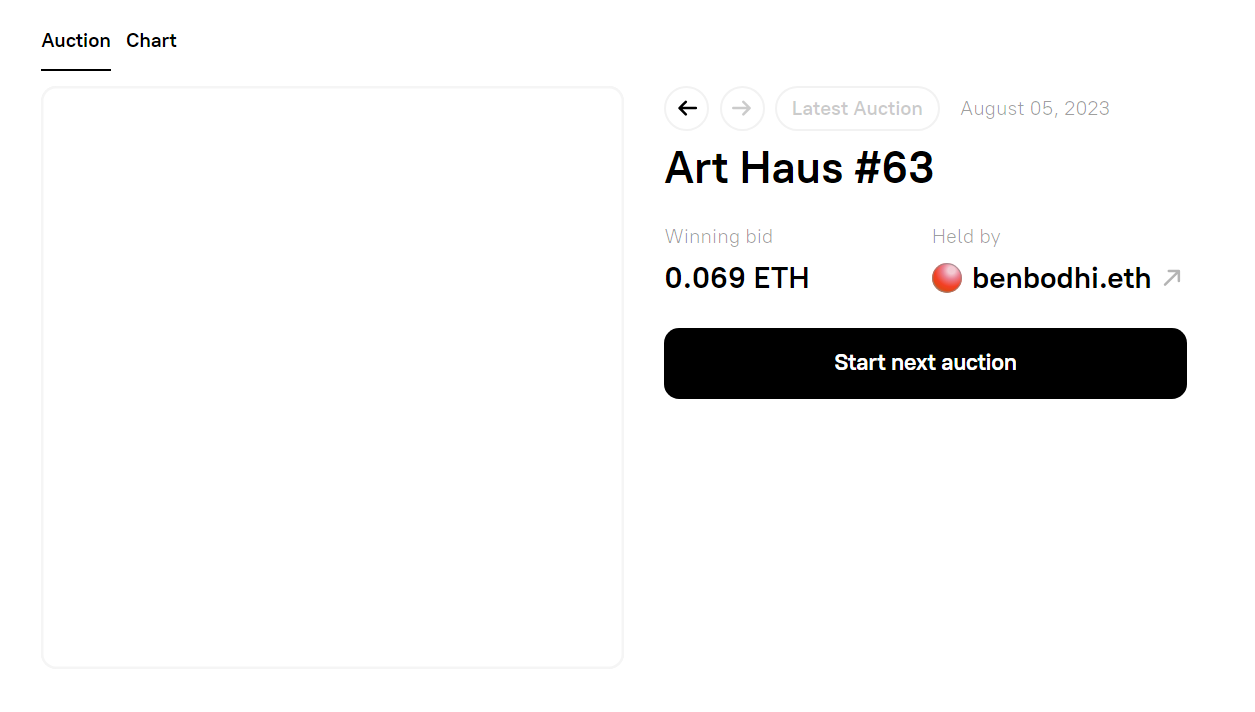 ---
Protocol Stats
Nouns Builder Deployed: 108 DAOs Deployed*
DAOs Launched on Builder Protocol: 145 DAOs Created (+2)
DAOs income from Auctions: 479 ETH*
Nouns Builder Proposals: 590 Total Proposals (+15)
For regular updates, follow the Nouns Builder DAO Bot on Twitter or Farcaster.
*Due to changes on Dune Analytics, these stats are not being actively updated. This note will be removed when the latest stats are available.
---
Proposals
Pending
Passed
Canceled
---
Built on Builder
This week's featured DAO built on the Builder protocol is Tontine! Tontine is another unique use case for the Builder Protocol - it's not so much a DAO, but an onchain game of death. Users can buy tokens and attempt to pass proposals that may manipulate DAO, discretely or not. For instance, this proposal actually sent the treasury balance to a member. What else can you get away with? Can you secretly update the art? Take veto control? You won't know unless you try.
Website: https://tontine.wtf/
Auctions: https://nouns.build/dao/ethereum/0xf2f0e93c6990887f4c2417f7881bd740d3389a94/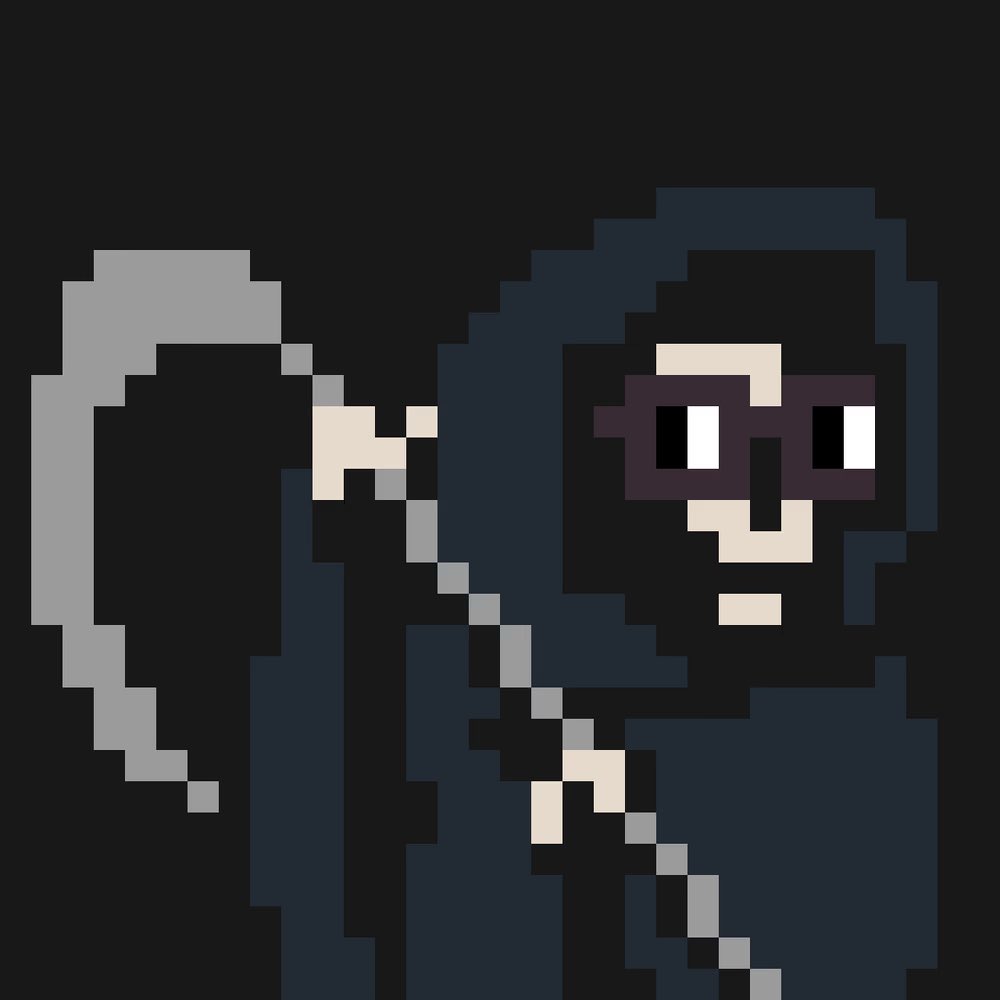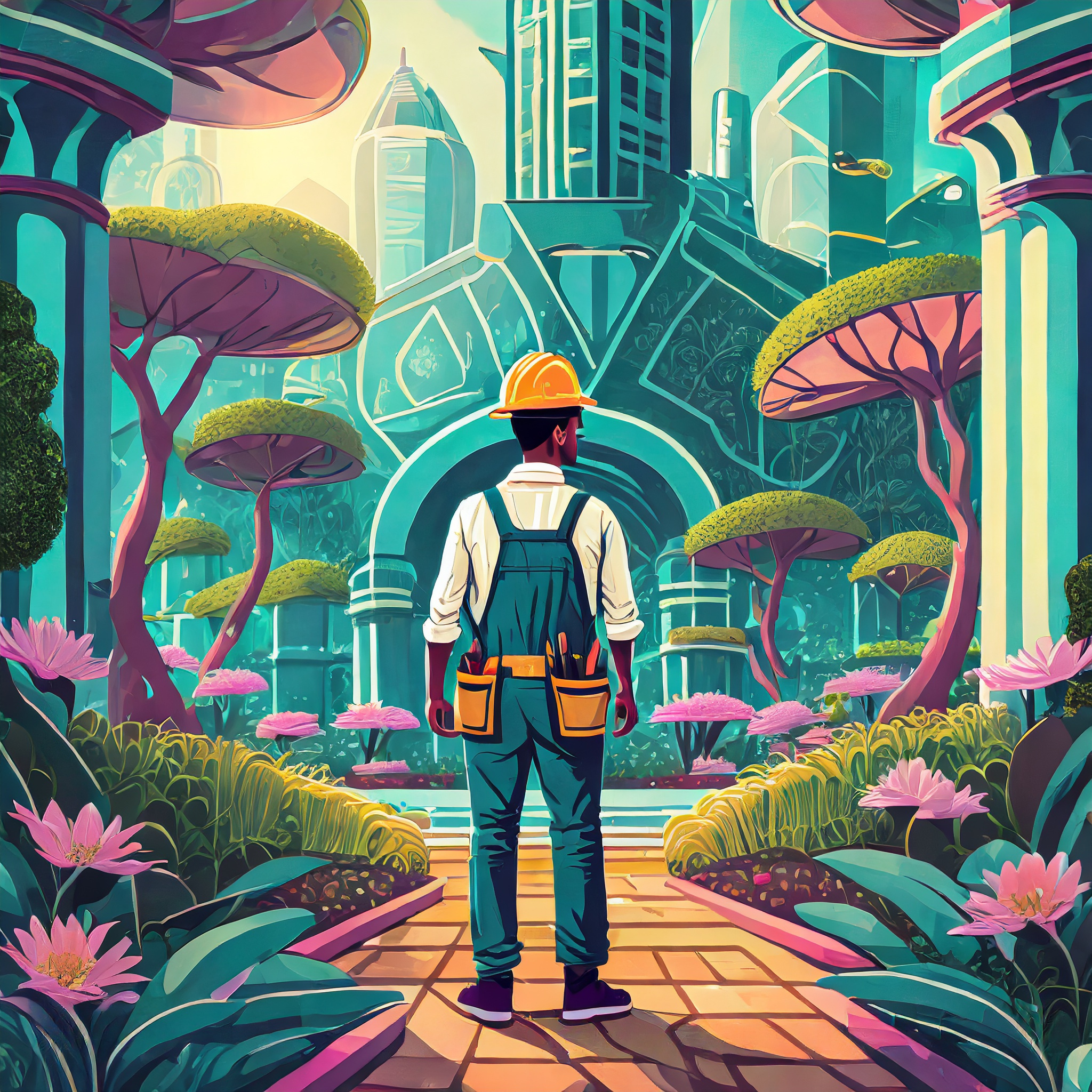 Collect this post to permanently own it.
Subscribe to Builder Buzz and never miss a post.