Numbers are finally going up, but not just the good kind. Gas prices on the Ethereum mainnet have soared over the past week, reaching average base fee costs of >100 gwei multiple times. This makes interacting with auctions and onchain governance prohibitively costly for many users, with votes often costing over $10 USD each. This is guaranteed to be a recurring issue over the next few years, making it more important than ever for teams and communities to understand their options when it comes to utilizing Layer 2 networks. Just as we have the last few months, we will continue to emphasize this topic and encourage users of the Builder Protocol to launch on an L2 and even consider migrating once Bali (Builder Protocol v2) is released.
Survey says...
Builders want to move Builder DAO to an L2! The surveycaster results on Farcaster were unanimous, with 23 people voting yes to moving Builder DAO to a layer 2 network. As mentioned above, the rise in average gas fees over the past week or two has become quite a deterrent to participating in onchain governance. When the tooling is available for DAOs to migrate, it's pretty clear that Builders will want to be one of the first communities to do so.
Retro Radio #3
Last week on the Retro Radio show hosted by The Noun Square, Toady Hawk and Carlos Melgar were joined by Builder's own Patti Hauseman to chat about all things relating to Optimism and the latest RetroPGF 3 round. In case you missed it, Builder DAO submitted an application to the Optimism RetroPGF Round 3. The OP RetroPGF rounds allocate OP tokens to reward contributions that have supported the development and adoption of Optimism, such as the Builder Protocol! Check out the full Builder DAO Round 3 application here. The recording of the talk can be found at the tweet below.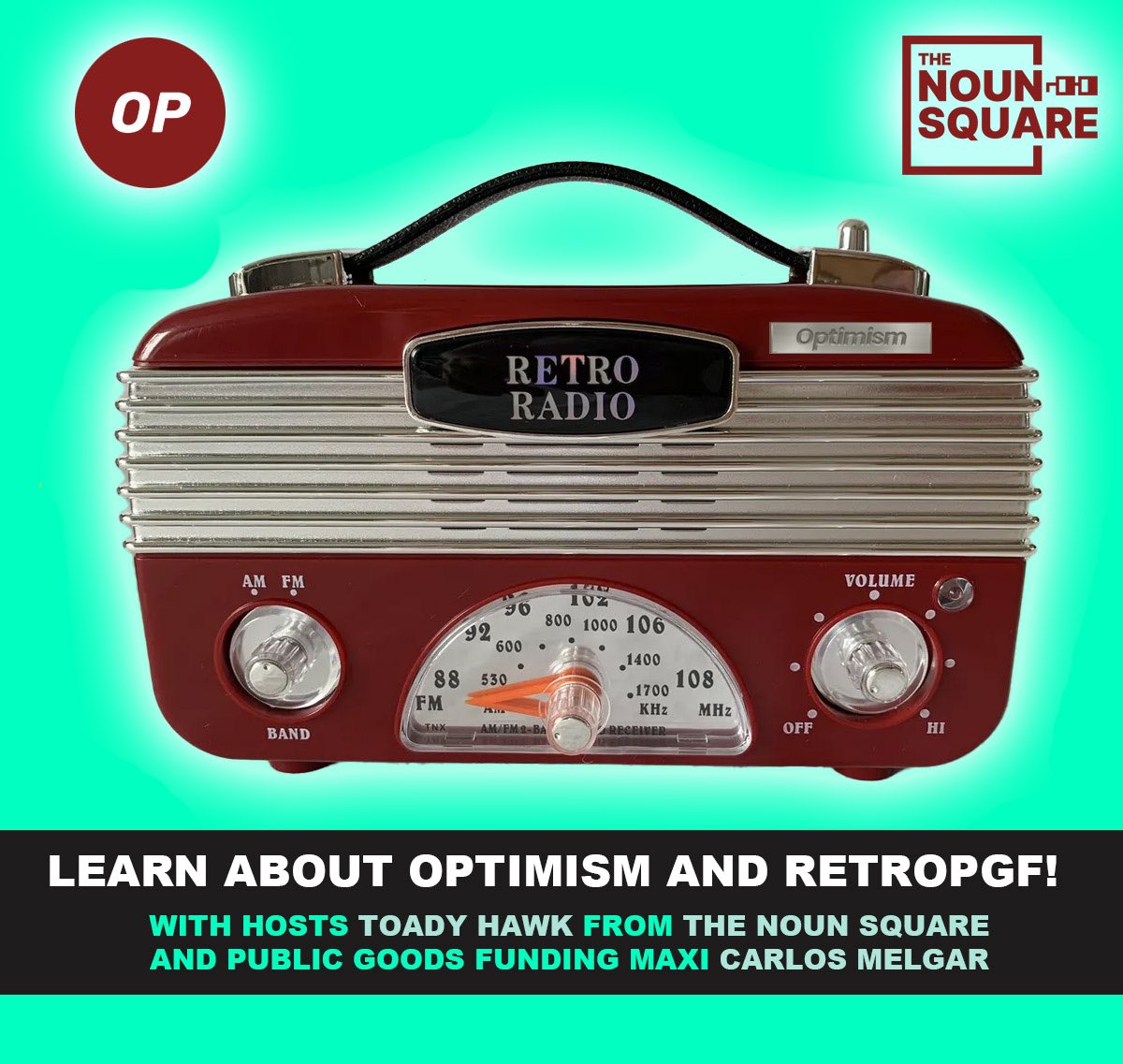 Welcome New Builders!
We've got some new faces this week, welcome links, Liang, and KMac! It's always exciting to see new names buying Builder DAO tokens! We're thrilled to have you all, your involvement is key to our community's growth and success as we build out the infrastructure to bring nounish DAOs to the masses!
Nouns Builder Mobile App
Bobby Bah has introduced a potential proposal for the development of a progressive web app (PWA) which would greatly enhance the user experience of Nouns Builder on mobile devices. Do you think this is a worthwhile investment? Check out the outline Bobby shared here and join in on the conversation in Discord here.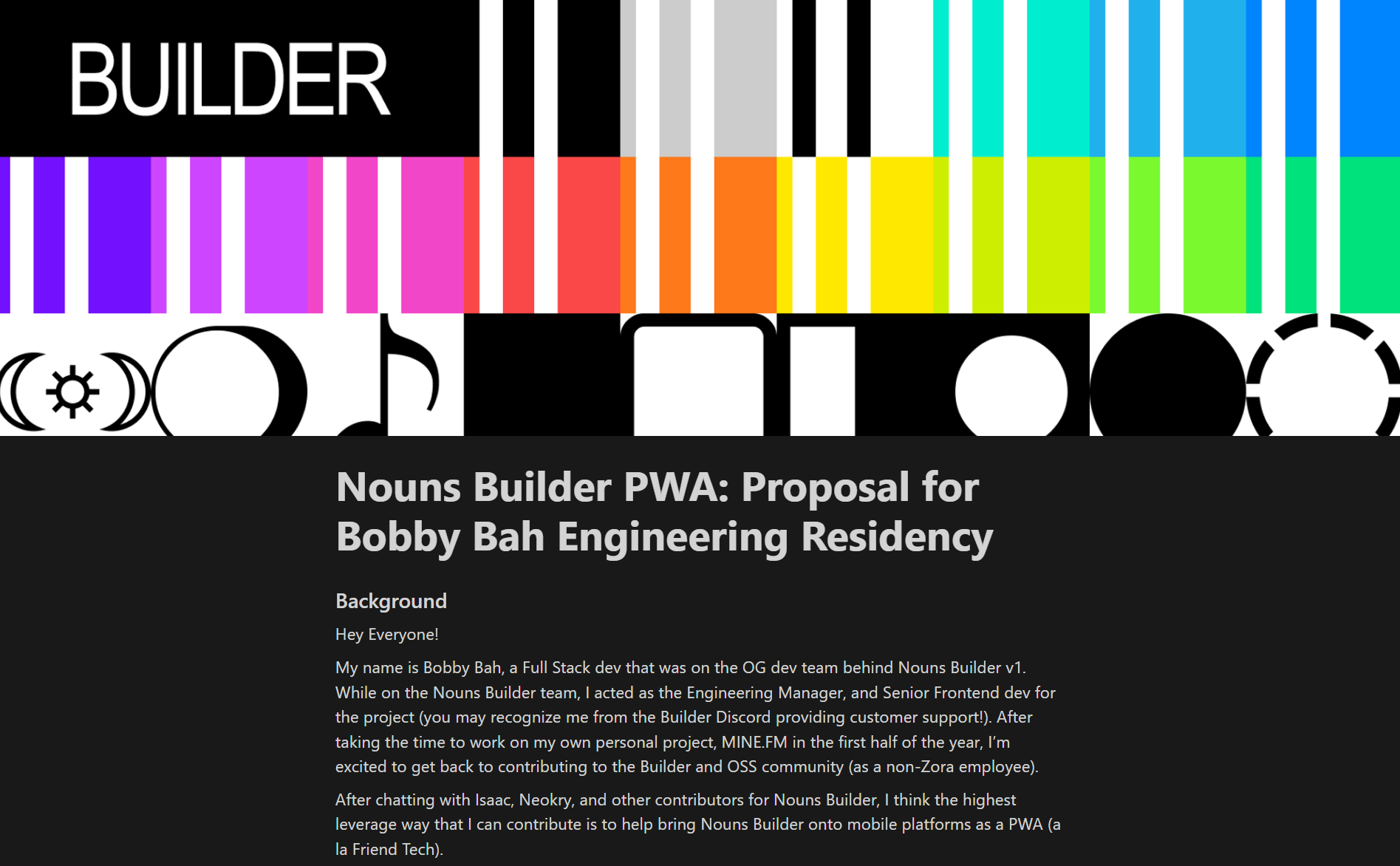 Builder Season 2 Art
The discussion around the next iteration of the Builder DAO token artwork is ongoing, with some really insightful context provided by the original designers thanks to Valcoholics. Please read the screenshots from her cast below and join in on the conversation in Discord here.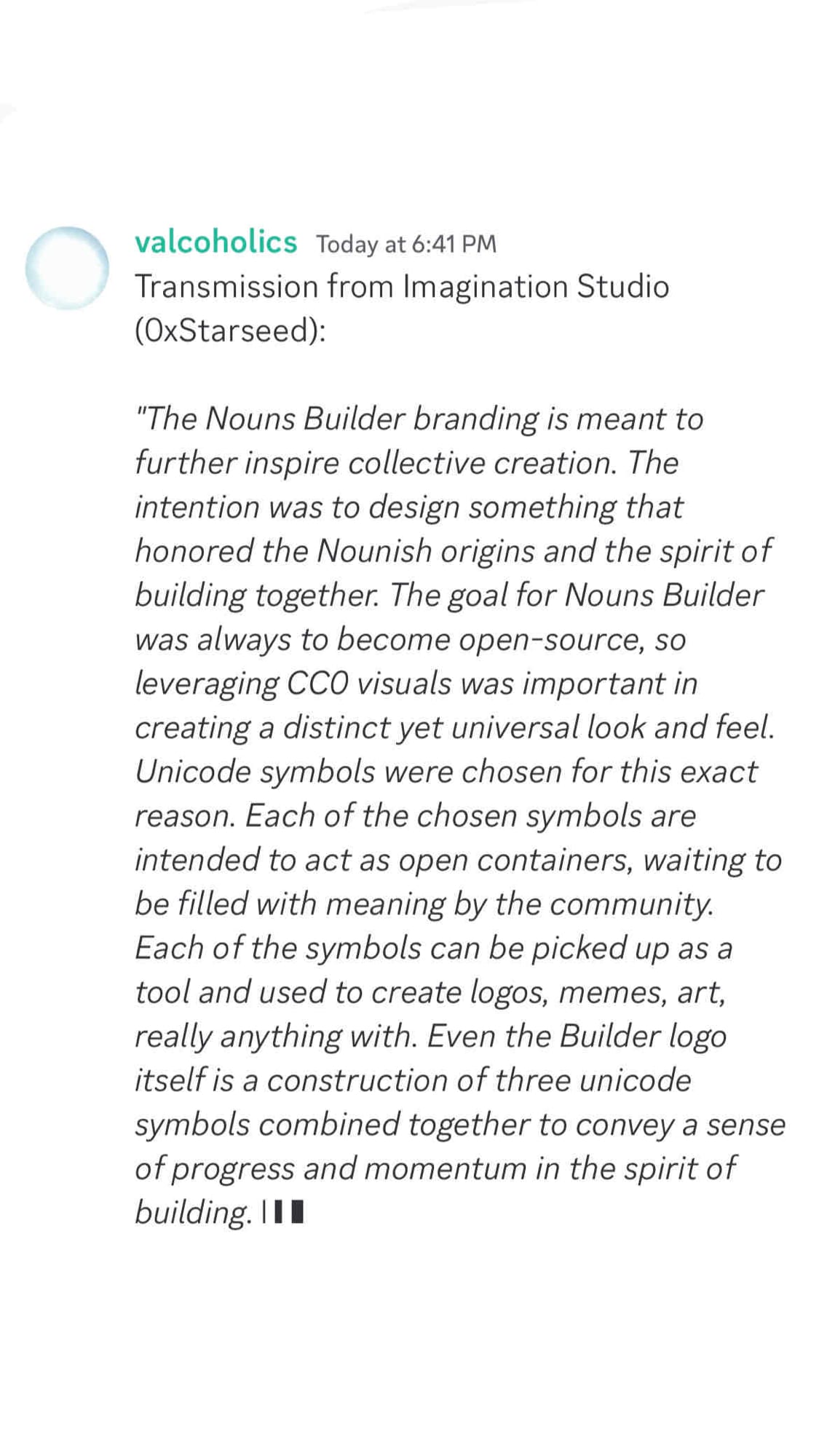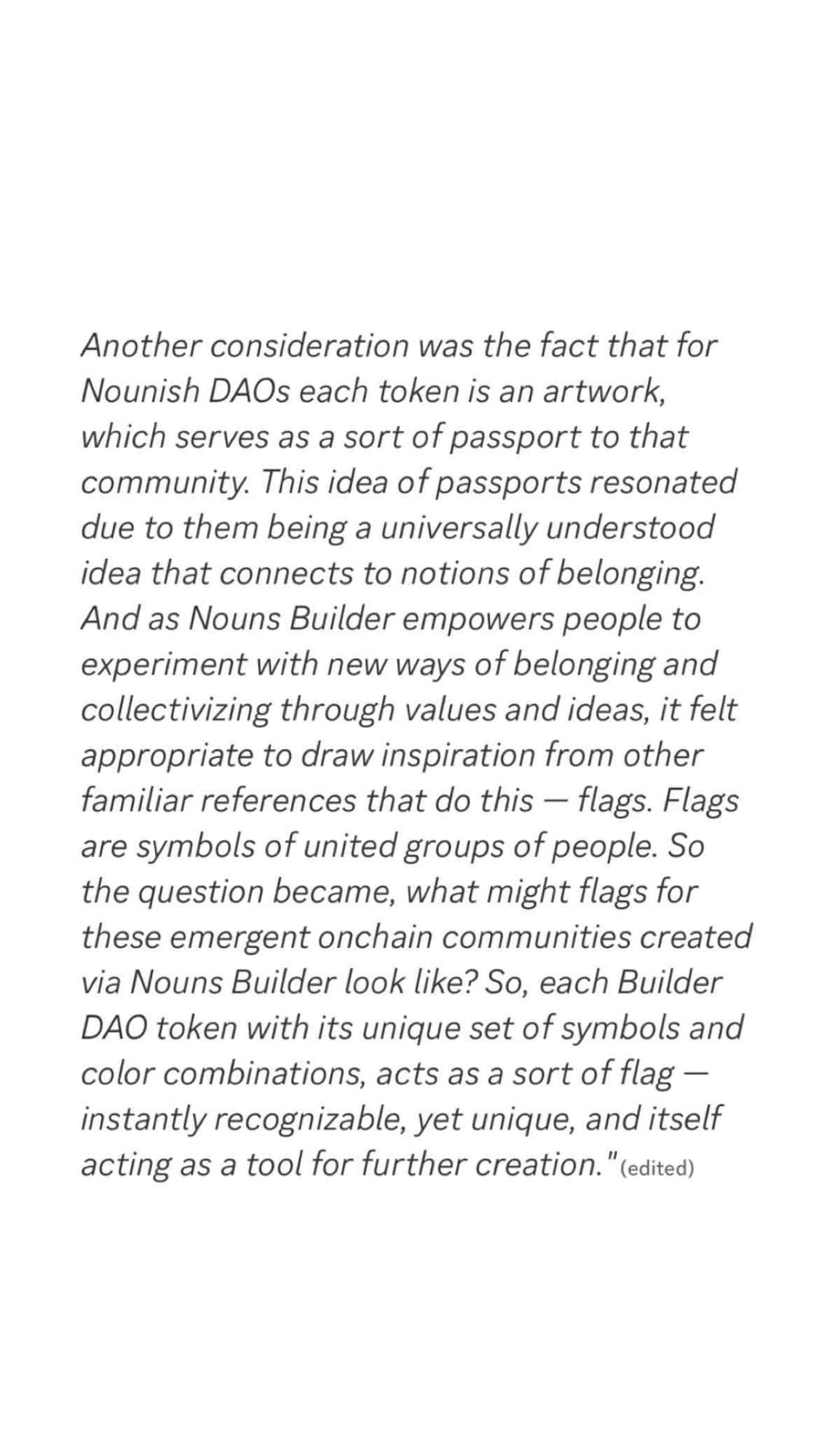 Founders Reward
New member KMac is wondering what Builder DAO members think of removing the founders' allocations for Builder DAO. Currently, the rewards include 10% of tokens to Zora and 5% of tokens to Nouns DAO. Do you think it's time to change that? Share your thoughts on Farcaster below.
---
Public Work Session
The Tech Pod, including Zaak, Neokry, Jord, and our other devs will hold public work sessions every other Thursday at 9:00 pm ET (1:00 am UTC). Again, this is a change from the previous weekly schedule. If you have any questions about the work they are doing or ways you can contribute, please feel free to pop in and join them during this session! You can find the latest work session notes and recordings here on GitHub. Details on the next Public Work Session will be made available in Discord.
Builder DAO Meetings
The weekly Builder Office Hours call hosted by Prof Werder is every Wednesday at 4:00pm ET. Prof will be available to answer all of your Builder DAO and Nouns Builder questions! Register your interest in the next Office Hours call on November 15th at 4:00pm ET in Discord here.
In addition to the weekly office hours, the Builder monthly call takes place on Thursdays at 5:00pm ET, the next call is scheduled for November 16th. You can register your interest in Discord here. This past Builder monthly meeting occurred on November 2nd, the agenda is below and the recording can be found in our Discord here.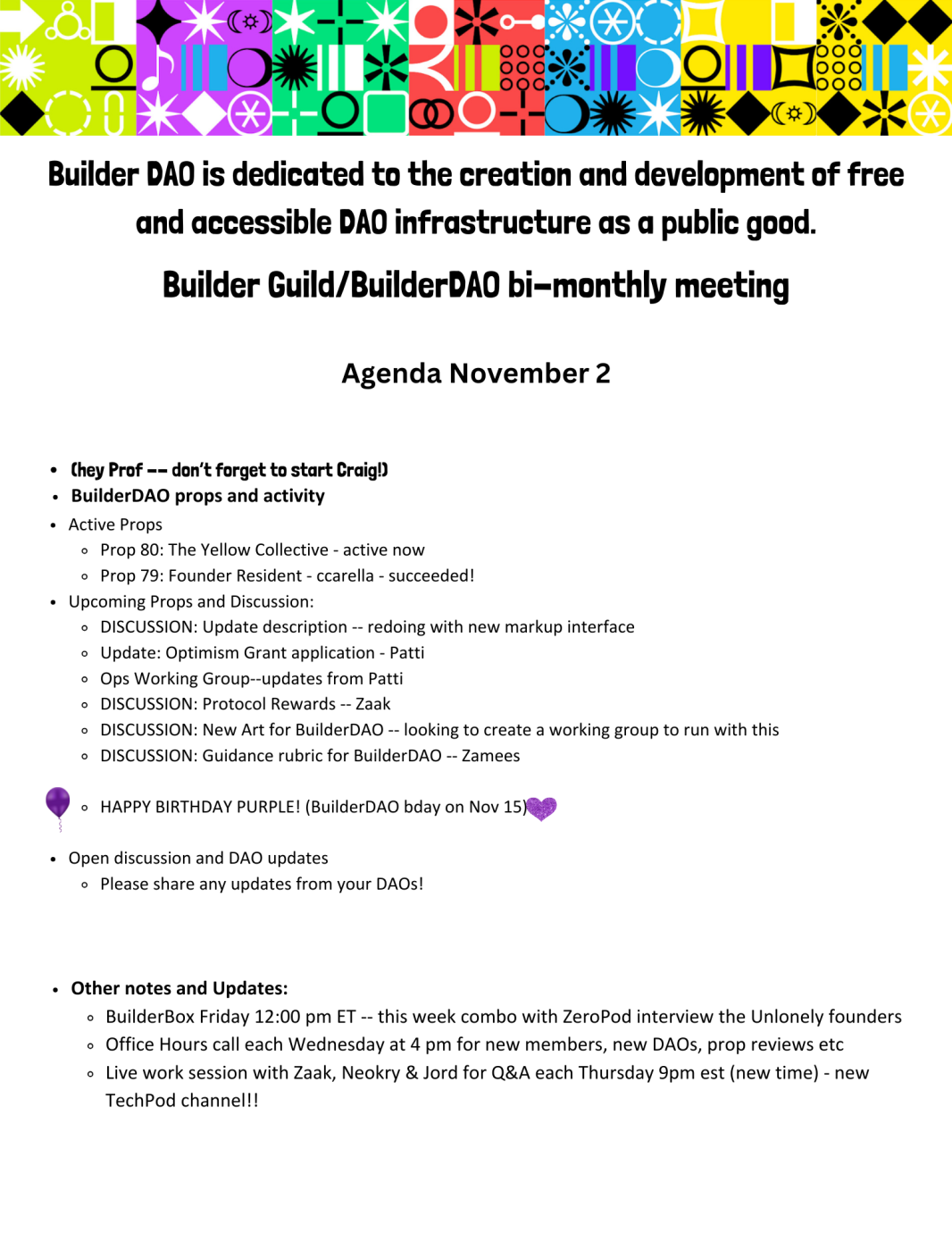 Builder DAO BuilderBox on TNS
Every week on Fridays at 12:30 pm ET Prof Werder and Toady Hawk host BuilderBox live at The Noun Square! Follow the BuilderBox Twitter account to keep up with the latest news. If you aren't able to make it, you can always go back and listen to the recording. Unfortunately, this past week's show had to be canceled, but they'll be back next Friday!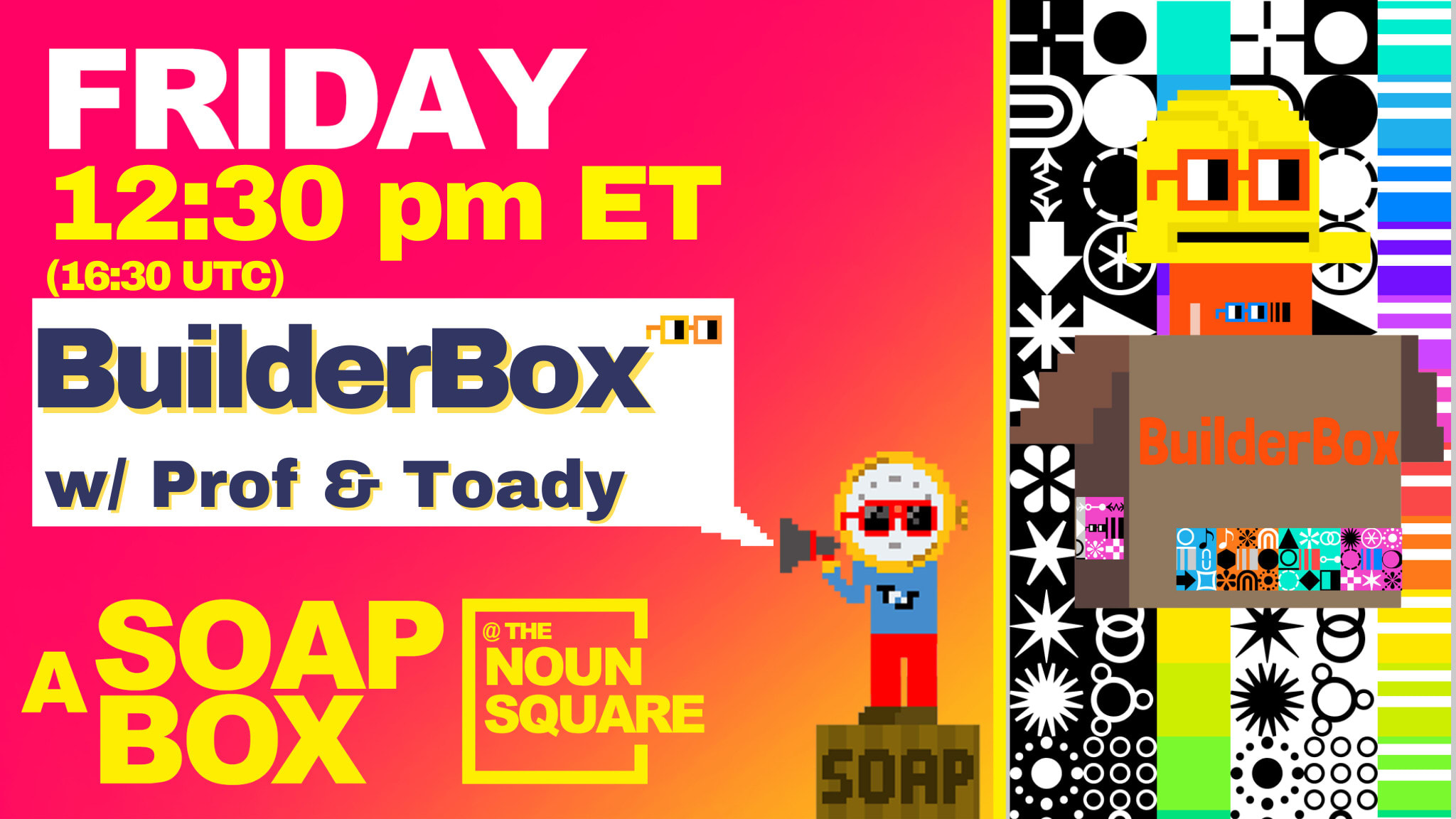 Builder Channel on Farcaster
The Builder Channel on Farcaster displays a feed of activity from members of Builder including casts and onchain activity such as auctions, proposals, and votes. You can also now see the DAO feed directly on the nouns.build website by clicking 'Feed' as shown in the screenshot below!
It's a really great way to keep up to date with your fellow Builders! Very recently Farcaster has even gone permissionless! Anyone can now sign up for the protocol without an invite. Head to your Farcaster client of choice (Warpcast, Aburra, Flink, Herocast, etc) and sign up today. If you have any questions, please don't hesitate to reach out for assistance!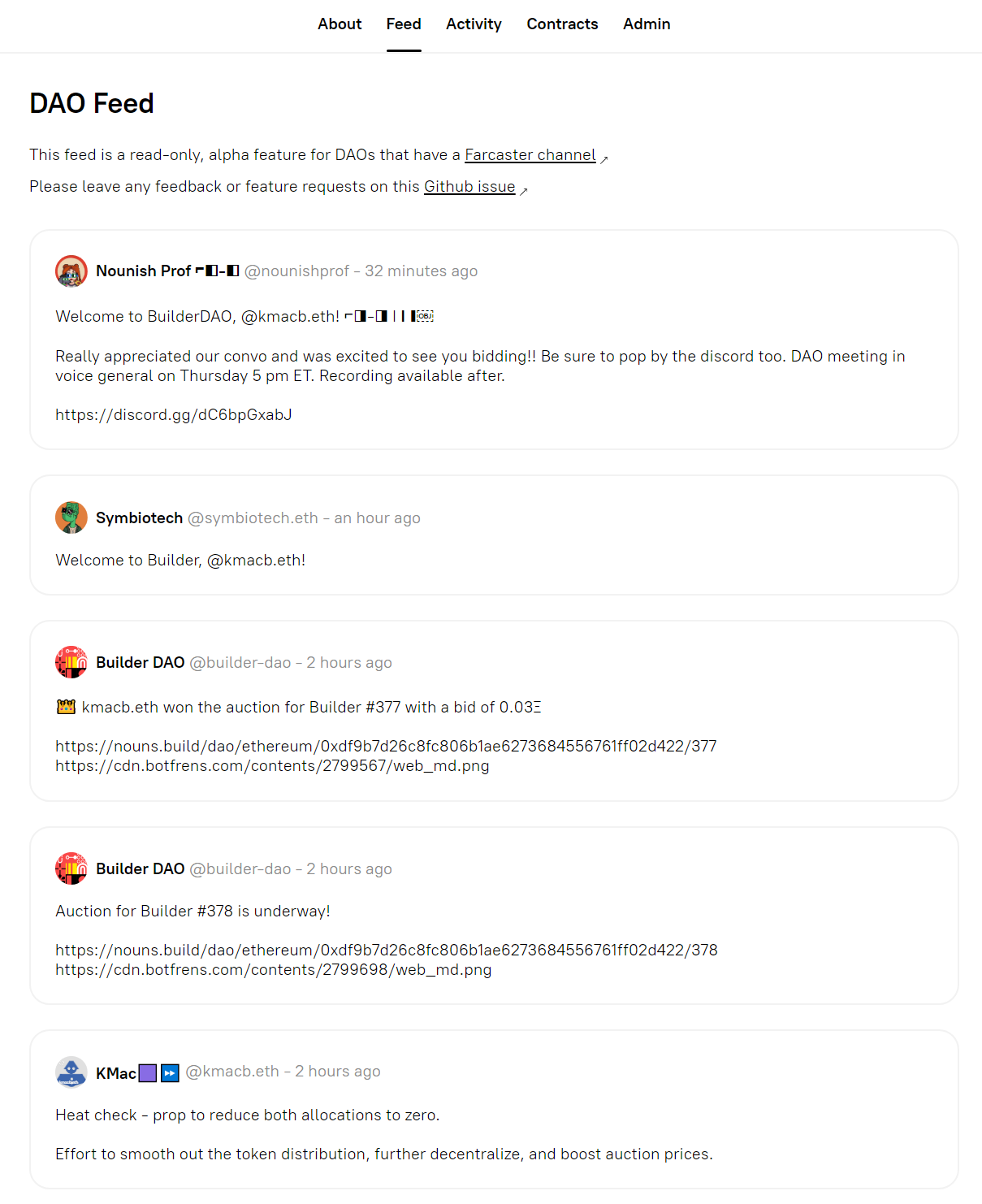 Newsletter Artwork
The art featured in this week's newsletter was created by myself using Adobe Firefly. If anyone wants to send me artwork they've drawn or generated with AI, please DM me on X or Discord, and I will include your art and a shoutout in a future newsletter!
Builder DAO Fun Fact
The generative art for BuilderDAO includes 37 symbols in both black and white; a center logo in 15 colors; 15 background colors, plus 4 blank SVGs per quadrant.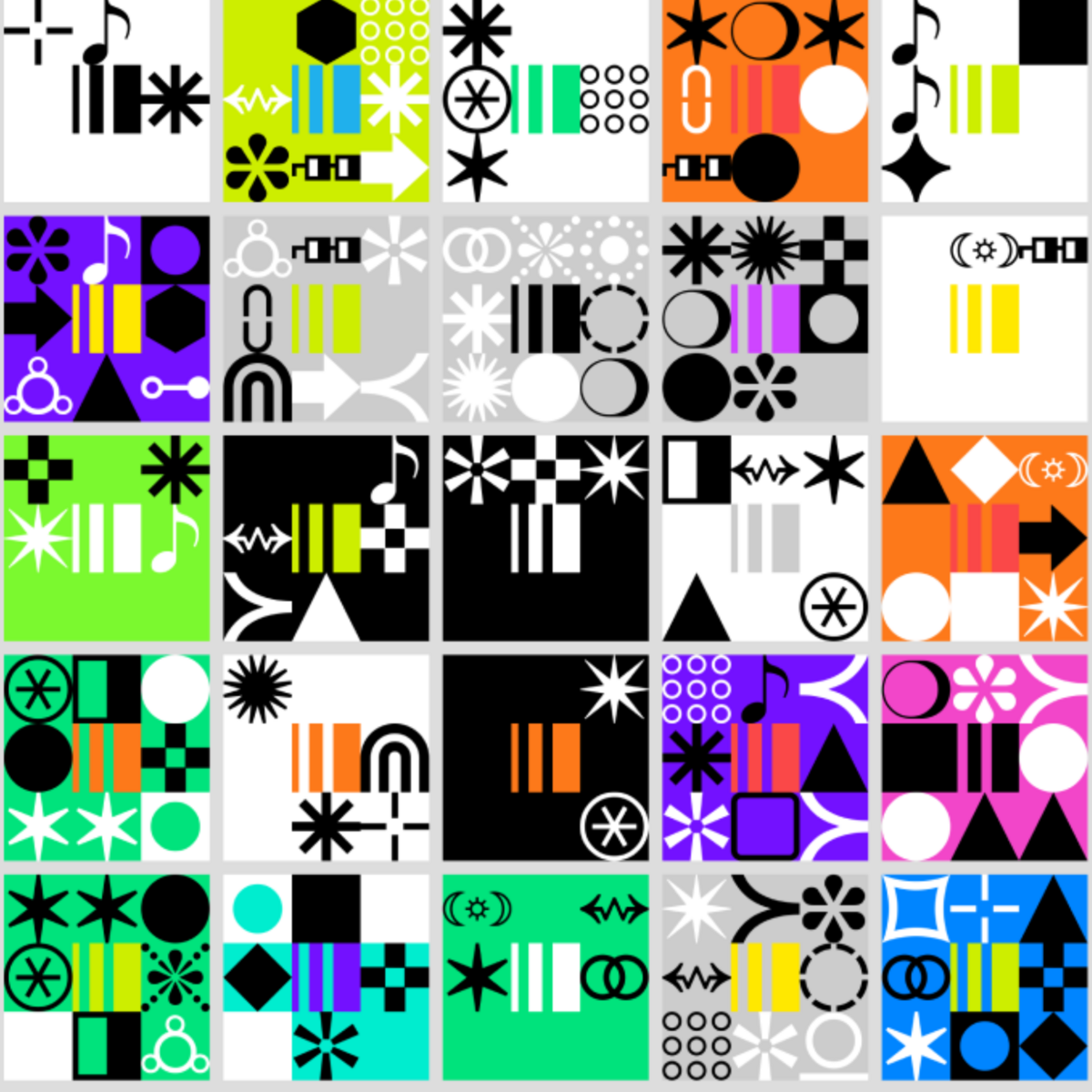 ---
Protocol Stats
DAOs Launched on Builder Protocol: 146 DAOs Created
Nouns Builder Proposals: 609 Total Proposals (+6)
For regular updates, follow the Nouns Builder DAO Bot on Twitter or Farcaster.
---
Proposals
Active
Passed
---
Built on Builder
This week's featured DAO built on the Builder protocol is Based Management! Based Management is revolutionizing the DAO landscape by creating a decentralized platform where artists, builders, and enthusiasts can collaboratively shape a new financial and cultural ecosystem on the Base Network. They are innovating by attempting to implement unique models for treasury funding and governance, setting a new standard for how communities come together to build and create.
Twitter: https://twitter.com/joinbasedmgmt
Website: https://www.based.management/
Auctions: https://nouns.build/dao/base/0xb78b89eb81303a11cc597b4519035079453d8e31/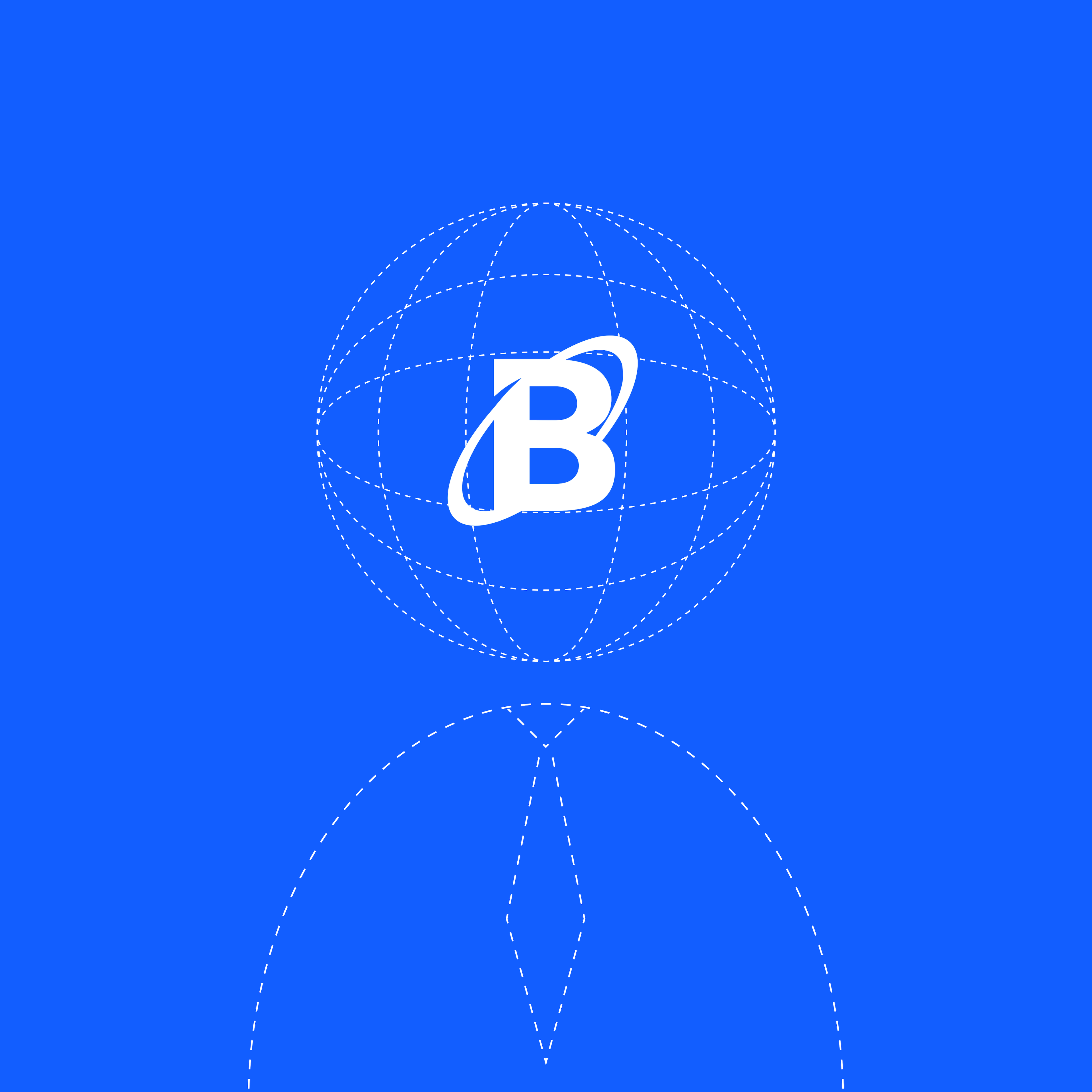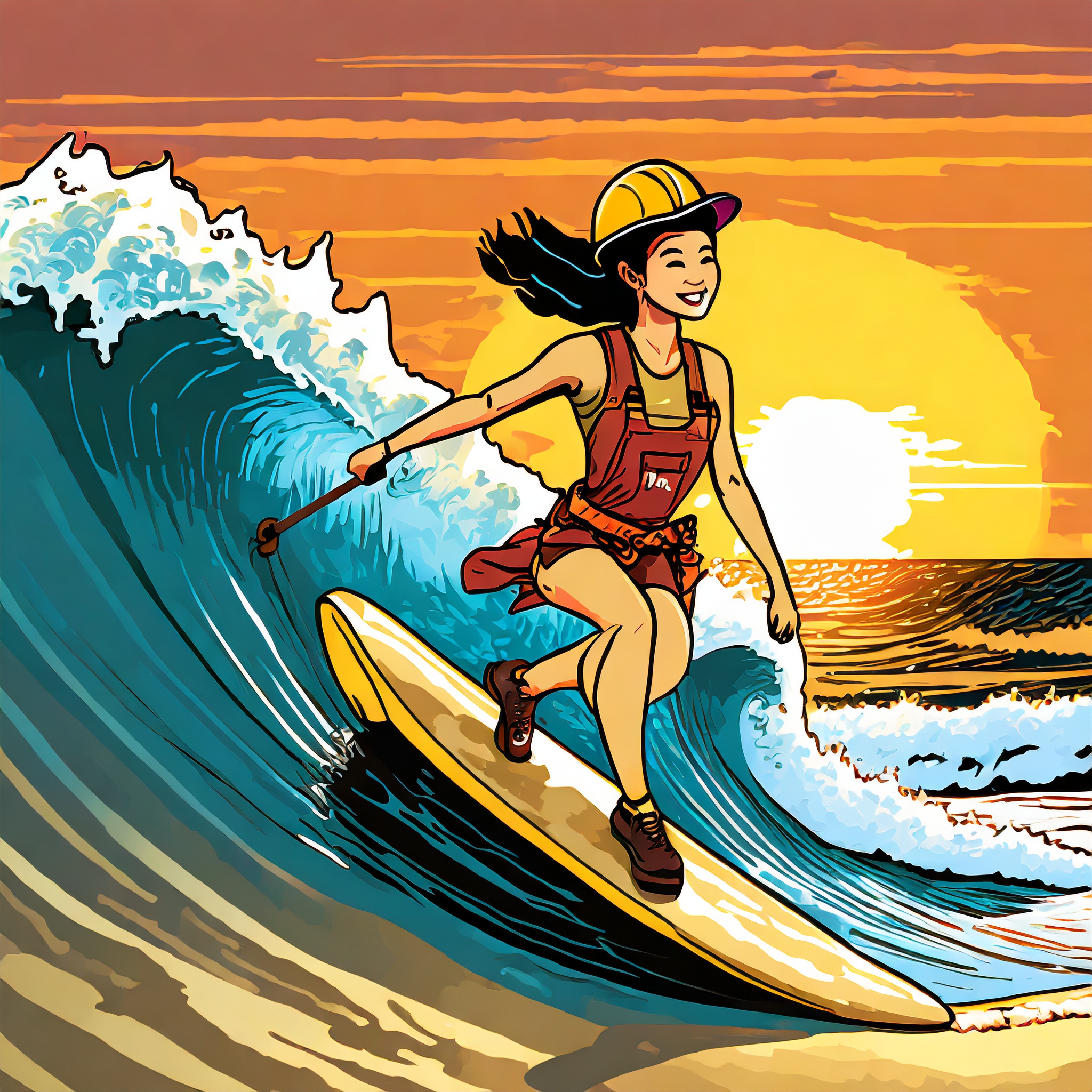 Collect this post to permanently own it.
Subscribe to Builder Buzz and never miss a post.