Builder DAO and the Nouns Builder protocol have just marked a significant milestone, celebrating their first anniversary! This past year has been a remarkable journey of ups and downs, yet the overall experience has remained overwhelmingly positive. Throughout this year, the DAO and protocol have seen substantial growth and development, navigating challenges and making the most of opportunities that arise. The community continues to expand, bringing together a diverse group of individuals united by a shared vision of decentralized collaboration and coordination. The achievements of the past year are not just a testament to the resilience of Builder DAO and the Nouns Builder protocol but also a clear indicator of the potential for even greater accomplishments in the years to come.
Year 1 in 100 Seconds Preview
Check out the early work-in-progress video of the 1 Year in 100 Seconds video made by deebee. He is still working on the editing and production, but this is a great preview and celebration of our 1 year anniversary. Happy Birthday Builder!🥳
Bali Audit Contest
Signups for the Bali audit contest on Sherlock have gone live! If you or anyone you know are interested in participating in the audit contest please sign up at the link in the tweet below.
You can also see more details and keep up with the overall progress of the audit contest and payments on this convenient dashboard.
Updates from Chris
Chris Carella, our Founder Support Resident, has been providing updates on his work in the #founder-resident channel in Discord. Read through his updates to gain insight into the work he is doing, how his networking is going, and the questions he is asking to help guide his work with founders. Chris's interactions and discussions with founders are crucial in shaping his approach and understanding the evolving needs of builders in our community. By following his updates, you'll get a firsthand look at the challenges and opportunities founders are facing, and how our support can be most effectively tailored to meet their unique needs.
He also recently held a space on Aburra with Billzh, where they had a great discussion around topics related to founding a DAO and other types of tokenized communities. Check out the recording attached to the cast below.
Retro Radio #4
Check out the latest Retro Radio show hosted on The Noun Square by Builder member Toady Hawk and Web3Beach's Carlos Melgar, where they chat about all things relating to Optimism and the latest RetroPGF Round 3. In case you missed it, Builder DAO submitted an application to the Optimism RetroPGF Round 3! The OP RetroPGF rounds allocate OP tokens to reward contributions that have supported the development and adoption of Optimism, such as the Builder Protocol! Check out the full Builder DAO Round 3 application here. The recording of the talk can be found in the tweet below.
---
Public Work Session
The Tech Pod will hold public work sessions every other Thursday at 9:00 pm ET (1:00 am UTC). If you have any questions about the work they are doing or ways you can contribute, please feel free to pop in and join them during this session! You can find the latest work session notes and recordings here on GitHub. Details on the next Public Work Session will be made available in Discord.
Builder DAO Meetings
The weekly Builder Office Hours call hosted by Prof Werder is every Wednesday at 4:00pm ET. Prof will be available to answer all of your Builder DAO and Nouns Builder questions! Register your interest in the next Office Hours call on November 22nd at 4:00pm ET in Discord here.
In addition to the weekly office hours, the Builder monthly call takes place on Thursdays at 5:00pm ET, the next call is scheduled for November 30th. You can register your interest in Discord here. This past Builder monthly meeting occurred on November 16th, the agenda is below and the recording can be found in our Discord here.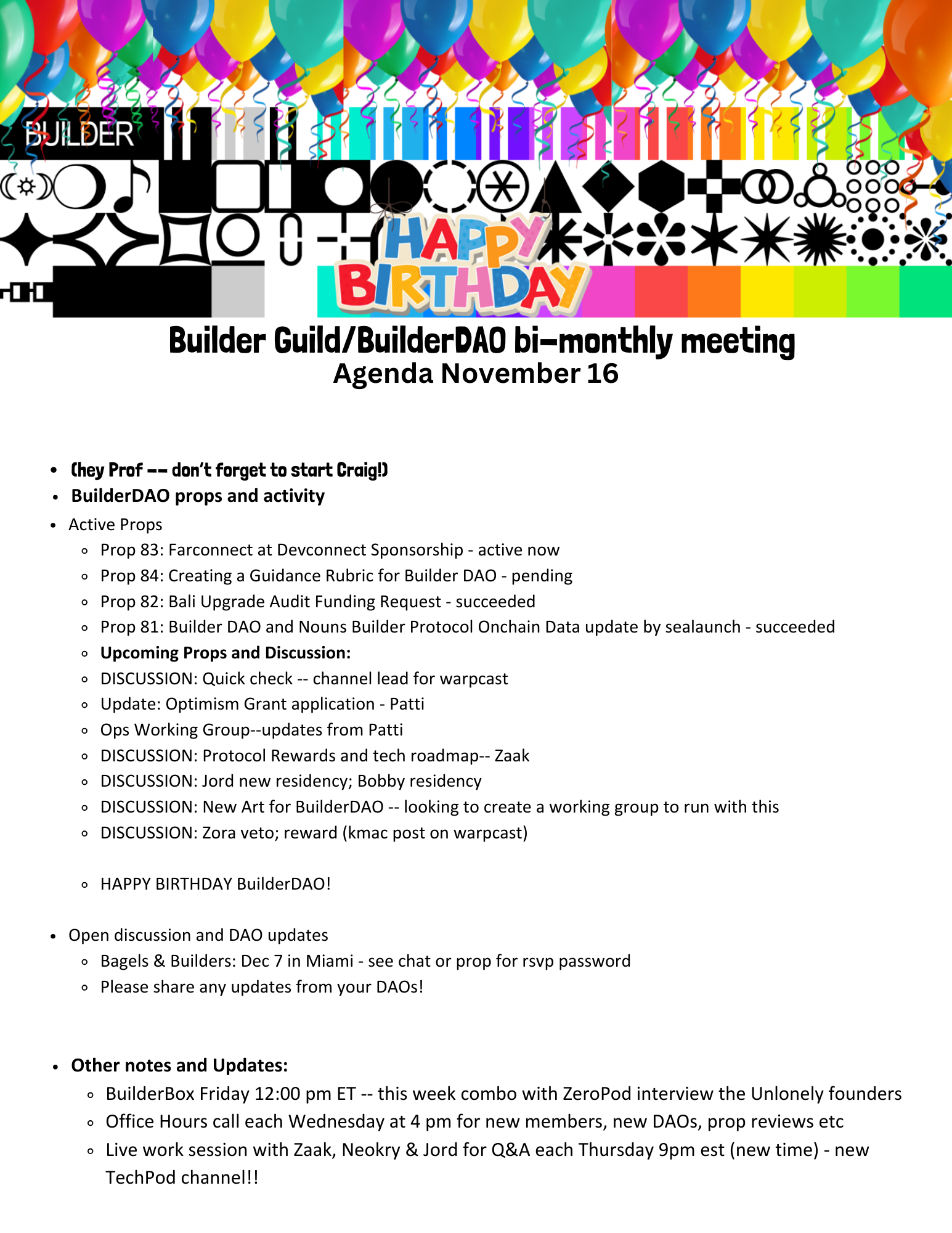 Builder DAO BuilderBox on TNS
Every week on Fridays at 12:30 pm ET Prof Werder and Toady Hawk host BuilderBox live at The Noun Square! Follow the BuilderBox Twitter account to keep up with the latest news. If you aren't able to make it, you can always go back and listen to the recording. The recording for this past week's episode can be found here.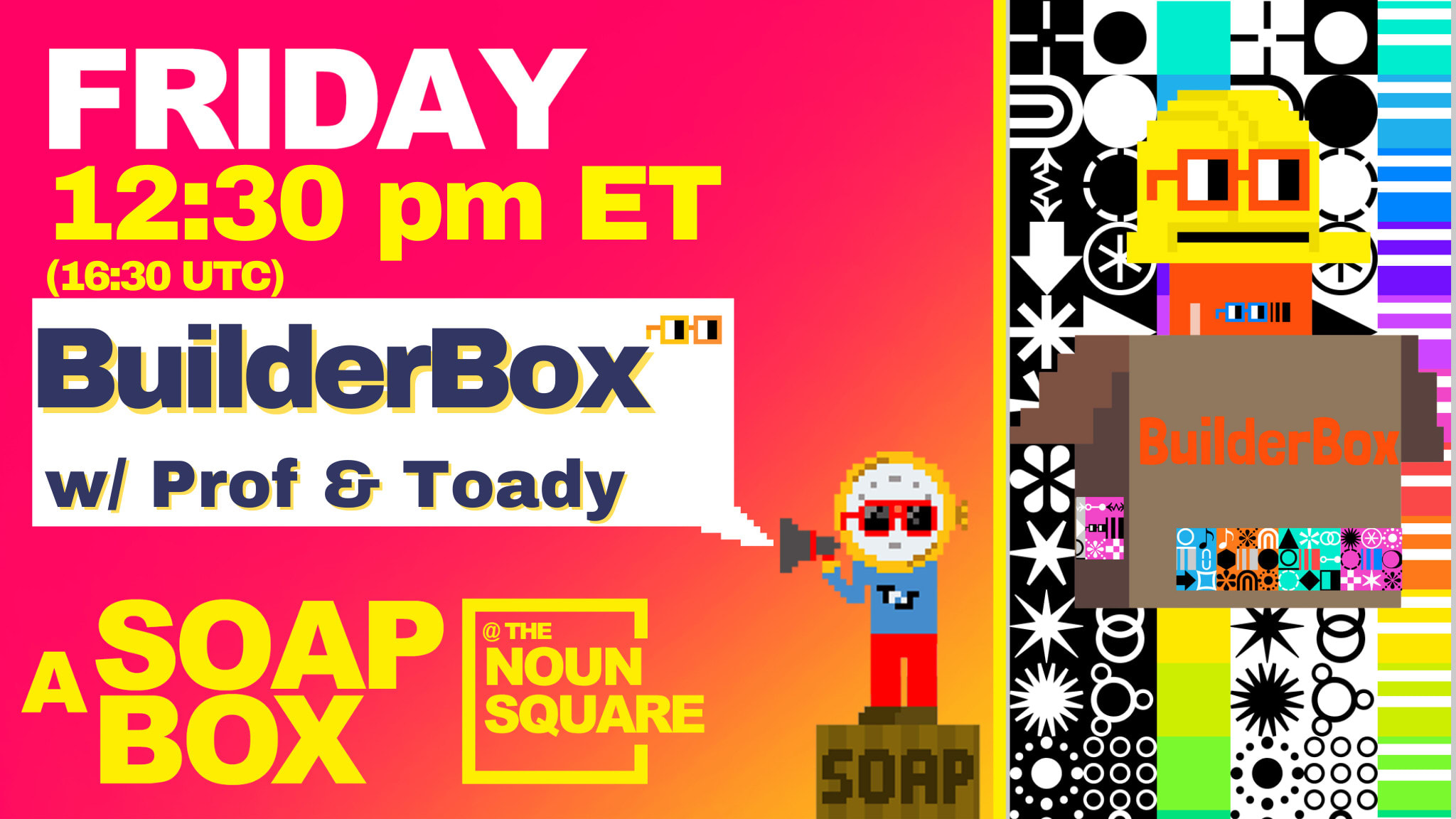 Builder Channel on Farcaster
The Builder Channel on Farcaster displays a feed of activity from members of Builder including casts and onchain activity such as auctions, proposals, and votes. You can also now see the DAO feed directly on the nouns.build website by clicking 'Feed' as shown in the screenshot below!
It's a really great way to keep up to date with your fellow Builders! Very recently Farcaster has even gone permissionless! Anyone can now sign up for the protocol without an invite. Head to your Farcaster client of choice (Warpcast, Aburra, Flink, Herocast, etc) and sign up today. If you have any questions, please don't hesitate to reach out for assistance!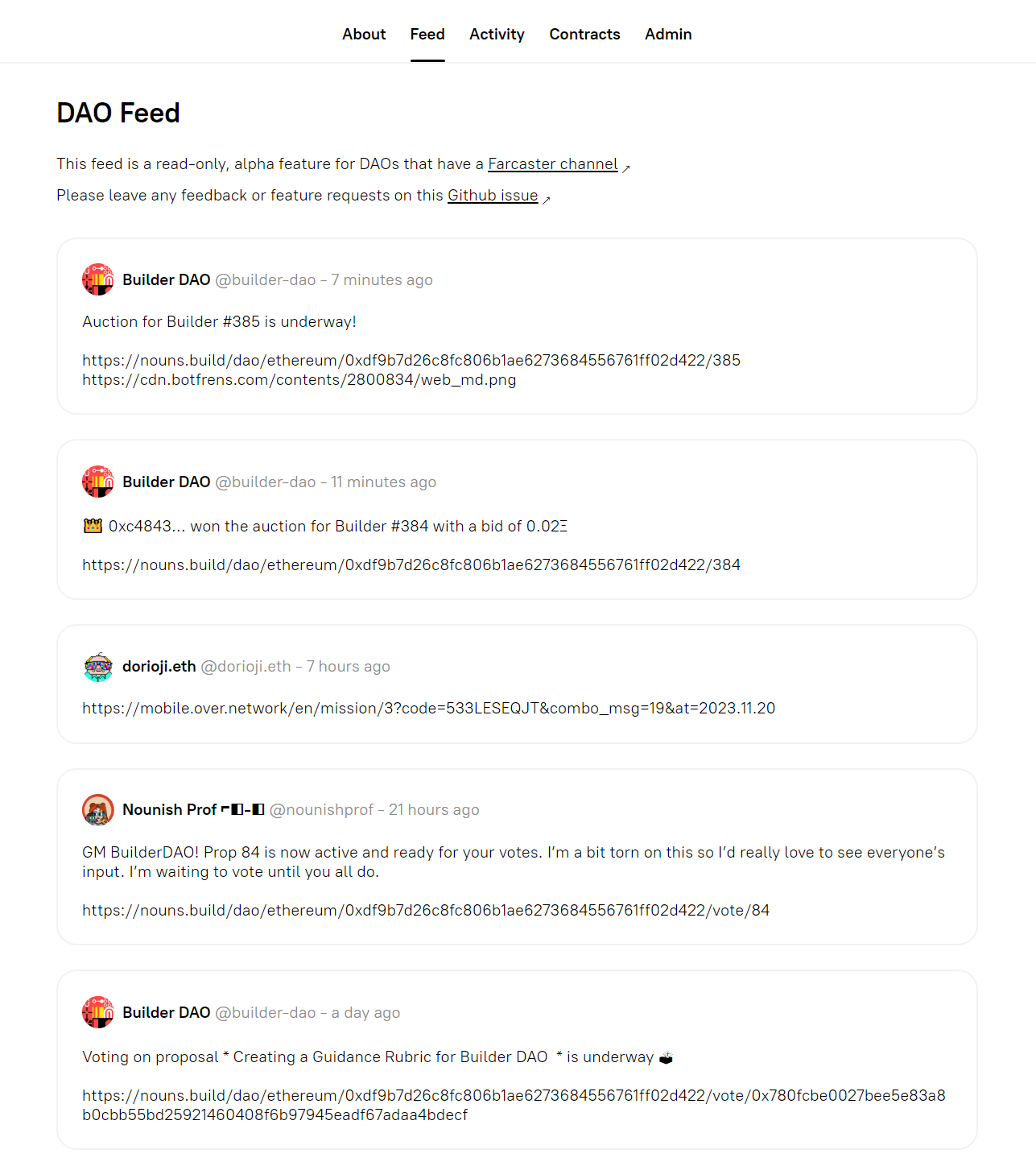 Newsletter Artwork
The art featured in this week's newsletter was created by myself using Adobe Firefly. If anyone wants to send me artwork they've drawn or generated with AI, please DM me on X or Discord, and I will include your art and a shoutout in a future newsletter!
Builder DAO Fun Fact
The generative art for the Builder tokens includes 37 different traits in both black and white, randomly generated including ⌐◨-◨ in 8 different locations on the token.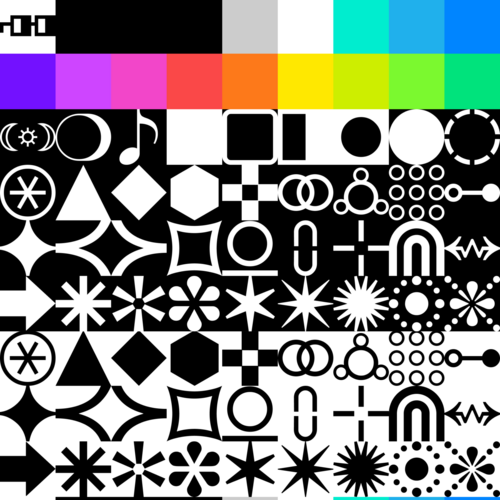 ---
Protocol Stats
DAOs Launched on Builder Protocol: 146 DAOs Created
Nouns Builder Proposals: 618 Total Proposals (+7)
For regular updates, follow the Nouns Builder DAO Bot on Twitter or Farcaster.
---
Proposals
Active
Passed
---
Built on Builder
This week's featured DAO built on the Builder protocol is Headline! Headline is an experiment in decentralized journalism. The DAO is an attempt at creating a nounish media DAO to fund crypto journalists. Writers have the freedom to pitch themselves or their ideas, without a centralized editorial board or a core team. They maintain ownership of their distribution channels, with the only requirement being to produce high-quality content and include Headline DAO branding.
⌐📰-📰
Twitter: https://twitter.com/headline_dao
Website: https://www.headline.wtf/
Auctions: https://nouns.build/dao/ethereum/0x3e4a08b6da666d7c239221e4429340975ec09c48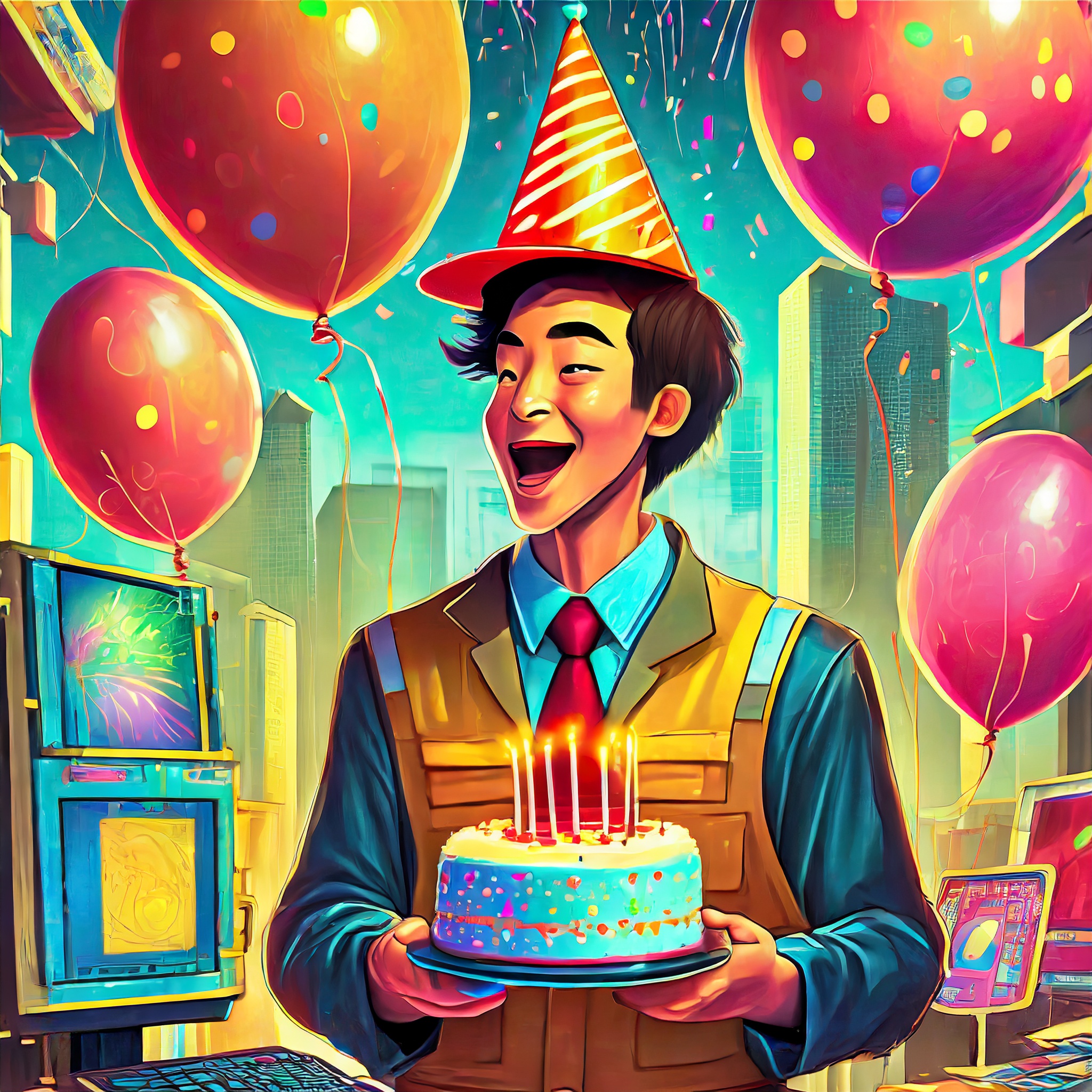 Collect this post to permanently own it.
Subscribe to Builder Buzz and never miss a post.