BLVKHVND, an eSports DAO built on the Builder protocol, is revolutionizing the competitive gaming landscape. Their innovative approach to onchain eSports organizations is helping to decentralize the gaming world. Their prowess was recognized internationally when they emerged as a top competitor in the Apex Legends Global Series, placing 19th overall. Driven by a vision of community stewardship and ownership, they're leading the way in fostering a more inclusive eSports culture. They're also the Built on Builder featured DAO at the end of this newsletter, so read on to learn more!
Builder Protocol Testnet Expansion
The Nouns Builder Protocol has expanded to the Zora Network testnet now in addition to the Optimism and Base networks. Head over to testnet.nouns.build to give it a go, and be sure to leave your feedback here.
Public Work Session #10
Notes and recordings from the latest public work session #10 are available here on Github. The key focal points of the latest session were client development and upgrades planned for Builder Protocol V2. Under client development, discussion items included the integration of trigger emails, presenting DAO Auction charts, and the potential implementation of a stablecoin bridge. Additionally, they discussed the Nouns TokenBuyer contract, an integral part of the Protocol V2 rollout. Protocol V2 itself is poised to introduce streamlined token claiming, alternate implementation routes, a unique custom metadata renderer, and dynamic auctions, marking a significant leap in the DAO's scalability and versatility.
Builder Infinite Prop House Dev Round
Unfortunately, a strong proposal by Jord from DAO Masons became stale after not reaching the vote threshold within the 7 days of being posted. As proposals are required to reach the threshold within this time period, it is crucial that we as a DAO try our best to regularly pay attention to proposals as they come in. I will continue providing updates as additional proposals are submitted to the Prop House round, with the objective of encouraging broader participation and an increased volume of votes.
For those who haven't heard yet, the round has been funded with 0.50 ETH and 1 Builder token to be rewarded to the first three proposals to meet the round requirements and reach the vote threshold of 54. If you are a developer looking for a way to get involved with Builder DAO this is a fantastic opportunity to show your skills! Check out the round on Prop House here for more info.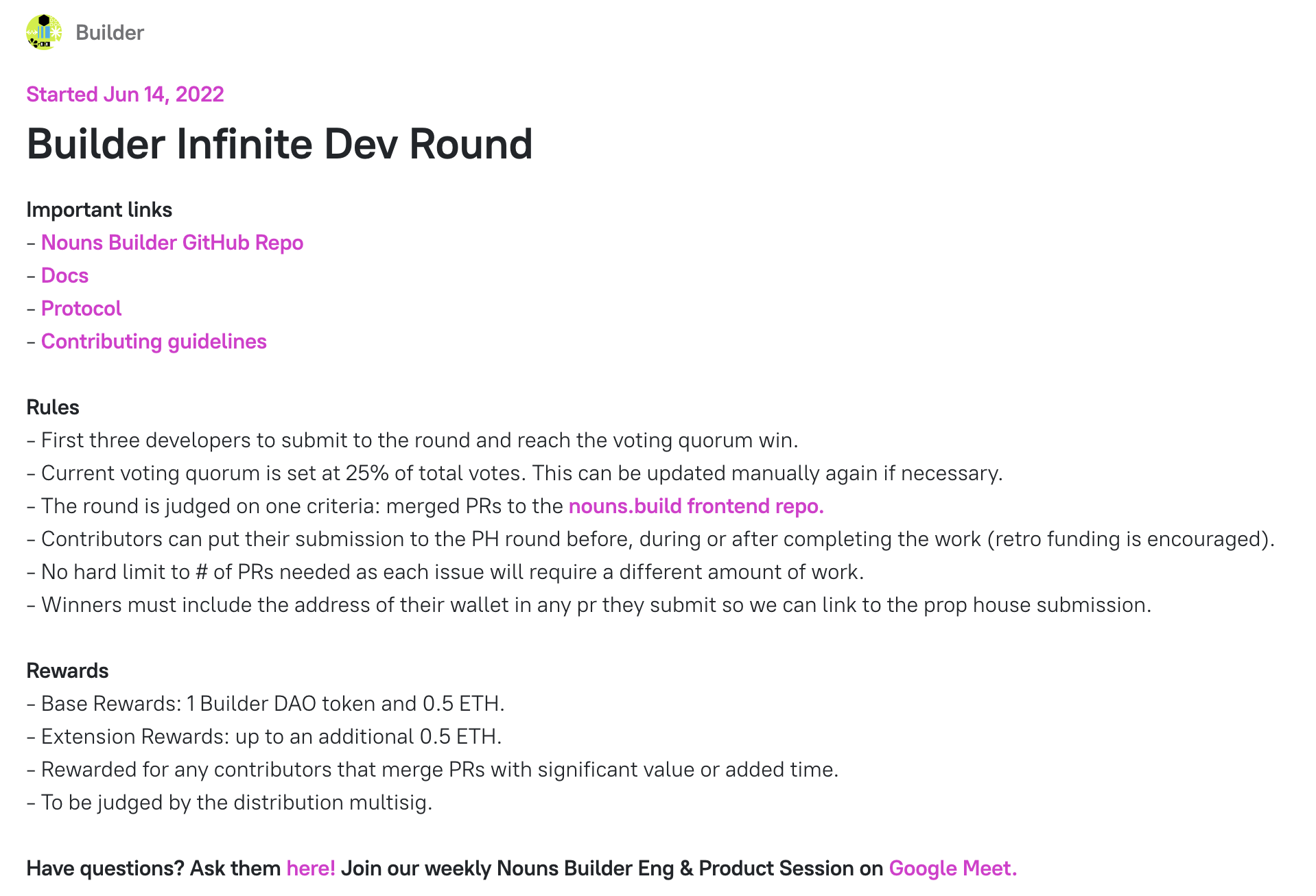 Builder DAO: Mission // Vision // Values
The second draft of the Mission, Vision, and Values document is ready for review here. Please take a look and share your thoughts when you have a chance!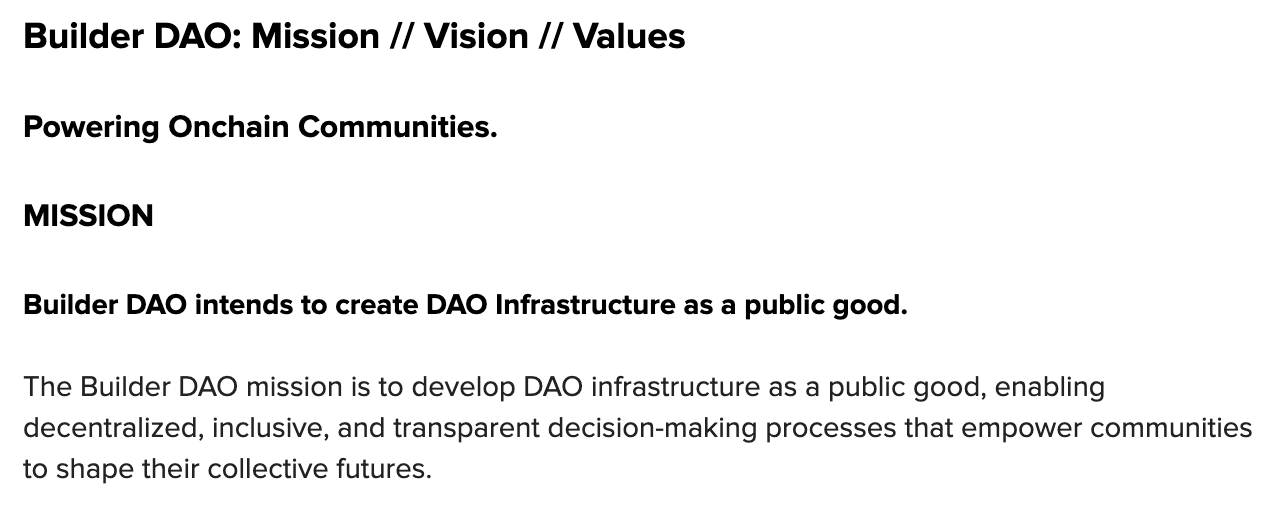 Builder DAO Onboarding and Work Sessions
Every Thursday at 4:30pm EST, community resident Prof Werder hosts a Builder DAO and Nouns Builder onboarding call where she is available in Discord to answer any questions related to Builder or discuss proposal ideas. Once a month, immediately after this onboarding call is the Builder Guild monthly call starting at 5:00pm EST. The next monthly call is scheduled for July 27th.
Also happening every Thursday at 10:00pm EST is a weekly public work session with Zaak and Neokry. If you have any questions about the work they are doing, ways you can contribute, or even the Infinite Dev Round please feel free to pop in and join them during this session!
Builder DAO BuilderBox on TNS
Every week at 4:00pm EST Prof Werder and Toady host BuilderBox live at The Noun Square! Follow the BuilderBox twitter account to keep up with the latest news. If you aren't able to make it, you can always go back and listen to the recording! This past week was a discussion with Jord and Matt from DAO Masons, check out the recording here.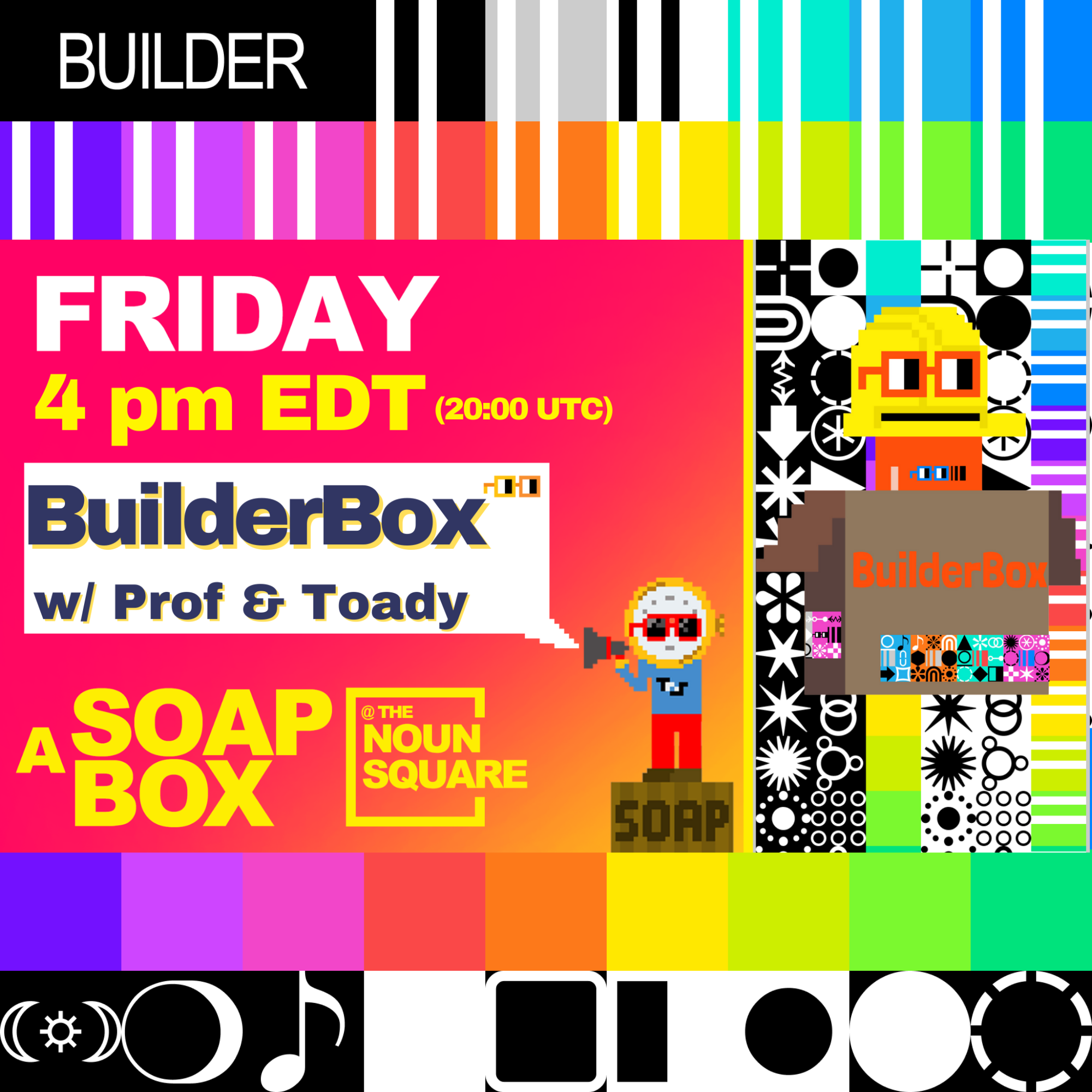 Builder Channel on Farcaster
The Builder Channel on Farcaster displays a feed of activity from members of Builder including casts and onchain activity such as auctions, proposals, and votes. You can also now see the DAO feed directly on the nouns.build website by clicking 'Feed' as shown in the screenshot below!
It's a really great way to keep up to date with your fellow Builders! If you haven't created an account on Farcaster yet, please reach out to me or Prof Werder and we'll get you an invite!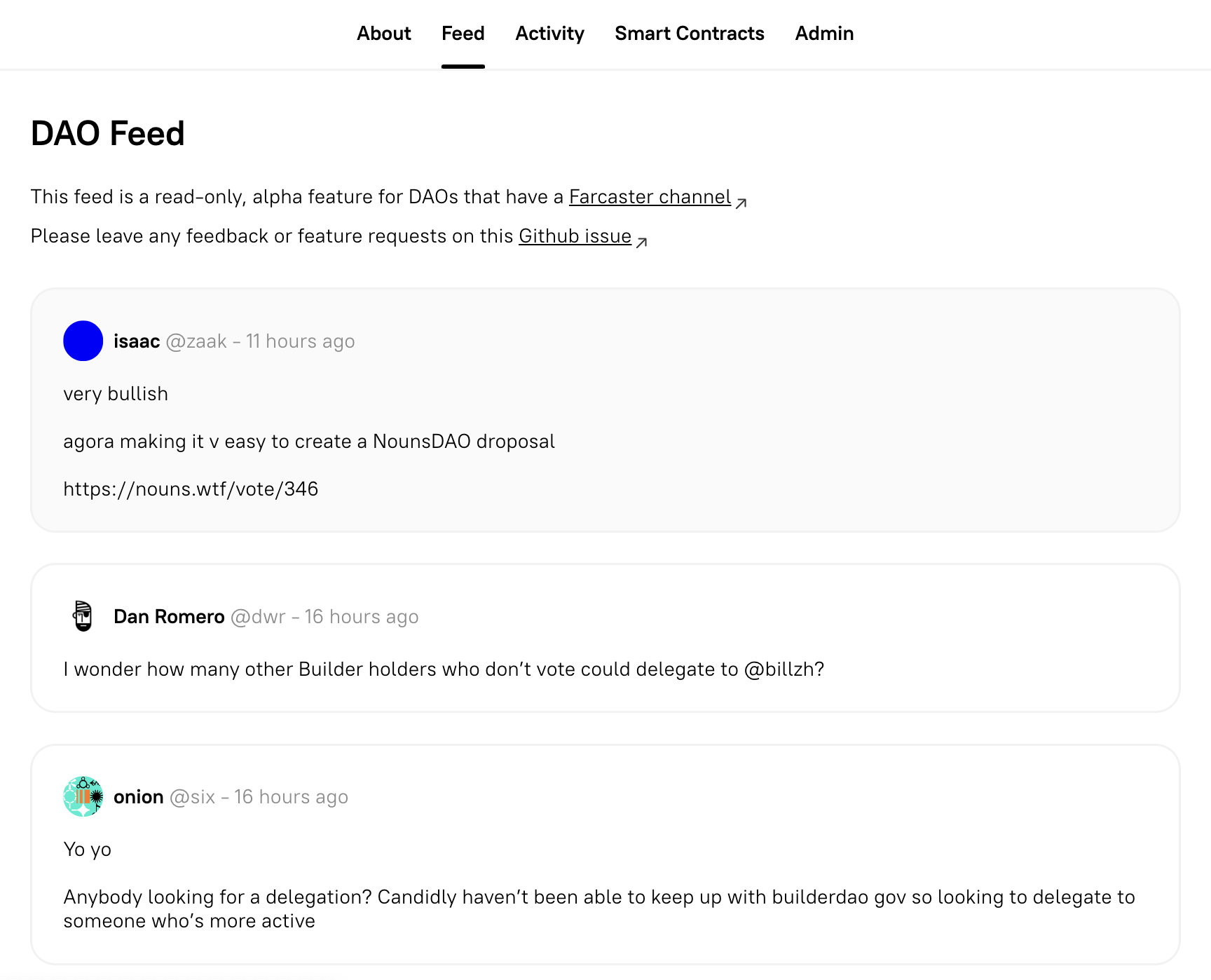 Builder DAO Fun Fact
There are 15 different background colors for the Builder tokens that are randomly generated for each new auction.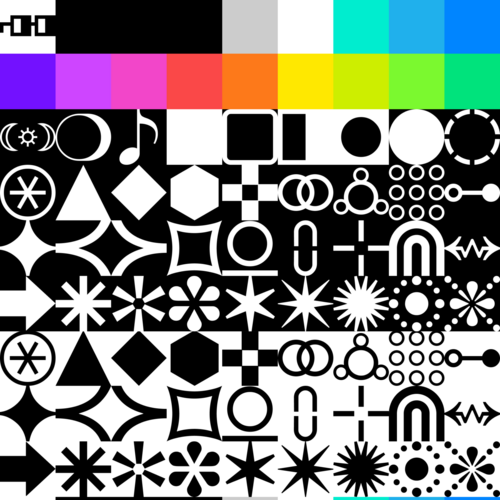 Protocol Stats
Nouns Builder Deployed: 108 DAOs Deployed
DAOs Launched on Builder Protocol: 133 DAOs Created
DAOs income from Auctions: 475 ETH
Nouns Builder Proposals: 444 Total Proposals
For regular updates, follow the Nouns Builder DAO Bot on Twitter or Farcaster.
Proposals
Passed
Built on Builder
This week's featured DAO built on the Builder protocol is BLVKHVND. They are creating an emerging ecosystem for onchain esports organizations, with a mission to be the center of competition no matter where it lives. They became the first DAO to win a professional world championship and are now striving to make BLVKHVND fully owned and stewarded by it's community to continue building on that success. They are even launching their own mobile eSports companion app, which you can read more about and download for beta testing on Launchcaster.
Website: https://blvkhvnd.com/
Twitter: https://twitter.com/BLVKHVND
Auctions: https://nouns.build/dao/ethereum/0x351ea1a718521f22718ae14f7d380ae345fad043
Discord: https://discord.com/invite/blvkhvnd