Building Momentum for 2023
The start of this year has been quite #wolfish to say the least, with individuals from the Wolf Den and The Guardian Academy actively taking charge in their distinct ways to serve their community. As a result, councils have been established, and innovation is on the rise with the release new on chain activities, community members stepping up as a creators, and much more.
As February comes to a close, and we approach the final month of the first quarter of 2023, let us take a moment to contemplate the events occurring around the den.
P.S. As a reminder (depending on your country), we are in the heat of tax season. If you need help with your crypto taxes make sure to check out Crypto Taxes Made Easy to get you squared away with submitting your crypto tax reports for 2022. Remember that you save $200 with our promo code WOLFISH.
Onward with the updates...
Gray Wolf Labs Trivia Night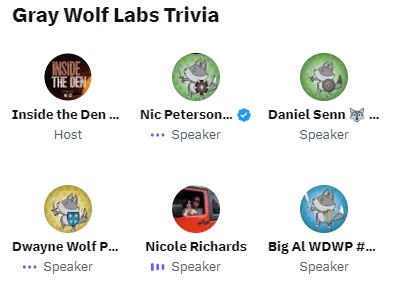 The first official Gray Wolf Labs Trivia Night was hosted on January 27th. Our approach to organizing Trivia put much of the decision making into the hands of team members. We encouraged members to formulate their own teams (no limit on size), organize their preferred method of communication, and figure out the best way to divide and conquer. This gave teams more autonomy to develop and work together, which also helps with foster divergent thinking and leadership. Prizes included a Gray Wolf Pup NFT and 5 Penguin Posse Club NFTs.
As part of the experience, we opened a Twitter space for people to congregate and chat in between rounds. There were 3 rounds of 7 questions, all which were distributed among token gated channels; such as pages setup with Highlight.xyz that token gated questions for people who held one of the five elements associated with the Wolf Pup NFTs (water, fire, wood, earth, and metal). Questions were also distributed to channels inside the Recovery Punks and Penguin Posse Club discords to encourage projects published by Wolf Den Labs.
This event was a ton of fun, and brought together members in a collaborative way - congrats to The OGs for winning the first Trivia night!
TGA Syllabus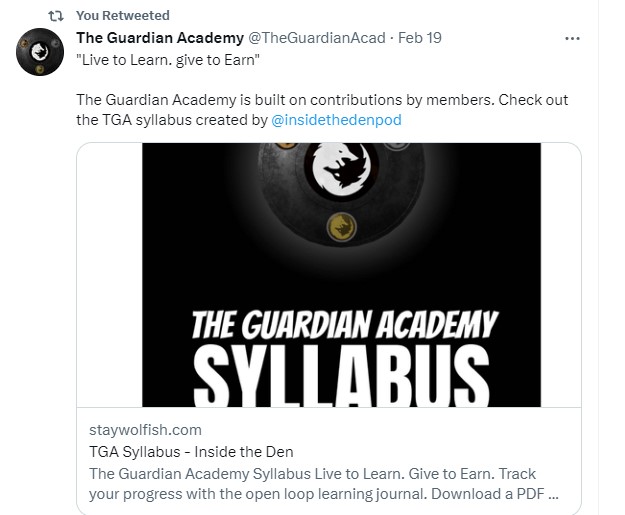 Now that we have the new website, it only made sense to move The Guardian Academy Syllabus over to the new site and make it more interactive / streamlined for TGA members to work through the material. You can check out the syllabus at www.staywolfish.com/syllabus.
Operation Wolf Pup Jailbreak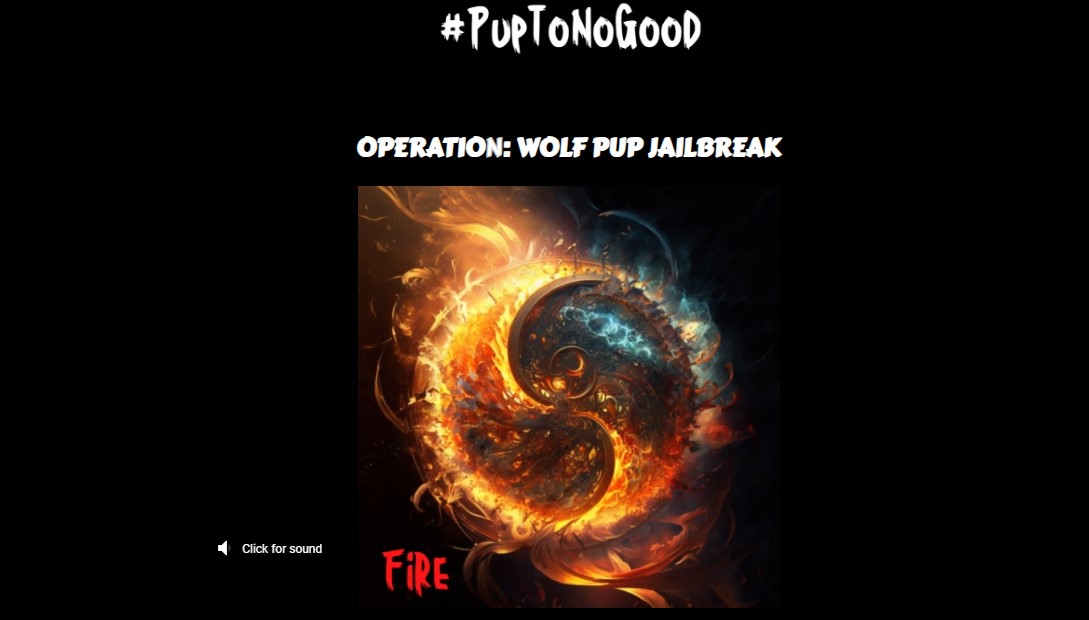 Wolf Pup #0 has been a "pup up to no good" and making waves creating a fun and innovative experience for people to participate in on chain activities. At this time, the start of The Fire Key Journey is in pursuit. To learn more, follow Wolf Pup 0 on Twitter @0xWolfPup or you can join the hunt at https://www.puptonogood.xyz/
Doc the Wolf publishes a Children's book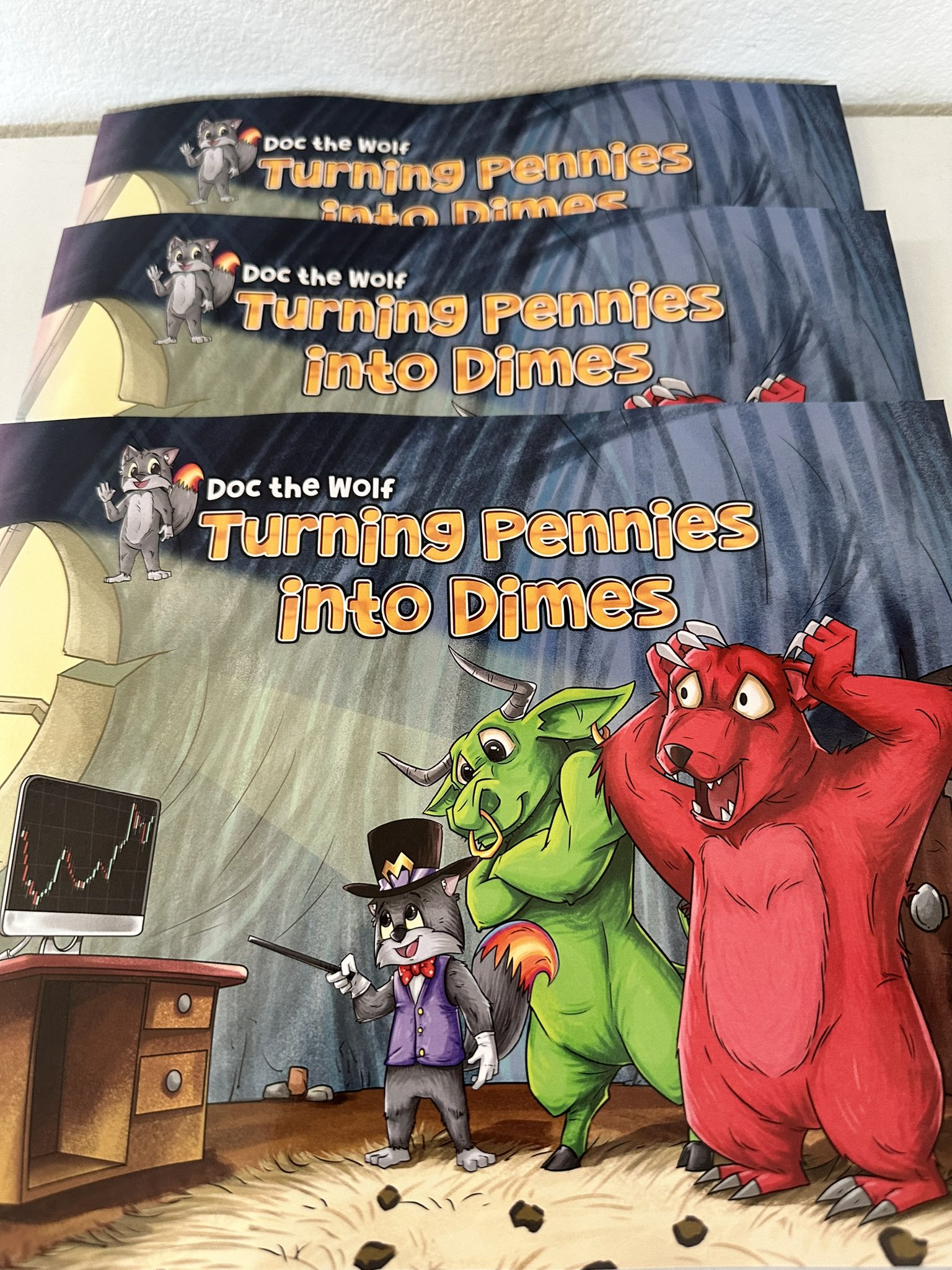 Congrats to Doc Kev for publishing his new children's book "Turning Pennies into Dimes" that's based on his Wolf Pup NFT, Doc the Wolf. Doc the Wolf is building an entire Canis Cosmos world where intelligent wolves rule and are tasked with protecting the balance of the universe. To learn more about the Canis Cosmos, https://paragraph.xyz/@docthewolf/canis-cosmos.
Connect with Doc the Wolf on Twitter @d0cthewolf or www.docthewolf.com to learn more and purchase your copy of his book. You can also check out our interview Doc Kev, chatting about his book at https://staywolfish.com/writing-a-childrens-book-with-your-wolf-pup-nft-with-doc-kev/
Also keep your eye out for Doc the Wolf's 365 days of 6 word updates!
What's coming up for Inside the Den
So what's to come for Inside the Den as we wrap up Q1 2023?
One area that we've been discussing in depth is our content strategy. More specifically, an emphasis on ways to not just bring more value to the community but to expand our reach beyond the Wolf Den and TGA. In other words, how can we attract new audiences and communities. Considering the web3 space is such a community centric space, we see a lot of opportunity here. In general, our content strategy is much clearer with a direction on how to move forward. As we proceed with next steps, an outline of feedback / results will be published in subsequent newsletters. So make sure to subscribe so you can follow along.
To expand, we'll be rolling out a really cool series on blockchain tools for the month of March. The innovation happening in the blockchain space is remarkable, and we want to bring this to the forefront of our content so the community understands what tools are available.
Lastly, we'll be making some updates to the website; www.staywolfish.com. This won't be anything major, but now that we're producing more of a library of content and molding what has become a content strategy moving forward then it's important to align our web presence accordingly.
This wraps up the first official Inside the Den Newsletter. If you made it this far, we thank you for reading and supporting the den!
Until next time, stay wolfish!
Jake & Dwayne