Our app needs design help, that's no secret.
When J and I set out to build poidh, our focus was launching a simple dapp that proved the concept of trading proof-of-work NFTs for onchain bounties. With that singular goal in mind, we launched an extremely minimalist UI over the top of our poidh escrow contract.
It's done the job. We're nearing 50 completed bounties all-time and poidh has already been able to make real impacts in local communities.
But we've heard user feedback loud and clear and something is obviously lacking: the app's design.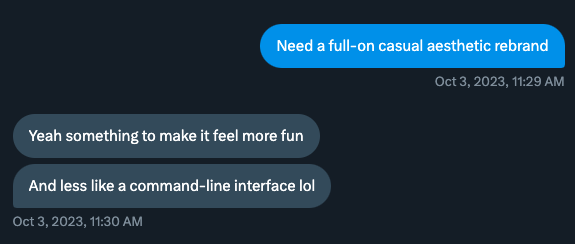 However, our resources for design are limited. At the moment poidh is a passion project for both J and I. We're working on this in our free time and bootstrapping all funding. We also both have an absolutely terrible eye for aesthetics.
So, we're looking for help. And we think there's no better way to get the process rolling than with our biggest bounty yet.
To kick-start the poidh redesign process we're announcing a .3 ETH bounty to the best mockup redesign of our bounty detail page. Here are the contest details:
Claims can only be submitted via this bounty page https://poidh.xyz/bounties/122

To submit your claim, upload a photo of your new design and add links within your text claim description to the Figma mockups of your redesigns

Designs should be done with a mobile focus in mind

Bounty winner will be decided based on an internal review of all submissions by the poidh team

Deadline to apply is November 30th

A winner will be announced no later than December 7th

Please note that by submitting, you are granting poidh the ability to use your artwork as the template and/or inspiration for potential future site redesigns
Some examples of completed bounty detail pages can be found here for inspiration:
Keep in mind that your redesign does not need to use an existing bounty page as the template. Feel free to create your own hypothetical bounty request + claim submission images.
If you have any questions regarding the contest details, you can drop in our Discord to ask for help. Also, if you are a designer who's interested in applying for the prize, but who does not have Arbitrum ETH gas available to pay the submission gas fees (usually 20 - 50 cents in ETH), please DM me directly on X @kaspotz. Artists who can prove a portfolio of work and history within the crypto community will be airdropped the necessary gas to submit their claim.
Collect this post to permanently own it.
Subscribe to poidh and never miss a post.