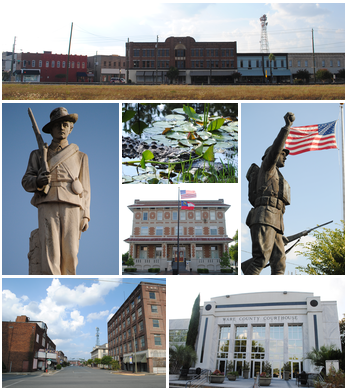 I don't know what it says about Theresa and I that our top three most viewed videos are all about small Georgia towns. Neither of us are from Georgia. We've never lived in Georgia. These were not the first videos we recorded. Yet, our videos on Brunswick, Waycross, and Madison are our three most view videos to date.
Waycross, Georgia is particularly puzzling to me because it's a small town nestled in south Georgia. It's not a tourist town, though I'd recommend you tour this little gem as soon as you are able.
With a population just under 14,000 in 2020, Waycross is a beautiful little community, humble, and fun. You won't find water parks or amusement parks with a lot of pomp. There are no scream-at-you-from-the-top-of-the-world tourist traps to get sucked into. But there is some history there that bears some exploration. It's also a cool place to just sick back and relax.
The city itself is named for its cross junction of railroad lines that meet in the city. Six of them. But it didn't come by that name until 1874, 50 years after its founding.
In the early years, it was known as "Number Nine," aka "Old Nine." Then folks started calling it Pendleton. In 1857, in got a new name—Tebeauville. It was incorporated under that name in 1866. In 1873 it became the county seat of Ware County. The next year, it became what it is known as today—Way Cross. Note, however, the space between the two words "way" and "cross." I'm not sure when they were brought together to form the compound, but that's where we stand today.
There are other cool historical facts about Waycross. For instance, it was the first town in Georgia to allow white women vote. As it were, some of the most prominent land owners in town at the time were women, and they wanted a say in how their tax dollars were spent. Who can blame them?
Waycross is home to several media organizations, and several celebrities hail from there, as well.
Among the cast of celebrities who have called Waycross home include:
We had fun in Waycross, Georgia and invite you to check out our small town historical walking tour of this little gem.
My Last 3 Posts
Show Me Some Love!
If you like this post, show me some love. There are three ways to show me that you enjoyed reading this issue of Tuesday Travelogue.
Share this post with your friends
Subscribe to the channel
Collect this post (only 3 mints available)
#georgia
#travel
#vanlife
#allen and theresa
#youtube
#videos
#walking tours
#historic tours
#brunswick, georgia
#madison, georgia
#waycross, georgia
#celebrities