UFO is creating an onchain radio station. An internet club for music, arts and ideas.
Today we're announcing our first live event. Friday, November 3 at WIHH Gallery in Amsterdam.
A spacious white room filled with art. Three music artists will perform.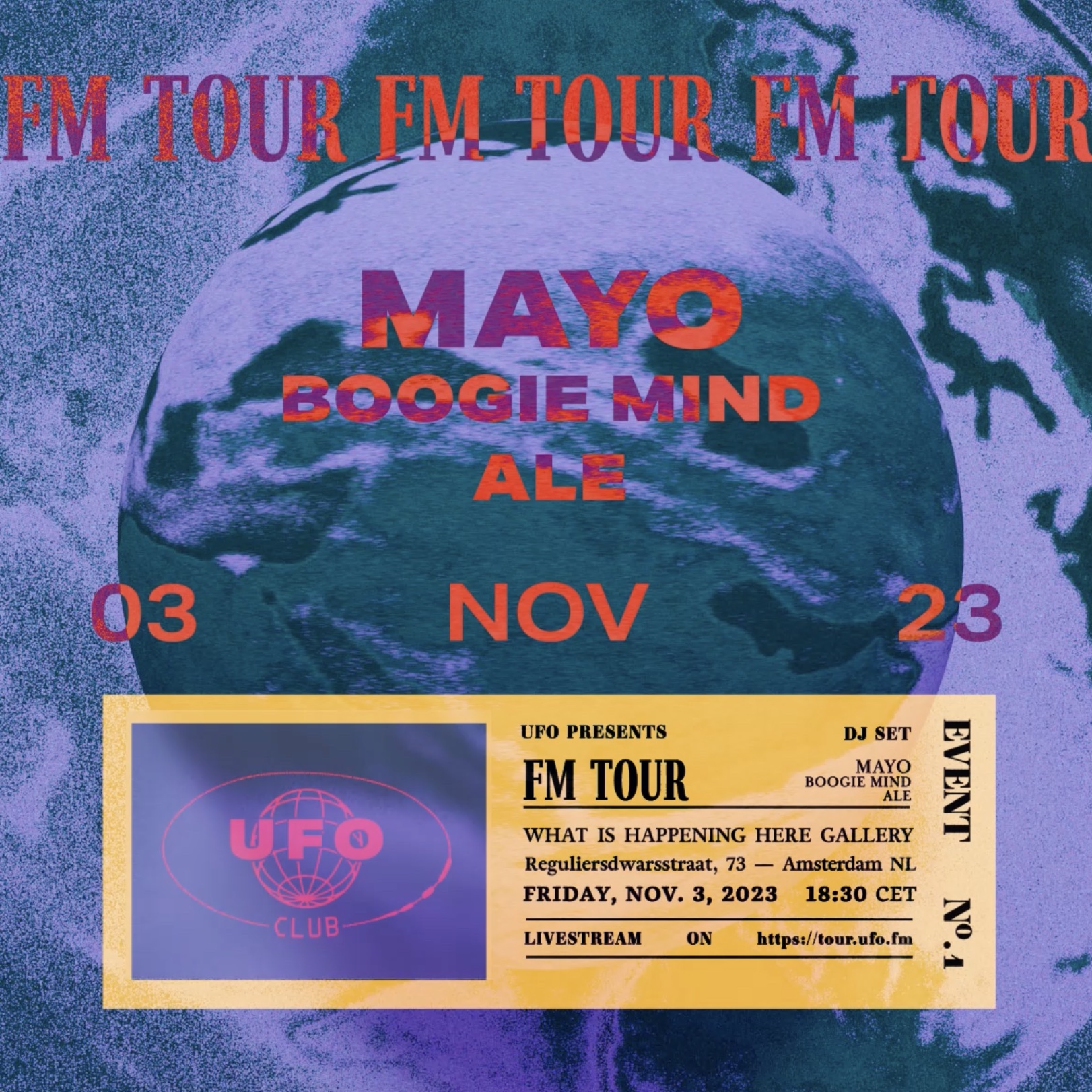 You can register for the guest list here. It falls on the last night of MET AMS.
Please register for the event if you're really going to be in Amsterdam. The event is free but space is limited.
Collecting a FM TOUR ticket gives you priority for the guest list.
All FM TOUR ticket holders will have token-gated access to a live stream. More info on this will follow ahead of time.
Collect via this link ↓
What is this about?
Your ticket for the mystery FM TOUR.
Minted on August 30 during onchain summer with Base and Bonfire.
8889 mints in 3 days with 7538 unique wallets.
Kinda crazy.
Gathering an audience and community is where we're at today. A mysterious event series sounds like something we'd do.
With a simple free mint and little explanation, UFO made contact with a few thousand more people in the world who'd never heard of us.
Just mint it
FM TOUR is an experiment as we get things together. A place to explore ideas for onchain radio. We gravitate to music, art and happenings.
The FM TOUR mint received more than 4 ETH from Zora protocol fees. It was wild to see this trending #1 on mint.fun.
The intention from the start was for these funds to loop back to the community. Used only for the FM TOUR. A fraction of this budget will cover for the space, DJs, and for live broadcast.
There is a potential for mints like this to help fund collective action and make things happen which we can all experience together. Likely we'll see more of this in 2024.
We've just minted a flyer for the first UFO party.
Something for the community.
Something to collect.
Free mint.
Paragraph mints on Zora
We're often an early adopter in this onchain media game.
Today, edition #1 of the UFO newsletter is among the first Paragraph posts to mint on Zora network, in collaboration with both teams.
Over the past year, we have been experimenting across the realms of onchain media and web3 social. On November 11, UFO was among the first to drop a subscribe to collect NFT on Mirror with the UFO Genesis Pass.
We were early on Lens in September and have more than 30K subscribers.
On June 27, UFO was the first podcast to mint our catalog on Zora network.
Minting this newsletter is another experiment.
Thank you, stay tuned
We are building an onchain radio network.
We are welcoming friends.
We are throwing a party in Amsterdam.
For now that's all we can say.
Collect this post to permanently own it.
Subscribe to UFO and never miss a post.