GM DOers! 😎
Did you know… 🤔
The average cell phone plan in America for texting, calling & surfing the internet is around $100? 🤙
This amount has become pretty standard and most people simply accept the costs.
But what if I told you that you could get a monthly plan for only $5? Over 95% less than the average. Sounds crazy, right? 🤯
Well, it's not crazy… It's a reality made possible by Helium, a blockchain company focusing on building decentralized wireless infrastructure in the IoT sector.
Here's the TL;DR:
Helium is building a decentralized 5G network called The People Powered Network 🌐
This decentralized network is provided by thousands (and growing) of devices (called Hotspots) across America 🇺🇲

Hotspot operators are rewarded with $MOBILE tokens based on usage 💰

The cost of this decentralized network enables a $5 unlimited cell phone plan 📱 (unclear if economics are sustainable and scalable) 🤔
Today, we'll go over who Helium is, how they built a network powered by blockchain, how they are able to only charge $5/month for a text, talk & data plan and if this is sustainable long-term. 🚀
I haven't been this excited for a blockchain use case since decentralized identity. I'm such a nerd! 🤓
Giveaway 📢
And because we're nerds over here at Web3 Academy, we played around with Friend.Tech over the weekend & made 0.03 ETH ($50) in trading fees. 😅
We'll round this up to 0.05 ETH ($80) and send it to a lucky winner by Wednesday.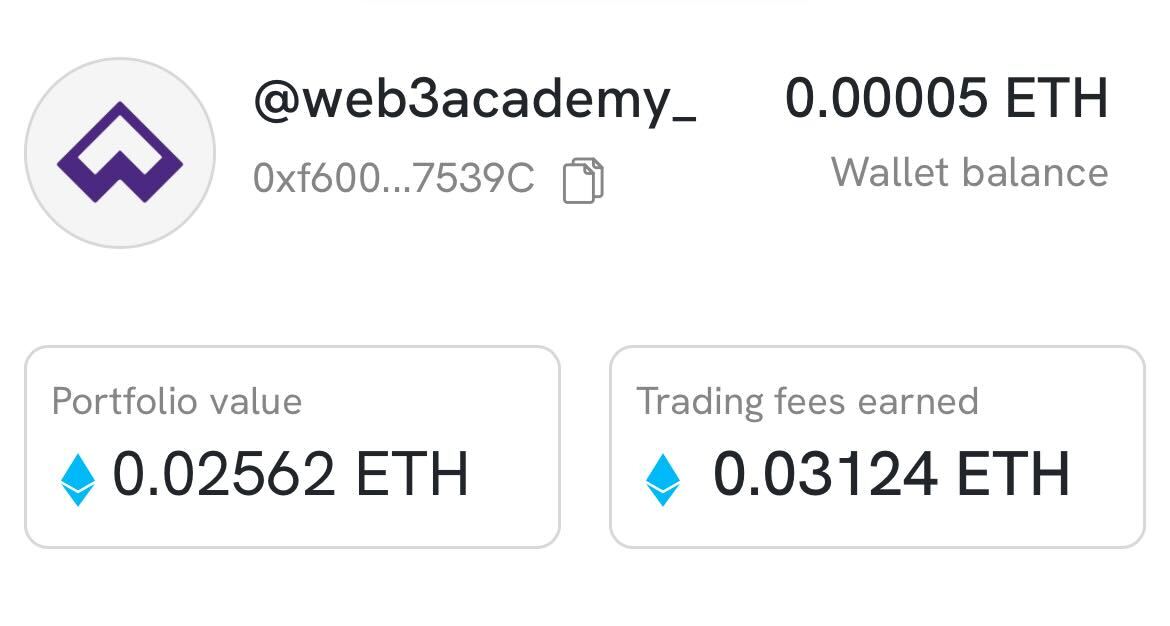 Want to enter? Reply to this email with your Ethereum wallet address.
If you win, you'll receive this ETH on the Base network so you can participate in whatever mints are left of Base's Onchain Summer (ending August 31st).
Back to Helium... 👇
---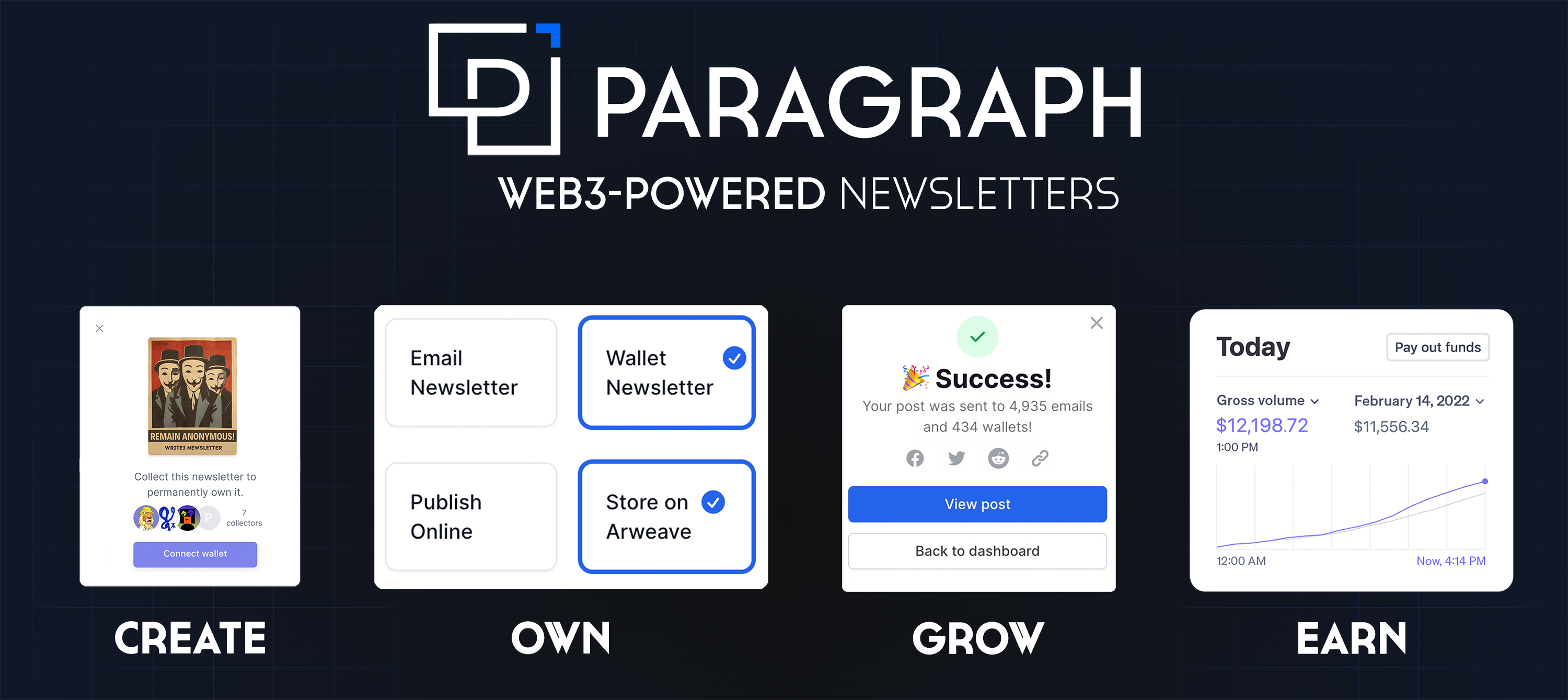 Paragraph powers modern newsletters, enabling readers to own their content and creators to share revenue with fans.
Web3 Academy has already transitioned to Paragraph because it's the future of newsletters.
If you're a creator, writer, or keen reader, explore Paragraph's early opportunities!
---
What is Helium Mobile? 📱
Helium Mobile is a project created by Helium, a crypto company built on Solana that's focusing on building decentralized wireless infrastructure in the IoT sector. 🔨
Helium launched in 2019 and has since established itself by building a network of 500,000+ active hotspots, providing coverage across 77,800 cities in more than 192 countries. ⚙️
Helium is considered the world's largest LoRaWAN network, providing services to medical transport supplies, parking meters, your dog's smart collar, scooter/bike share businesses and so much more.
With Mobile, Helium wants to start competing against the big corporations that provide data & other wireless infrastructure.
Only they're doing this through a people-powered network that works through a blockchain. (More on this later).
Helium Mobile first arrived on the radar when they announced a partnership with T-Mobile back in September 2022.

Back then, most people had no clue what this partnership was about so there was 0 fuss around it. 🤐
But as they announced the $5 monthly plan for unlimited talk, text & internet, it all started to make sense & Helium's getting some eye-balls. 👀
Keep in mind that only residents of Miami have access to this service right now, but Helium is planning expansion across the U.S.
But how is a crypto project going to provide a cell phone plan at a price that's 95% under the average? 🤷‍♂️
This is surely not sustainable… It's a hype cycle based on a false promise, right?
Well, let's find out. ⏬
---
🎙️ Wanna Learn More About Helium?
We hosted Eda Akturk, Community Relations Manager at Helium, on the podcast a while ago.
We talked about what Helium is, the Helium Foundation, $HNT tokenomics, how to participate in the Helium network, and much more.
Listen to our conversation below. 👇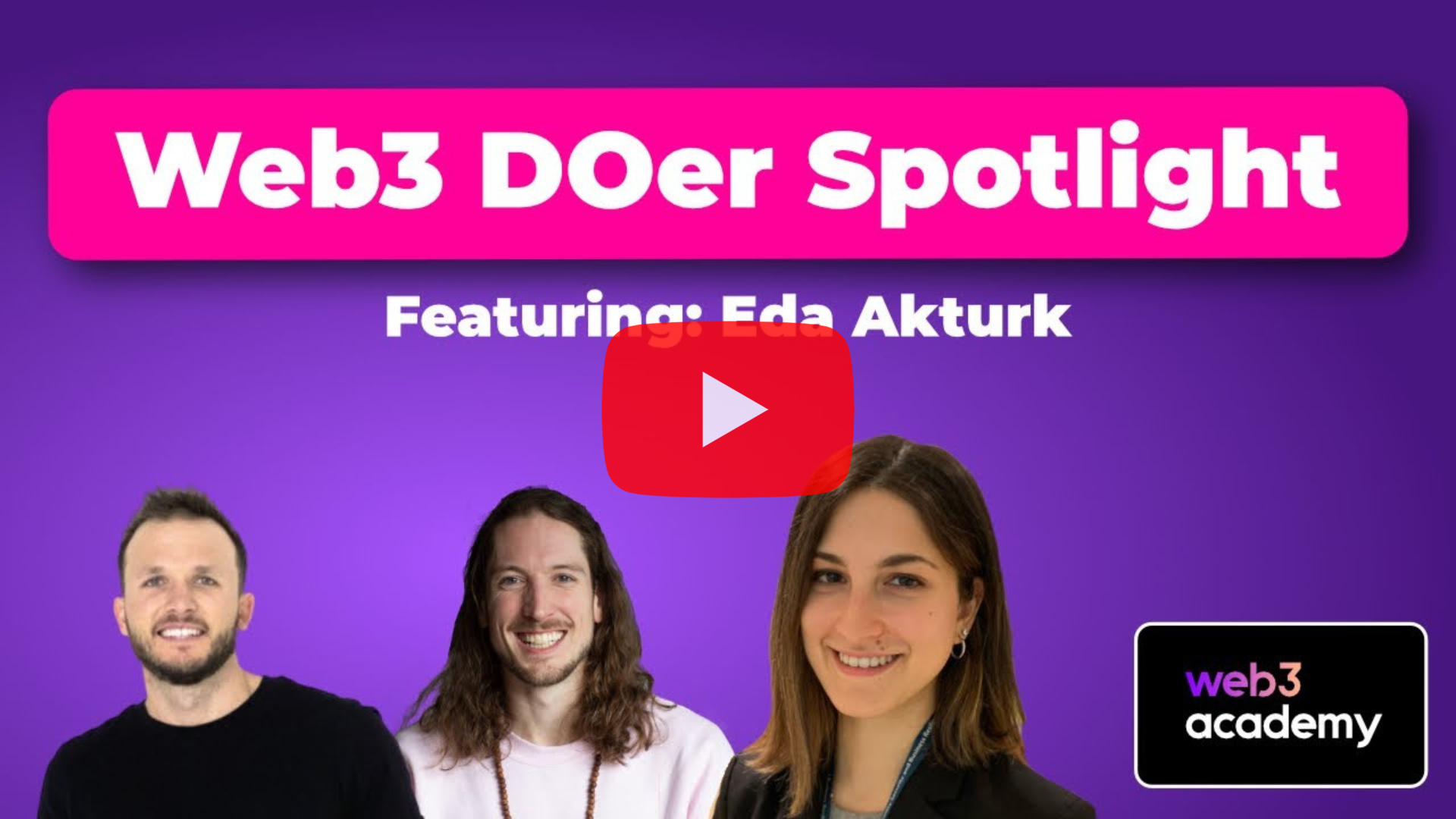 ---
The People Powered Network & Dynamic Coverage 🌐
This is not your average telecommunications company that's producing & selling data.
Helium's approach is different because it relies on people all over the world to produce & share data. ⛓️
And they're using their crypto token $MOBILE to incentivize people to participate in the network.
Let's break down how this really works…
First, it's all about the device: The Helium Hotspot. To participate in the Helium network, people need to buy & run this device. Thousands are running it already.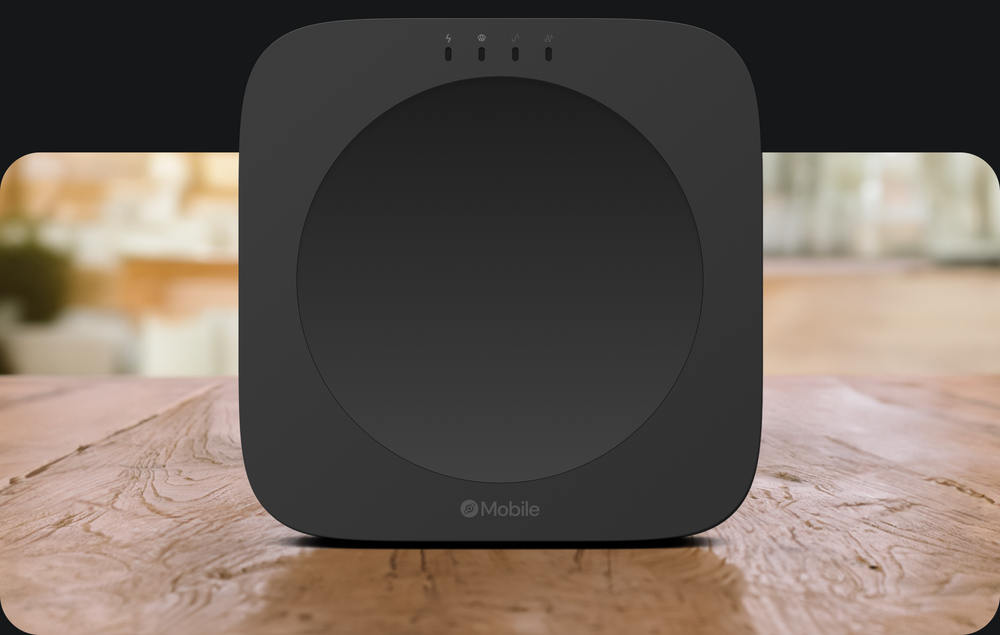 When this device is hooked to an internet source (like business fiber or cable), they convert the internet into 5G signal. 📡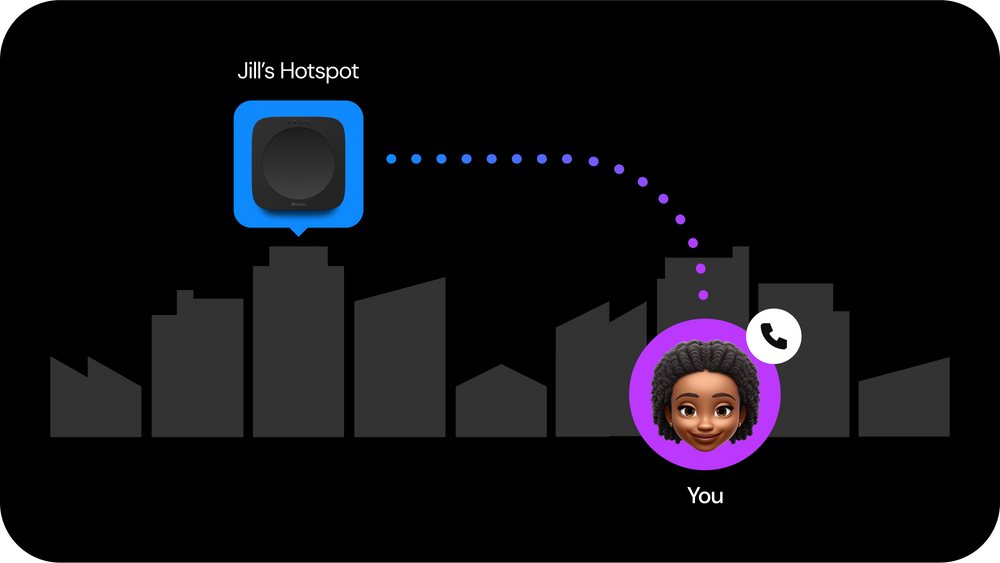 This signal provides anyone who connects to it with unlimited text, talk & data. They only need to meet a few requirements:
Be within a few thousand feet of the Helium Hotspot device

Have a $5 Helium Mobile plan

Use a Helium Mobile SIM card
Pretty straightforward… And to start providing this 5G signal to everyone around you, you need to buy a Helium Hotspot device.
These aren't manufactured by Helium. However, they do recommend a bunch of compatible hotspots from other suppliers.
The price varies between a few hundred dollars to a few thousand dollars. The more you spend on this device, the more data you can produce & share.
But why would anyone spend money to provide this service?
Because if you run a Helium Hotspot, you are rewarded with $MOBILE, one of Helium's crypto tokens, designed to incentivize participation in the network.
And while we don't know exactly how much you get paid to run a Helium Hotspot, we've seen people earn anywhere from $2-$80/day for running a 5G hotspot.
Helium mining isn't a new thing, either. People have been able to participate in Helium's various networks for years now, hence why you might've heard of Helium mining before.
The low electricity costs required to participate in the Helium network have hooked some individuals who claim that they've made some decent profits. 🤑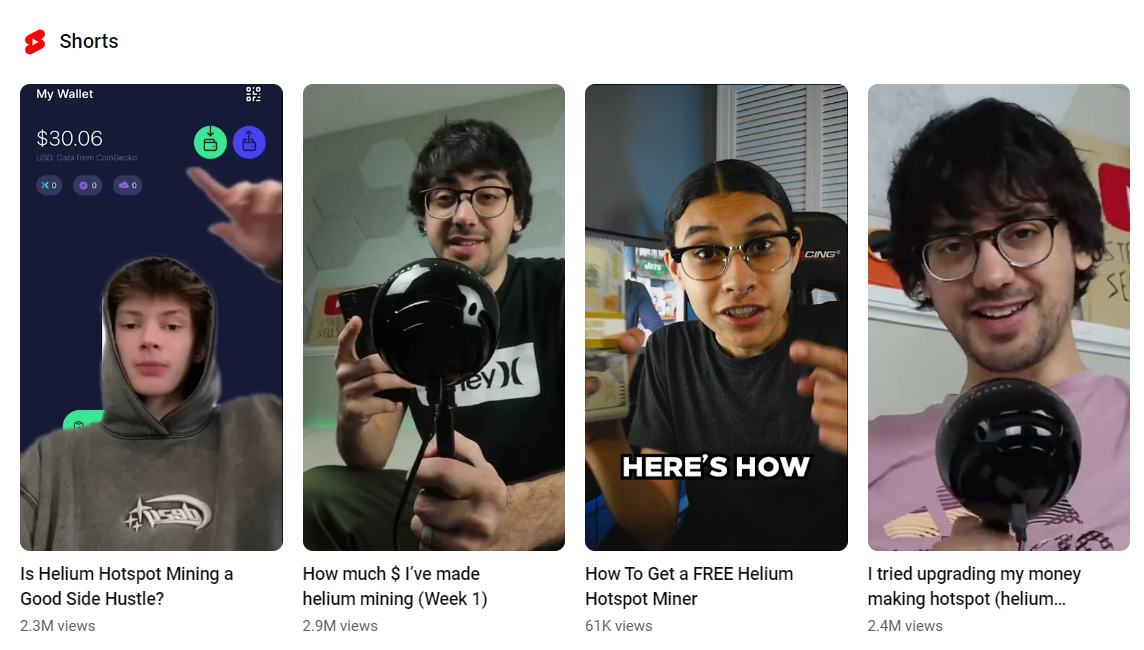 We also found this website, which sells professional grade hotspot equipment (more powerful than the device I shared above).
These units promise to make your money back in up to 81 days (which sounds a bit optimistic 😬).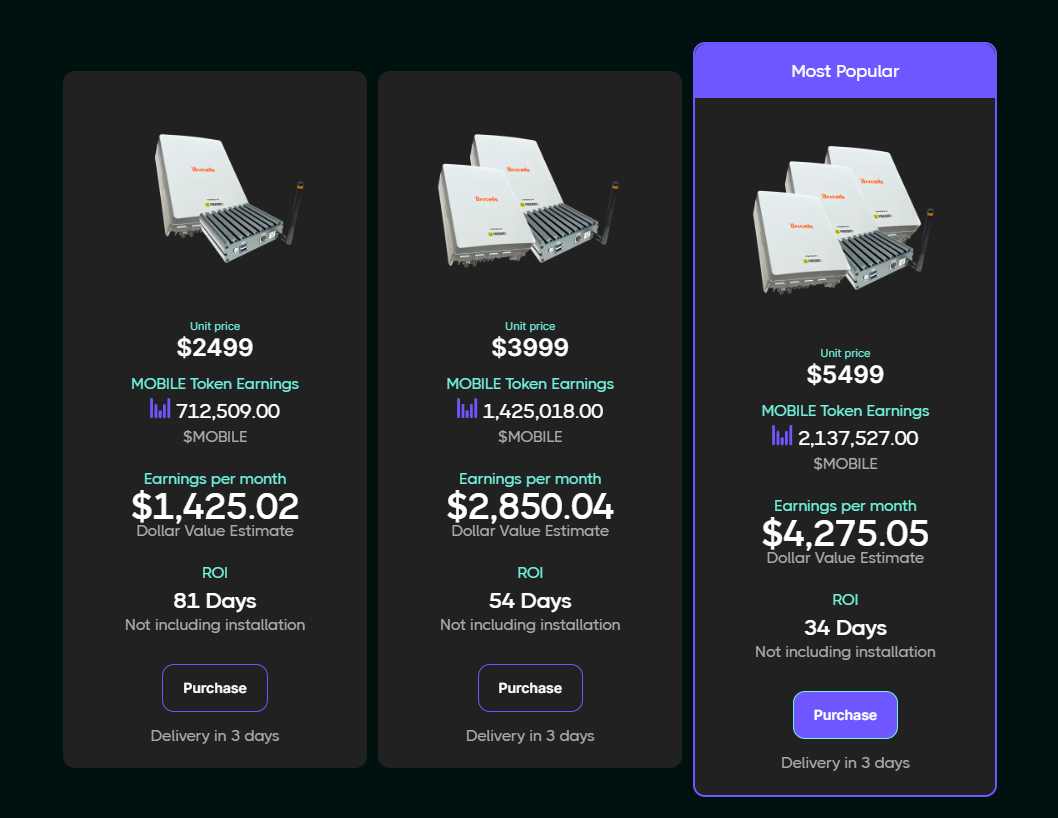 Regardless of how much money you can make, the fact is that you can generate an income by running this device, without really lifting a finger.
And the idea of making 'easy money' has intrigued a lot of people around the world to buy & run a Hotspot.
Here's how many Helium devices are currently running over the world. (This shows all of Helium's IoT devices, not only Helium Mobile ones).

But hold your horses… While there are many Hotspots around the world, the $5 Helium Mobile plan is solely available in Miami right now, where it's being tested.
The team has plans to expand in the coming months.
So let's say you're a resident in Miami & you get this $5/mo plan… However, you decide to take a trip to Joshua Tree in California, where you're out of reach of any running Hotspot.
Here's where Helium's partnership with T-Mobile comes in.
If there aren't any Hotspots around you, T-Mobile comes in & provides coverage, so you still get access to texts, calls & internet.
This is what they call Dynamic Coverage.
All without paying more…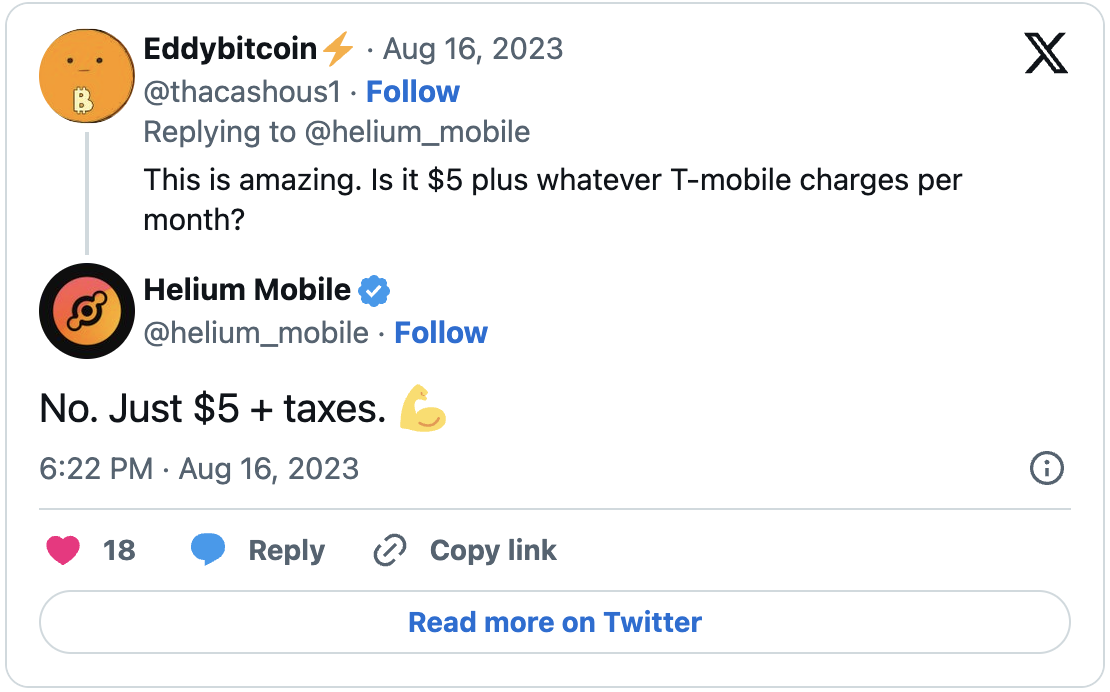 Okay, that was a lot of information. Let's summarize how the People Powered Helium Network works.
Anyone can buy & run a Helium Hotspot

By running it, you provide 5G signal to people around you

For your efforts, you're rewarded with $MOBILE tokens

Anyone can plug into your Hotspot as long as they have a $5 monthly Helium Mobile plan + a SIM card

If you're out of reach, T-Mobile covers your plan (Dynamic Coverage)
If you don't get how the Helium People Powered Network works, you should watch this video, which explains it very well.
Is This a Sustainable Business Model? ♻️
While this is certainly an interesting model, the Helium Mobile network is relying heavily on people using another carrier's internet to run a Helium Hotspot.
As we mentioned above, in order to run a Hotspot, you need to plug it into an internet source. The data isn't just being created by this device. Instead, it's simply reused.
This model is taking advantage of the unused home internet that people pay for. I, for example, have a 100GB plan per month. However, I only use 30GB.
If I wanted to, I could get this Helium Hotspot and use that 70GB that I have leftover from my current carrier, to provide other people with internet at $5/mo.
But that model doesn't sound sustainable… What if the current carriers catch onto this and block everyone who runs a Hotspot?
There are some serious concerns that we'd love to address to the Helium Mobile team on the podcast. If you have a contact there, reply to this email & let us know.
Additionally, we can't help but wonder how they can create a sustainable business model by selling such a valuable plan at only $5 – we're betting that they're losing money at the moment.
But that's okay.
Right now (because it's so early) they are selling at only $5 to gain attention and hype. It's a marketing strategy and there's nothing wrong with that.
But I suspect that pricing will change drastically 📈 as soon as they hit the desired number of users.
---
Identify Sustainable Businesses with Web3 Academy PRO!
If you want to find the winners in web3, you need to look onchain. 🔛👀⛓️
At Web3 Academy PRO, we do this daily and we compress our findings in a weekly onchain report delivered to our PRO members every Thursday. 📩
The benefits you get as a PRO are simple: You learn how to build and invest successfully in web3. 💰
Ready to level up? 🚀
---
How Can You Capitalize on This? 💰
Your first thought must be: Should I buy & run a Helium Hotspot?
And the answer is: depends. 🤔
If you're a person that's trying to make some cash, then it's probably going to be quite costly to make this thing profitable.
I was watching this YouTuber who mined Helium for years. His learning was that it always got harder and harder, and it cost more and more as time went on.
So if you're expecting to buy this thing and make a shit tonne of money fast, give your head a shake. Instead, you'll be forced to constantly upgrade your rig.
With that said, the People Powered Network is still small, so if you were to get a device now, it would be much more profitable than if you waited a few months or years.
As more people join, the rewards will be less and less.
On the other hand, if you're a business, this might just make a lot of sense, especially if you're in high traffic areas.
Imagine you're a gym, arena, office building or stadium which thousands of people flow through everyday.
This is a new revenue stream where you are paid when your customers use their phones. 🤳
You are supplying them with affordable data ($5/month) and you're getting a piece of that in $MOBILE tokens, assuming they're plugging into your Hotspot & are using a Helium plan.
Furthermore, there are certain areas that boost your revenue for running a Hotspot. Right now, these areas are around Miami.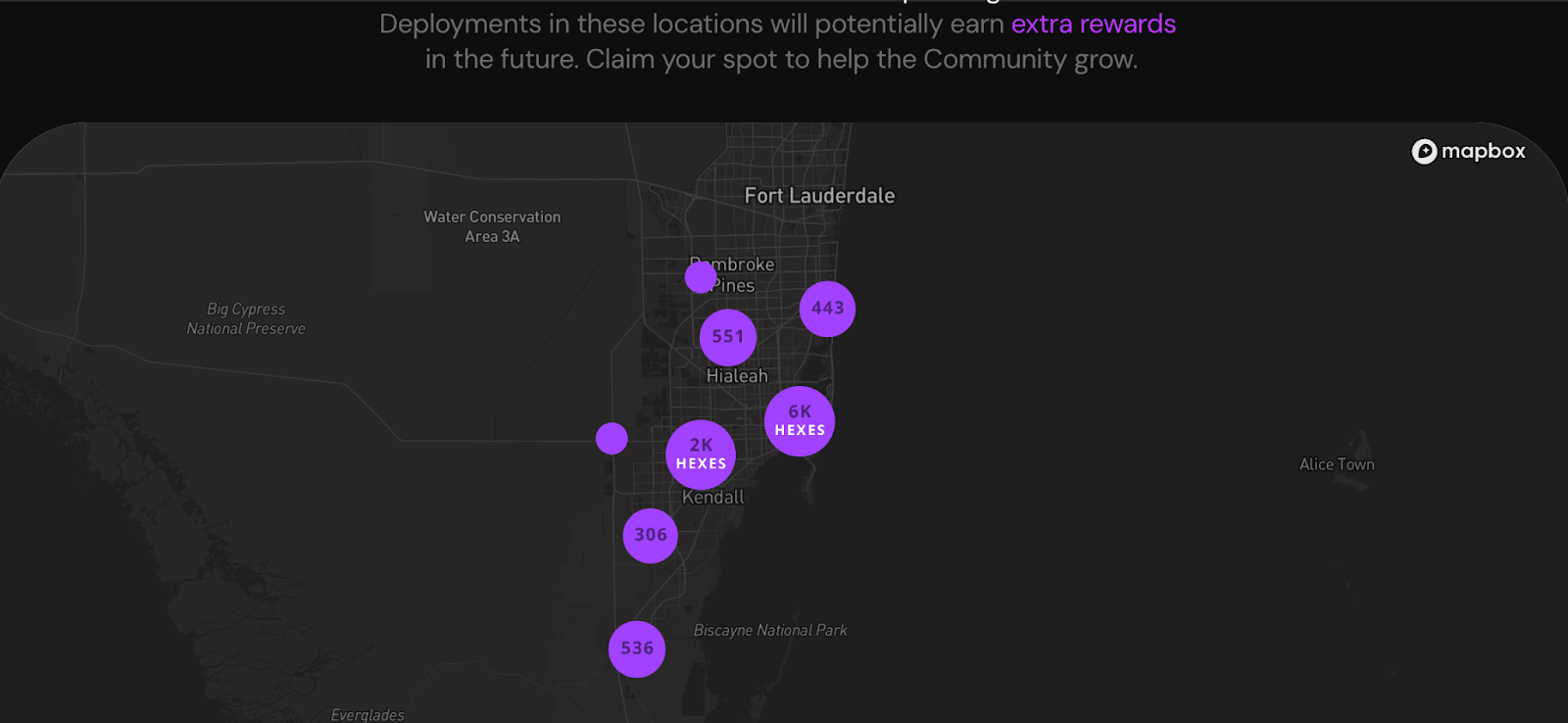 And there you have it… I hope this article has given you enough information to understand the Helium Mobile network.
As I said in the introduction, this is a concept that I'm fascinated about and I can't wait for it to develop & scale. I hope it can do so sustainably.
If this succeeds, it will be one of the most exciting blockchain use cases we've seen.
We'll be sure to keep you updated as we go.
👉 Don't forget that we're giving away our FriendTech trading fees ($80) to a lucky winner.
Want to enter? Reply to this email with your Ethereum wallet address.
---
Thanks for reading. And remember, you're strong, you're powerful, you're alpha! ❤️
See you soon. ✌️
---
Join us on Discord | Follow us on Twitter
Disclaimer: This article is for informational purposes only and not financial advice. Conduct your own research and consult a financial advisor before making investment decisions or taking any action based on the content.