GM DOers! 😎
We are so back!
Yesterday, Bitcoin recorded a new 52-week high reaching $34,900.
While BTC led the way, other major cryptocurrencies had a great day as well.
ETH at $1,770 (7d +13.3%)

SOL at $30.03 (7d +24.4%)

MATIC at $0.62 (7d +19.2%)

LINK at $10.04 (7d +37.1%)

OP at $1.37 (7d +14.6%)

ARB at $0.88 (7d +12%)

IMX at $0.63 (7d +17%)
Sentiment has shifted and everyone is calling crypto to the moon.
So naturally the question on our mind - is this the real beginning of the next cycle?
And what caused this pump?
Before we answer these questions, we've got to take a second to pump our own tires. We're not here to gloat but we called this one and it feels so good to be right.
On Oct 12, I posted in the Web3 Academy PRO members Discord channel that my spidey senses were telling me something good was coming.
Then on Oct 19, I wrote a PRO report breaking down the current market situation and why I felt things were setting up for a pump.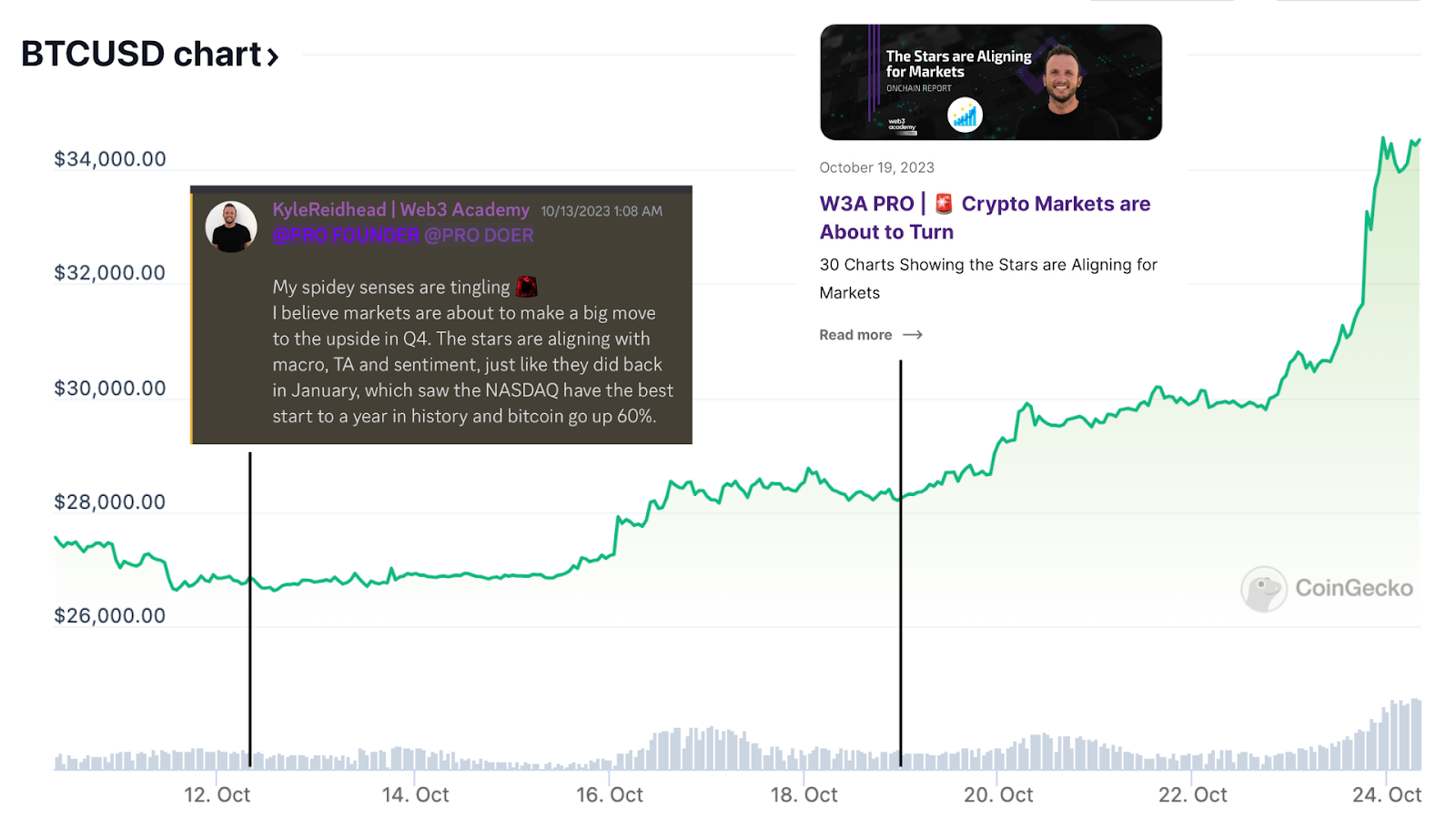 Now I'm not perfect, and I won't always be right but had you purchased BTC on Oct 13 you would be up 21.2% right now, and had you purchased on Oct 19 you'd be up 16.2%.
Make sure you don't miss out on my next prediction. Go PRO today.
Now I want to make sure you understand exactly what's going on, so today we're going to discuss:
What are the major events causing this price pump?

What factors are impacting prices?

What's likely to happen next?
Let's get into it. ⏬
---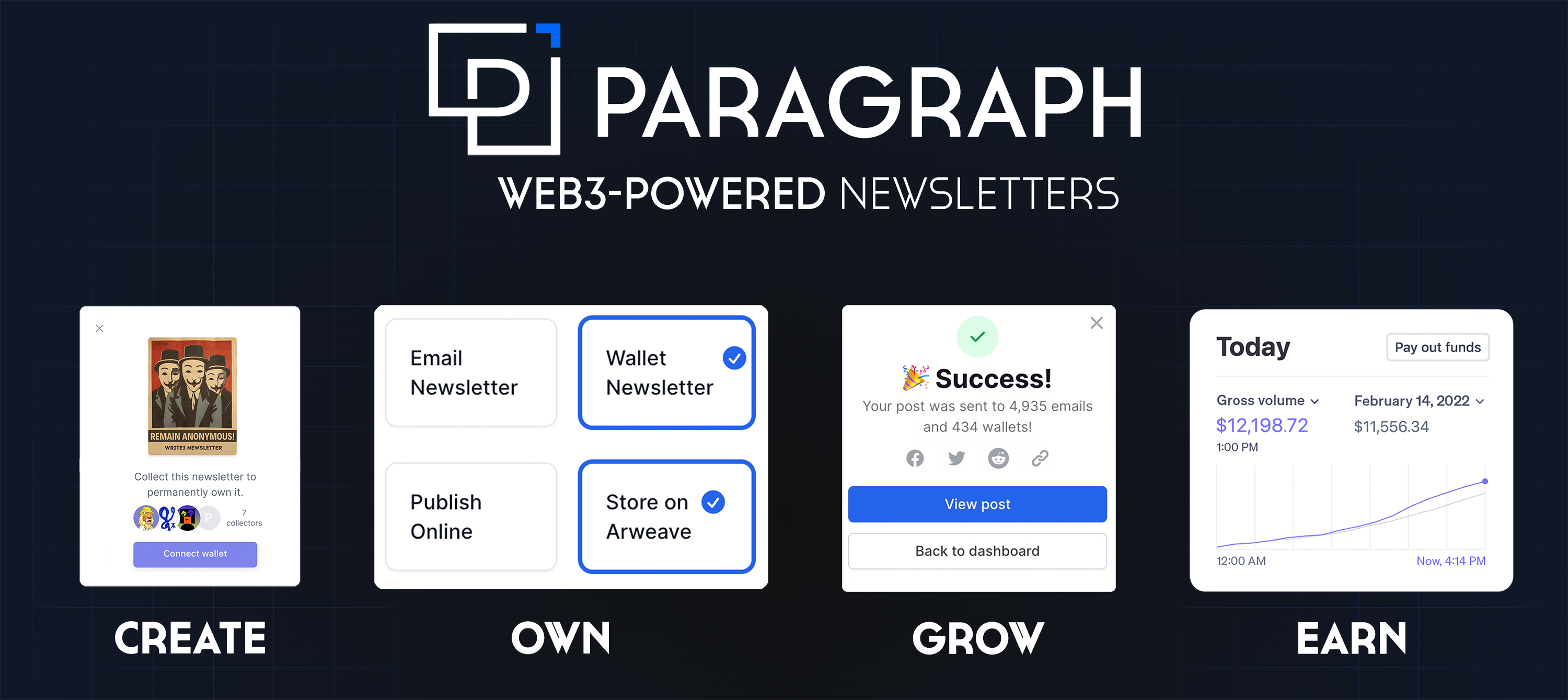 Paragraph powers modern newsletters, enabling readers to own their content and creators to share revenue with fans.
Web3 Academy has already transitioned to Paragraph because it's the future of newsletters.
If you're a creator, writer, or keen reader, explore Paragraph's early opportunities!
---
ETF Speculation Drives Crypto Rally
There's a notable amount of optimism circulating around the potential approval of a Bitcoin spot ETF.
On Monday, the BlackRock iShares Bitcoin Trust was listed on the DTCC (Depository Trust & Clearing Corporation), which clears NASDAQ trades.
It even received a ticker symbol ($IBTC), which has led many to believe that the approval is now a matter of "when," not "if".
And that "when" could be right around the corner.
There was so much traffic on the DTCC website on Tuesday that it crashed. Further demonstrating the number of people and institutions that are closely watching BTC.
We also know that recently both BlackRock and Fidelity made amendments to their spot Bitcoin ETF submissions.
Additionally, Grayscale has submitted an S-3 filing with the SEC with plans to list shares of the Grayscale Bitcoin Trust on the NYSE Arca as part of its endeavor to transition the trust into a spot Bitcoin ETF.
Furthermore, JPMorgan hinted at the likelihood of the SEC approving a spot ETF in the coming months as the deadline for the Ark 21Shares applications nears.
This speculation is also bolstered by reports suggesting that Hong Kong has altered its stance on a potential spot ETF for cryptocurrencies​.
But the ETF isn't the only event impacting crypto prices. Let's see what else is going on.
---
SBF Trial Update with Carly Reilly
Carly has been in the courtroom everyday for the SBF trial. Listen to her share the details of this juicy trial, her thoughts on if SBF will testify and her prediction for the likely outcome.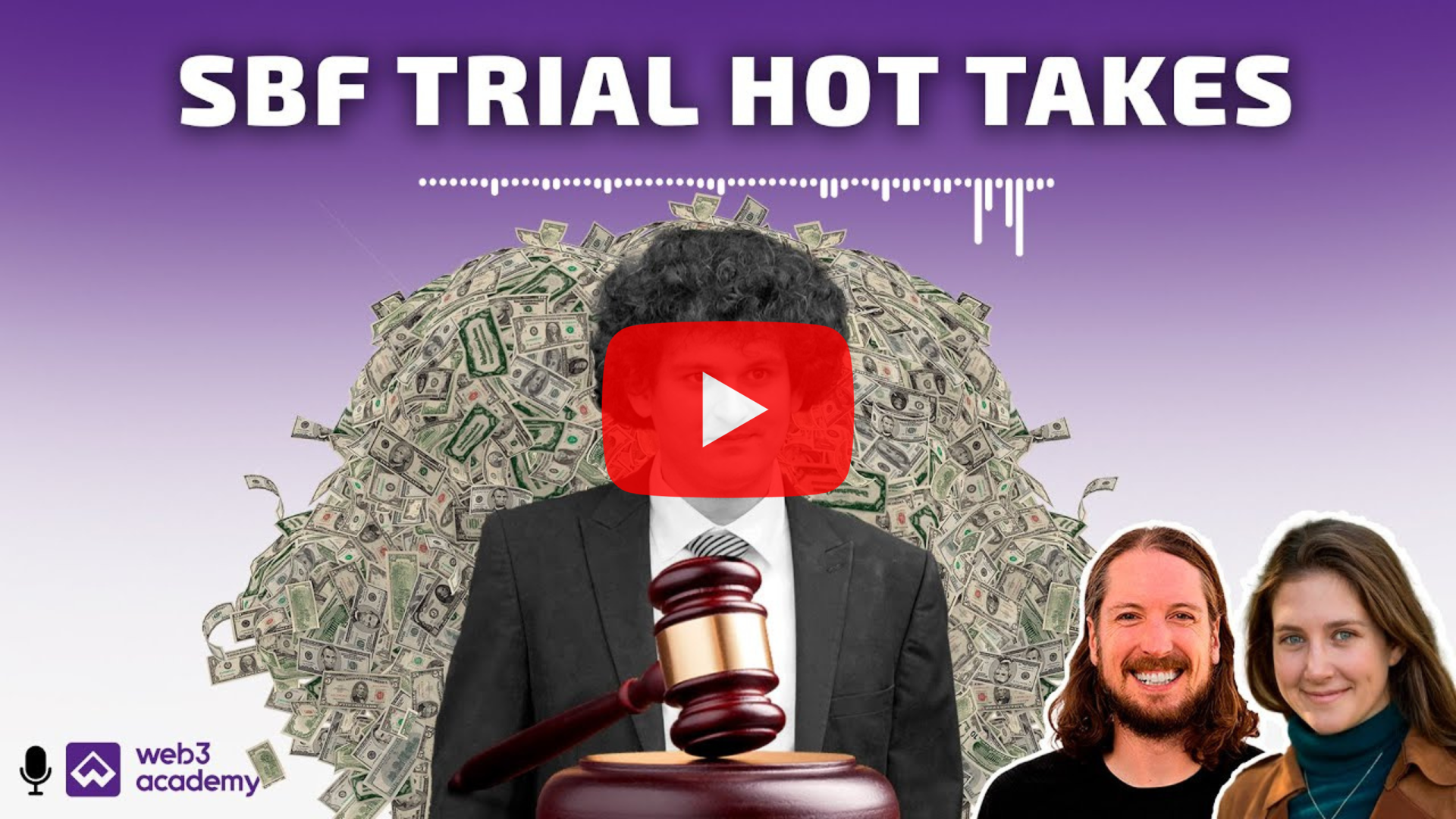 ---
Other Factors Causing Crypto Prices to Rise
Market Sentiment
The general sentiment in the cryptocurrency market has shifted quickly which can have a significant influence on Bitcoin's price.
Everyone has fomo when they see a 10% pump and they want to get in on the action.
As a result market sentiment for crypto has pushed into Greed.
When we make such a big move into the greedy category that usually means it's time for a market pause or a small pull back. We'll be on the watch for that.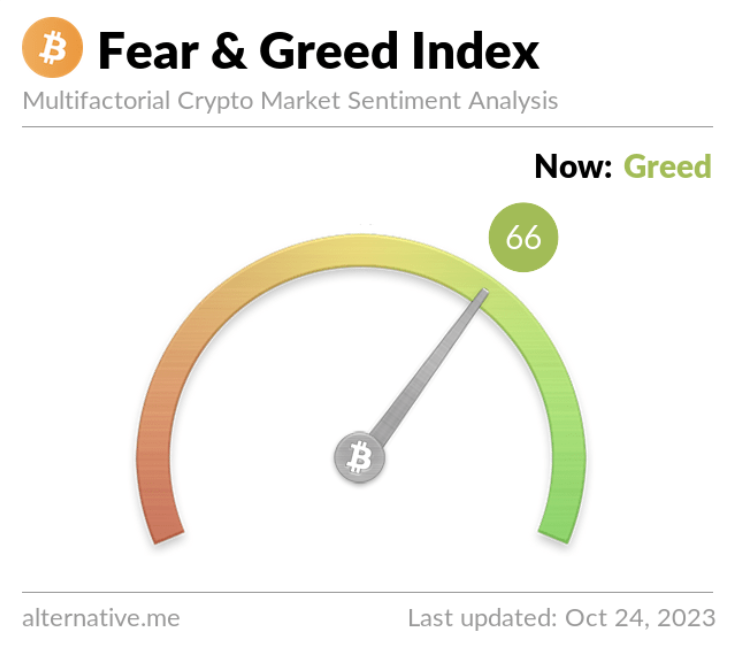 Institutional Interest
Increased interest and investments from institutional players can also be driving the price up. The recent moves by BlackRock, Fidelity, and Grayscale indicate a growing institutional interest in Bitcoin​.
We've also seen 3 weeks in a row of positive flow into the crypto markets.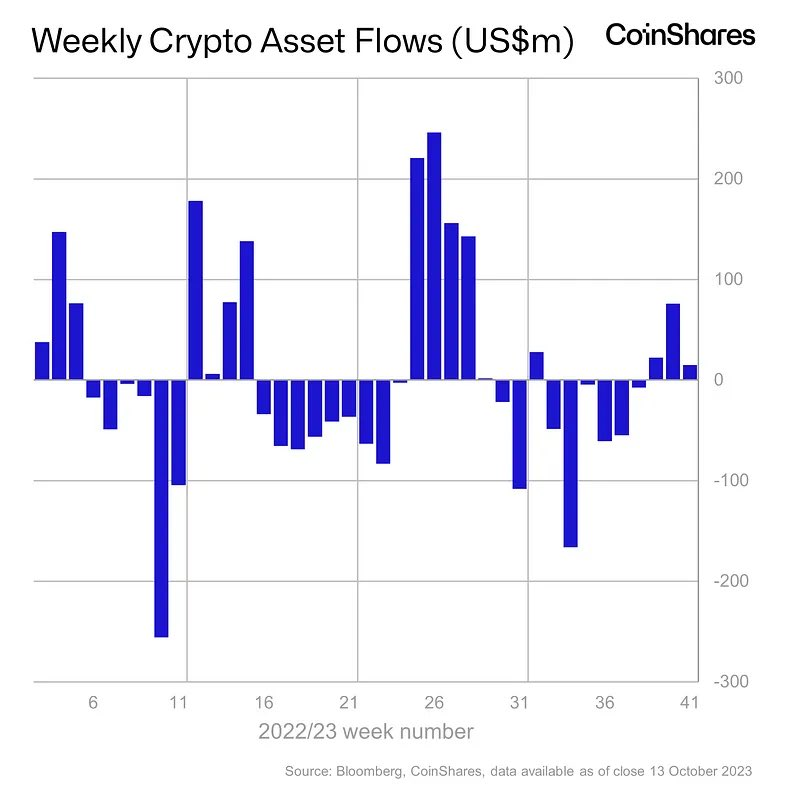 Macro Economic Factors
The market might be smelling that the worst is behind us in terms of macro and we're starting to see the light at the end of the tunnel.
This is still not consensus, but that's my base case and one of the reasons I started to make the call that the market is ready for the next leg up.
I don't think that influenced this move up though since tech stocks went the opposite way during this crypto pump.
So I think this pump is mainly about the ETF. But the macro factors should push crypto higher into the end of the year.
Liquidations
As Bitcoin pumped, a whopping $310 million in shorts were liquidated.
Short liquidations usually boost the price of an asset because they cause forced buying in a rising market.
---
The Onchain Gift Shop – Week 2
Collect this newsletter for $10 (in $ETH, on Base) to win this week's $ETH Prize.
90% of all funds raised from newsletter collects are pooled together and 1 lucky winner takes it all home.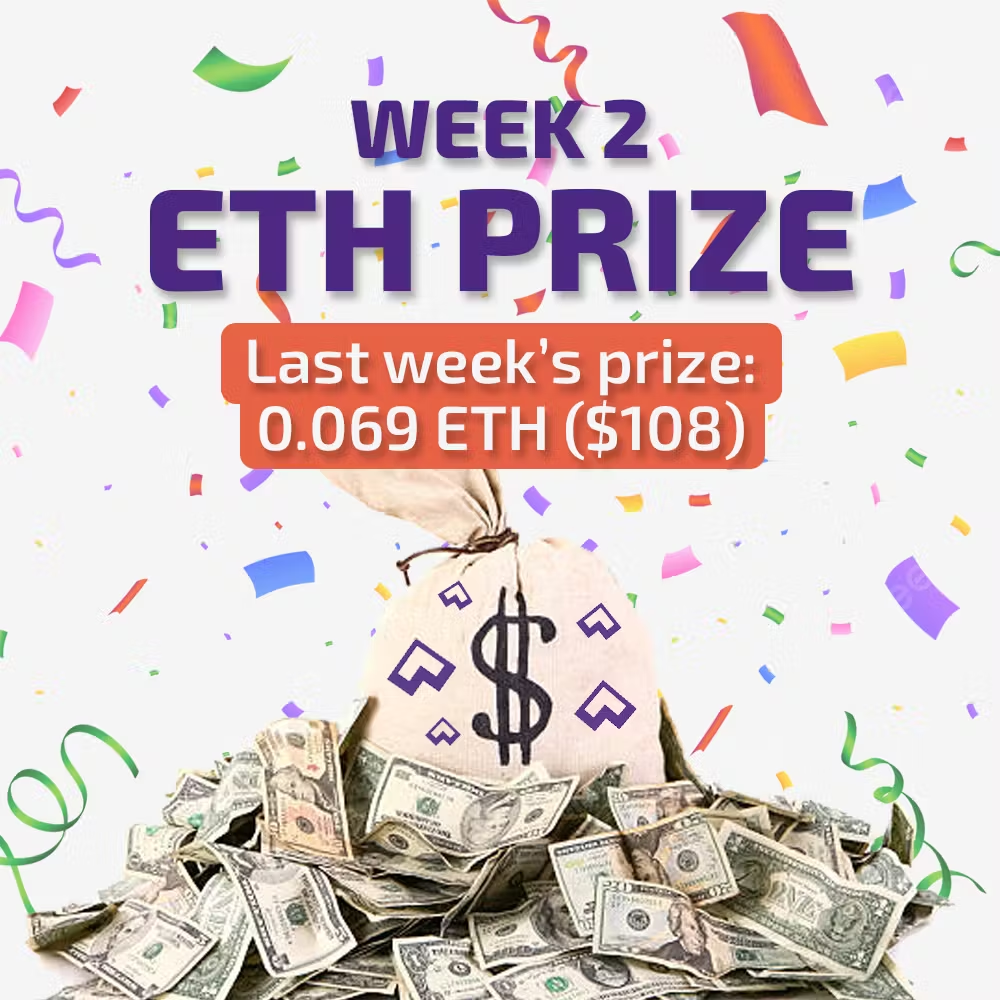 Upon collecting, visit the Onchain Gift Shop to enter the Weekly $ETH Prize.
---
Wrapping Up
🧵
What happens next?
As I said at the beginning of this newsletter, I've been seeing the markets set up for this price action.
So much so that I've been sounding the alarm in our community for a few weeks.
If you want to fully understand my reasoning, I highly recommend you read our PRO report from last week where I walk you through 30 charts and explain why I'm so bullish on the crypto markets right now.

Now the question on everyone's mind, is this the start of the next bull cycle?
Honestly, it's way too early to tell. But certainly things are heading in the right direction.
And it's clear that a BTC Spot ETF approval would likely cause another big pump.
Even though I keep expecting that it would be priced into the market, all the signs keep telling me that it's not.
Everyone is feeling very bullish right now, and a lot of people think we're going to $50k BTC.
But in order for that to happen, we first need to see more money flowing into crypto.
Right now, it still feels like we're seeing money move from altcoins to BTC.
We need another leg up here soon to confirm that it's "go-time" for crypto.
I think we will get it before EOY.
Question...
Did you buy any crypto in the past month because we've been telling you to?
Reply to this email with a Yes/No!
---
Thanks for reading. And remember, you're strong, you're powerful, you're alpha! ❤
How'd you feel about our read today?
---
Join us on Discord | Follow us on Twitter
Disclaimer: This article is for informational purposes only and not financial advice. Conduct your own research and consult a financial advisor before making investment decisions or taking any action based on the content.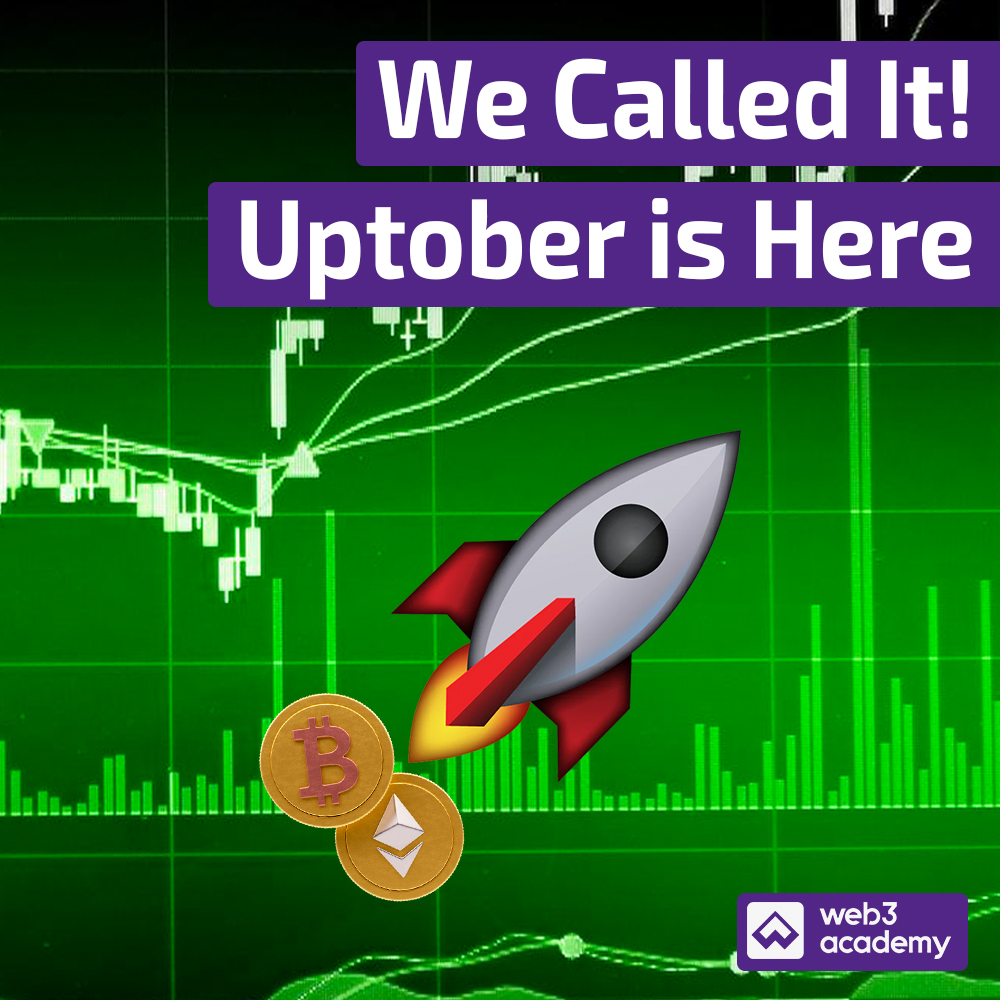 Collect this post to permanently own it.
Subscribe to Web3 Academy and never miss a post.