Polygon Gaming just announced the prizes tiers for their brilliant Game On event. We see a familiar face in the "Gold" tier:
Looks like some polygon fans/gamers will be finding their way into the Wolf Den soon. Looking forward to introducing them to the world of being #wolfish. Their very first question is likely to be something like...
"What is a Wolf Pup?"
Good question.
We made this to get them up to speed quickly. The rest, they'll have to explore and decide for themselves.
What's Next?
A new type of marketplace, some new partners, and a handful of really cool things, one-of-a-kind opportunities for Wolf Pup holders. Let's review them in order.
A New Type Of Marketplace
One of our Wolf Pup holders, Sage Wolf (Wolf Pup 14), presented an idea for a new kind of marketplace that would not only reward holders in unique ways but would also be simple to scale and plug into other projects that want something similar. It will allow us to accrue points to each Wolf Pup NFT that can then be loaded into the wallet account or stay attached to the Wolf Pup, which may make it appealing on the open market to certain people that want the points.
The details will be shared as soon as it goes live, we don't have an exact timeline yet, but we have seen the skeleton and it's pretty fricken' #wolfish. To be clear: the marketplace operates closer to a reward program than an open marketplace, but can still add value to each Pup on an open marketplace. You'll see what we mean.
Some New Partners and One-Of-A-Kind Opportunities
First, a reminder. We embrace Web3 and all of the things that come with it. There are people speculating and hoping to buy something low and sell it high, there are artists trying to get attention on their art, there are people obsessing over the potential capabilities of the tech, etc etc. The point is this: there are many reasons to be in the web3 space, to think or believe that every project exists to serve the purpose YOU are in the space is... well... silly.
Gray Wolf Labs is focused on publishing great human experiences into web 3, each with a specific purpose. Hyping up groups and trying to get people to value NFTs is not one of those purposes. Gray Wolf Labs is interested in helping industry leaders bring their experiences to web3, specifically industry leaders that we know others (in their industry) are watching to determine the efficacy of blockchain/web3.
The intent is to show these companies, organizations, and individuals ways that blockchain can improve components of what they are already doing. The Danny Zelikso project, for example, will not have its own Twitter, Telegram, Discord, or anything like that because it is not an NFT project, it is a new membership pass that happens to live on the blockchain, which provides the two most important things to anyone that makes a living in entertainment or as a collector:
Provenance and Royalties.
More on that shortly, let's talk about this: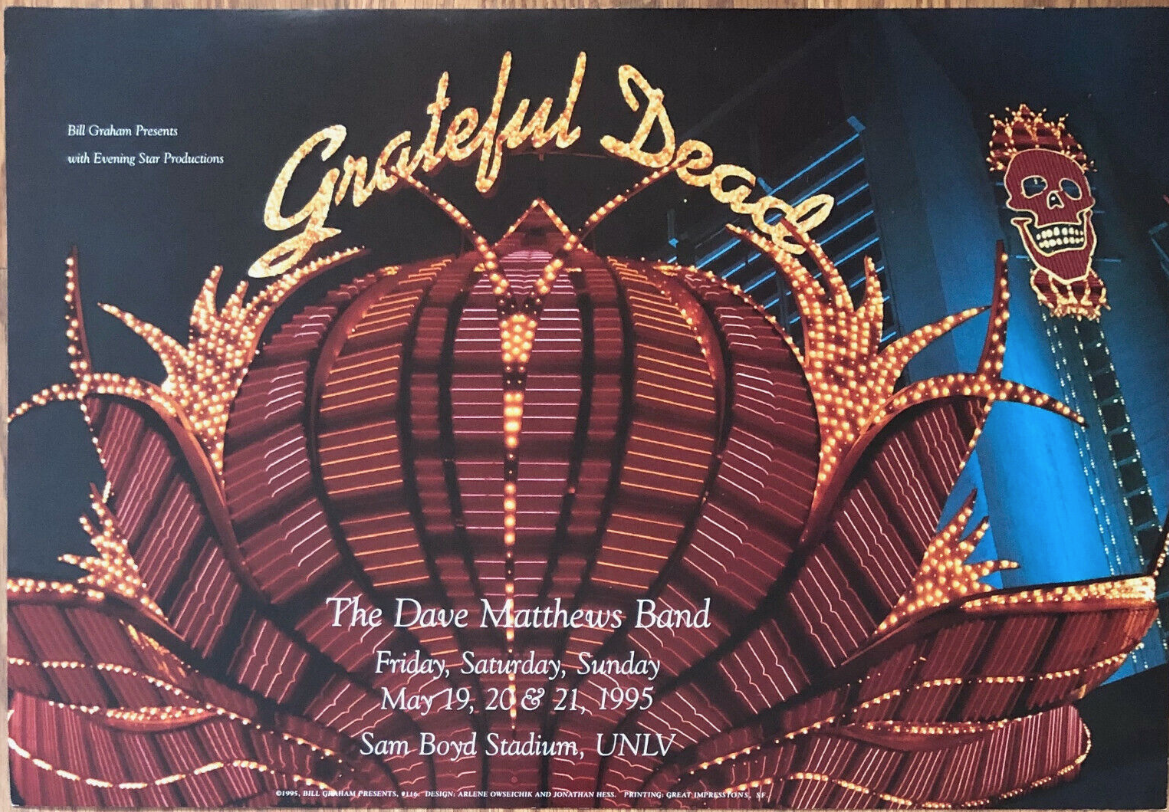 A 13" x 19" Grateful Dead with The Dave Matthews Band poster for a show they performed on 5/19/95 during their "Summer Tour 1995" at the Sam Boyd Stadium in Las Vegas, NV. There are very few in the world, some of them can be found on Ebay from anywhere from $95 to $300.
This is a rare original piece of history used for promotion for this show my company produced.
The one above is the only one that always comes with a letter of authenticity from the promoter of the show, the legendary Danny Zelisko.
Why should Web3 enthusiasts be excited?
Most of them won't be. But this is not designed for web3 enthusiasts, it's designed for the segment of people that love music history and collectibles, and to introduce them to the web3 world.
How?
The promotional poster above is one of the over 3,000 items Danny and his team are open to giving away to DZP All Excess Pass holders. We have seen his collection in person, it's three houses and five warehouses, wall-to-wall personally gifted, autographed, and one-of-a-kind items.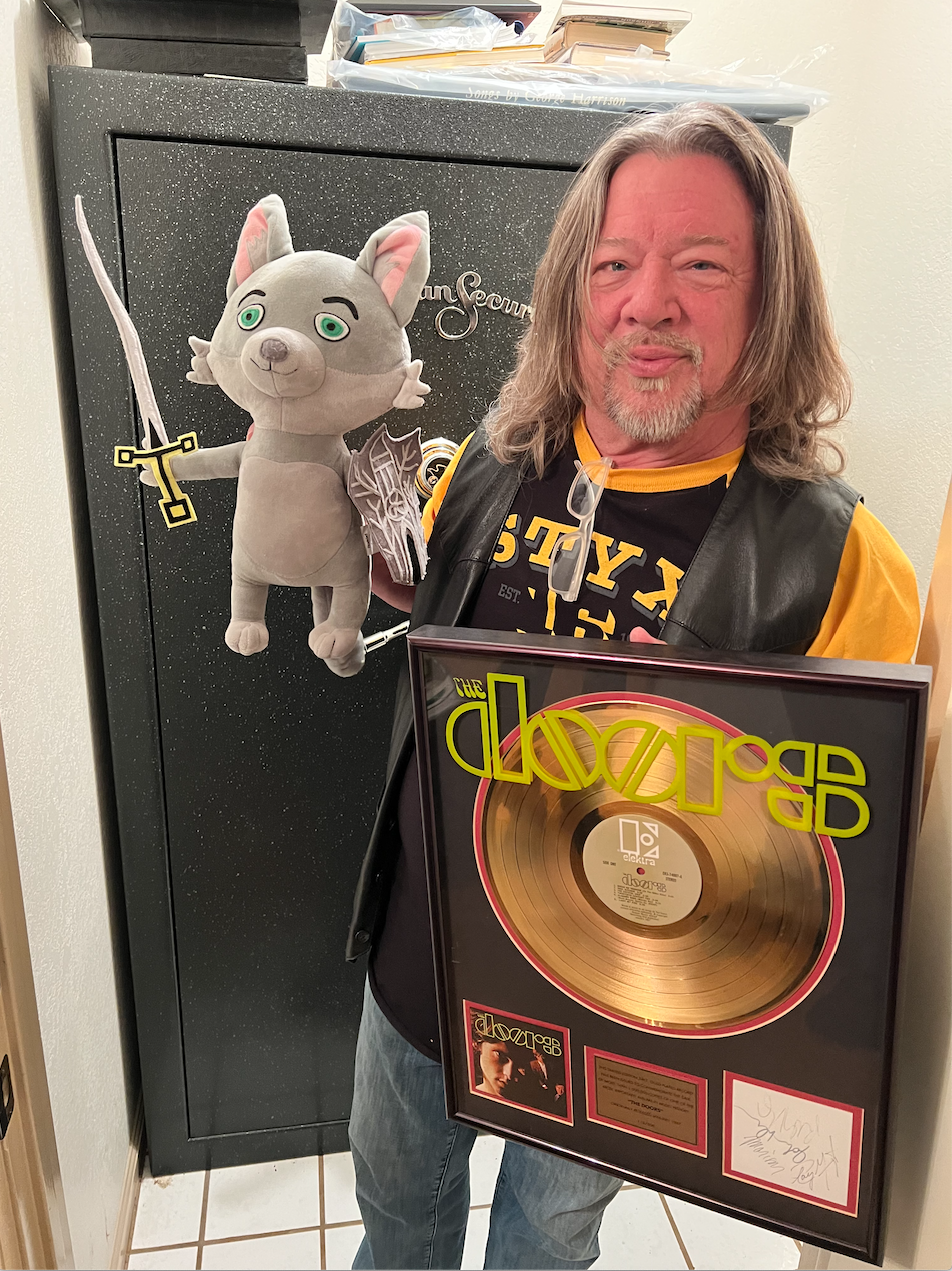 First, we will help roll out the membership passes. The supply and royalty structure can be found here. The focus will be on Danny's list and the audience of music fans, show-goers, and collectors. We expect there to be minimal marketing except for announcing the details of experiences. Every time there is a giveaway or an experience for pass holders, it will be posted in their newsletter, which is linked above.
That's it. Simple.
Where many web3 enthusiasts will try and get other web3 enthusiasts interested in using the "traditional" NFT project methods, we are much more excited about thousands of non-web3 users coming into the space to participate in something meaningful to them in a way that is relatively familiar to them.
Why Should Wolf Pups care?
Because Wolf Pup holders will be airdropped a DZP All Excess Pass. Our music history buffs and collector Wolf Pups might decide to enjoy the ride, the pups not interested can hold or list on the open market. Royalties are going to a one-of-a-kind museum that will also be able to host music, comedy shows, and other forms of entertainment for pass holders.
Web3 takes pride in its divergent thinking, yet expects everything to be the same way. We're glad that Danny and the team are doing it a little differently.
The exact times and times are still being worked on and we are waiting on Danny's team to finalize the airdrop details and numbers but rest assured - every Pup holder will get a pass and every pass holder will get a much deeper look into the Danny Z collection.
Wolf Pups are ready to rock n roll on an entirely new level.
Onward.
Dan
PS. The day before our last event, we took the Grand Master Collectors to Danny's house to see the entire collection and invited them to participate in the brainstorming for this project. As more Grand Master Collectors emerge, we will continue to find interesting things for them to experience as GMC's.