From the Desk of Wolf Pup #0
Seattle, Washington
Jan 29th, 2023
It's weird that it's already 2023.
Many Wolf Pups and Guardians of the Guardian Academy stepped into '23 with heavy hearts. Today's collectible is a very special collection. You can see today's treasure hunt post below:
WHY THE PAIN? A SPECIAL WOLF PUP 0 COLLECTIBLE
"Why The Pain" is a "lead domino" key. That means that to unlock the next part of that journey, you will need a "why the pain?" collectible. There will be 5 total lead dominoes. (Note: The only way to acquire a Lead Domino is to have a Wolf Pup, making Wolf Pups the real lead domino).
As explained in the tweet below, this is a small-scale, fun, and rewarding test for much bigger things coming.
Have fun and enjoy the journey.
A Fork In The Road
Each lead domino act as the key to unlocking the next collectible on that particular journey. There are five journeys, and they all be traveled at different paces. At the time of writing this, three have been revealed.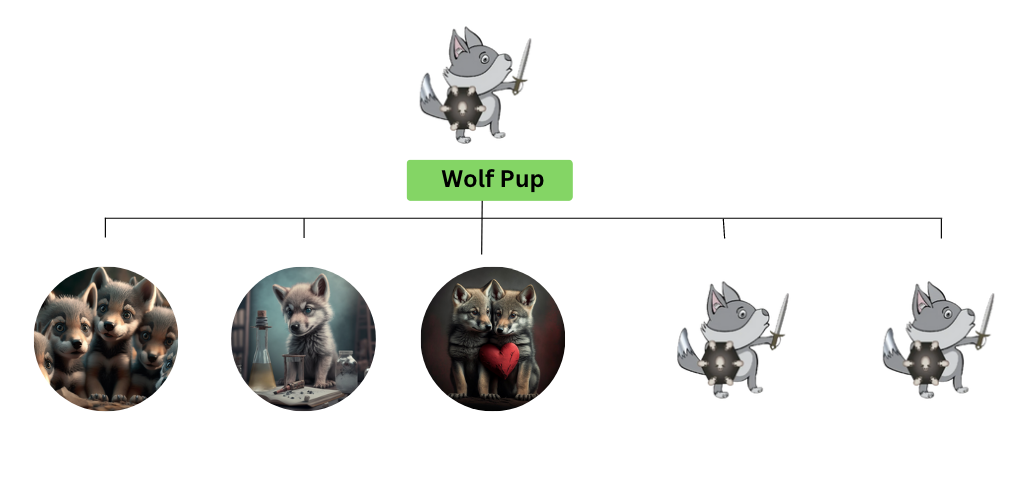 Each route leads to the same end destination. The journey, however, is very different for each. Two of the "lead dominoes" are still a secret, but the name of the collection and their descriptions have clues about what you might find on the journey.
Royalties:
The royalties on all collections are split 50/50: 50% going to buy $guard for governance votes in the forthcoming Guard FDN Dao. This allows Wolf Pup #0 to carve out a little part of the Guard FDN metaverse/ecosystem to do good and have fun. The other half is dedicated to something specific to the journey, detailed below.
Governance:
While they will be infrequent due to the low supply and low volume of trading, each collection will have opportunities to vote on what is done with the royalty funds. Each wallet holding a collectible will receive one vote. Multiple collectibles in one wallet do not give that wallet more votes. We want to include, not exclude, more people from joining the journey.
Contented Dazzlement of Surprise:
Contended dazzlement of surprise. What else needs to be said? If you enjoy new, surprising, interesting, and challenging ways to look at the world this journey might be for you.
Max Supply: 100
Royalties: Royalties will go entirely toward acquiring $guard for governance.
Story: https://paragraph.xyz/@wolfpup0/lives-of-a-wolf
Collection: https://opensea.io/collection/pup01

Mad Scientist:
Creation, innovation, and divergent thinking. This journey will ask you to push the boundaries, ask new questions and find new solutions. Wolf Pup #0 will ask you to help create the journey in ways he cannot conceive of himself. We've always been taught there is one right answer and one best way of getting there. A mad scientist cannot accept this convergent, myopic frame.
Max Supply: 123
Royalties: Royalties go to supporting creators within the community. If we use someone's creation in the journey, royalties will go directly to them as artist royalties for their contribution.
Story: https://paragraph.xyz/@wolfpup0/your-formal-invitation
Collection: https://opensea.io/collection/pup-0-mad-scientist-vs-dogmatism

Why The Pain?:
"Proactive Empathy". A concept Wolf Pup #0 learned from Chris Voss (also the name of the Chris Voss documentary). This journey is really about understanding the root cause(s) of issues, asking better questions, and supporting addiction recovery and connection research.
Max Supply: 123
Royalties: Royalties will be donated to fund addiction recovery and connection research either directly to Artist For Addicts or Genius Recovery. The community can vote to expand it to acquiring RecoveryPunks which also supports both.
Story: https://paragraph.xyz/@wolfpup0/why-the-pain
Collection: https://opensea.io/collection/why-the-pain
You can also see the collectibles, their stories, and collections here.
The Path Ahead
Choose your journey based on your interests and disposition. Travel them all, if you'd like. They are on polygon and the initial mints (outside of Why The Pain) are free so the cost is not prohibitive.
The next two potential paths will be revealed soon.
We are never in a rush.
At the time of writing this, the most recent is available for mint here:
WHY THE PAIN? A SPECIAL WOLF PUP 0 COLLECTIBLE
Enjoy.
And remember that Johann Hari says "the opposite of addiction is connection". Connect with someone today.
Wolf Pup#0