Good Morning Write3 Family!
Coming to you from the Nashville Airport (some IRL work to be done today).
Here's:

•1 Write3 Tip
•1 Write3 News You Can Use
•1 Literary NFT Worth Collecting
1. Write3 Tip - Why Collectors Will Buy Your Writing NFT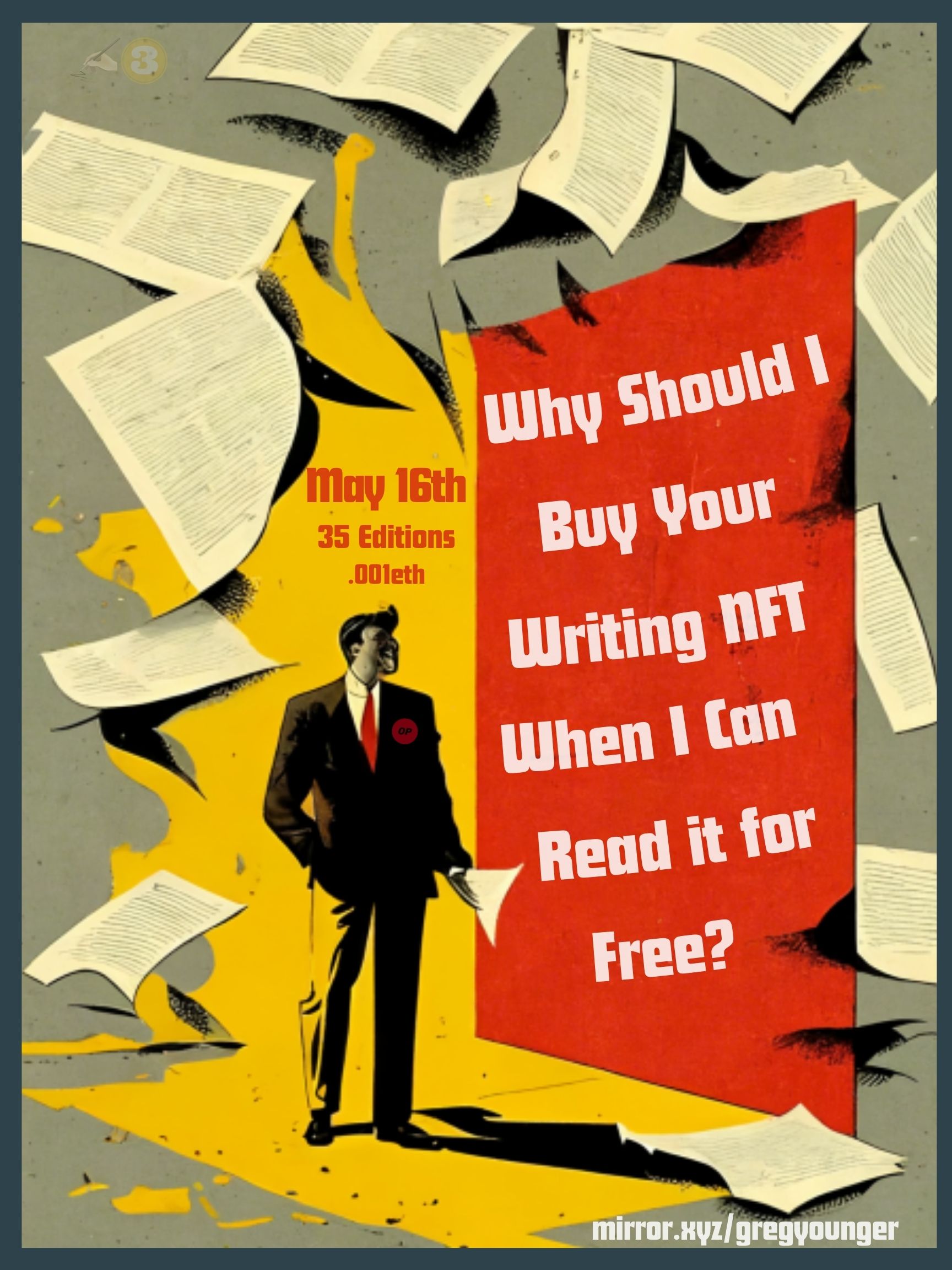 This week, I published my latest writing NFT titled, "Why Should I Buy Your Writing NFT When I Can Read It For Free". I described 4 reasons why collectors will purchase your work:
Patronage - One of the primary reasons a reader will collect your work is to say "Thank You" with their wallet. NFTs and patronage go together like peanut butter and jelly.

Profit - Degens are gonna degen. People want an opportunity to experience a financial upside to your creative career. By collecting now, they might cash in later.

Social Signalling - Readers want to timestamp their fandom. Readers crave more than social media likes or bookmarking a great Twitter thread; they desire ownership, they want to participate in a community, a culture and a lifestyle.

Utility - If you provide utility to your readers, they will collect your work. The number one reason a person collects any NFT is utility.
Keep writing and creating, your work will be collected. And don't forget to pick up your copy of "Why Should I Buy Your Writing NFT When I Can Read It For Free?". 20% of the mint proceeds will go back to the Write3 community by purchasing literary NFTs created by our members.
2. Write3 News - Bonfire Keeps Building
I built Write3.io using no-code web3 app, Bonfire. I'm pleased with the creator tools and the team at Bonfire keeps improving the site. Just in the last few weeks, they've shipped:
👉🏻 Lens Integration
👉🏻 Subscribe to Mint
👉🏻 Threads - On page chat function
👉🏻 And much more!
I'm not a coder, yet I've built all sorts of blockchain functionality using the tools offered by Bonfire. I highly recommend them for your Write3 needs.
Looking for inspiration? Check out a couple of Write3 Bonfire sites:
Epic Dylan and Cryptoversal Books.
3. A Literary NFT Worth Collecting - CornyTopia - Sir Lord T. W. Wright I

Book.io, known for publishing public domain tiles on Cardano, has a new offering worth checking out. From the website:
"Embark on an unforgettable journey to a world where humor and magic come together in the most delightful way. Introducing the first book in the Cornytopia series – a fantastical adventure that's cornier than you could ever imagine! A book kingdom where YOU, the community of Asset holders, help guide the direction of the story! The first serialized book to launch on Book.io. This "eBook Subscription" asset entitles you to airdrops of Chapters 1 through 13 of book one of the Cornytopia series."
It's great to see Book(dot)io work with original IP and push the limits of blockchain technology. I was happy to collect a couple.
**Reminder: Collectors of today's newsletter will mint this piece of Write3 art. Happy Collecting!
10 Editions @ 1 matic each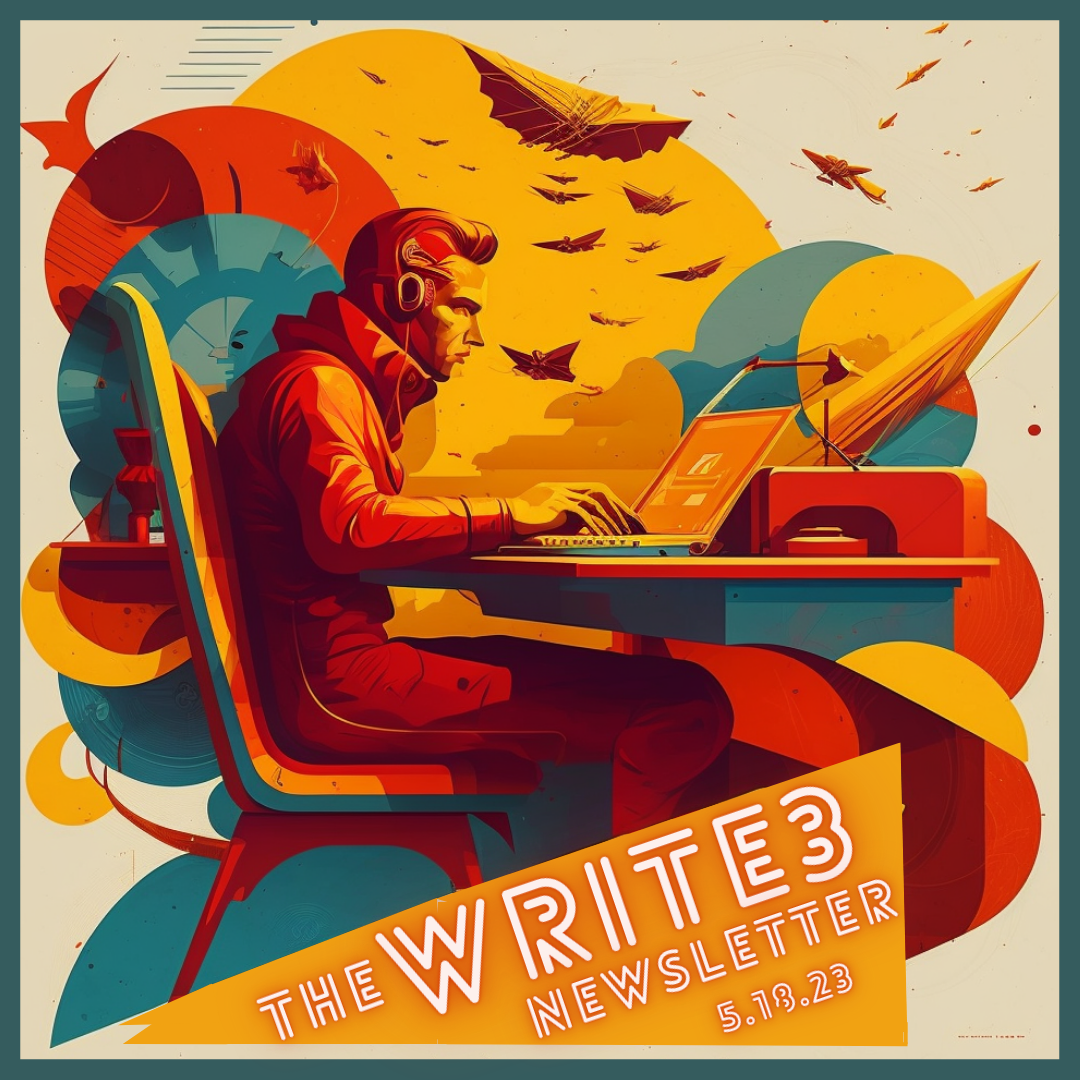 ---
Thanks for reading!
For more Write3 content, be sure to check out my socials -->> Linktree.
Interested in sponsoring the Write3 Newsletter? Email me at write3@gregyounger.xyz
#writing
#web3
#literary nfts
#nft
#blockchain
#write3