"Live to Learn, Give To Earn"

"You are your own guide, you are your own Guard"
About a year ago, Grand Master Mike Leone was walking the TGA Founder through "The Master Key To Wisdom" which contains two key concepts: Live to Learn, Give to Earn and You Are Your Own Guide You Are Your Own Guard. It goes without saying that Grand Master Mike has had a massive impact on TGA; himself, the epitome of Live To Learn, Give To Earn.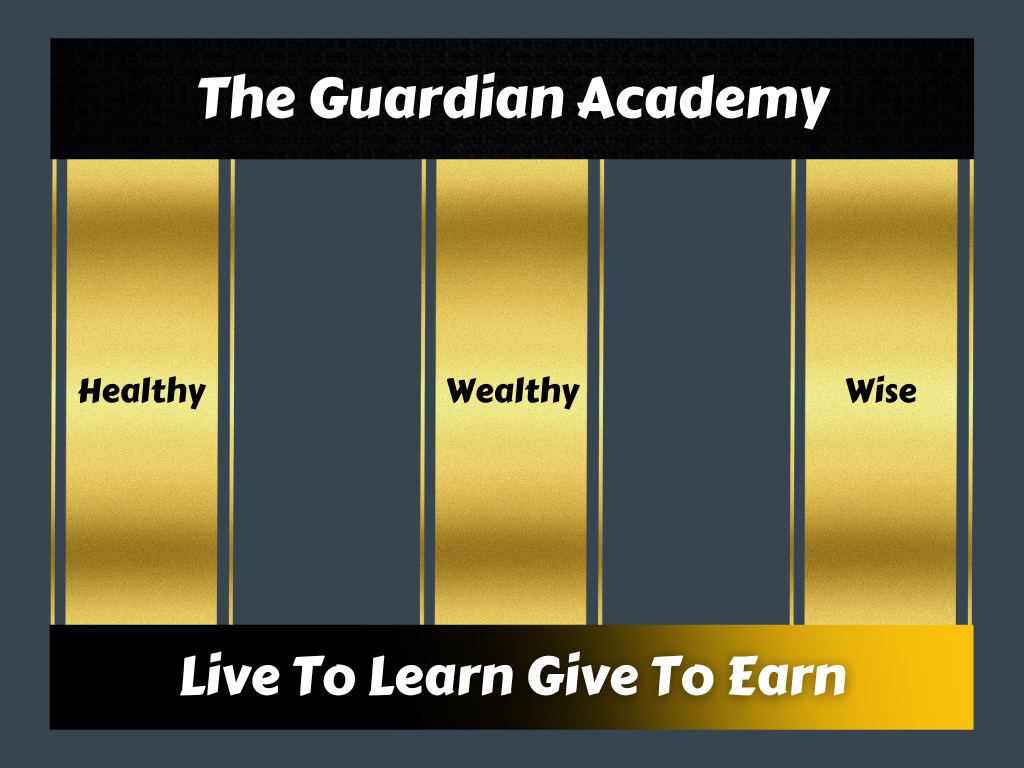 The Guardian Academy's mission is to help as many people as possible by building better humans using three core pillars borrowed from Benjamin Franklin: Healthy, Wealthy, and Wise. These core pillars stand on a foundation of first, living to learn (solving your own problems and removing your own suffering) and then giving to earn (having a positive impact on the world). As Grand Master Mike says, just handling your own sh*t is "giving". By removing your own suffering not only do you stop causing suffering for others, but you also set an example of what is possible.
The Pillars
Healthy.
To reach your goals, build your business, and/or do extraordinary things you cannot be breaking down mentally or physically. Health, in the TGA, means living with energy, vitality, clarity, and longevity. Inside the TGA you will find some of the world's leading doctors and wellness practitioners. This means you'll have access to both cutting-edge and timeless guidance to improve your health and increase your contribution
Wealthy.
The Guardian Academy has a three-step wealth process: financial clarity to financial certainty and the ability to "collapse time". But Wealth is more than finances to us.
Wealth means living the life that you want to live and achieving the things that matter most to you, making it highly individual. TGA provides the resources to help you figure out what matters most and how to get there.
Wise.
"In pursuit of knowledge, every day something is gained. In pursuit of wisdom, every day something is dropped" - Lao Tzu
Knowledge is gained through the study of new information. Wisdom, on the other hand, is about gaining a greater perspective and understanding the "nature" of reality.
Wisdom requires many journeys around the sun, the TGA tribe of "Cornermen" and Grand Masters provide direct access to a source of great wisdom gained through extraordinary experience.
The Contributors
Guardians, Honorary Guardians, Collaborators and Partners.
Dr. Jeff Spencer
Core Pillars: Healthy, Wise
Performance and mindset coach for all 9 Tour De France victories. Dr. Jeff Spencer can be found coaching Olympic Athletes, helping Tiger Woods optimize his game, traveling with U2, helping industry giants play a bigger game, or chillin' with the Guardian Academy at our events. Dr. Jeff Spencer is an Honorary Guardian.
Dr. Jeff has training in Wolf Pack, Wolf Pack Leader, Alpha Wolf, and Guardian tiers. He also makes himself available for Guardians at all of our events. You can see his life-changing Human Mentality training from our very first event below:
Grand Master Mike Leone
Core Pillars: Health, Wisdom

Mike has been teaching the Eastern arts full-time for over 23 years and has trained over 1000 black belts and instructors. The Phrase "Live to Learn, Give To Earn" was taught to the TGA founder by Grand Master Mike in a session on "The Master Key To Wisdom"
Grand Master Mike has many advanced trainings in the Wolf Pack Leader tier and Guardians are one of the very few groups that get access to Mike, who is a highly sought-after Grand Master.
About Mike
Mike Book; Zen Wellness, Journey Around The Sun
Dan Nicholson
Core Pillars: Wealth

Dan Nicholson is the creator of The Solvable Problem(tm) and author of the best-selling Rigging The Game book.
Upon graduation, Dan was selected out of a pool of nominees from the nation's top 50 accounting programs for an exclusive fellowship with the Governmental Accounting Standards Board (GASB). As a member of the GASB team, he was responsible for managing all technical inquiries and assisted what has become Statement No. 53, "Accounting and Financial Reporting for Derivative Instruments." (For those who don't speak CPA, accountants consider setting a national standard to be a big deal).
Since then, Dan has worked in finance and accounting roles at Clark Nuber, UPS, WaMu, as well as Deloitte and Touche's Audit and Enterprise Risk Services practices where he was primarily responsible for auditing both the financial statements and IT internal controls around the Treasury cycle at Microsoft.
Most of Dan's training and presentations are in the Wolfpack Leader and Guardian tier as they are advanced concepts to help extraordinary people get what they want out of life.
Dan is an active Guardian and contributor to Guardian Tier with advanced training available to Wolf Pack Leader and above.
Learn More About Dan:
RiggingTheGame.com
Joe Polish
Core Pillars: Wealthy, Healthy
Joe Polish is an Honorary Guardian [see his honorary Guardian bio here] of the Guardian Academy. Over the past few decades, Joe has built the most valuable entrepreneur network on the planet. He is one of the most connected men in the world and also one of the most generous.
Watch The Trailer For His Documentary to see why.
Joe has a brilliant business mind, and a rare talent for connecting with people, and spends much of his free time optimizing his health and helping change the conversation about addiction.
Most of our Events are at Joe's office, the Genius Network Headquarters.
Learn More About Joe:
ConnectedTheMovie.Com
GeniusRecovery.org
ArtistsForAddicts.com
RecoveryPunks.com
Master Jason Campbell
Core Pillars: Healthy, Wise
Master Instructor Jason Campbell is currently a 7th-degree black belt registered with the United Martial Arts Association of America and recognized by The National Qigong Association, Yoga Alliance, and The International Doh Yi. He has trained with many masters and grandmasters of many different disciplines. He has been teaching full-time for over 20 years and currently owns and licenses Kung Fu, Zen Yoga, and Zen Wellness Centers.
Jason is a Guardian of the Guardian Academy and, along with Grandt Master Mike Leone, leads the movement, breathing, and even sword-work the day after our events. Jason is also a prolific artist:
Howard Getson
Core Pillar: Wealthy
Howard Getson has been in AI for decades, selling his AI company for over 9 figures over 7 years ago. Howard's presentations are available inside the Guardian Academy. Guardians will have access to Howard on an ongoing basis.
Learn more about Howard:
Capitalogix.com
Guardians
The Guardian Tier is full of extraordinary individuals; health professionals, business development minds, and decades of experience to share. Dr. Jeff Spencer says:
"Never discount your own contribution. You never know what you say or do that will change someone forever"
Similarly, never discount the contribution of others. Just because someone is not on the list above does not mean they are not an extraordinary contributor that can contribute to bolstering the three core pillars.
Next:
Keep an eye on social media and the knowledge center for free content, insights, and resources.
Hope to see you at the next Guardian Event! Your journey to Guardian begins with the free Core Concepts and Force Multipliers which can be found below:
FREE CORE CONCEPTS AND FORCE MULTIPLIERS [NO OPT IN]
FREE CORE CONCEPTS AND FORCE MULTIPLIERS [MEMBERS AREA]
Live to Learn. Give To Earn.