"The Joy of Sailing Away" is a piece of downtempo music. But it's also the story of my first steps as a musician moving from web2 to web3
The Song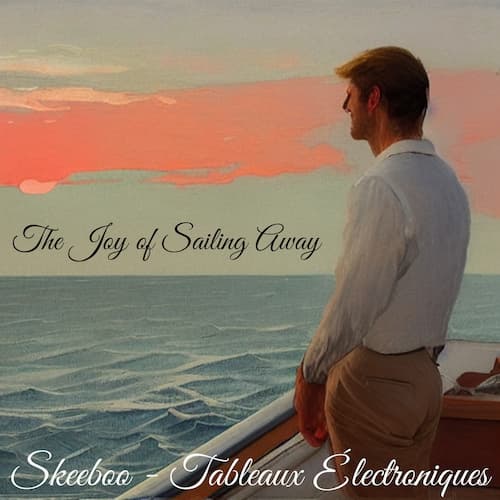 "The Joy of Sailing Away" is a downtempo sailing trip in the company of a flute, a couple of violins, and some raucous beats. The single is taken from my new album "Tableaux Electroniques" but it's available also on every streaming site.
All the songs of the album are electronic remixes or recombinations of music taken from my lifelong project "Moods and Modes".
Valeria, my 11-year-old younger daughter, has gifted me with a videoclip of the song, in her first ever video editing experiment. Indulge this proud dad and let me show it to you:
Limited Edition NFT
As my first toe-dip in the web3 waters, I released the song as a limited edition of 25 on Sound.xyz. By collecting it you can patronize the remastering and onchain release of one of the songs which I sampled for this piece: "For The Joy" or "Sail Away": the Golden Egg winner will choose which one!
Fragments and Liquid Dreams
The piece is also generating some derivative works in the form of Liquid Dreams (short improvisational pieces of music) or Fragments (small video clips). All these derivative works are published as free or very cheap NFTs, so they are the perfect point of entry if you want to be a part of my musical world.
Every "Liquid Dream" or "Fragment" collector will indeed get access to a reserved channel on Discord , to all future presales and will get a chance of winning editions of the song.
The fist work available is a Fragment inspired by the song (free to mint on Zora)
The second derivative work is "Liquid Dream No.1", a short improvisation based on a sample from The Joy of Sailing Away.
And here's the last one: a video clip Fragment inspired by the improvisation above, free to mint on Zora :
Conclusions (and beginnings)
There are some things of this first foray in onchain music (or what do you want to call it) that I really liked, some positive sensations that reignited the spark of creativity and the pleasure of sharing my music:
the personal connection with the people that collected my works, and the new friends I made along the way. That's so distant from the impersonal world of music streaming, and much more linked with the deep reason why I share my music (the hope that it could resonate in some way with the soul of a fellow human)

the feeling of control on your cultural product: there are no middle men that impose formats, behaviours or correct ways to share: you can try (and maybe fail) on your own. And you can learn from your mistakes. What more could a man want?
So those are my conclusions but this is just the beginning. The Joy of Sailing Away is the first of a 3-part instrumental suite. Next step: Oil on Water !
Collect this post to permanently own it.
Subscribe to Skeeboo and never miss a post.